In this article, we have highlighted an ultimate off-road Custom Jeep Wrangler Build and the price of parts and labor costs for installations, we also have some recommendations on parts to consider on your Custom Jeep Wrangler Build.
On our hunt to look for a comprehensive list of Jeep build parts list, we found little to no value content on the internet with most of them being company adverts on just one specific part, you may want to build an ultimate off-roading Jeep, and would like to know the costs involved – at Jeep Runner we got you!
If you need to build a fully overland Jeep Wrangler, this article will cover the whole Custom Jeep Wrangler Build top to bottom, to complete a whole Custom Jeep Wrangler Build, it depends on how much money you want to invest in your Jeep customizations, for us it takes several months, we just save, spend, replace parts, and save again. For starters, we set our goals and start with protective equipment first, and later on, add other customization based on the needs of the Jeep.
Custom Jeep Wrangler Build and Price
Its good, if you can save this list or pin it to your Pinterest so that you can refer to it much later when customizing your Jeep, the image below contains all the upgrades you will need for your Jeep Wrangler, including the costs of the parts, labor costs and the time it will take to complete the installations:
| | | | |
| --- | --- | --- | --- |
| Jeep Parts & Accessories | Jeep Parts Costs | Labor Costs | Duration |
| Bumper Upgrade | $300 – $1,200 | $60 – $150 | 1-2.5 Hours |
| Winch Upgrade | $200 – $2,000 | $50 – $130 | Less than 1 hour |
| Axle Upgrade | $500 – $10,000 | $150 – $250 | 1-2 Hours |
| Sliders Upgrade | $150 – $3,000 | $150 – $300 | Up to 5 Hours |
| Inner Fenders Upgrade | $100 – $400 | $50 – $100 | 0.5 Hours |
| Tires Upgrade | $1,000 – $1,200 | $50-$100 | Less than 1 hour |
| Rims Upgrade | $1,000 – $2,000 | $50 – $100 | Less than 1 hour |
| Coil overs Upgrade (Kit) | $4,000 – $6,000 | $200 – $500 | 3 to 4 hours |
| Exhaust system Upgrade | $500 – $1,000 | $100-$200 | 1 to 6 hours |
| Tire Carrier Upgrade | $300 – $1,000 | $50 – $150 | Less than 1 hour |
| Headlights Upgrade |   |   |   |
| Total Jeep Build Cost | | | |
**Price Notes: The prices on this list depending on how you will source your Jeep parts, the lowest prices are for parts we have been able to find for used Jeep parts, and the highest is for some of the high-end parts. The prices follow the same throughout this Custom Jeep Wrangler Build guide.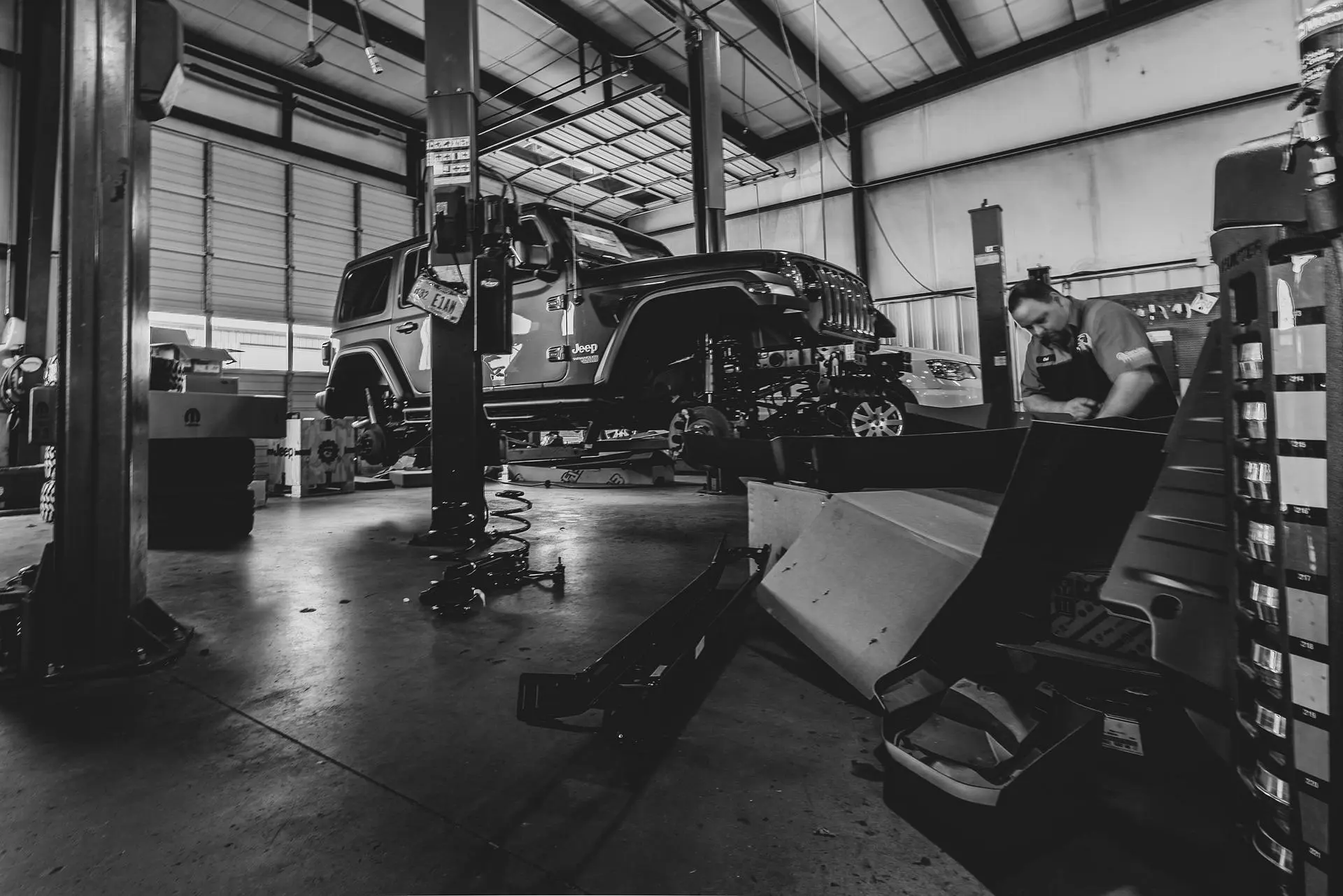 Ordering a Jeep Wrangler
When ordering a Jeep Wrangler, you will need to work with an authorized Jeep dealership near you, but before doing that, read through our list of Jeep Wranglers available in the Market – There are different trims and configurations. We have found that some are a breeze to work with and some are just so complicated and dishonest. It's important to note that the FCA has little to no control over Jeep dealers as they are only bound by the franchise agreement.
We have ordered a fully customized Jeep from Jeep and the order took 6-10 weeks, but recently we have had friends complaining their orders are taking 3-8 months due to the shortage of parts, unfortunately, we had problems tracking our order since FCA don't have an order tracking system.
We have also ordered from Jeep dealers and independent Jeep builders, and their orders are much faster, taking about 4 to 6 weeks to get your Jeep delivered, however, their costs are a bit high, but you will get your custom order just as you like it. We like dealing with independent builders since they can customize our Jeeps based on our requirements.
It's important to do your research when ordering a Jeep Wrangler, on the trim option and levels you want, assuming you get into an agreement, you now wait, you have to be patient here every Jeep Wrangler built is assembled at the North Assembly Plant in Toledo.
You now have a Jeep Wrangler, Welcome to the Jeep Community!
Stock Jeep Wrangler is fun, but do you know what's more fun, customizing your Jeep Wrangler in this guide, we will list all the upgrades you might consider for a full build overland Jeep:
Custom Jeep Wrangler Build Guide
We have a lot of parts reviewed on our site, you can hit our top pages on Jeep Parts and Jeep accessories, and browse through our long list of parts available for your Jeep in the market. You can also browse through our Jeep Guide to learn more about your Jeep, and you might find some resources that will help you understand Jeep customization and the capabilities of your Jeep.
Jeep Wrangler front bumpers
The first thing we upgrade on a Custom Jeep Wrangler Build is the Jeep Wrangler front bumper, as we said we start a Custom Jeep Wrangler Build with security upgrades first, when looking for a Jeep Wrangler front bumper, the first things you need to consider is the use of the Jeep, for an off-roading Jeep, you will need to install a winch, light bars, and other mounted Jeep accessories.
So, check for a Jeep Wrangler front bumper with lots of mounting options, protection features such as the bull bar, and a Jeep accessory mounting option for a winch.
Interested in related Jeep guides? Here's one we think you'll like: Best Aluminum Bumpers for Jeep
The cost to upgrade a Jeep Wrangler front bumper varies depending on the bumper itself, we have found that the cheapest bumpers retail at $300 while the most expensive Jeep Wrangler front bumpers retail at $1,200, the costs are based on the materials of the bumper, and the design, there are also featured considerations in the pricing of Jeep Wrangler front bumpers.
Labor costs of Installing a Jeep Wrangler front bumper will cost you $60 to $150. You can expect a Jeep bumper installation to take anywhere between an hour and 2.5 hours depending on the type of bumper and bumper mounting options.
Winch for Jeep Wrangler
A Custom Jeep Wrangler Build is not complete without a winch for recovery purposes, a winch for Jeep Wrangler needs a strong chain, forged gearing system, and a wireless remote that has dynamic braking, and should be easy to install and configure. Considering a winch is an insurance policy for your mind, you will need to invest in a brand that you know will work when you need it.
Good Jeep winches are IP68 or IP67 rated, we recommend replacing the steel chain with a synthetic rope since its lighter and safer, when shopping for a winch for Jeep Wrangler, it's also good if you can look for one that offers a winch plate since most Jeep bumpers don't have one, if your winch doesn't come with a winch plate you should shop for it together with your winch, and make sure the mounting slots align well with your winch and Jeep Wrangler front bumper.
Interested in related Jeep guides? Here's one we think you'll like: Badland ZXR 12000 lb. winch review
The costs of a winch for Jeep Wrangler vary, ranging from $200 to $2,000 depending on the winch features, and materials. However, we recommend you install the Jeep winch yourself as this is the easiest installation on a Custom Jeep Wrangler Build, however, if you need a Jeep builder to install a Jeep Wrangler winch for you, it will cost you anywhere between $50-$130 an installation that only takes 20 minutes to an hour.
Jeep Wrangler Axle Upgrade
You will need to beef up your front and rear Jeep axles on a Custom Jeep Wrangler Build. There are two popular Jeep Wrangler Axle Upgrade, the front, and rear Jeep Wrangler axle upgrades, there are quite a few options for the axle upgrades, we recommend Chromoly axle upgrades for the rear axles, Chromoly is harder steel and harder to break for a Custom Jeep Wrangler Build.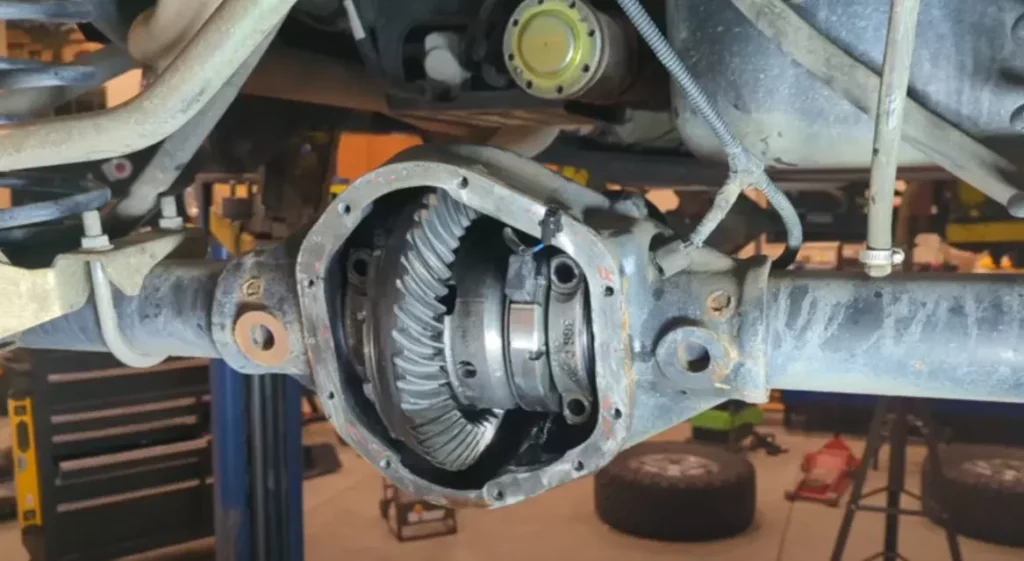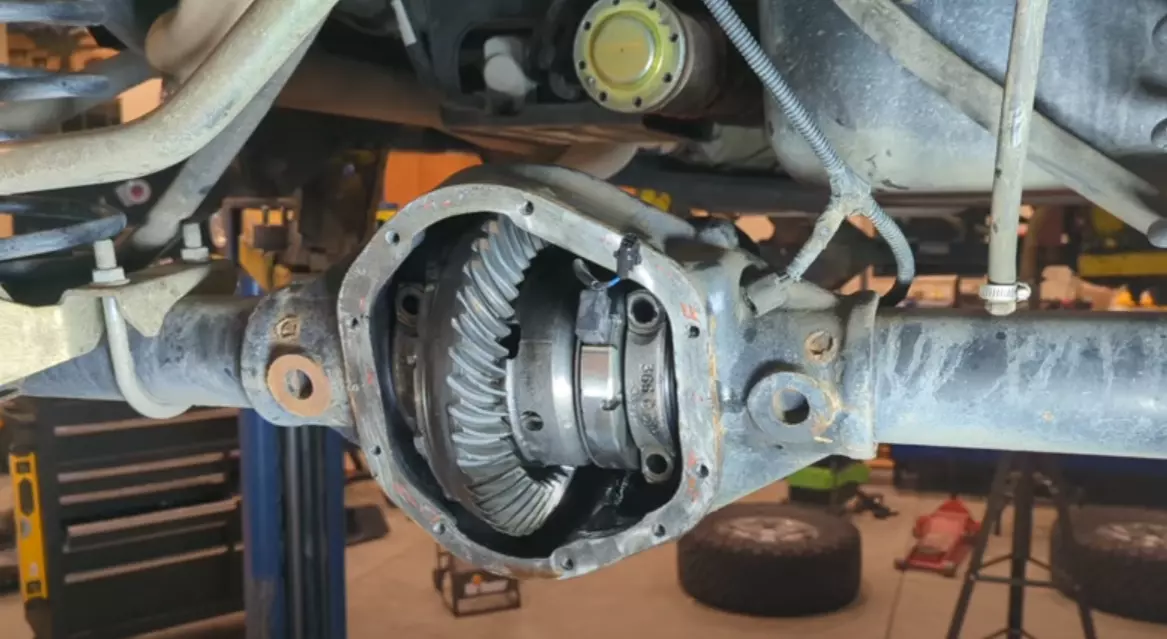 You will also need to install a truss on your axle and add the strength and longevity of your front and rear axles, they are cheap insurance and offer you peace of mind, a truss doesn't upgrade anything internally in your axles, but just offer to prevent the axle tubes from bending off-road. The truss also reinforces your Jeep's axles, they are pretty cheap and only cost less than $200.
Wondering which axle to install on your Jeep? Read our Dana 44 vs Dana 30: Jeep Axle Guide.
A factory Jeep Wrangler axle shaft has joints and you will need a constant velocity joint, RCV offers greater strength by offering CV Joints that keep the same strength when the wheels are turned and prevent wheel hoping, it's very easy to break Universal joint when off-roading.
Interested in related Jeep Guides? Here's one we think you'll like: Understanding Jeep Differentials
When upgrading your Custom Jeep Wrangler build axles, it would also be great if you can upgrade to RCV Shafts for the front axle's shafts, Reid knuckles, heavy-duty Jeep ball joints, axle housing bushings, Disc, and Pads for braking control, and maintain them for a lifelong without mechanical problems. These are all parts that come together to build a strong and dependable off-road custom Jeep Wrangler axle shaft.
Pro Tip: One of the main tips we will offer you when upgrading the front and rear axles is to always use the same rings and gear ratios, and same width axles if you want all your tires to spin at the same rate when you are off-roading in 4wd, you can upgrade each at one time depending on your budget.
Jeep Wrangler Front Axle Upgrade
We recommend the top-of-the-line front axles upgrades, for a custom Jeep Wrangler build, we recommend RCV Axles sets, we love them because they tend not to bind, and allow great turning radius compared to OEM U-Joint axles while off-roading in 4wd with full locked capabilities and be relived of crow hop" due to U-joints' angular velocity fluctuation.
| | |
| --- | --- |
| 2019 Jeep Wrangler | $5,000 – $6,500 |
| 2009 Jeep Wrangler | $600 – $800 |
| 2007 Jeep Wrangler | $4,800- $6,000 |
| 2004 Jeep Wrangler | $1,000 – $1,300 |
| 2003 Jeep Wrangler | $500 – $700 |
Jeep Wrangler Rear Axle Upgrade
We have built several Custom Jeep Wrangler Builds and the standard for the rear axles' shafts are Chromoly axles shafts, an off-road Jeeps need a strong rear axle that will be able to handle off-roading, larger tires (35s and 37s), slipping, spinning and bouncing Jeep.
Some of the recommended axles you can install on your custom Jeep Wrangler include:
| | |
| --- | --- |
| Dana 30 | $500 – $1,000 |
| Dana 44 | $1,000 – $4,000 |
| Dana 60 | $1,000 – $5,000 |
| Dana 70 | $1,000 – $10,000 |
| Dana 80 | $1,000 – $10,000 |
Enhance the functionality of your Jeep Wrangler Axle even more with a Slip Yoke Eliminator
It takes about one hour to upgrade a Jeep Wrangler front axle, and about one to two hours for a professional Jeep builder to upgrade a Jeep Wrangler rear axle. If you are going to replace both axles at the same time, the time required for the axle upgrade is much less since your Jeep is already in place for the upgrade. The labor costs for upgrading Jeep Wrangler axles vary from $150-$250.
Jeep Wrangler Gears
When upgrading your axles, you should consider upgrading your gears, especially if you plan to upgrade your tires, it's cost-effective upgrading your axles and gears at the same time, this will reduce your labor costs massively.
To learn more on upgrading your Jeep gears, read our post on Regearing a Jeep, and why you should consider regearing your custom jeep wrangler build.
After buying a stock Jeep wrangler, your gears may vary depending on the year and package of your Jeep, for example, there are Jeep wranglers with 3.07, 3.55, 3.73, and 4.10 gear ratios, if you were lucky enough to choose a Rubicon package of 4.10 gear ratios, you might have also upgraded Dana 44 axles, and you may skip regearing your Jeep Wrangler.
If you were not lucky to purchase the new Rubicon package, you should consider regearing your custom jeep wrangler build, modification of your Jeep differentials, lift and tires will need more torque for maximum performance, and upgrading them will force you to regear your axles since your stock gearing and drivetrain was set to provide a balance between torque and speed on your stock Jeep and not your custom Jeep.
Upgrading your jeep gears at this stage will help your custom Jeep wrangler run efficiently with energy that will get you through many difficult terrains. It's important to note that after upgrading your gears you must break your new gears by driving them for at least 500 miles with no major off-roading since it's common for you to need adjustments after regearing.
Regearing a Jeep changes your pinion and ring gears, you will need to understand the jeep gears by reading the gear ratios and tires chart, we could have done our Jeep gear upgrade without the use of this chart.
| | | | | | |
| --- | --- | --- | --- | --- | --- |
| Tire Size | Gear Ratio | RPM | MPH | RPM | MPH |
| 32.8 (33s) | 4.10 | 2000 | 71 | 2500 | 89 |
| 32.8 (33s) | 4.88 | 2000 | 60 | 2500 | 75 |
| 34.4 (35s) | 4.88 | 2000 | 63 | 2500 | 78 |
| 36.8 (37s) | 4.88 | 2000 | 67 | 2500 | 84 |
Regearing your custom jeep wrangler build costs include a $500-$1,000 gear overhaul kit and labor costs of up to $500. Regearing our custom Jeep wrangler build did cost us more than $1,500 due to the time constraints we had as we competed to get the Jeep out of the garage for a competition, and we had to consider the new gears break-in period and testing phases and time was not on our side.
Jeep Rock Rails and Rock Sliders
Rocker rails are sometimes called rocker guards, and their purpose is to protect your custom Jeep Wrangler build rocker panels and Sheetmetal damage when you catch a boulder between the wheels and protect your Wrangler from body damage.
There are a dozen recommendations for Jeep rock rails and rock sliders, to narrow down your research for the best you need to focus on how you will be using your custom Jeep Wrangler build, for example, you may want more of a step, more for a rock rail for Jeep wheeling, super close to the Jeeps body or hands out more, the features of the rock rails and rock sliders is also a determinant factor.
The cost of purchasing rock rails and rock guards vary based on the brand and features, and cost between a few hundred to $3,000, we have broken down the costs in the table below:
| | | |
| --- | --- | --- |
| Jeep Part | Parts costs | Installation costs |
| Jeep rock rails | $500-$1,000 | $150-$250 |
| Jeep rock sliders | $200-$1,000 | $150-$250 |
| Rocker Guards | $200-$3000 | $150-$250 |
Pro Tip: Most old-school Jeepers like us like to build their Jeep sliders and guards because we can personalize the parts and materials used for the protection of our Custom Jeep Wrangler build, there are also benefits of making sure you have a protected Jeep by installing customized guards and sliders, we have included a small table detailing the costs of building your rock sliders based on our Custom Jeep Wrangler build:
Cold Rolled Steel
Wall Tubing
Labor Costs
Total Quote (Including Powder Coat)
$500
0.120-wall tubing
0.95-wall Chromoly
$60 per hour (5 hours total)
$800-$1,000
We recommend you make sure your rockers are protected from rust, off-roading Jeeps are exposed to corrosion and damage, which can lead to the steel being exposed to water, and air which will make your rocker panels rust, making sure you regularly maintain your rock rails, and guards, making sure no water or grime is seeping through to accelerate corrosion.
Jeep Wrangler inner fenders Upgrade
Jeep Wrangler inner fenders help protect your custom Jeep Wrangler build from dust, mud, and debris, considering you will want to run bigger tires, you will need to upgrade your inner fenders/ Inner fender liners.
The plastic stock inner fenders are so thin and floppy and require regular maintenance, and you might run into problems, large tires might also rub your inner fenders and you might need to upgrade your inner fenders with aluminum fenders (which we recommend) to better protect your engine bay and durability purposes.
The installation is pretty simple, you can do this yourself with just basic hand tools and a drill, Jeep offers 10-millimeter bolt holes that you can use to install your inner fenders. When installing the inner fenders on our Jeep Wrangler we used a trim tool to remove the factory inner fenders.
| | | |
| --- | --- | --- |
| Powder-coated black | Bare aluminum | Time to install inner fenders |
| $100-$300 | $100-400 | 30 minutes |
Most people install inner fenders on their custom Jeep Wrangler build just for the look, so if you are looking for looks, inner fenders are one of the mods you can perform to personalize the looks of your Jeep, they come in vented and solid builds – you can also paint them to personalize the look of your Jeep Wrangler even more to match your Jeep color – we love them black.
Pro Tip: Installation inner fenders labor costs vary depending on the materials and the work that needs to be done, we found that most shops selling inner fenders will install them for you after purchase, but in case you order from sources that don't install, the costs are $50-$100 for us, we paid $60 for aluminum inner fenders to be installed on our Jeep.
Jeep Tires and Rims Upgrade
Going for large tires and rims is one of the most popular upgrades for a custom Jeep Wrangler build, Jeepers upgrade their tires and rims for better off-road, better ground clearance, and improve their custom Jeep traction, Jeep tires and rims also offer better looks for your custom build. Get the right tire size for your Jeep with our comprehensive Jeep Tire Size Conversion Tool – check it out!
You might also want to read about our article on the Best tires for Jeep Wrangler daily driver
If you are confused about what can fit in your custom Jeep Wrangler build, you should narrow down your research on tire sizes, offset and backspacing, and the reason you want to upgrade from your stock setup.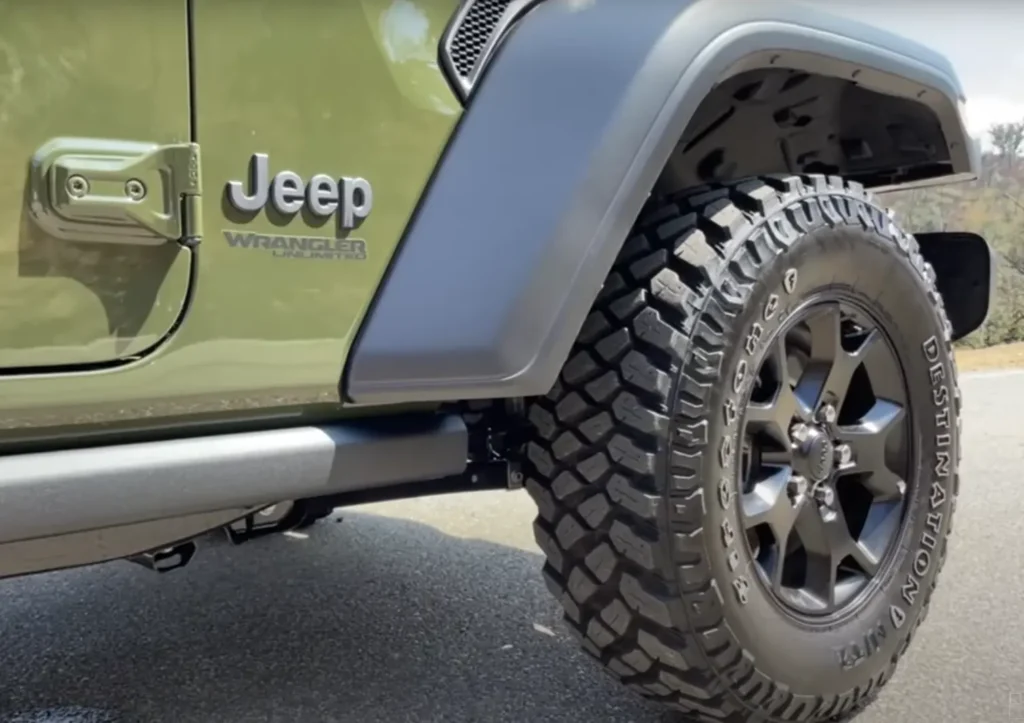 Depending on the type of Jeep Wrangler you have and the customization in terms of lifts, you will have a different amount of clearance to fit different tires and rims. You might have bigger and wide axles and fenders which give you better clearance, on such cases you can fit 35s on your custom Jeep Wrangler build, this can be complemented by a 2.5-inch lift kit.
Tires rubbing is a common issue to address when upgrading your Jeep tires and rims, dealing with the width of your rims you will find that 35s standard rim is 12.5, same for 37s and might be out of specs for your Jeep which increases the chances of your Jeep rubbing. We strongly recommend against changing to bigger tires with stock wheels, they will not have the proper shape and contact patch. We recommend upgrading both the stock wheel and tires at the same time.
Most stock Jeep Wranglers have 17-inch rims, 17-inch rims are standard in the off-road world, but on the highway these rims tend to offer an uncomfortable road, increasing the rims more than 17s inches will not be a good idea if you are looking for both off-road and highway Jeep, we recommend sticking with 17 inches as more increase in the rim will lead a small sidewall diameter. Tall sidewalls are good for off-roading.
The face of the rim is also an important consideration when upgrading your Jeep rims and wheels, a stock Jeep Wrangler has a positive 44 offset, and sticking your tires outside the fenders might be illegal in some states. Zero offsets are common in the Jeep world, negative offsets however push the tire out further giving your Jeep a beefier look.
Take a look at our article on the 5 Tire Jeep Rotation
It's also important to note that bigger tires involve more heavy-duty rubber that increases the weight of your Jeep, also when you change your rims to bigger rims increases the weight of your Jeep build, you should understand how much weight you are adding to your Jeep, there is what we call upsprung weight (weight not supported by the suspension), weight on your rims and tires is more important to consider than weight on your Jeep itself. Changing your weight on your wheels and tires and rims will change the Jeep's characteristics:
Make your ride worse, as the suspension is not able to cope with added weight.
Will make your custom Jeep slower due to increased rotating mass.
Will make your Jeep fuel economy even worse.
These are some of the considerations you need to understand when working on a Jeep Wrangler custom build, the costs of Jeep tires and rims, upgrading your Jeep Wrangler wheels will cost you $1,000 to $1,200 depending on where you buy them, when upgrading our Build wheels, we normally sell our stock wheels for $600 to reduce our budget on the upgrade. The costs of tires vary and would cost you anything between $1,000 to $3,000 depending on the type of the tires.
Jeep Coilovers Upgrade
A custom Jeep Wrangler build is not complete without an upgrade to the suspension system, one of your favorite Jeep upgrades is the Coilover suspensions; these are suspensions made of a spring that is wrapped up around a shock absorber, they give a Jeep build adequate ground clearance and improves departure and approach angles when off-roading.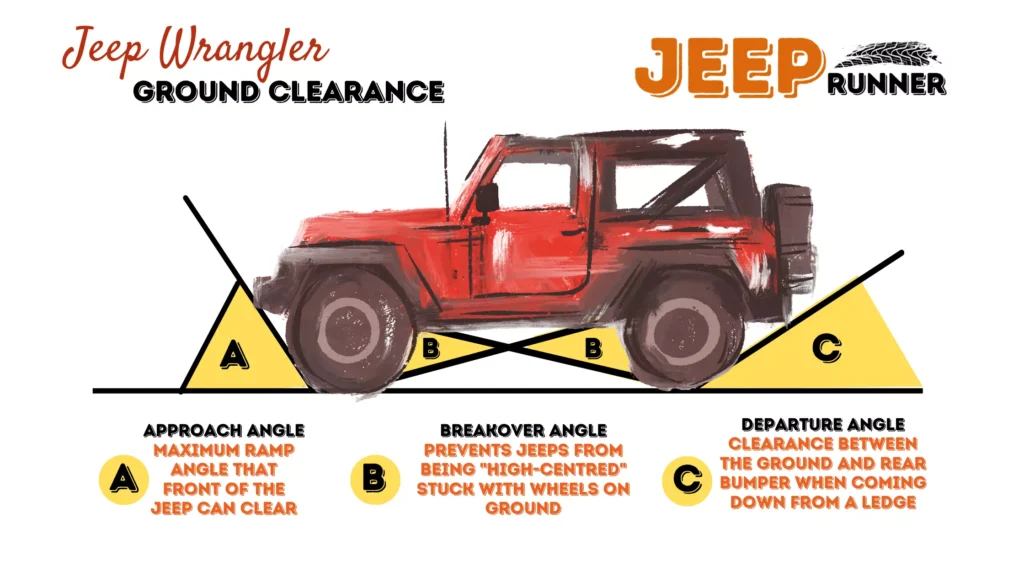 Read through our Jeep Wrangler ground clearance post to learn more about your Jeep's ground clearance, approach angles, break-over angles, and departure angles, As seen in the infographics image above, we recommend having at least 8.5 inches of ground clearance, 41.4 degrees approach angles (A), 25 Degrees breakover angles (B), and 35.9 degrees departure angles (C) at a minimum for off-roading.
The reason we recommend coil-overs is the combination of the spring and the shock absorber can get all the flexibility you will need without having to worry about unseating the coil springs. If you need a Jeep for off-roading, your suspension will experience so much travel of the springs and the coil overs don't allow unseating of the spring which can cause suspension damage when off-roading.
Coilovers are self-contained and offer adjustability depending on the height requirements you want on your custom Jeep Wrangler build; some Coil springs offer between two and five inches of lift that you can adjust to depending on the lift you want for your Jeep. Let's say you bought 35s tires and you now want to change your tires to 37s you don't have to change the coilovers, you just adjust the control arms to correct caster and pinion angles to accommodate larger wheels.
| | |
| --- | --- |
| Off-roading Build | Highway Build |
| Softer Spring Rate (250 over 250) | Less burn spring rate (150 over 200) |
There are so many factors that come into play when choosing a Coilover for your custom Jeep Wrangler build, such as brand, quality price, and many more considerations. A complete Coil-overs Upgrade will cost you between $4,000 – $6,000 with labor charges of $200 – $500 for a task that takes 3 to 4 hours depending on the complexity of the coilovers installation.
If you would like to expand on this topic, Check out the following articles:
Jeep Wrangler exhaust upgrade
Three major Jeep Wrangler exhaust upgrades are common Jeepers, muffler delete, flow master, and Borla exhausts. However, muffler deletes are illegal when you change the sound output levels, we will highlight all you need to know about the three exhaust mods for your custom Jeep Wrangler build.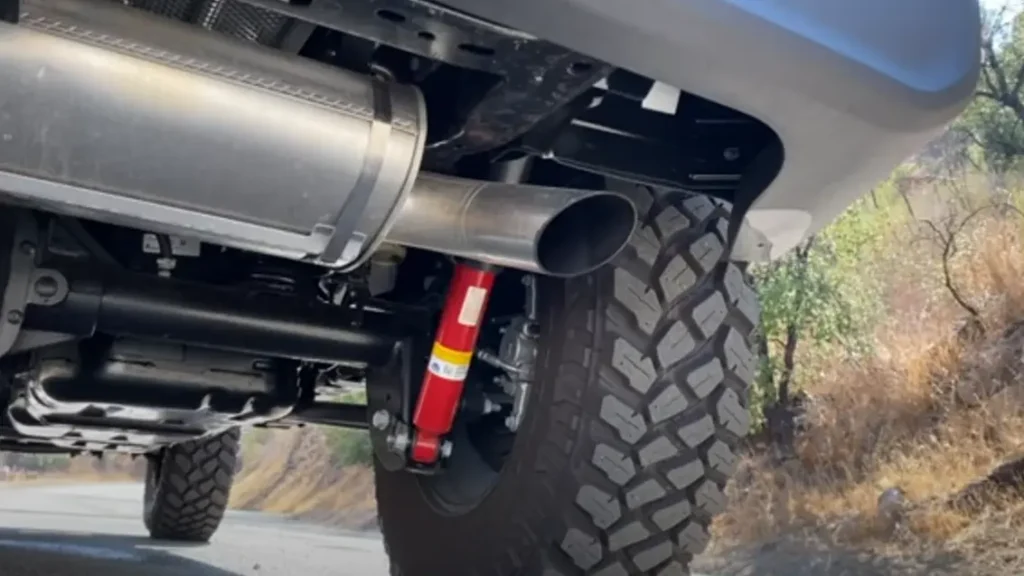 You might need to install a muffler delete for your custom Jeep, by removing the muffler and installing a muffler delete pipe, and exhaust tip. This will muffle the noise created by the heat and vibration of your Jeep engine, it's important to check on muffler deletes that will not cause any problems with the horsepower of your engine.
We love Flowmaster exhausts and always install them on our custom Jeeps, Flowmaster exhausts have the best features you would want in an exhaust system upgrade; some of the features include properly sized headers that will fit your Jeep Wrangler perfectly, thermal barrier coatings, thermal wraps, X Pipes, and drain size pipes to dump gases.
This Jeep exhaust is by far the finest sound we've ever heard. When the revs decrease, it has a beautiful deep tone and some nice poppy backfires. A major bonus for us is that it's not too loud and there's no freeway droning. The product's quality and packaging are excellent. We wish the tips had a bit more aggressive appearance because the extruded "Borla" looks weird in our opinion, but we're not willing to give up incredible sound and performance for such a minor issue. They also provide a cap with the Borla logo so that everyone in your neighborhood will know what sort of exhaust you have!
The prices of upgrading your exhaust range from $500 – $1,000, and the installations are $100, a task that takes 1 to 6 hours depending on the complexity of the installation.
Pro Tip: Regardless of whatever exhaust system you will choose for your Jeep Wrangler build, to ensure that your engine breathes as well as it can and so gives you the most power, you should also try combining a new exhaust system with a cold air intake. Reducing it can also assist with fuel consumption! The less gasoline your Jeep needs to operate, the better it will breathe.
Tire Carrier Upgrade
We love tub-mounted tire carriers for Jeep builds, tire carriers' upgrades are complicated, the stock tire carrier can only handle factory spare tires, and when you upgrade to bigger tires you will need to upgrade your tire carrier, we have encountered three problems after installing Jeep tire carriers:
The hinges of your tailgate will start to sag if the holds holding the tire carrier are not properly held together to your Jeep.
The other issue we have faced is the weight of your tire upgrades should be supported by the tire carrier, and they all hold to your Jeep in a firm position.
The major problem we have encountered is the different backspacing and tire width, and the tire carrier may not fit perfectly causing fatigue to your tailgate, you will need to investigate the best fitting tire carrier for your Jeep.
We have bought Tire Carrier at $300 – $1,000 such as Metal cloak Sportsgate, Cavfab, Rugged Ridge, Motobiltand, and Maximus, we install our tire carriers but the costs of installations from a reputable mechanic are $50 – $150 a task that takes Less than 1 hour
Jeep Headlights Upgrade
We don't like Jeep headlights, and this is the reason we have decided to put them on this list, we always recommend upgrading your headlights because factory headlights especially on a Jeep JK have lighting problems caused by a poor reflector design, poor lens design and light gauge wiring that causes a low voltage.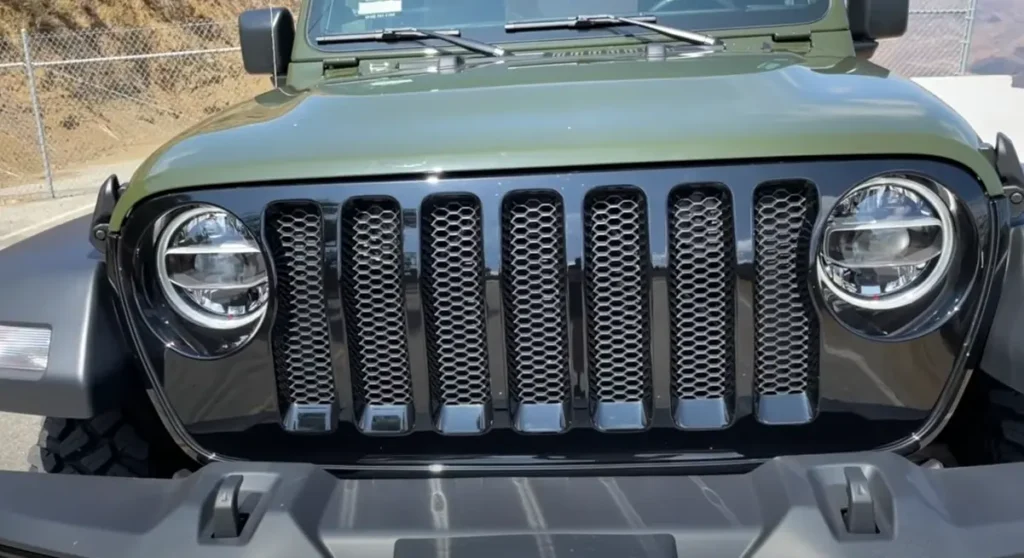 Who would not love indulging in an off-roading experience with their Jeep Wrangler, check out our article on the Best LED Headlights for Jeep Wrangler
There are two options for you when upgrading your headlights for your Custom Jeep Wrangler build, HIDs and LEDs, we recommend reading our article on the best ed headlights to learn in detail more about LED headlights for your Jeep.
We use a plug-and-play HID conversion kit to upgrade to HID headlights to increase their off-road lighting. We upgrade the outdated gear to work with HID lights by installing wiring, ballasts, and other components.
High-intensity discharge (HID) lights provide energy by gas and electrical discharge. Halogen light bulbs feature a filament, but HIDs have a gas capsule from which light is emitted when two electrodes discharge. HIDs are more luminous, brighter, and cold temperature resistant than halogens.
More and more significant automakers are including LED headlights in their more recent vehicles. Halogen lights are far inferior to LED lighting. In fact, on brand-new Wranglers, Jeep began introducing LED headlights.
Two different types of semiconducting materials are used in LED (light-emitting diode) lights to discharge colored photons. They emit enough light to provide adequate nighttime illumination.
LED headlights offer higher optical clarity, shine brighter, last nearly 10 times longer, and are more durable than halogen and HID headlights. An increase in nighttime lighting. Led headlights draw 75% less electricity and seem more contemporary.
Jeep Snorkeling
When building a custom Jeep Wrangler build for off-road purposes, Jeep snorkeling is a consideration for brave hearts. The purpose of a Jeep snorkel is to make sure that your engine has cold air in its engine, Jeep snorkeling is the only true cold air system you can install on your Jeep.
In sandy environments, where you are more likely to take your Jeep, dust can enter your engine or block your engine air filter more quickly, aftermarkets snorkels contain an extra layer of air filter that makes engine snorkeling a common practice by off-roaders.
Read more on how Jeep snorkeling improved your engine performance and things to consider when installing a snorkel in your Jeep on our Jeep snorkel purpose & Installation Tips post.
We usually install Snorkels in Florida, Jeeping in Florida is either mud, sand, or water, and it's our number one reason for ignoring disadvantages of Jeep snorkeling such as reduction of engine power due to aerodynamics, increase of 1-2 MPG, and course, having to cut holes our $40k Jeep.
Jeep snorkeling is also common in Australia especially new south Wales, home to 33% of Australian Jeeps, being a tropical paradise, Jeeps are exposed to stunning sandy beaches and lots of water, and Jeepers their loke Jeep snorkeling as a must custom jeep mod.
Benefits of Jeep snorkeling.
Jeep snorkeling improves your engine performance: The improvement of your Jeep engine performance is due to the cold air you can direct to your Jeeps engine, a Jeep snorkel directs cooler, cleaner, and uncontaminated air due to its elevated position, compared to a stock Jeep air intake that's inside the engine where its hot and likely to be contaminated with dirt, grease in your engine bay.
Jeep snorkeling from roof heights prevents dust, water, and microparticles when off-roading, aftermarket Jeep snorkels contain air filters that improve the efficiency of your Jeep's air intake, Jeep snorkeling makes sure your engine had cleaner and cooler air increasing the fuel efficiency f your Custom jeep wrangler build. However, you must make sure you understand the aerodynamics effects of your snorkel when installing a Jeep snorkel.
Air filters should be replaced every 8,000 miles or after six months, however, in a Jeep used on off roads, the air filters are subjected to more abuse than in a regular vehicle, this means you must regularly check your air filters which are more likely to wear out and be clogged with dust before your Jeeps maintenances are due. Jeep snorkeling reduces maintenance on your custom jeep wrangler build.
The last time we checked on the prices of Jeep snorkel, we were able to obtain a quotation from different vendors at $800 to $1,000 for the snorkel housing and tubing, the installations f the snorkel was a bit high at $200 – $300 due to the measures are taken to make sure the cuts are rust protected and testing phases to make sure the snorkels are leak proof. Installing a Jeep wrangler snorkel will take more than 4 hours, it's a process, and you should consider that.
Conclusions.
We will keep updating this list, for an overall custom Jeep wrangler build, in case you need upgrade features, contact us and we will give our expert review on the upgrade.
Here is a video that will motivate you as you work on your Custom Jeep Wrangler Build:
Last update on 2023-09-18 / Affiliate links / Images from Amazon Product Advertising API