We will show you the 5-tire Jeep rotation pattern on rear and four-wheel drive Jeeps, with a full-size matching spare, we will also highlight the value of 5-tire Jeep rotation and why we recommend you follow a specific pattern when rotating your Jeep tires.
The importance of the 5-tire Jeep rotation is to allow your spare tire to wear out evenly with your other tires, otherwise, when you require a spare wheel, it would be of a different circumference to the rest, a 5 tire Jeep rotation also extends the overall lifespan of your Jeeps set of tires.
A 5-tire Jeep rotation will help you save money in the long run, this is because you will get a 20% longevity boost on your tires since you will be able to spread the wear out evenly to the five tires of your Jeep.
Jeep tire rotation is beneficial to the health of your Jeep tires, including your spare tire on the Jeep tire rotation service will increase the lifespan of your tires as opposed to rotating only four tires, we also recommend making sure the tire treads are all the same if your four tires' treads are way down and the wear bars are showing using a spare tire with an inch difference tread will likely damage your Jeeps drivetrain.
We recommend getting your oil change and tire rotation at the same time to save big on your Jeep maintenance service, and also is easy to remember your Jeep tire rotation schedule if you always get an oil change and tire rotation every time, if you are into off-roading in Jeep Trails, this means you should get your tires rotated more often than you will get your Jeep oil changed because you will likely get substantial uneven wear due to driving in rough roads.
How Often To Rotate Tires?
We recommend a 5 tire Jeep rotation after every 3K miles, however, some Jeepers do it 3k-5k miles.  You can also rotate your tires when doing your oil changes or after every six months depending on how frequently you use your Jeep.
Looking to enhance your off-roading adventures even more? Check out our related guides on the Best tires for jeep wrangler daily drivers and the Best Shocks for Stock Jeep JK
How Do You Do A 5-Tire Jeep Rotation?
Your Jeep tires should be serviced periodically, Jeep has provided tire rotation patterns they recommend based on your specific Jeep, and it's available in your owner's manual, however, if you don't have access to the manual, we have included the 5 tire Jeep rotation diagrams below which can be your guide:
5 Tire Jeep Rotation.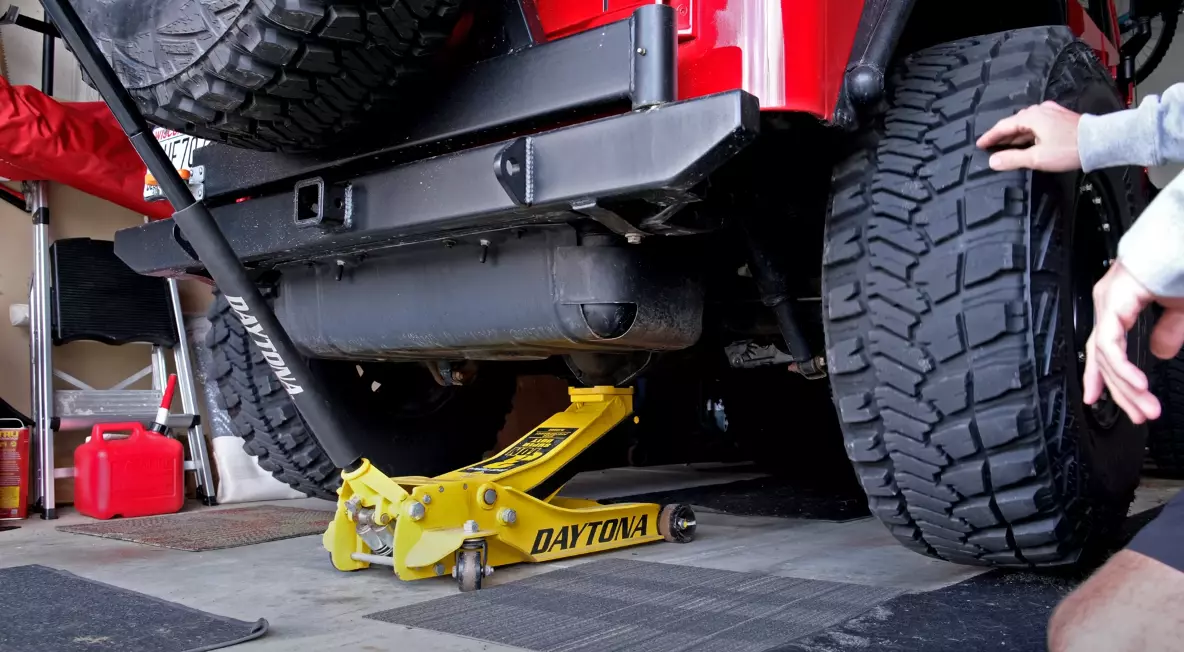 We have used different tools when rotating our Jeep tires, some make our work easier while others are a complete disaster, we recommend having a Jeep Jack ; four jack stands (Six tons), and a floor hydraulic jack.
We support the axle with two jack stands after lifting the rear by putting the jack under the pumpkin and lifting it until the tires are off the ground. We then lift the front and support it with two jack stands (often beneath the pumpkin and again somewhere around the FAD). These are the steps we follow and our go-to tools for a quick 5 tire Jeep rotation.
Tip: We recommend starting your 5-tire rotation with the spare tire.
Forward Cross-Tire Rotation
If you own a Jeep Renegade, Jeep Compass, Jeep Patriot, or a Jeep Cherokee with front-wheel drive, you should rotate the tires in a forward cross position as shown in the figure below: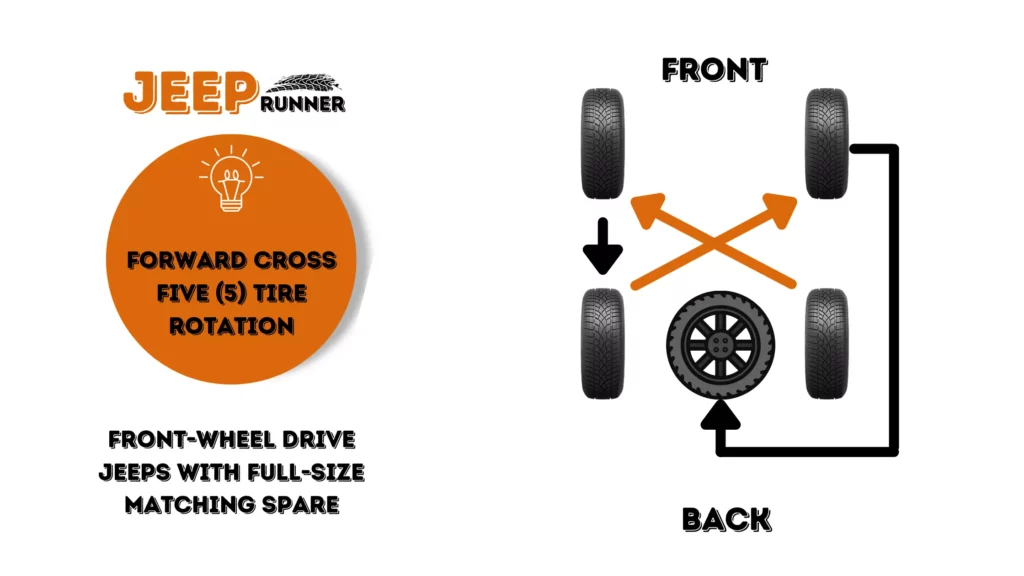 Rearward Cross-Tire Rotation
If you own a New Grand Cherokee, All-New Grand Cherokee 4xe, Wrangler 4xe, Wrangler, Grand Cherokee WK, Cherokee, Renegade, or Jeep Compass with four-wheel drive options, rotate the tires in a rearward cross pattern as shown in the figure below: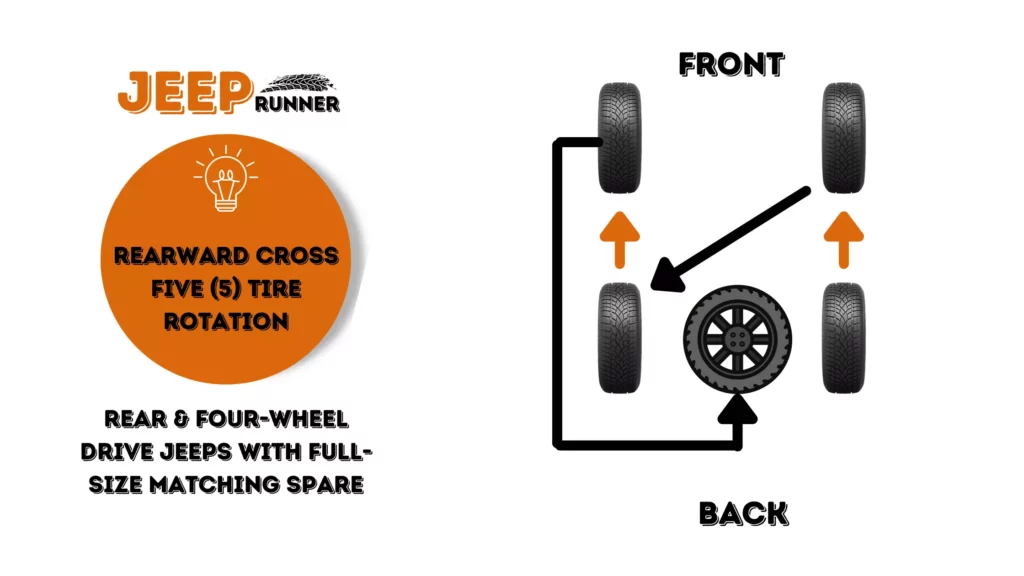 To keep your Jeeps tires fresh, and long-lasting, a good 5 tire jeep rotation plan is to rotate every other tire change between 3k-5k miles, or around 6 months, whichever comes first.
Jeep Wheels Lug Nut Torque Guide.
Lug Nut Torque
**Lug nut bolt size
Lug Nut Socket Size
130 FT-Lbs.
(176 N-m)
M14 X 1.50
22 mm
Jeep Spare tire Lug nut torque Guide.
Lug Nut Torque
**Lug nut bolt size
Lug Nut Socket Size
59 Ft-Lbs.
80 N-m
M14 X 1.50
22 mm
Conclusion
Don't start a 5 tire Jeep rotation without the proper tools required, rotating your tires, and incorporating your tires saves you more than 20% of the tread life, saving you money in tire rotation costs in the long run.
Including your spare tire in your 5-tire Jeep rotation will ensure the tread pattern match when purchasing new tires. you can also use this opportunity to check your brake conditions, sidewall tread, lug torque, and wheel pressure, these simple tests will help you maintain your Jeep tires and, and give them a long life.
We have a list of the best portable air compressors available for your Jeep to Keep your Jeep tire pressure in check at all times.
Now that you have reached the end of our 5 tire Jeep rotation guide, we are sure you have acquired enough information to help you rotate your Jeep wheels on your Jeep, this means now you can rotate your Jeep tires based on recommended industry standards, we recommend saving the images provided for later use, and also tell your Jeep friends about this informative article.
If you liked this article, you'll like our related articles as well. Check out these: Jeep Wrangler Gas Mileage Tips & Tricks and Best Jeep JK Coolant.
Related tire rotation posts: