How much does a lift kit cost is one of the most common questions we get asked by Jeepers who are looking forward to lifting their Jeeps. In this guide, we will explain the different types of lift kits, lift kit costs, installation labor costs, and more.
We normally advise our readers, that before they lift their Jeep, they should first understand why they need to lift their Jeep or truck, jeepers who just want to lift their mall crawler Jeeps (Jeep for Looks), we advise them to just buy a more affordable lift kit, for Jeepers looking forward to using their Jeep for off-roading, we advise them to purchase premium lift kits, the use case of your Jeep or truck will determine the cost of lifting your rig.
The four main lift kits we are going to consider are leveling kits, body lift kits, coil lift kits, and suspension lifts.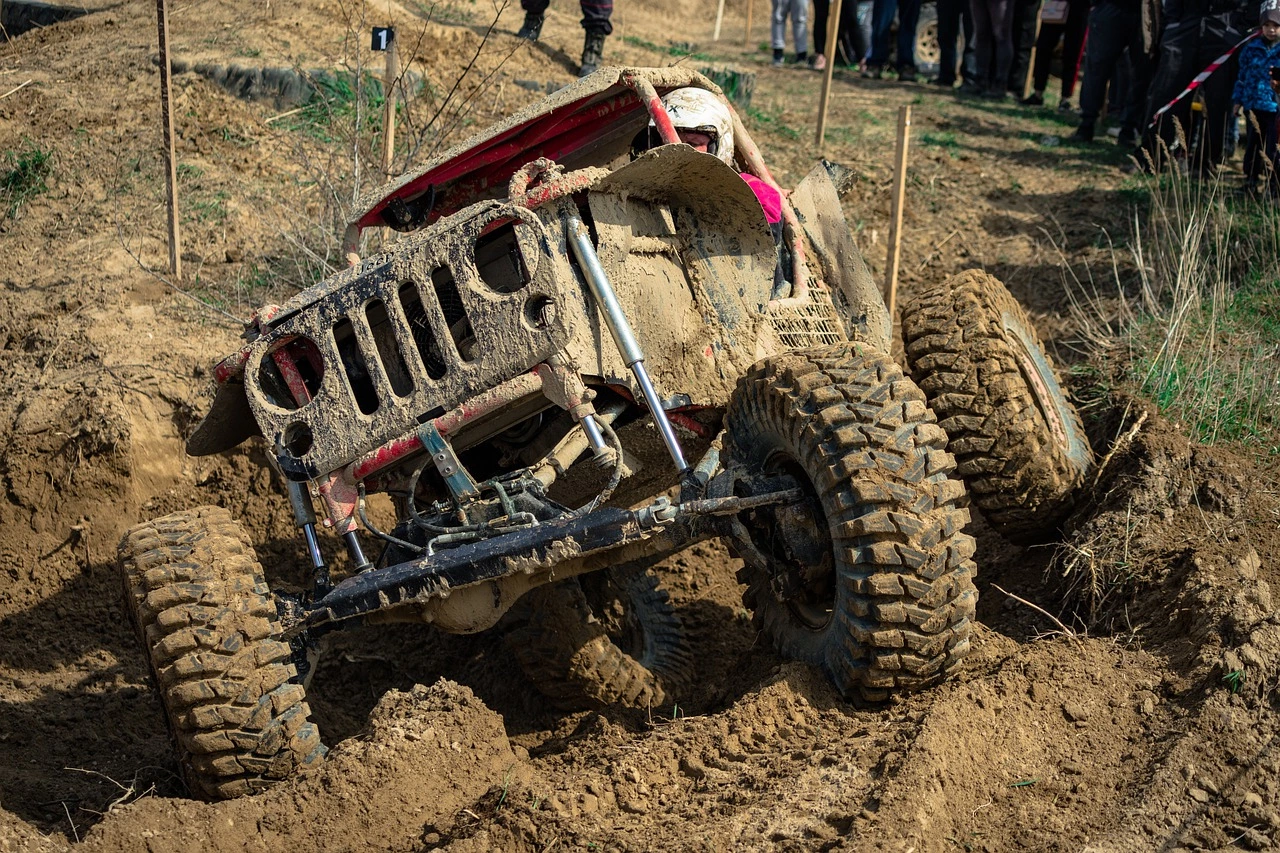 What are Jeep leveling kits?
A leveling kit is a suspension lift kit that raises your Jeep further away from the axles, most Jeepers install leveling kits to improve their ground clearance, fit larger tires and improve their Jeep's stance.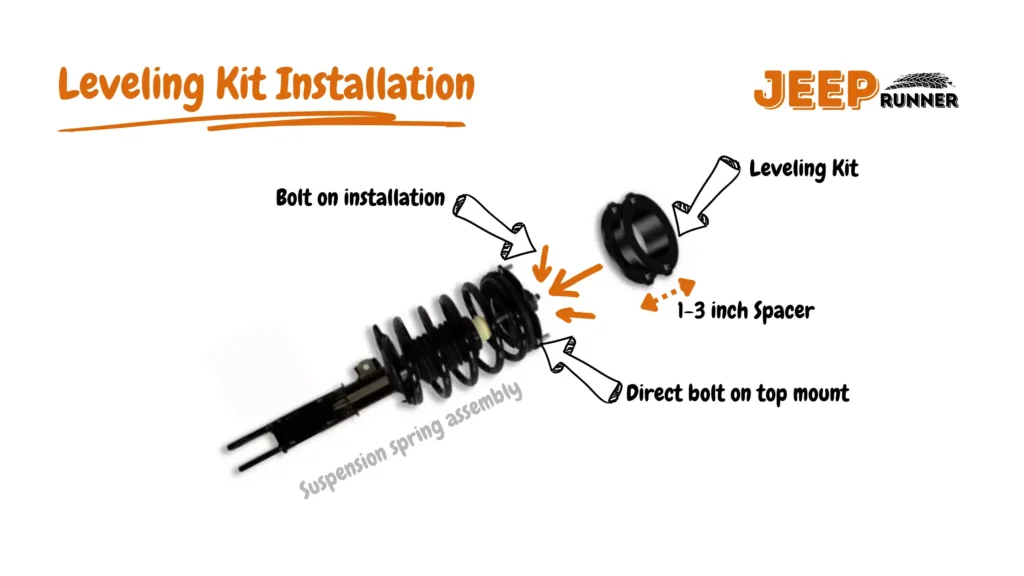 Different types of Leveling kits
Most rear ends of factory SUVs have a higher rear end compared to the front ends, and this restricts people from installing tire upgrades to improve their approach angle (ground clearance), for this reason, we recommend installing leveling kits to raise the front of their Jeep or truck.
There are two main types of leveling kits, Coil Spring Spacers, and Torsion bar keys.
The Cost of a Leveling Kit
The cost of a leveling costs ranges between $30 and $200 depending on the type and quality of a leveling kit, each leveling kit comes with its own set of considerations:
Cost of Coil Spring Spacers
Coil spring spacers add a block between the upper and lower spring pads, depending on the quality and the materials used to make coil spring spacers, you can find them in the market ranging from $30 for rubber coil spring spacers to $130 for alloy coil spring spacers for parts alone, not including installation.
Cost of torsion bar Keys.
It's important to note that Jeeps don't have torsion bars, they have sway bars, Sway bars prevent your Jeep from rolling while torsion bars replace trucks' leaf springs, for the sake of the people who would like to know the cost of torsion bars which are also leveling kits, torsion key cost between $100 and $200 depending on the quality and material used to make them.
We don't recommend adjusting torsion bar keys to get a slight lift, this is because this practice of lifting puts extra pressure on the load and damages the factory torsion keys and it will cost you in the long term.
Can I install a leveling kit myself?
Yes, you can install leveling kits in your Garage or driveway, most Jeepers install simple spacers between the front suspension and your Jeep frame at home, however, if you are not into wrenching kinds of stuff, the costs of installing a leveling kit by a reputable mechanic range between $300 and $500 on top of the cost of buying leveling kits. On most of our leveling kit installations on our Jeep, it takes us 3 hours for a complete leveling kit installation.
Caution: Unless you know what, you are doing, we don't recommend a lift kit DIY, installing Leveling Kits Can Make Your Warranty Void if not installed properly and causes an accident.
The cost of installing leveling kits is high because a reputable mechanic who understands how lift kits work will recommend having your Jeep professionally aligned which adds another $50 – $100 on top of the kits and labor costs.
Best Jeep leveling kit
For Jeepers looking forward to increasing the height of their suspension lift at a budget to increase their ground clearance or installing tire upgrades, we recommend the following Jeep leveling kits that are thicker than stock isolators.
These are mostly the best Jeep leveling kits on the market that we recommend, leveling kits are the cheapest option, easier to install, and they may be all you need to boost your ego.
What is a Jeep body lift?
Jeep body lifts involve unbolting the body of your Jeep from the Jeep frame and installing 1-3 inches of Jeep body lift kit between the frame and body of your Jeep. Body lifts are a popular way to put larger tires on your Jeep.
Body lifts are more expensive than leveling kits in terms of lift kit purchase and labor costs, but are cheaper compared to suspension lifts. The benefits of installing a body lift compared to leveling kits are that Jeep body lifts retain Jeep's factory suspension geometry and alignment while doing all that lift kits do, improving ground clearance among others.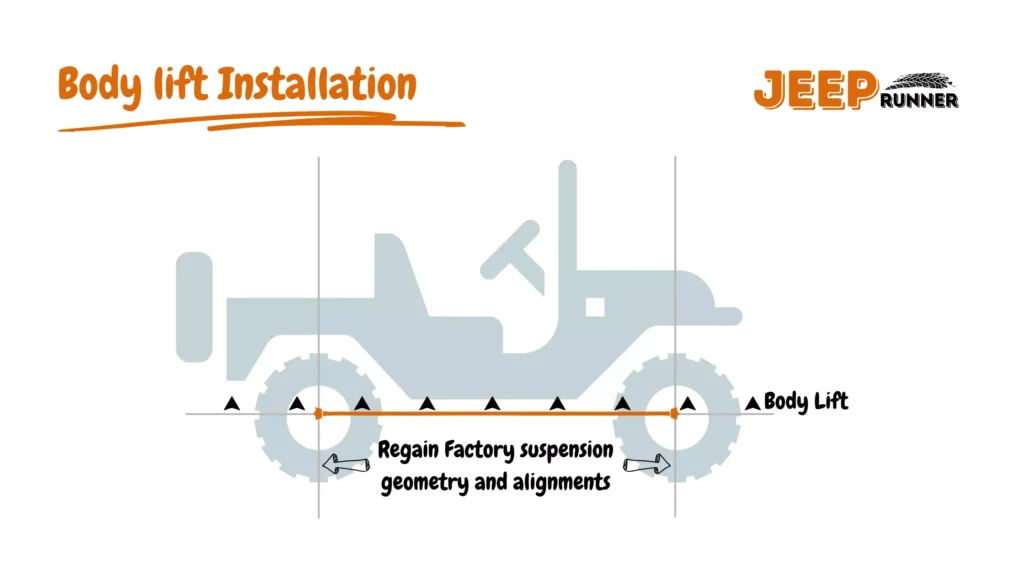 They are also a good option for Jeepers who want to lift their Jeeps for the looks, because they allow them to showcase their frames because it becomes more visible after installing a Jeep body lift, however, its good to know that body lifts will change your Jeeps center of gravity.
Body lifts costs.
Body lift costs $700 to $500, the cost involves purchasing body lift kits that range anywhere between $200 and $500, the installation of body lift is labor intensive compared to leveling kits, you can expect to pay a professional mechanic anything between $500-$1,000 to install body lift kits depending on the tasks involved and the type of your Jeep.
Best body lift kits for Jeeps.
If you are in the market for body lift kits for Jeeps, an accredited brand with satisfied customers is recommended, we have laid out the list of the best body lift kits for Jeeps based on brands from industry leaders involved in the Jeep lift kit technology and can be trusted for quality products. These are our three picks for the best body lift kits for Jeeps:
What are the cons of a body lift?
If you are lifting your Jeep for off-roading purposes, Body lifts offer a small ground clearance, and also expose your Jeep frame and gaps become visible in the fender wells.
What is a coil spring spacer?
A coil list spacer sits on top of your Jeeps coil spring or in between your coil spring, also called a coil spring booster, coil spring spacer use either steel or polyurethane spacer to raise a Jeep to your desired heights for ground clearance purposes.
Depending on why you want a coil spring spacer, they come in two versions coils spring compressor and coil spring boosters and work by depressing or improving your coil spring tension to achieve the desired height of your Jeep.
Coil spring spacer cost
Coil spring spacers or coil spring boosters are mainly sold at $50 to $100, the labor cost involved in the installation of coil spring spacers ranges between $100 to $200 depending on the types and density of your coil springs, and the type of your suspension system.
Best Coil Spring spacers
We have used several coil spring spacers to lift different types of Jeeps, especially Jeep Wranglers, we recommend the following coil spring spacers which are made from either metal, rubber, or polyurethane:
Coil spring spacer problems
It's important to note that despite coil spring spacers increasing the height and improving your Jeeps ground clearance, they will ruin your Jeeps ride, and Jeep handling, and make your Jeep suspension weaker, that's why we don't recommend coil spring spacers up your Jeep, the best way to go about listing your Jeep and our recommended lift is the use of a proper lift kit.
Coil spring adjustable spacers
If you want to lift your Jeep with coil spring spacers, we recommend at least looking for coil spring adjustable spacers, this is because the main problem with coil spring spacers is they limit your Jeeps suspension droop, add stress to your suspension, and may cause your suspension system to bottom out before it reaches the bump stop, with Coil spring adjustable spacers you can be able to adjust your coil spring height to your desired stiffness based on your coil springs and Jeep loads.
What Is a Suspension Lift Kit?
Suspension lift kits are lift kits that suspension components that include larger shocks, axles, and CV joints. We mainly recommend suspension lifts as the best option to increase your Jeep's ground clearance and height to navigate road obstacles with your Jeep. They are also a bit safer, gives you more ground clearance, and put less strain on your Jeep.
What are the different types of suspension lifts?
There are several types of suspension lifts available for your Jeep, based on our research we have classified them based on use case scenarios, and they include:
| | |
| --- | --- |
| Types of suspension lifts | Best for: |
| Spring over axle suspension lift kits | Rock crawlers |
| Shackle reverse suspension lift kits | Daily drivers |
| Coil suspension lift kits | Experienced off-road drivers |
| Lifted spring suspension lift kits | First-time off-roaders |
| Shackle suspension lift kits | Occasional off-roaders |
How much does a suspension lift kit cost?
The cost of a suspension lift ranges anywhere from $400 to $2000, and installation of suspension lift kits costs between $400 to $1000 depending on the type of suspension lift brand.
Best suspension lift kit for Jeep
We have installed a variety of suspension lift kits available on the market, based on the feedback we get and the quality of the suspension lifts based on our experience, we have been able to create a shortlist of the best 3 lift kits to recommend to you.
The above lift kits are made of durable heavy-duty materials ideal for off-roaders, and can very well handle the most punishing off-road applications, they are also a common upgrade amongst our circle of Jeep friends and they speak highly of the above suspension lift kits.
Conclusions.
Now that we have answered your question on How much does a lift kit costs based on the different use cases and the different types of lift kits available on the market, you can now narrow down your search and check out our recommended products based on your budget and the various types of lift kits available for your upgrade options.
Also be sure to share this article with your friends, especially the ones who own Jeeps and are looking forward to lifting their Jeeps, you will help narrow down their search for the best lift kits available on the market and understand the different types of lift kits associated with them.
If you liked our article on "How much does a lift kit cost" you will also like our related articles as well!
Last update on 2023-09-18 / Affiliate links / Images from Amazon Product Advertising API