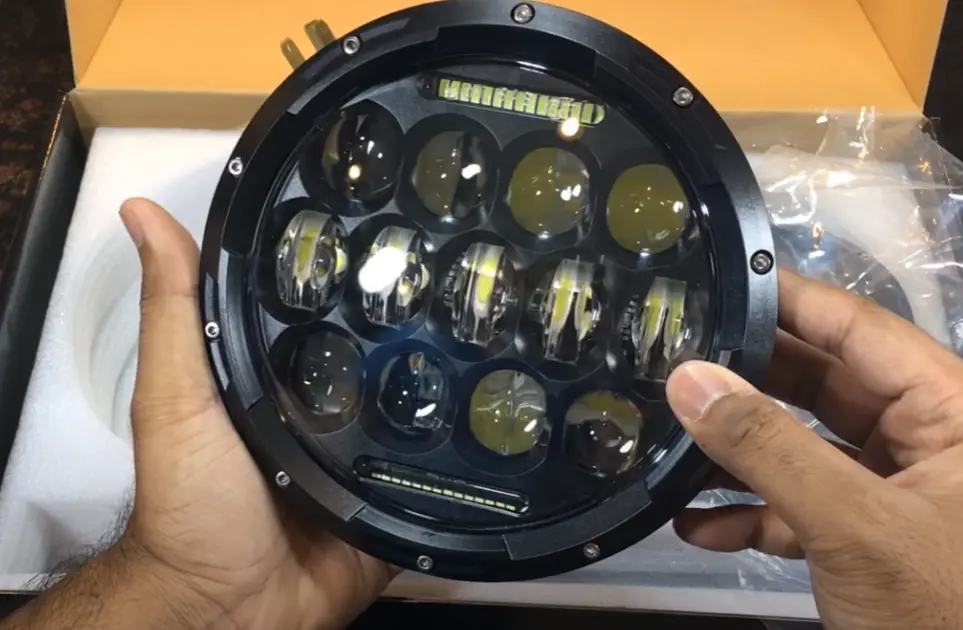 Editor's Choice
We have tested different LED headlights on our Jeep Wrangler JK available on the market and listed the best LED headlight for Jeep Wrangler JK list below to take out the guesswork on the best LED headlight to purchase for your Jeep Wrangler JK. We have listed the best LED headlights for Jeep Wrangler based on beam patterns, brightness, and color.
Best LED headlights for Jeep Wrangler JK
SUNPIE CREE LED Headlights with Halo White DRL & Amber Turn Signal.
Choose the SUNPIE CREE LED Headlights with Halo White DRL & Amber Turning Indicator for the best Jeep Wrangler LED headlight. These are bright, energy-efficient, and weatherproof, suitable for use in all weather.
Best Budget LED headlights for Jeep Wrangler JK
YEEGO DIRECT DOT Approved LED Halo Headlights
We recommend the YEEGO DIRECT DOT Approved LED Halo Headlights if you're opting for a less-priced alternative. Despite their low cost, these LED lights are exceptionally powerful and long-lasting.
The list we have compiled below consists of the best LED headlights for Jeep Wrangler JK no matter what generation of Jeep Wrangler JK you own. When searching for the best lead headlight for Jeep wrangler JK you will be faced with thousands of different products for sale on the internet.
Are you looking for more stories like this? Here's one we believe you'll enjoy: Best low profile roof rack
LED Headlights For Jeep Wrangler JK Guide
We have noticed the best LED headlights for Jeep Wrangler JK consist of a thin and narrow LED chip ray, not only did a good chip play a role in making sure we have the best LED headlights for our Jeep Wrangler JK we noticed that LED bulbs produce heat that needs a good heat sink, this means we needed to buy LED bulbs with a good mix of a heat sink and a good LED chip.
It's also important to check on the wiring type and the drivers of the light bulb, every LED headlight bulb has a driver, you should find a headlight that has a medium driver or a small driver – A small external driver that can absorb its own heat and has a waterproof connection.
It's also important to make sure your LED headlights are approved to be used on the highway, bright LED headlights normally cause glare to oncoming vehicles, one of the ways we recommend you to check to ensure you are purchasing an approved LED is by looking for a DOT/SAE approval signature on your headlight.
Jeep Wrangler JK Headlight Housing
No one likes water condensation on our headlights, for this reason, we recommend buying a headlight that has its housing insulated to prevent water from entering the headlights of your Jeep, a drop of water on the headlights can easily damage your LED bulbs or LED driver if they are exposed to moisture.
Best LED Headlights For Jeep Wrangler JK Buyers Guide.
The list below consists of the best LED headlights for Jeep wrangler JK that have the best types of housing, LED bulbs, and LED driver sizes.
Best LED Headlights For Jeep Wrangler JK.
Things To Consider Before Buying The Best LED Headlights For Jeep Wrangler JK.
When we were looking for the best LED headlight for our Jeep Wrangler JK, we decided to test several LED headlights available in the market, there we a lot of brand and pricing options, and most were okay but we narrowed down our research to the best-LED headlight based on headlight housing, whether it's a reflective housing or a projector housing of the LED headlight. We observed projector housing was the best when it comes to controlling the beam pattern of our headlights.
Another consideration was the color temperature, we wanted a LED headlight that will be close to the original OEM white temperature. We have summarized our research below to help you dig more as you get informed about making a purchase of the best-LED headlights for Jeep Wrangler JK.
Jeep Wrangler Headlight Housing.
There are two types of LED headlight housing, reflector housing, and projector housing. Reflector headlight housing allows LED bulbs to shine their light on the chrome housing which then reflects the light onto the road. The projector headlight housing has an LED bulb where there is a chrome ball behind a glass lens which then focuses the light towards the road, the light is very precise and sharp making them ideal for Jeep Wrangler owners who want clear and sharp light projections.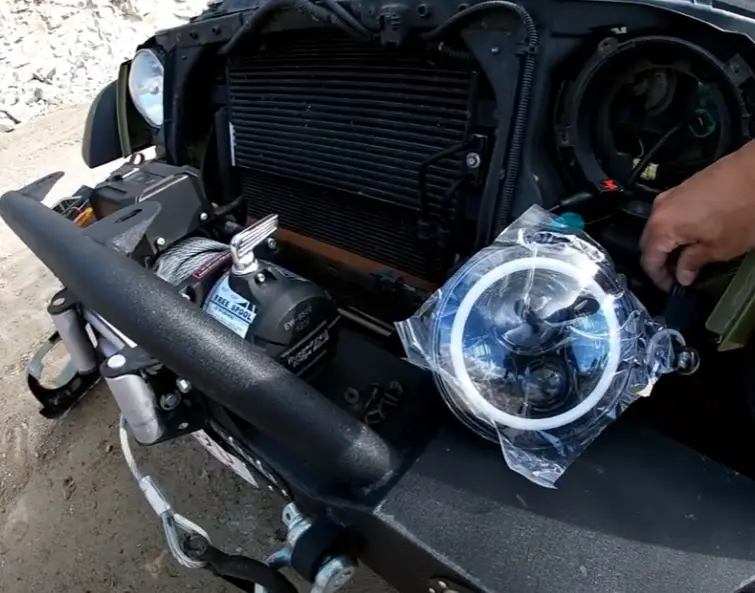 What we have found out is that most reflective LED reflective housing headlights have a little scatter and glare to oncoming drivers, our list of the best-LED headlights for Jeep Wrangler JK has a tight control beam pattern helping you see better and prevent dangerous glare to oncoming vehicles.
LED Headlight Color Temperature.
When it comes to color temperature most aftermarket LED headlights are mainly 6000K or higher, the problem with this is that if you are looking for an OEM look on your Jeep headlights you have to choose the 4300 version of the LED.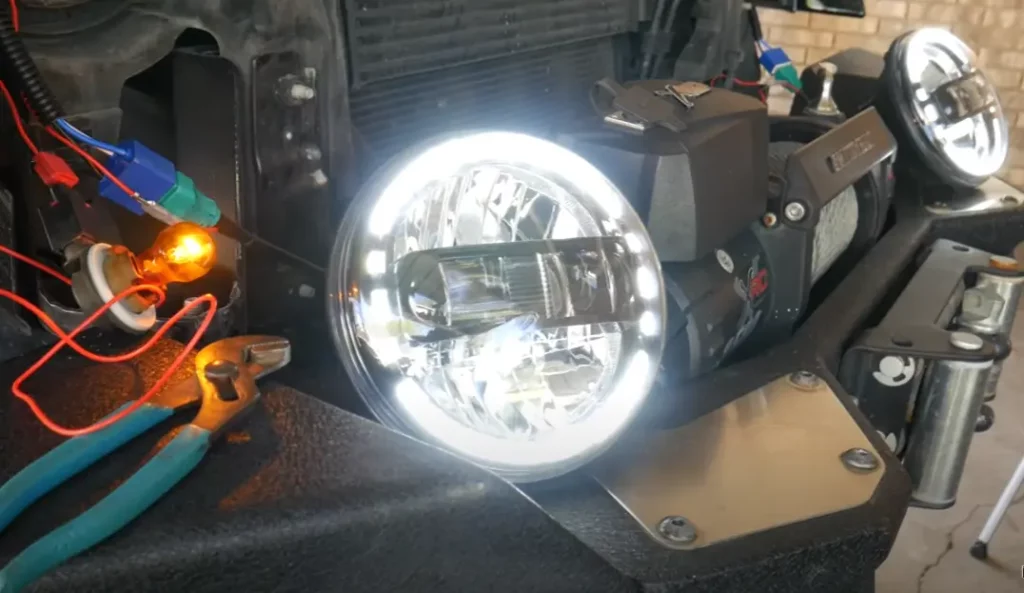 Below is a table that we have written that compared the different color temperatures of LED headlights available on the market and how their light looks compared to each color temperature.
In the table below we have compiled the color temperatures to expect on aftermarket headlights for Jeep Wrangler JK:
| Color temperatures | Buying Guide. |
| --- | --- |
| 3000K | Warm white LED headlights |
| 4300K | OEM white LED headlights |
| 6000K | White headlights with a bluish tint. |
| 8000K | Normally sold in a white or blue light color |
Table: LED Lights Temperature Compared.
Conclusions.
For obvious reasons, LED lighting is becoming increasingly popular in the car industry. They have a longer lifespan, consume less energy, and increase safety due to their quick response time.
LED headlights are getting better over time, a Jeep headlight performance is vital a vital part of the Jeep's safety and driving comfort, we like OEM white LED lights that allow us to view far off the road but also we can see the beam low to the road to avoid being flashed by oncoming vehicles, Good LED lighting systems with OEM lights also allows us to have a strong engagement of reflective signs on the side of the road.
We recently had a discussion with a team of headlights experts and they said their favorite feature of a good set of lights is that the driver should not be strained after driving at night, eyes get strained by strong headlights. A good set of headlights is getting more affordable, the good news is that our list of best LED headlights for Jeep Wrangler JK takes all the features we have discussed, it doesn't have to be a premium brand or pricy pieces of headlights.
Now that you have learned the attributes to look for when upgrading your Jeep Wrangler JK headlights, you can share our list with your families and friends who need a headlight replacement for their JK.
This video below gives instructions on how you can replace Jeep Wrangler JK LED headlights at home:
Frequently Asked Questions.
Are LED lights worth it Jeep Wrangler?
LED is worth it compared to halogen lights; the light outputs are better on a LED light compared to a standard halogen light. The lifespan of the LED is around 15,000 hours compared to halogen lights' 1,000 hours of light. A halogen light also consumes more energy compared to LED lights. However, LED lights cost more than halogen lights but in the long run, the benefits of LED lights are more compared to Halogen lights.
Can I put LED bulbs in my Jeep Wrangler?
On a 2017 Jeep wrangler or later, you can upgrade your existing auxiliary lighting to new LED Lights, or swap your existing light bulb to a new twist, plug-and-play LED bulb, however older models from 2017 you have to replace the housing of the headlights since they arrive with factory halogen lights.
Are LED headlights better?
LED Lights are better compared to halogen lights, LED lights are fantastic on the road. The biggest change is the projected 2,000-4,000 lumens beam of light when you use LED lights compared with 1200 and 700 lumens Halogen lights. To increase safety and light disbursement we recommend LED replacements or upgrades compared to sticking with Halogen lights.
Are LED halo lights good?
LED halo lights are a great alternative to Halogen light bulbs and trim rings. They appear to be pricey compared to halogen lights, but with an average lifespan of more than 20 years and decreased electricity consumption, they end up costing less and requiring less effort. In comparison to incandescent and CFL bulbs, they are a little brighter and more centrally beam of light output at night time.
Are LED headlights hard to install?
LED headlight Installation instructions are included with the LED headlight kit. LED headlight Installation requires only a few simple tools, and prior installation experience is not required. So, if you're confident enough, you can 'do it yourself.' You can also take the LED headlight kit to a mechanic and have it installed for you. The third alternative is to ask any of your friends or family who have prior LED headlight installation experience.
Last update on 2023-03-14 / Affiliate links / Images from Amazon Product Advertising API