Jeep wheeling is fun! when you hit the dirt roads with your Jeep is like entering a new universe of experiences and life lessons, there is always something to learn & explore on each Jeep wheeling day.
This is an introduction to off-roading with your Jeep, whether you are a beginner with the ability to go off-roading, and want to know more about Jeep wheeling and what they are getting themselves into, this is also for veteran off-roaders who want to learn more about off-roading.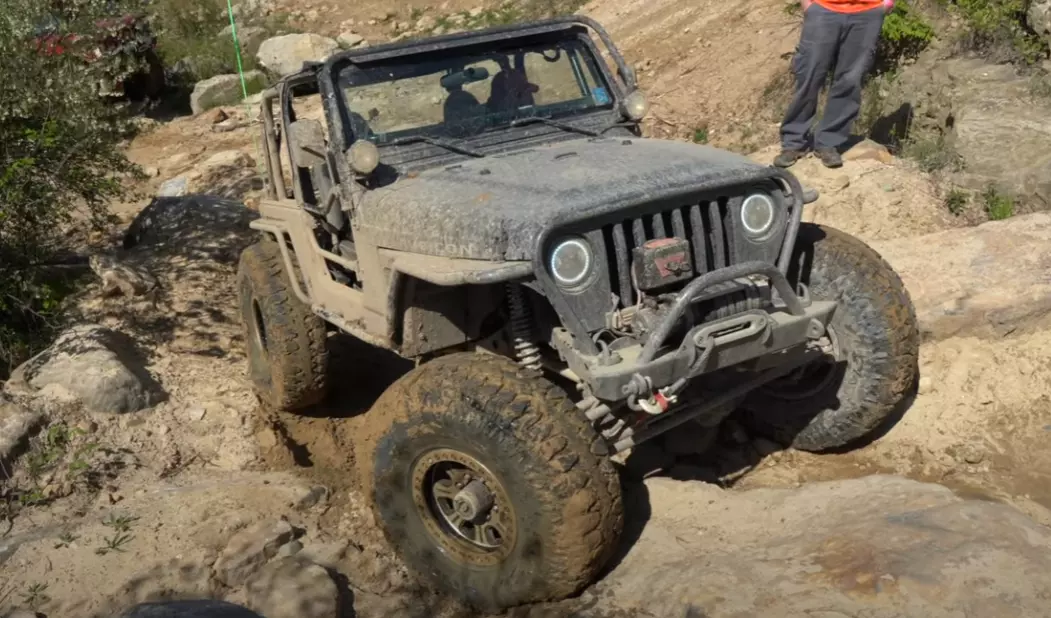 You don't have to be a rock crawler or an overlander to enter the world of Jeep Wheeling, you just have to use your Jeep a little more than you are using it now, being part of the Jeep community and using your Jeep and using it for what it can do is super fun!
Jeep Wheeling essentials.
Planning your off-roading trip is fun and exciting, planning is essential because any off-roading adventure can turn sour if you don't have the essentials, you will need when you hit off-road Jeep trails.
You can check out our reviews on the Best Jeep Parts and the Best Jeep accessories posts regarding the tools and accessories highlighted below; it might take a little bit of time, but you will be glad you did it.
| Quick Fixes | Recovery | Personal Safety |
| --- | --- | --- |
| Tool Box | Recovery Straps | Water and Food (Military-style MREs are great) |
| Spare Tire & High Lift Jack | D Rings | Work Gloves |
| Air Compressor, Deflator & Jumper Cables | Winch | Spare Set of Clothes |
| Backup Gas | Ground Anchor | First Aid Kit |
| Duct Tape and Zip Ties | Shovel | Fire Extinguisher |
| Oil | Tree Saver | Cell phone or Sat Phone |
| Fuses | Traction Boards | Bug spray |
| Spare parts such as ball joints, axle bearings & serpentine belt | General recovery gear | Work Light |
Ground Clearance For Jeep Wheeling
We recommend understanding your Jeep's ground clearance, you will need anything between 6-8 inches of ground clearance, with a minimum height of 10 Inches and above required for tougher trails. We have included an infographic image below to help you understand your Jeep's ground clearance angles, such as the approach angle, break-over angle, and departure angles.
Improve your offroad experience by learning more about your Jeeps Ground Clearance and how it impacts your Jeeps capabilities and your offroading driving.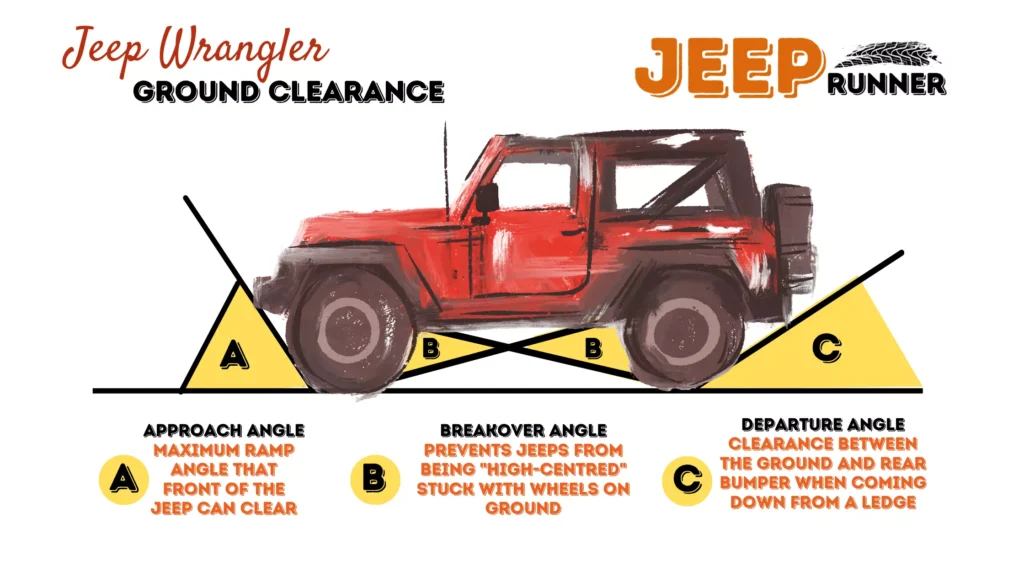 One of the most important things to understand when Jeep wheeling is the clearance of your Jeep, your Jeep has to get over obstacles such as rocks, logs, and things you will find o the road. The key to understanding Jeep wheeling is understanding the parts under your Jeep.
A Jeep differential is one of the lowest parts of your Jeep, the control arm is also part of the lowest parts underneath your vehicle/ the key to Jeep wheeling is between the control arm and the differential, positioning an obstacle between the control arm and the differential of your Jeep without damaging parts underneath your Jeep.
The most important differential and control arm to understand their positions are the front ones, you should be able to understand their position when on the driving seat just by positioning them on your bonnet.
How to prepare your Jeep for off-roading
When off-roading, being stuck is nothing to be ashamed of. In actuality, problems might wait around any corner for both Jeep wheeling beginners and seasoned Jeep drivers. For this reason, we have prepared a basic Jeep preparation guide to help you in your research and preparation:
Off-road tire pressure
The first thing you need to do is to prepare your tires for Jeep wheeling, using a deflator you should let some air out of your tires – you might think you don't need to deflate the tires for the type of off-roading you will undertake, and deflating your tires will lead to a discomfort able ride.
When offroading, we recommend always having these portable tire air compressors for your Jeep to inflate your Jeep tires after deflating them.
Your tire PSI is different from every other person and you should not go looking online for clues on the right PSI, this is because the PSI is based on the type of vehicle and the weight of your vehicle. You should experiment with your Jeep in different PSI until you are comfortable with the amount of pressure your Jeep has in a specific terrain.
Advanced Jeep wheelers and rock crawlers deflate their tires as an initial preparation step right after they reach the trails, if you have tires that are 35+ PSI for example and you try to go over an obstacle, the jeep tires will just slip, when you air down your Jeep, the tires will just grip the obstacle giving you more traction to pull you up.
We have included an infographic below highlighting the difference in contact patches across various tires pressures (40,35,30,25,20,15 PSI) to guide you when airing down your Jeep for wheeling: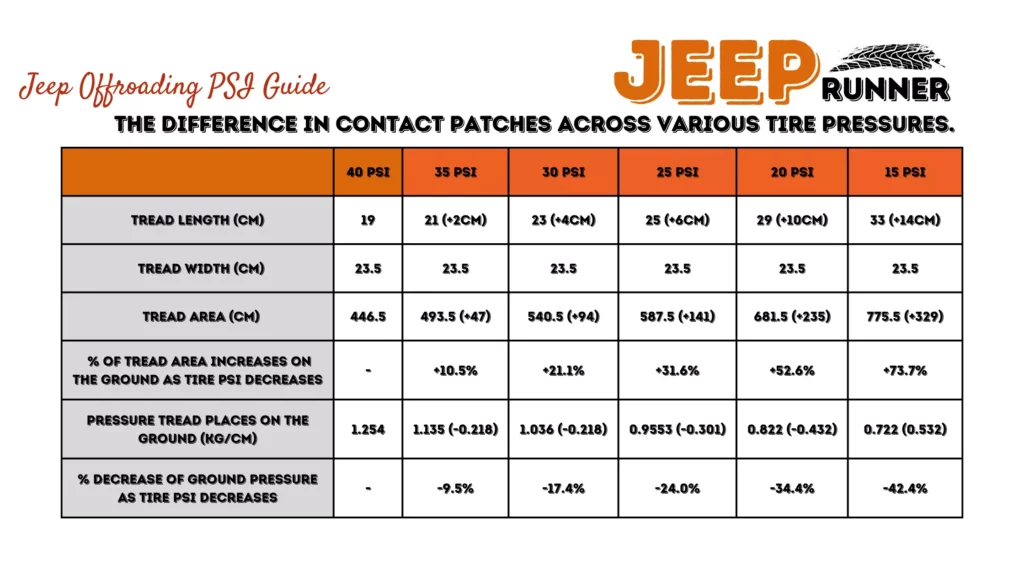 Tip: Don't air down your Jeep tires, if you don't have an inflator.
Centering Jeep steering wheel
You will need to straighten up the steering wheel set-up for better control of your Jeep when Jeep wheeling, this is a simple task that involves loosening two nuts, it takes just a couple of minutes to straighten up your Jeep steering.
The drag link from the pitman's arm to the passenger side has the adjustment sleeve, the adjustment sleeve has two nuts threaded to the drag link that you will need to loosen up (one of the nuts has a backward thread) using a pipe wrench. The adjustment sleeve rotates the steering and you will need your pointer to check if the steering is straight while you rotate the adjustment sleeve until your steering wheel is centered. Once you straighten up your steering wheel you should re-tighten the nuts and you are good to go.
Use your Jeep sway bar disconnect
When you are Jeep wheeling and you reach a place with obstacles, you should use your sway bar disconnect to allow good articulations, to do this you will need your Jeep to sway bar disconnected.
To creep in slow speed, put your Jeep in 4L (Low Range), and press the jeep sway bar disconnect button, and your button will blink and have a solid light when disconnected. The axle lock will engage and just creep through your obstacles with good traction.
The purpose of disconnecting your sway bar is to enable your Jeep to flex when you are creeping through obstacles by keeping your wheels on the ground when on uneven terrain. The lockers on your Jeep axle, lock and allow your wheels to spin at the same time – you can activate your lockers by pressing the axle lock button on your Jeep dashboard, it's located next to the sway bar.
Looking for related articles? Here's one we think you'd like: Understanding Jeep Differentials                   
Spotter Tip: You should look for a good course, and communicate with your spotter so that you will not drag your axle differential to the ground, there should be good communication between the driver and the spotter when off-roading, and ovoid using lefts, and rights when giving out directions; the proper way to give direction is using drivers side and passenger side.
When off-roading in uneven terrain, your tire should be on the highest point of contact, when passing by obstacles like rocks on the road, you should make sure your tire is right on the highest point to avoid dragging your axle differential against obstacles.
Conclusions
We have highlighted the basics of Jeep wheeling, and things you need to know. It's a good idea to research more online on off-roading tips for Jeep wranglers, you can also check our related guides for more tips on off-roading in your Jeep. Our guides will help you understand what your Jeep is capable of, you will find articles relating to safety, ground clearance, and preparing your Jeep for off-roading.
It's also a good idea to test your off-roading skills on easy trails, and obtain basic knowledge on how to operate a Jeep in difficult terrains, you can later advance to narrow trails, and creeks.
The final tip for you is to make sure you have researched the trails you will be off-roading; this will help you prepare for your off-roading adventure and anticipate what to expect when you reach there, don't forget to check the weather.
We have also included a video below of 10 Jeep wheeling tips when you join an offroading club.