We dive into the Rancho rs7000mt review after we installed it on our Jeep JK 3.5-inch short-arm suspension, the ride is so good and the Rancho rs7000mt shocks look fantastic on our Jeep.
The Rancho rs7000mt shock absorbers are meant for rock crawlers, mudding, and all kinds of difficult Jeep trails where the nitrogen gas pressure in a shock absorber can reach up to 600 psi – the Rancho rs7000mt shock absorbers is a high pressure, high heat that increases the nitrogen gas pressure that helps keep the shock oil from cavitating (Bubbling) when in heavy use.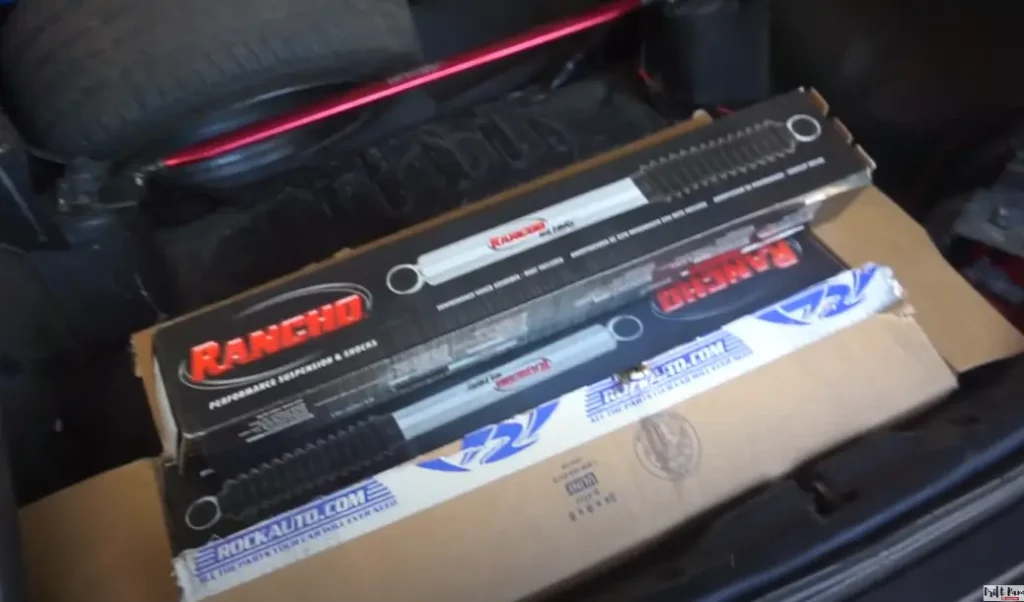 If you are upgrading from stock shocks, the Rancho rs7000mt has numerous high-quality parts and features significantly higher quality than the stock that we will highlight below in this Rancho rs7000mt review.
The RS7000MT has responsive damping that reacts quickly to a wide range of off-road obstacles that may be encountered. Brushed-zinc clear coated finish, 2-inch diameter shock body, application-appropriate valving, quality that significantly exceeds OE requirements, and built-in America are among the other qualities.
Looking to enhance your off-roading adventures even more? Check out our related guides on the Best Shocks for Stock Jeep JK
Our Experience With The Rancho rs7000mt
The Rancho rs7000mt installation in our Jeep took two people to install, the installation was quite easy and they fit perfectly in our 3 inches lifted Jeep with 35s on them, so far, we have them for 5,000 km and we love them especially when we hit the trails. The ride is now stiff on road, but it was always stiff, and the old RS9000's suspension was bottoming out before the upgrade to the Rancho rs7000mt. We use our Jeep for off-roading and Overlanding and often haul things with our Jeep, and the Rancho rs7000mt is making a difference.
What We Like About The Rancho rs7000mt
We installed the Rancho rs7000mt in our Jeep and immediately noticed the difference, The Rancho rs7000mt kept the Jeep height level when it was loaded in the rear. The Rancho rs7000mt is much stiffer compared to the other shock absorbers we have tried but offers a nice ride both on-road and off-road.
The reason we had to upgrade to the Rancho rs7000mt was the bottoming out of the RS9000s we had installed, we experienced bump hits on one side and the jeep rocked when off-road, jostling the driver and passengers.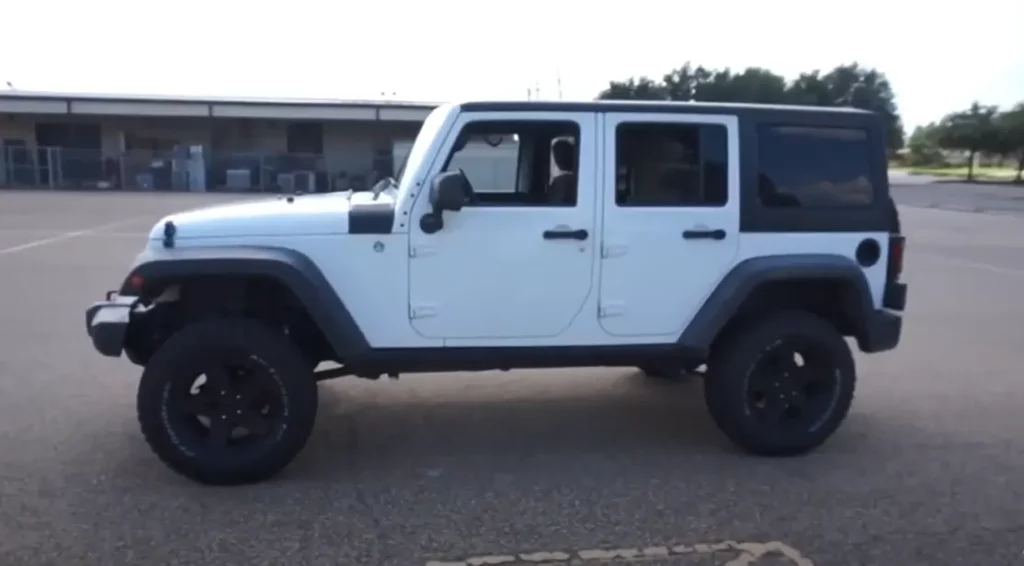 After we installed the Rancho rs7000mt, despite being lifted 3 inches high and 33s the Jeep rides comfortably whether loaded or not. They are also awesome for cornering when on road, the Rancho rs7000mt offers us no rear-end kicks when you hit a bump, and no hops when pulling out, we definitely like them on our Jeep.
What we dislike about the Rancho rs7000mt
Concerning is much more level on our Jeep, we noticed this when mudding, the nose-dive is significantly reduced, the Rancho rs7000mt are stiff enough that they are holding some weight on our JE
Cornering is much more level, nose dive is significantly reduced and the truck actually sits higher by about a half-inch on the front, and 1 inch in the rear. Not sure why, perhaps they are stiff enough that they are holding some weight on our 4,000 pounds jeep.
Should you upgrade to the Rancho rs7000mt?
Definitely yes, the Rancho rs7000mt looks cool and will improve your Jeeps exterior aesthetics and they are of course meant for heavy-duty use, they are packed with black natural rubber bushings, Brushed-zinc clear-coated finish, red color stickers, and a protective boot. They have a 1.97-inch (50mm) body diameter, which should not be any problem in any Jeep setup.
How The Rancho rs7000mt Works.
Rancho rs7000mt shock absorbers feature a ten-stage velocity-sensitive valving that allows a comprehensive valving range, this allows the Rancho rs7000mt shock absorbers to respond appropriately to the changing terrain that your Jeep is riding on resulting in a safer and better-controlled performance.
Fitted with a 14mm chrome rod, the Rancho rs7000mt chrome rod is able to be in line with the pressure tubing allowing the piston to move freely inside, the Rancho rs7000mt guide rod is also fitted with a seal that keeps the hydraulic oil inside, and contamination out. The 14mm guide rod s heat treated in a process called Carbonitriding Quenching making the Rancho rs7000mt a heavy-duty shock absorber that lasts long.
It's worth noting the Rancho rs7000mt is a gas-charged shock absorber with a monotube design, what that means is that the monotube gas-charged Rancho rs7000mt doesn't have an overflow tube within the 1.97-inch (50mm) diameter main body, what happens is that there is gas nitrogen gas chamber down the Rancho rs7000mt shock absorber and a floating base valve that compresses the nitrogen gas as the piston moves up and down depending on your terrain.
The hydraulic oil in the Rancho rs7000mt is contained in the main chamber, as the contained oil is pushed down the internal floating piston, the gas pressure on Nitrogen gas in the gas chamber acts up in response t the force of the main piston.
Rancho Monotube Shocks
Rancho rs7000mt shock absorbers are a new addition to the Rancho performance suspension options available for your Jeeps. The Rancho rs7000ms has an internal floating piston, meaning that there is no overflow tube for the oil – that's why it's called a Rancho rs7000mt monotube shock absorber, there is a main piston attached to the floating piston road, and below the floating piston there is a nitrogen gas chamber. The Gas chamber stays at 150 psi as the main piston is forcing oil down into other floating pistons creating more pressure within the nitrogen gas chamber which is enacted on the shock oil.
The purpose of the nitrogen Gas pressurized at about 200 to 250 PSI in the Rancho rs7000mt is to prevent cortication of the shock oil, when the shock oil turns bubbly or starts heating up, the piston just fries in the shock oil preventing dumping in your Jeep, the purpose of the nitrogen Gas chamber is to keep the relationship between the oil and the Piston consistent.
The reason we prefer Rancho rs7000mt shock absorbers is that they provide a nice firm ride off-road and on-road and don't beat you up at all compared with other shock absorbers we have tried as the 5100s.
Are you looking for more stories like this? Here's one we believe you'll enjoy: Best JK lift kit for 35 Inch Tires
Conclusion
We hope you found our Rancho rs7000mt review engaging and easy to understand, we tried our very best to keep the Rancho rs7000mt review as simple as possible so that you can follow and understand how the Rancho rs7000mt works, its features, and our experience of using it. We want you to make an informed decision when purchasing the Rancho rs7000mt after reading our Rancho rs7000mt review.
We hope our Rancho rs7000mt review article equipped you with enough information to help you make a wise decision when purchasing your next high-performance shock absorbers. You can install the Rancho rs7000mt at home as we did, you just require a little more research for the installation and you are good to go. We have linked this video showcasing how to install the Rancho rs7000mt on your jeep to guide you through the installation process. Best of luck from Jeep Runner with your further research!
Sources
Frequently Asked Questions.
How good are Rancho shocks?
Having tried the Rancho rs7000mt on our Jeep, we give Rancho shocks a 10/10 rating, The Rancho rs7000mt performs marvelously, and the installation was quite simple on our 3-inch lifted Jeep, you will need to have at least someone with you to help with the installation, otherwise, you will spend more time struggling to compress the shocks and fit them.
What is special about Rancho Shocks?
Rancho shocks are special to the Jeep family that loves off-roading and rock-climbing adventures, they are made for these purposes and difficult terrains, and last a long while at it. Rancho shocks offer rugged performance on-road and off-road resulting in an ability to take on any terrain in an optimized fashion.
Are Rancho shocks stiff?
We installed the Rancho rs7000mt, and these shock absorbers are very stiff compared to hydraulic shocks we have been accustomed to, we were not expecting to float in comfort and achieve our required height considering the weight of our Jeep when loaded on the rear.
How much does it cost to install shocks?
Installation of brand-new shocks can set you back $400 to $1,000 dollars on parts and labor included, an individual shocks can retail anywhere between $100 to $1,000 while labor costs range from $100 to 500 per assembly of the shocks.
How many miles do shocks last?
Shock absorbers/ struts wear out every $50,000 to 100,000 miles depending on their use, if you often hit rough roads, or use your Jeep on trails and heavy load use, the shock absorbers will wear out much faster, its worth noting that shocks don't wear out all at once, they individually deteriorate slowly over time.
Last update on 2023-09-18 / Affiliate links / Images from Amazon Product Advertising API