An aluminum bumper for Jeep JL is a favorite choice for many Jeep JL owners where weight is critical; if you are looking for a lighter-weight bumper for your Jeep JL, Aluminum is the way to go.
Read till the end to find out the best aluminum bumpers for Jeep JL and learn what to look for and what to consider to ensure you are fully informed before buying.
Things To Look For When Buying Aluminum Bumpers For Jeep JL
Bumper Materials: Aluminum bumpers are intended to protect your Jeep JL through an optimal balance of strength and weight. The best aluminum bumpers for Jeep JL should have lightweight aluminum that is hand table welded with a brushed aluminum finish or powder coated just like steel Jeep bumpers.
Bumper Design: There are various design factors to look for when purchasing aluminum bumpers for your Jeep JL; Depending on your clearance needs, it's essential to look for an aluminum bumper for your Jeep JL that protects your Skid plate or Jeep front suspension, such as the Sway Bars.
The look and style of your Jeep is also critical bumper design aspect to consider; heavy-duty tow points should be tied directly to your Jeep frame. If you have a winch installed, its essential to make sure the aluminum bumper is winch ready, and the winch should be located in the center below the grill to ensure clean and clear airflows to the radiator; the last thing you would want is to have an aluminum bumper for you Jeep JL that obstructs airflow.
Depending on Jeep Accessories, you will need to mount on your Jeep JL bumpers such as light bars, fog lights, recovery options, and points such as Jack Points, D-Rings Shackle Mounts & Hooks, Bumper Hoops, Stinger Guards, Quick Clamps for Swing Away Bumpers; You will need plenty of slot openings to do that, and you should buy a bumper with slot openings options depending on your Jeep accessory needs.
Looking to enhance your off-roading adventures even more? Check out our related guides on Custom Jeep Wrangler Build and Price List
Best Aluminum Bumpers for Jeep JL in 2023
Here is a list of the top-rated Jeep JL Aluminum bumpers.
1. TrailChaser Black Aluminum Front Bumper
Our #1 choice for the best aluminum bumpers for Jeep JL is the TrailChaser Black Aluminum Front Bumper. This bumper fits Jeep Wrangler JL and Jeep Wrangler JK. We chose this Jeep Bumper because it was easy to install on our Jeep JL; it took us less than one hour to install it on our Jeep JL; it looks good on our Jeep.
🏆 Best Front Bumper For Jeep JL
TrailChaser Black Aluminum Front Bumper
What We Like:
Heavy-duty Lightweight Aluminum
Included winch plate
Aggressive look and style
Compatible with most Jeep accessories
What We Dislike:
Limited space for long Jeep winches
Check Price on Amazon
We earn a commission if you make a purchase, at no additional cost to you.
We liked the most the power coat finish texture; it was an easy fix that you wouldn't need a mechanic to install the rugged ridge bumper on your Jeep. The most challenging part of the installation was the Aftermarket Led rewiring which is common when using Aftermarket lighting options.
The TrailChaser Black Aluminum Front Bumper for Jeep Wrangler is meant for heavy-duty use and has aggressive hooks from the sleek rounded rings. Despite being heavy, our Jeep JL doesn't sag at all, the plugs for the censors don't come with the bumper packaging, so you will need to find this yourself.
We have used steel bumpers on our Jeep JL, and the TrailChaser Black Aluminum Front Bumper for Jeep Wrangler saves more than 100 pounds from the average steel bumpers, saving on the Jeep JL's fuel economy.
What We Like About TrailChaser Black Aluminum Front Bumper
The Jeep bumper is made of Heavy-duty Aluminium.
The Aluminium used is lightweight.
There is a winch plate that comes with the Bumper, and we didn't need to buy an aftermarket plate that costs more than $50
The design gives the Jeep JL a more aggressive look and style.
There are several cutouts to fit most of our Jeep accessories, such as lights and recovery kits.
What We Dislike About TrailChaser Black Aluminum Front Bumper
After installing the Aluminum Bumper in our Jeep, we went ahead and installed a winch that almost touched the top of the bumper; we use a heavy-duty Winch that is long, and for people with extra-long Winches, the bumper offers little room for Winches.
Why Should you get it?
Installing the TrailChaser Black Aluminum Front Bumper yourself can be a cost-effective and time-saving alternative to a conventional mechanic doing the job; the installation of the bumper took us 1 hour, and we estimate this can take 2-3 hours if you do the replacements yourself.
The bumper's looks and functionality are fantastic; the TrailChaser Black Aluminum Front Bumper has a recessed winch plate that matches the color of the bumper. We recommend pushing the winch forward to give space if you use an Aftermarket winch.
Compatibility:
It was a perfect fit on my two-door 2021 JL. From start to end, the installation took roughly two or two and a half hours (including stripping the factory bumper). According to multiple assessments, the frame bolts don't line up perfectly (or at least one of them doesn't). On the other hand, this bumper looked great on my Jeep Wrangler JL. There aren't any issues. It has a beautiful aesthetic as well.
Things to Consider before buying Aluminum Bumpers for Jeep JL
Aluminum bumpers provide more durability, help with your towing needs and winching, and help protect your Jeep JL when off-roading in your favorite tracks. But there is a lot of debate about what to consider when buying aftermarket aluminum bumpers; we will discuss what we consider when upgrading Jeep Bumpers to Aluminum aftermarket bumpers to ensure you are making an informed decision before purchasing one for your Jeep JL.
Materials
We like aluminum bumpers for Jeep JL, and our motivation to get one comes from the durability of the bumper running through hard surfaces; the materials used on the bumper should be lighter to make sure there is equal distribution of the weight of the Jeep when making modifications to Our Jeeps for proper performance on-road and off-road, the weight of the materials used if not examined carefully before buying your Aluminum bumper for Jeep JL, results to braking and maneuverability challenges.
Types of Jeep
Aluminum bumpers come in a variety of styles and shapes and can include additives such as grill guards, lights, and recovery points, and are coated to match any track; it's essential to have a clear understanding of your Jeep JL needs whenever you are purchasing Aluminum Bumpers for Jeep JL. It's also essential to make sure that the bumper fits your Jeep JL ideally based on your Jeep JL bumper mounting points; we have observed that the best aluminum bumpers should be mounted on your Jeep frame to increase the strength of your Jeep Bumper.
Aluminum Bumper Replacement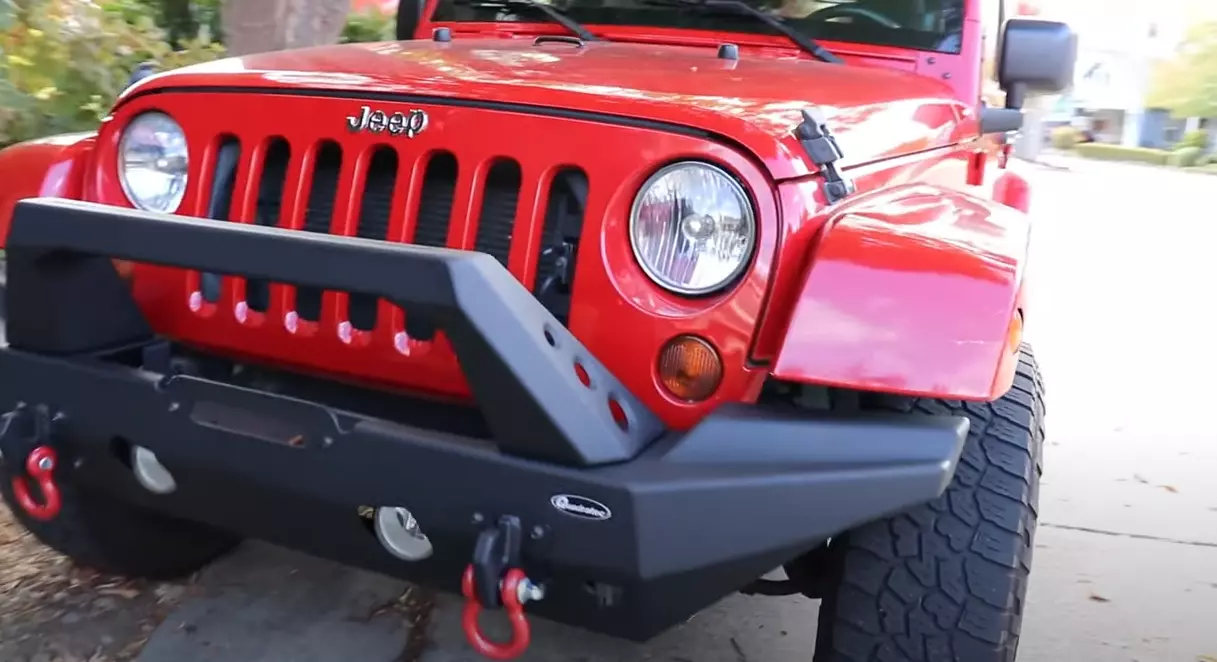 Removing your stock bumper and replacing it with an Aftermarket Aluminum bumper for Jeep JL is fairly quick and involves removing the front and back clips of the plastic guard underneath your Jeep JL; this will expose the points the stock bumper attaches to the Jeep, and you will also need to detach the Fog Lights attachments, and the cords attached to the bumper, you will also need a 19mm deep wall socket to unloosen the nuts connecting the bumper from your Jeep JL.
Remove the Stock bumper and replace it with your new aluminum bumper for Jeep JL. You will also need to remove the Jeep JL splash guard attached with two little clips; we remove them by drilling through them.
Before Installing your new aftermarket aluminum bumper for Jeep JL, make sure to remove attachments you will need to be installed in your new Aluminum Bumper for Jeep JL, such as the fog lights – (TIP: Make sure you note the alignment of the attachments to make sure you align them correctly on your new Aluminum bumper for Jeep JL.) You can finally add your Jeep Bumper accessories.
Mechanic replacement costs between $200 and $600; we recommend ensuring a credible mechanic replaces your Aluminum bumpers, as Bumpers are a crucial Jeep part.
In case you are interested in learning how to remove and replace your Jeep JL Bumper, Watch this:
Are you looking for more stories like this? Here's one we believe you'll enjoy: Best Shocks for Stock Jeep JK
Conclusion.
Now that you have reached the end of this blog post regarding the best aluminum bumpers for Jeep JL, we are sure you have gained a piece of ample information to help you make an informed decision when it comes to purchasing your Aluminum bumper for Jeep JL; this means you can make a decision regarding which aluminum bumper is best for you Jeep JL.
Upgrading to an aftermarket Aluminum bumper for Jeep JL has several benefits; the Aluminum bumper never corrodes or rusts compared to steel bumpers and gives them more longevity compared to steel bumpers. It is worth noting that Aluminum bumpers for Jeep JL are more expensive than steel bumpers because aluminum is more expensive to process than steel and requires Aluminum experts to create Aluminum bumpers since it's a specialized process.
The next step involves you looking through the list of the best aluminum bumpers for Jeep JL we have selected and compared above and taking a closer look at their design and specification. Using the information we have provided, you can decide which aluminum bumper is most suitable according to your requirements and needs. We have also listed the places you can purchase each aluminum bumper mentioned in this article.
Please share this best Jeep Jl front bumper article with your Jeep family and friends, especially the ones who own a Jeep and the ones currently modifying your Jeep. The more people who can benefit from the information on this blog post regarding the best aluminum bumpers for Jeep JL, the better.
Frequently Asked Questions
Are aluminum bumpers worth it?
Yes, aluminum bumpers are worth it, but it's not the cheapest option for your Jeep; if you are looking for longevity, this is where Aluminum bumpers hold strong compared to Jeep Bumpers. If you are also looking for stability and strength, aluminum is lightweight and is a perfect fit for your jeep and trucks.
Are aluminum bumpers as strong as steel?
Aluminum bumpers are strong with heavy-duty aluminum but are fragile and brittle compared to steel bumpers. Bumpers made from steel are easily bendable and will handle obstacles better than aluminum bumpers. If your off-roading activities involve collusion with sticks and branches in your tracks, aluminum, and steel bumpers offer the same performance.
Do aluminum bumpers rust?
Aluminum bumpers do not last; however, corrosion can occur gradually throughout your use of your Jeep; with enough time considered, your Aluminum bumper will develop holes due to corrosion.
What are Jeep bumpers made of?
Jeep bumpers are made of steel, aluminum, and plastic; however, aftermarket bumpers are mostly steel and aluminum. Sometimes they are made with stamped designs or flat heavy-duty gauge plates welded together by wielders.
Why do Jeeps have big bumpers?
Jeep bumpers offer protection when trail riding to protect your Jeep from rocks, trees, and earth impacts. The bumpers also offer mounting options for your jeep accessories, including D-Rings, recovery, lighting, lift jacks, and license plates. The Bumpers are also used to style your jeep depending on your preferred style. Aftermarket bumpers are also used to ensure tire clearance; they come in different widths, so choosing the right bumper is important for your Jeep. 
Sources.