Your Jeeps drivetrain becomes a fixed yoke when the slip yoke is removed with the use of a slip yoke eliminator.
Why do you need a Slip Yoke eliminator on your Jeep?
You need a Slip Yoke eliminator on your Jeep because the rear driveshaft on your Jeep Wranglers is set in length from the factory, installing the slip yoke enables you to adjust the driveline length to take suspension height adjustments into account, especially when modifying your Jeep.
After lifting your Jeep, Pinion angles shift, this will put a strain on your Jeep drive shaft and suspension system, causing your Jeep components such as the control arms, drive shafts, speedometer gear teeth, u-joints, and other components to wear out quickly, and a Slip Yoke eliminator kit will help solve these problems.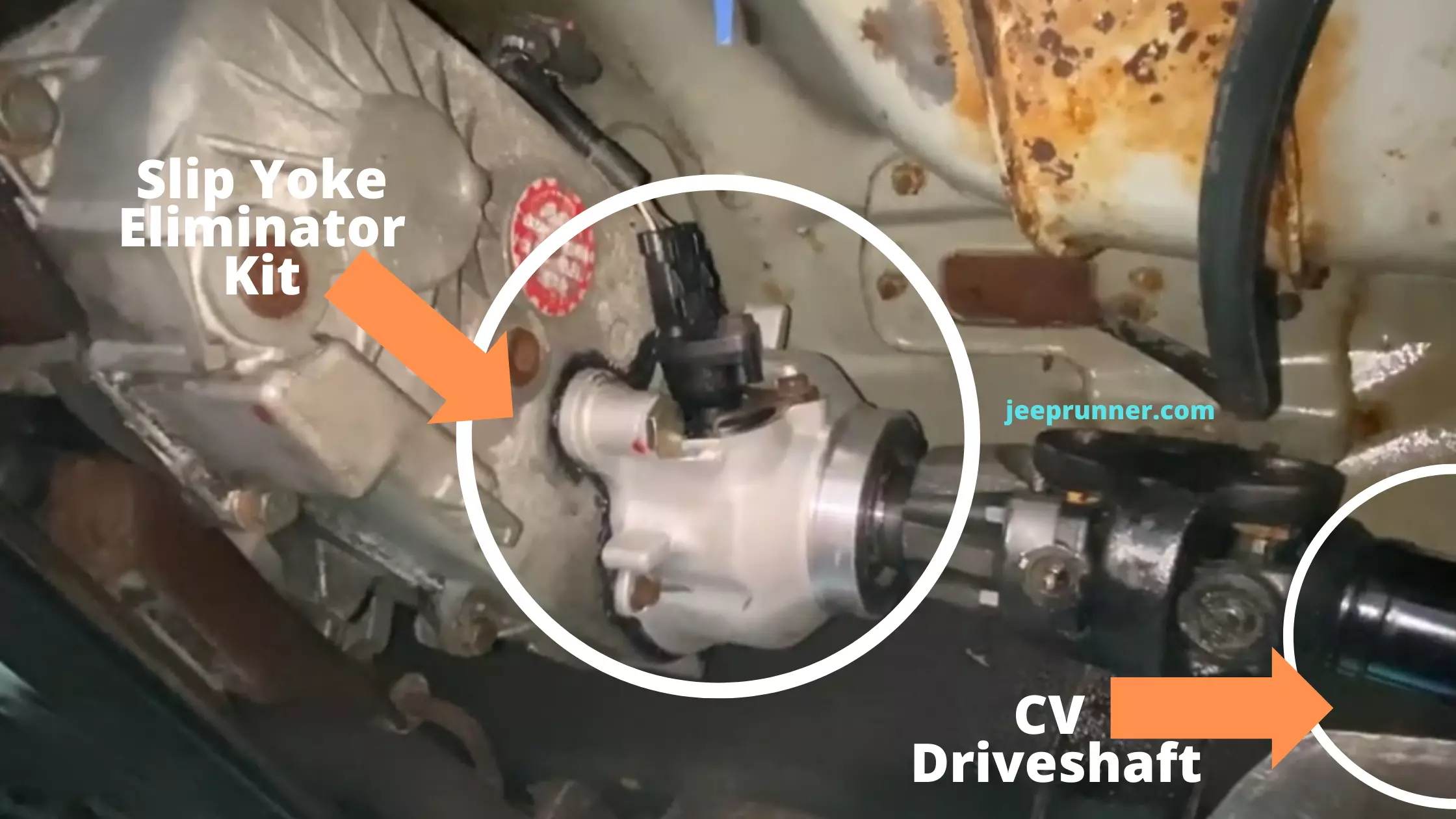 A Slip Yoke Eliminator doesn't eliminate the slip yoke, it moves it from the transfer case of your Jeeps drive shaft, the reason you need it is to facilitate the double Cardan drive shaft or a CV.
Double Cardan drive shafts in a Jeep should be built to utilize multiple u-joints with a center ball joint to solve the vibrations caused when you increase the drive line angle.
If you are considering lifting your Jeep, or your Jeep is already lifted with the stock drive shaft, you will need to install a Slip Yoke Eliminator and a double Cardan drive shaft or CV, we will explain why you need a slip yoke eliminator and the negative effects of not having them installed.
Looking to enhance your off-roading adventures even more? Check out our related guides on the Best Jeep JK Ball Joints and Best JK lift kit for 35 Inch Tires
Why Do You Need a Slip Yoke Eliminator In Your Jeep?
We all love to lift our Jeeps, but lifting your jeeps needs mods so that you will not strain your other Jeep mechanical components, for example when we lifted our Jeep for the purpose of having ground clearance, we still had a stock drive train, after using it for a while the drive shaft was chewed.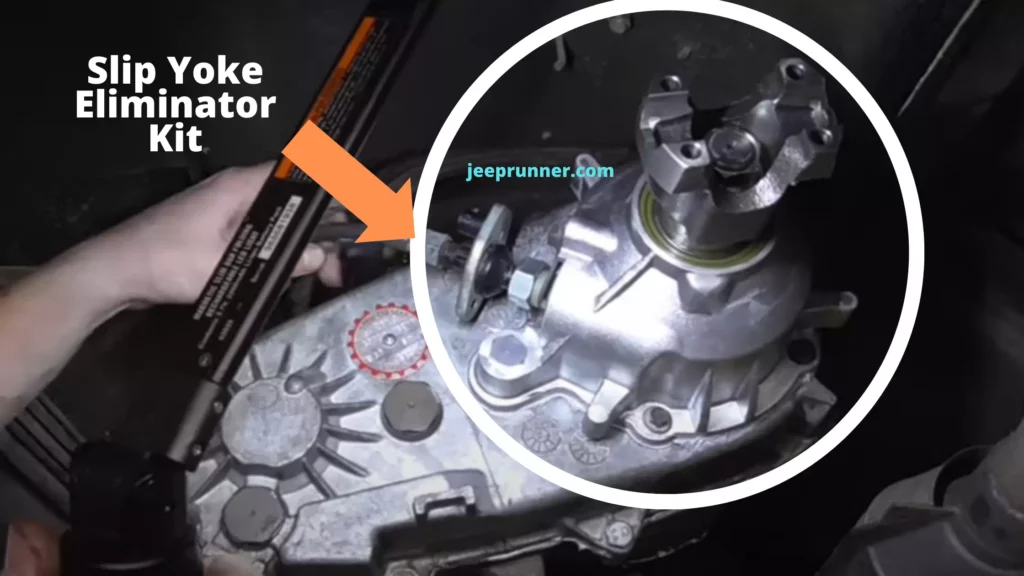 So, we went to a Jeep Mechanic who specializes in Jeep Lifting, and this is when we first heard of the word a Slip Yoke Eliminator, and we needed it!
Tip: Jeep Wrangler Rubican has a type of Slip Yoke Eliminator installed from the factory, in case you are only lifting your Jeep, you will only need to acquire longer driveshafts that are compatible with your lift height.
So, why did we need a Slip Yoke Eliminator?
Any kind of modification you install on your Jeep can have negative effects on your Jeep suspension and driveline. Most Jeepers don't realize that lifting their Jeeps is one of the negative effects that affect their Jeep's Suspension and driveline, for this reason, we will dig deep to help understand why you need a Slip Yoke eliminator especially after lifting your Jeep:
Improve Lubrication Of The Driveshaft Yoke.
A Slip Yoke eliminator improves the lubrication of your Jeeps driveshaft, The slip yoke runs the risk of falling out of your transfer case when it slides out too far. A Jeep Wrangler that hasn't been lifted has a very low chance of this happening, but very high risk is on lifted Jeeps with stock driveshafts. In the event that this does occur, not only will you lose power to the back wheels, but your transfer case's oil will also leak.
On a Jeep that is not lifted, the slip Yoke will remain under a narrow range of movement across splines and seal surfaces, but when you lift a Jeep the movement changes, and the slip Yoke movement will increase dragging the exposed ruff surfaces across the rubber output seal, and a leak starts. Over time low oil level will be reached and a catastrophic event will happen, just like in our case.
The famous NP231 common in our Jeep wrangler is very durable when operating in normal conditions, but notorious for oil leaks when subjected to changes we make when we modify our Jeep suspension systems, a slip yoke eliminator will Improve the strength of your NP231 and get rid of drive line vibrations.
When shopping for a slip Yoke eliminator we advise Jeepers to buy a "bolt-on" Yoke that will eliminate the prone slip yoke entirely.
Increase The Strength Of The Output Shaft.
A Slip Yoke eliminator will increase the strength of your stock output shaft, the stock driveshaft cannot handle considerable stress caused by lifting up your Jeep, and the planetary gear assembly, drive sprockets, and chain will be subjected to high-stress levels. In case these parts are subjected to a low level of lubrication they form a weak point in the shaft.
Looking to enhance your Jeep differential, even more, read our post on regearing a Jeep
Just past the rear output bearing on the stock output shaft is a spiral-cut speedometer gear. The speedometer gear teeth's minor width really isn't very large. Almost always, this section of the shaft will break when it fails.
Improve The Operating Angle Of The U-Joints.
A Slip Yoke eliminator will improve the operating angles of your Jeep U joints, when you make changes to your Jeep suspension with a lift, the lift shifts the driveline angle of your Jeep. Factory Jeep Wranglers have a rear driveshaft of 13.5 inches, and each height increased by your lift has a drastic effect on a short driveshaft like that.
When lifting your Jeep or when installing a slip Yoke eliminator, you should make sure the length of the driveshaft is taken from the center of the u-joint to the front of the transfer case. You should make sure you have the measurements in check when upgrading your driveshaft, buying a slip yoke eliminator, or lifting up your Jeep.
Conclusions.
You have reached the end of the slip Yoke eliminator guide; we are sure we have equipped you with ample knowledge and information regarding slip yoke eliminator, driveshaft, and lifting your Jeep, this means you can make informed decisions regarding the type of slip Yoke eliminator you need, how lifting your jeeps affects your suspension and other mechanical components of your jeep among others.
Be sure to also share this article with your Jeep friends, who are looking forward to lifting their jeeps, the more people who can benefit from this information the better, so don't hesitate to share this article with your Jeep friends.
The video below is a step-by-step installation of a slip-yoke eliminator on a Jeep Wrangler:
Sources.