Looking for the best tires for Jeep Wrangler daily driver? Discover the range of the best tires for your daily driver Jeep Wrangler. When you looking for a tire for our Jeep Wrangler, we choose the best tires based on the height of the tires, width, weight, and traction tires. Take the guesswork out of tire size conversions with our Jeep Tire Size Conversion Calculator – check it out!
Read till the end of the article to find out the best tires for Jeep Wrangler daily drivers and learn what to look for when purchasing a Jeep Wrangler Tire to ensure you are fully informed before clicking the buy button.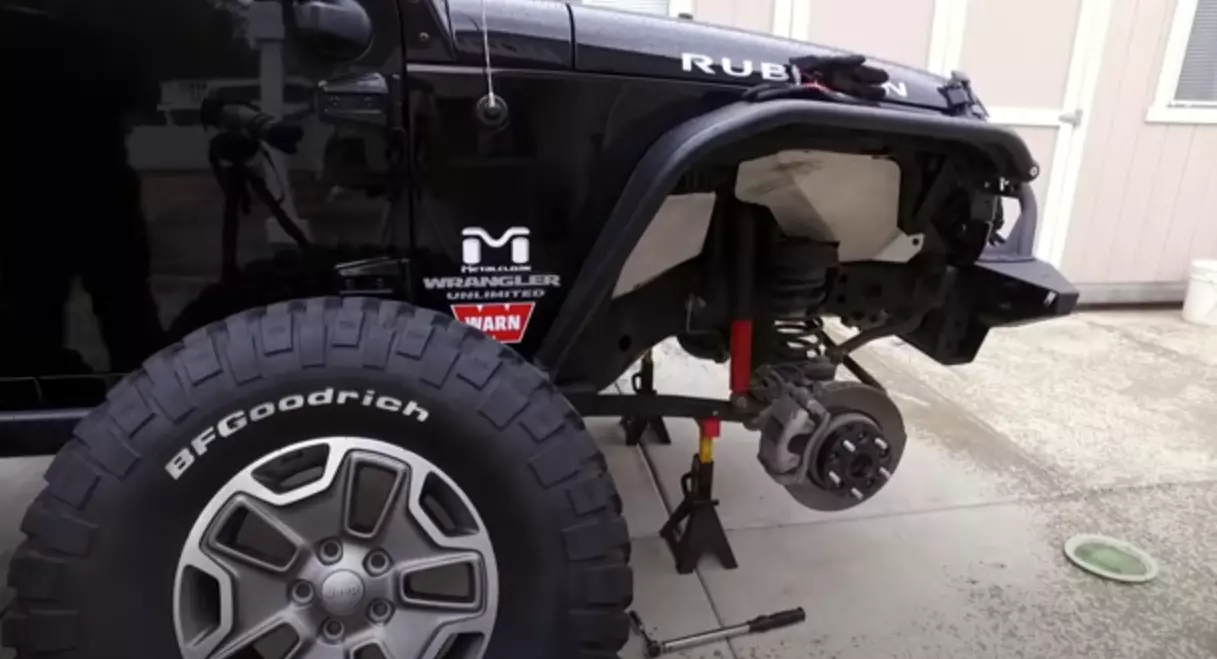 Best tires for Jeep Wrangler daily driver (Editors Pick)
Best 33-inch tires for Jeep Wrangler (List)
Best 35-inch tires for Jeep Wrangler (List)
Best Jeep Wrangler 37-inch tires (List)
Can I fit 33s on a stock Jeep Wrangler?
33" Tires on a stock Jeep wrangler with no lift can fit on your stock Jeep Wrangler, you just have to match the right width, tire offset, and backspacing to have a 33' fit on a stock Jeep wrangler with no rubbing of the tires and inner fenders.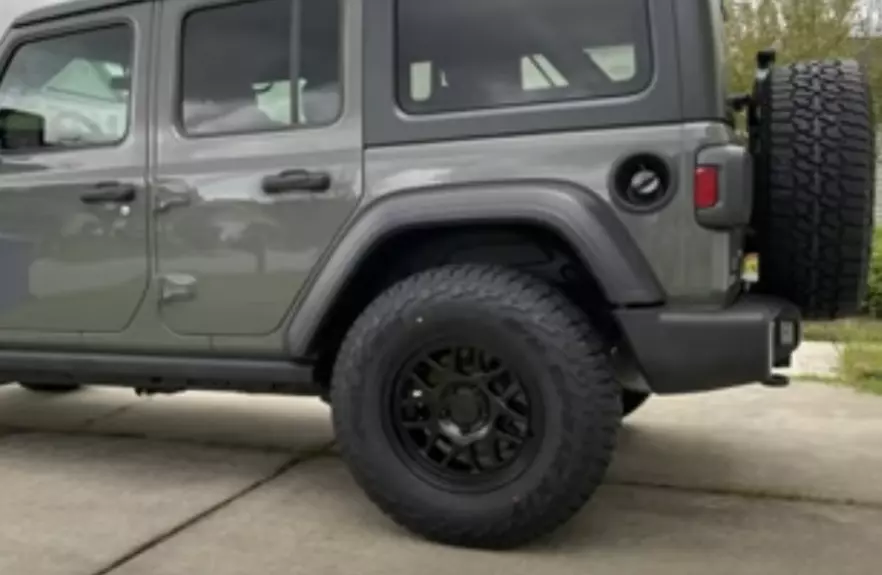 Can you fit 35 on a stock Wrangler?
Technically yes, you can install 35s tires on your stock Jeep Wrangler and drive it without issues, However, Jeep recommends installing a 2' lift when installing 35s on a Jeep wrangler if you plan to use it on Jeep trails/ off-road to have it fit right with no rub.
Here is a list of the Best JK lift kit for 35 Inch Tires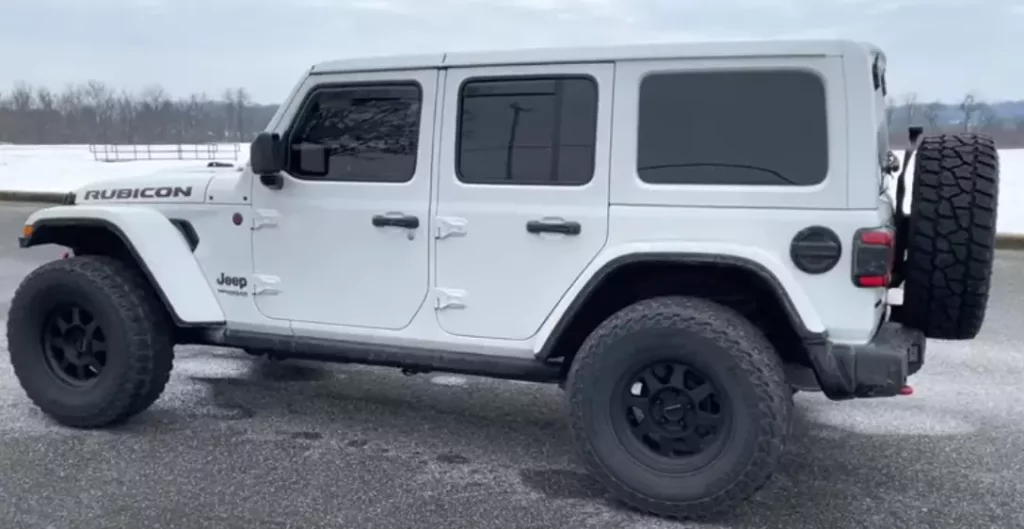 Will 37s fit on a stock Jeep Wrangler?
Yes, 37' tires will fit on your Jeep Wrangler on stock suspension; however, you will need at least a 2.5' lift to make the driving more comfortable, it's worth noting you will lose some MPG from the tire size, but you will increase wet handling and off-roading capabilities.
Here is a list of the Best 2' Lift Kits for Your Jeep Wrangler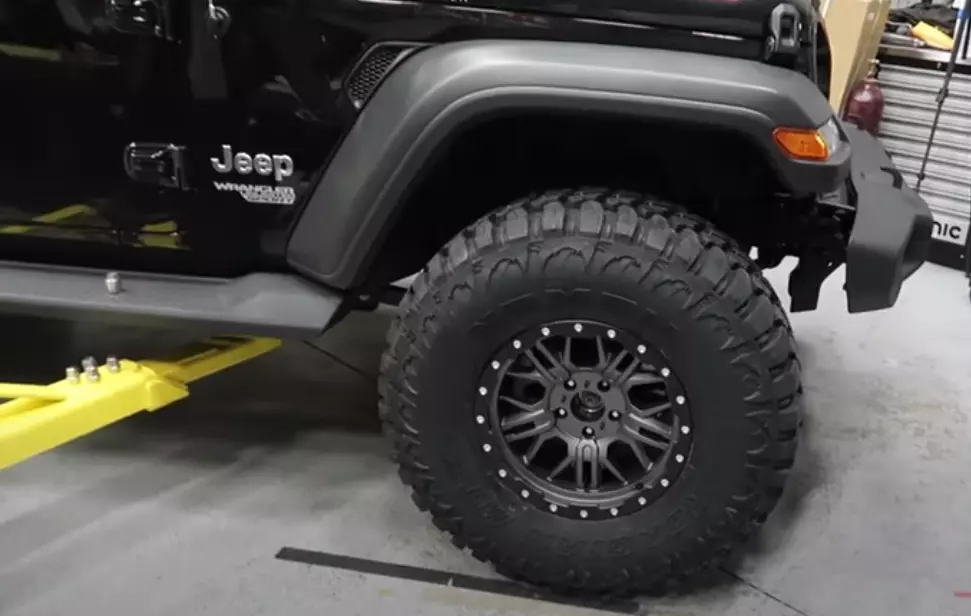 Things to look for when buying the best tires for Jeep Wrangler daily driver
When upgrading your Jeep tires, you should focus on how the tires will affect and improve your Jeep handling, cornering ability, and stability of your Jeep. If you use your Jeep for off-roading, you should upgrade your Jeep tires to bigger ones to improve your Jeep's ground clearance, footprint, and surface grip.
Wide Vs Narrow Jeep Wrangler Tires
Understanding how the width of your Jeep Wrangler is one of the most misunderstood characteristics of a Jeep Wrangler tire, Most Jeep Wrangler Daily drivers look for the best performance tires, tread patterns, and value.
Maintain your Jeep Wrangler tire pressure at all times using the recommended portable air compressors listed here
The weight distribution matters when choosing a wide or a narrow Jeep Wrangler tire, the contact pressure of your Jeep Tire per square inch measured in pounds is divided by the weight of the vehicle, a narrow Jeep Wrangler tire will have a higher number of pounds of weighing pressure per square inch in small contact area compared to a wider tire that spreads the weight of the Jeep Wrangler throughout the wide tire contact patch.
Matching the correct width of the tire compared to the weight of the Jeep Wrangler.
The answer depends on how we plan to use our Jeep Wranglers.
A Jeep Wrangler designed for Mud running will have a wide size tire to gain more floatation on the mud, while a rock-crawling Jeep Wrangler will have 12 and ½ -14" wide tires, While Jeep Owners who use their Jeep Wranglers as daily drivers but often hit the trails on the weekends too wide of a tire will cause more rolling resistance making the engine work harder and consume more fuel, too wide of a tire will hydroplane too much on water or snow making it easier too loose control of your steering and Jeep Wrangler.
Having too narrow of a tire will make your Jeep Wrangler lose traction properties while out on your favorite trails, a little wider tire will be an advantage while trying to climb trail obstacles, especially muddy trails.
Weight of the Jeep Wrangler
Lighter Jeep Wranglers that fit within the load-carrying capacity of 2500 pounds per tire or less/ load index of 113/ C Load or less the tire industry limits the width of the tires to 10 ½ inches wide or narrower – This includes all-season tires, all-terrain tires, hybrid and mud-terrain tires.
Jeep Wranglers with load range D Rating and Load Index of 114/ or 2600 pounds per tire or more, the tire industry recommends 12 ½ inch Jeep tires. This includes all-season tires, all-terrain tires, and hybrid and mud-terrain tires.
We don't consider 12 ½ inch Jeep tires on a daily driver unless the loaded daily weight of the Jeep Wrangler is at least 10,000 pounds to maintain the higher pound of pressure per square inch to the ground, to avoid hydroplaning. If my tires are 37 inches tall, we consider 12 ½ inch tires.
Best size tires for Jeep Wrangler
Jeep Wrangler Stock tires come in 30" Sizes, for a Jeep Wrangler daily driver, we would recommend not more than 33" Max for a daily driver Jeep Wrangler. Taller Jeep Wrangler tires will increase the wind resistance and decrease your Jeep Wrangler fuel economy, hence not recommended for a daily driver. It's also worth noting that taller tires result in a rougher ride and requires additional suspension components to improve the ride quality in your Jeep.
On our Jeep Wrangler, we have a 2 and ½ inch lift and 37-inch tires, we have a 4" inches taller Jeep than a stock version.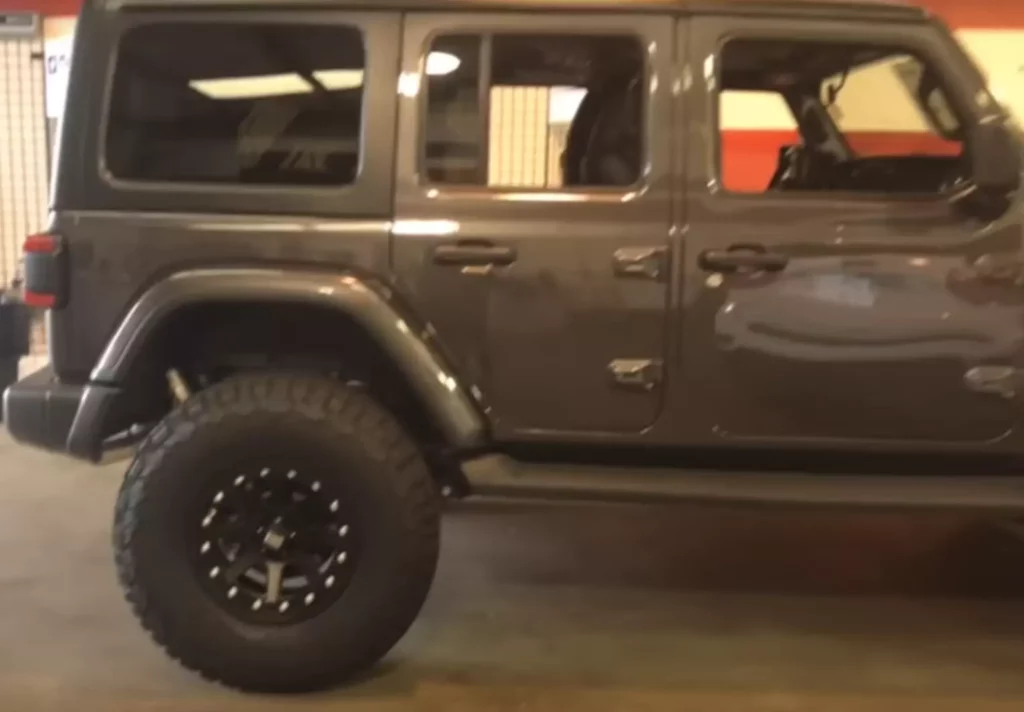 Things to Consider before buying best tires for Jeep Wrangler daily driver
There are some factors we consider before choosing the best tires for jeep wrangler daily driver, this is based on your daily use of your Jeep Wrangler, besides helping you decide on all-terrain or mud tires, we will inform you modifications you need to run more rubber, and what to expect when you install 33, 35, or 37 tires on your Jeep Wrangler.
Mostly all tire manufacturers have included a wear bar in the tire to warn you when it's time to replace it. This wear bar runs side to side on the tire, and then when it bridges two tread blocks, it is better to upgrade the tires. If you want to be extra precise with your measurement techniques, you can consider purchasing a tread depth tool for less than $5 at your local auto parts store, or if they sell tires, they also might check them for free.
Mud terrain or all-terrain tires.
If your Jeep wrangler never leaves pavements, all-terrain is the best tires you should get, if by any chance you normally hit off-road on weekends then you might need mud tires. All-terrain tires are best suited for snow and wet conditions and better on-road due to their comfortability. All-terrain is also lighter than mud-terrain tires which help in Gas mileage.
All-terrain cons: All-terrain cons are only off-road, all-terrain tires have weaker side walls this is because they are made of weaker compounds that wear quickly and get damaged more easily after impact with trail obstacles, and they also have poor off-road tractions.
Mud terrain has the edge over all-terrain tires. After all, they are good off-road, because they do a better job clearing obstacles off-road, they also have biting edges that get your jeep off obstacles, and they are also made using stronger components that make them suitable for off-roading.
Mud Terrain cons: Mud terrain tires are not suitable for daily driving, they may not handle well on snow, ice, or wet conditions. They also weigh more increasing your MPG, are loud when on speed, and they can also wear your jeep suspension faster than all-terrain tires.
Jeep Wrangler Suspension Requirements
Jeep Wrangler Wide tires require additional clearance for suspension components, upper control arms, coil overs, leaf springs, and lower control arms. Wide Jeep Wrangler tires will also require a more negative offset to fit the additional set of Suspension components.
The challenge we encountered after installing a wider Jeep wrangler with negative offsets is, the chances the front tires make contacts make contact with the front bumper, rocker panels, inner fender liners, and behind the fender, this requires us to install spaces to solve these solutions and get the additional clearance we are looking for our Jeep Wrangler.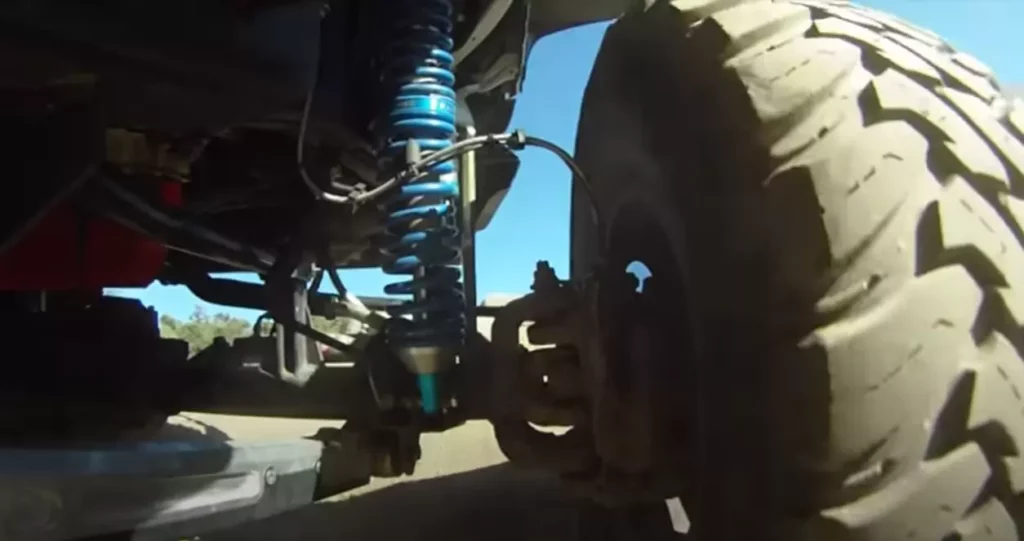 Jeep Wrangler JL wheels and tires packages
33 inch tires for Jeep Wrangler
33 inch tires may be okay for a daily driver but might need a 1½ to 2' inch lift or a fender chop in case it rubs your fender flares, You can also use spring spacers of ½ inch to a 1 inch that can also solve the problems of upgrading your Jeep Wrangler on 33-inch tires for Jeep Wrangler.
35 inch tires for Jeep Wrangler
35 inch tires might need a 2 to a 2 and ½ inch lift or a little smaller lift and a fender chop as well as considerations for adding additional components such as tires carrier, tailgate reinforcement, or dropping your 35-inch spare tire which we don't recommend especially on a daily driver.
To avoid rubbing on suspension components on 35 and 37' tires we recommend the following list of best spacers for Jeep Wrangler JL.
For 35 inch tires for jeep wrangler, you will need a programmer to align your speedometer, the difference might be up to a 3% margin of error.
Jeep Wrangler 37 inch tires
Jeep wrangler 37 inch tires will likely need a regear to improve performance, and axle reinforcement or upgrade will also be needed to avoid problems with bent or broken axles at the front axle disconnect, this can also happen to brand new Jeeps with stock tires.
Watch the video below to get an answer on what it feels like riding on 31, 33, and 35 inches tires on a Jeep Wrangler.
Conclusions.
We all want rough nasty rough tires on our Jeep Wranglers, the problem with this type of tires for a daily driver is although look cool, they are loud on the road, they are also expensive because they wear out quickly, however they are good in muddy and snow terrain.
Daily driving Jeep Tires look like crap, and they are terrible off-roading, they normally pack up rocks and mud, and they don't do anything in the snow, what we need is a tire that looks bad to the bone, good in the streets, and also good in snow and wet roads. The list we have above highlights the best tires for Jeep Wrangler daily driver.
Now that you're aware of some of the best tires for Jeep Wrangler daily driver, It's time to share this article with your Jeep family and friends because chances are, you already have a solid case for upgrading to those 33,35 or 37 -inch tires.
Are you looking for more stories like this? Here's one we believe you'll enjoy: 5 Tire Jeep Rotation – Complete Guide
Frequently Asked Questions.
What tires come stock in Jeep Wrangler?
Tire sizes can vary on a stock jeep wrangler depending on the vehicle. However, when it comes to standard factory sizes, the Jeep Wrangler generally comes with 32″-33″ tires. The first set of numbers (255) you will see on your stock tires represents the width of the tire in millimeters.
All-terrain vs all-season
In terms of Jeep Wrangler performance, all-season tires typically have shorter stopping distances in dry conditions and may ride or handle better. All-season tires on a Jeep Wrangler are typically superior on wet roads and have a distinct advantage in ice, slush, and snow, but they sacrifice some ride comfort, tire noise, and handling sharpness.
All-terrain tires in snow
All-terrain tires are all-purpose because they can provide traction on snowy and icy surfaces. If your car's regular adequate performance is satisfactory, you don't need to swap from used summer tires to winter tires.
How long do stock tires last Jeep Wrangler?
Jeep Wrangler Stock Tires that have seen little wear and tear, get a lifespan of 40,000 to 60,000 miles, or roughly six years. Off-road tires with an aggressive tread pattern and softer rubber have a longevity of about 50,000 miles or five years.
How often does a Jeep need new tires?
Some tires can last 50,000 – 60,000 miles, whereas others only last 10,000 miles. Several factors influence the life of your tire. Everything from road surfaces to tire usage could have an impact on tire life.
Last update on 2023-09-17 / Affiliate links / Images from Amazon Product Advertising API