Shafer Trail, known as Shafer Switchbacks, is an 18.3-mile point-to-point trail near Moab, Utah. Shafer Trail is one of the easy jeep trails in Moab that we highly recommend; this is because you don't need a highly customized Jeep to experience the adrenaline-pumping expedition in Shafer Switchbacks Moab, and secondly, the roads have been significantly improved by the National Park Service, making the Shafer canyon trail one of the best Jeep trails for all off-roading skill levels and families. Lastly, the Shafer Canyon trail is open all year round, making it an excellent option for winter riding; however, you will find Shafer Trail closed during bad weather.
Don't believe us? We stumbled on a video by Fischer Jeep Adventures showing a stock Jeep Wrangler off-roading in Canyonlands Shafer Trail. However, the video doesn't go into details about the Jeep Wrangler except that it's a stock Jeep Wrangler; we can learn more about Shafer Trail Road conditions and the landscapes you are likely to experience during your Shafer Trail off-roading on a Jeep Wrangler.
Off-road Shafer Trail Jeep Wrangler
To experience the thrills of off-roading in Shafer Trail on a Jeep Wrangler, we recommend a high clearance 4×4; a stock Jeep Wrangler like the one in the Video has a ground clearance of 9.7-10.8 inches as it looks like a 4th generation Jeep Wrangler, having a modified rock crawling Jeep Wrangler would be more fun thou to pass through the 16% of maximum gradient obstacles, you will also make use of the Jeeps Wrangler of 4L setting to creep along Shafer Trail steep switchbacks and rock ledges in slow speed of 15 mph (24 kph) speed limit required in the trail.
The Jeep used by Fischer Jeep Adventures has all-terrain tires and beadlock Jeep wheels, which provide maximum traction on rocky surfaces and slower speeds since Shafer Trail has steep, sharp inclines and declines. Good off-road or all-terrain tires are essential and recommended when navigating vertical rocky surfaces in Shafer Trail on a Jeep Wrangler. Your Jeep Wrangler front and rear wheels will be in a low range using a lower gear ratio when using 4L; the combination gives your Jeep Wrangler better control and engine braking needed to navigate some of the ramps reaching 16% of the trail gradient.
Other features visible on the Fischer Jeep Adventures Jeep Wrangler include Jeep recovery accessories such as a hi-lift jack for Jeep Wrangler, which is a recovery accessory recommended by the Backcountry Travel Advisory; in the Jeep Wrangler, you can tell this is an Overland Jeep Wrangler due to the sheer amount of Jeep storage boxes in the roof rack of the Jeep Wrangler which might be used for storage of camping accessories or recovery accessories.
According to Backcountry Travel Advisory, your Jeep Wrangler should be equipped with a Jeep spare tire, extra gas which you can carry in Jeep gas cans, drinking water, an off-roading hovel, a Hi-Lift Jack, and tire chains if you intend to go offroad in October through April.
If you don't have a Jeep Wrangler of your own, there are a lot of Jeep rentals in the area where you can rent a Jeep Wrangler for off-roading on Shafer Trail on a Jeep Wrangler, and explore Arches and Canyonlands National Park. If you prefer, you can also opt for a guided tour with seasoned experts leading the way.
Note: You don't require a permit to off-road on Shafer Trail in your Jeep Wrangler; however, You may need a permit to drive on some park roads, for example, if you decide to drive through White Rim Road, which intersects with Shafer Trail.
Driving Through Shafer Trail in a Jeep Wrangler.
As described by the speaker Dan and his group (Sam, Emily, and Henry) from Fisher Jeep Adventures, we get to experience the cockpit view of the Shafer Trail as the Jeep Wrangler drives through Thelma and Louise Point, which are the two famous points of the Shafer Trail and proceeds into Canyonlands National Park, taking the Shafer Switchbacks route up to the visitor center area and ultimately leads to a campsite on BLM land outside the park.
The video highlights the natural grandeur of Canyonlands National Park. The Shafer Trail beckons you with its iconic switchbacks and awe-inspiring Shafer tail overlooks that look highly steep as the road travels along the tops of the sheer cliffs.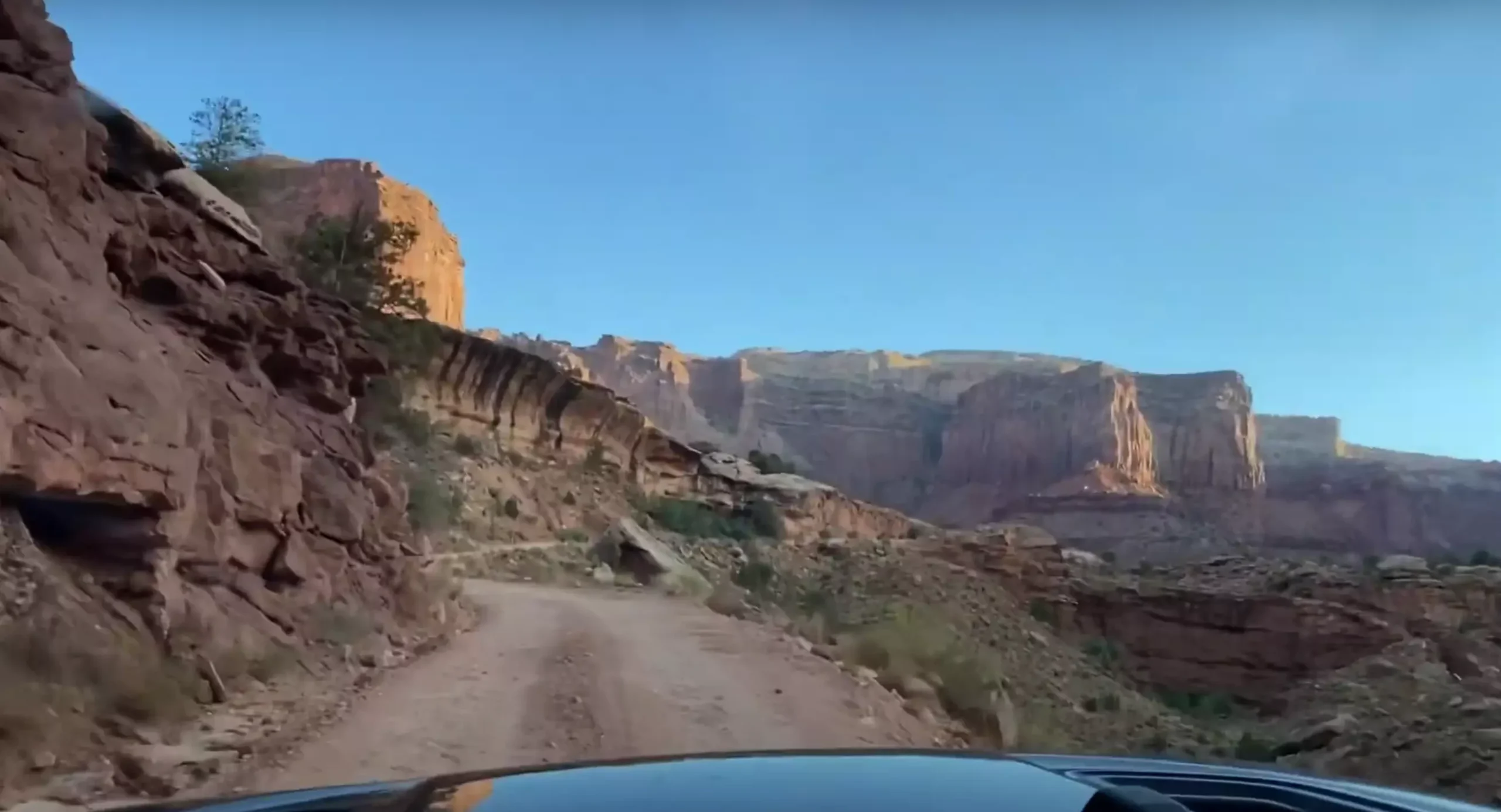 The narrow trail is visible from the video cockpit viewpoint; you can only tell the road's edges are steep slopes, which might terrify you if you are afraid of the heights – the video provides a breathtaking Panorama of the canyon land's landscape.
The video takes us on a scenic offroad adventure on the windy trail with its edges towering cliffs and deep canyons, tight switchbacks, precipitous drops, and steep slopes that give the viewer an adrenaline rush, especially if you are afraid of heights; the Jeep follows the trail slopes into sandstone formations that allow you to view the red rocks formations landscape of American Southwest's desert terrain.
The unpaved road is improved, and the Jeep doesn't seem to vibrate through the road; it usually takes 1-2 miles to complete the 31.06km (19.3 miles) long Shafer Trail, running from Island in the Sky Road to UT-279.
Shafer Trail Map
Below is the Shafer Trail Map, showing Potash Road as our recommended starting point. You can start your off-roading journey on Shafer Trail from either end of the trail (Canyonlands National Park or Potash Road in Moab, Utah).
We recommend starting from Potash Road as it allows you to bypass the entrance fee required when entering Canyonlands National Park; the Map also highlights Thelma and Louise Point, celebrated for its association with the renowned 1991 film "Thelma & Louise." the two most famous points of the Shafer Trail.
Source: @FischerJeepAdventures via YouTube
Posts Like This.