Considering buying a used Jeep, this guide will help you find the perfect Jeep for you, whether you want to buy a used Jeep Wrangler, Jeep Cherokee, Jeep Gladiator, Jeep Renegade, or a Jeep Patriot – we got you covered.
If you are new to the Jeep world, you will need to do your research and understand that Jeeps with 100k miles on them are still good Jeeps to buy, however, understanding the parts to check and research is crucial because Jeeps are the most abused & loved 4X4 today.
Jeeps are your go-to 4×4 for off-roading and most used Jeeps in the market today have had their fair share of adventurous Jeep expeditions, and now they are being disposed of by their owners for different reasons.
Is a used Jeep Wrangler Worth it?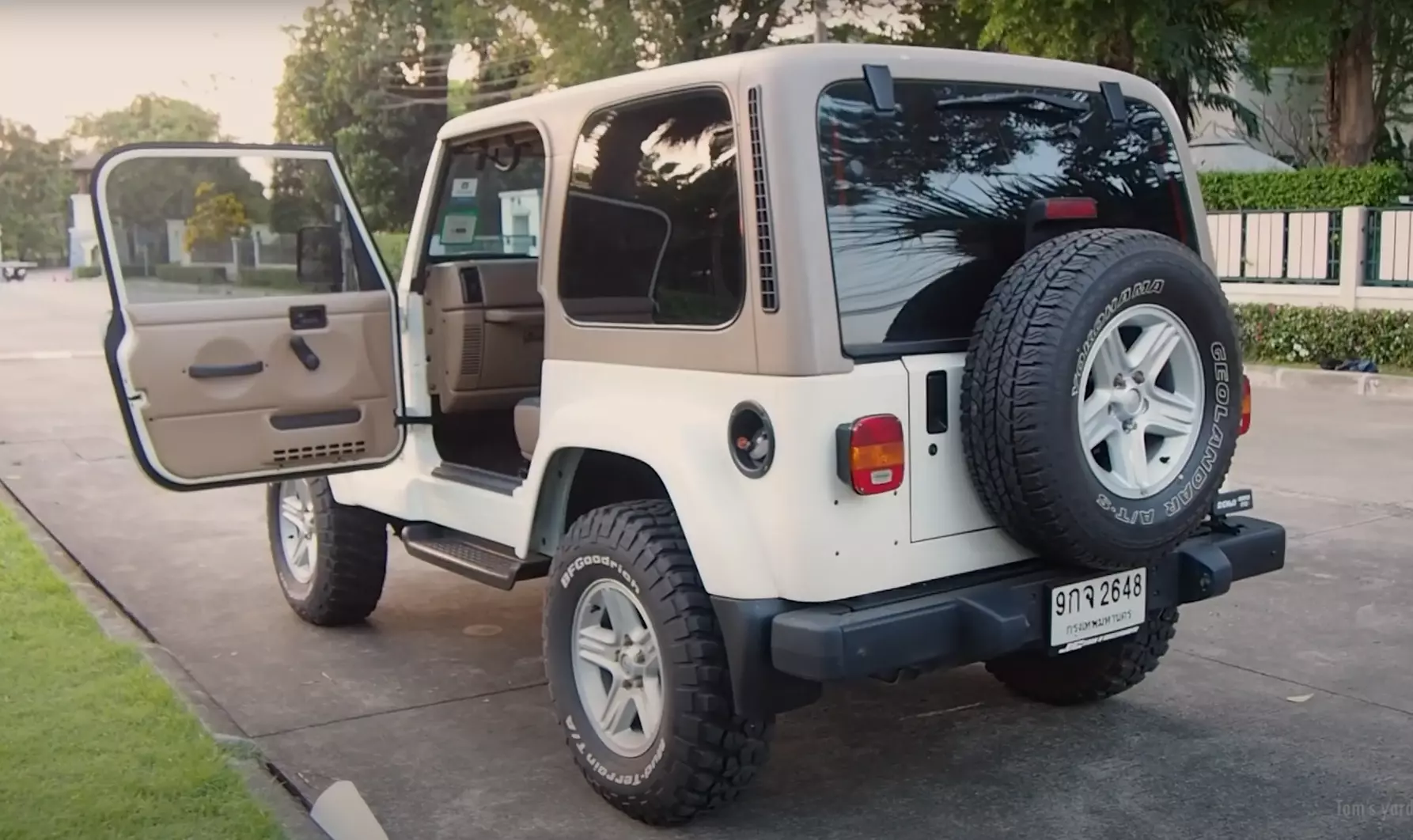 All you need to buy a used Jeep Wrangler is to understand the appeal of owning and driving one, Jeep Wranglers are one of the most reliable Jeeps models for those looking for an adventurous life.
You can buy a Jeep Wrangler with 100k miles with it and still go off-roading with it, if it has been well taken care of, most Jeep Wranglers are 4×4 but be careful when buying a used Jeep Wrangler for off-roading because there are earlier models with 2wd options.
If you want a Jeep Wrangler for off-roading, you should buy a 4×4, that sends torque to all four wheels of the Jeep. 4×4 Jeep Wrangler is more expensive than 2wd, if you are on a tight budget and want a Jeep Wrangler for on-road travel like going to school and work, you can look for a 2wd Jeep Wrangler which is cheaper.
Buying a Used Jeep wrangler is also worth it if you want to customize it for rock crawling, Jeep Mudding, and any other Jeep activity that involved highly customizing your Jeep Wrangler and stripping its parts that are not useful for these activities. You can narrow down your search and buy a used Jeep wrangler for cheap with all the parts you might need to be included such as suspension systems.
Related Posts:
Should you buy a used Jeep or a new Jeep?
Are you torn between buying a new Jeep or a used Jeep?
There are factors to consider when buying a new or used Jeep, and the number one reason is the costs involved, buying a used Jeep is risky because a used Jeep can have issues that you are not prepared to handle, while a brand-new Jeep is covered by Jeep through its Jeep Wave Program in case of mechanical failures.
Jeep also releases new features in all new Jeeps, if you like decked features on your Jeep such as electronics, you should, by all means, buy a new Jeep, old Jeeps have old features and some will never fit new features even with aftermarket parts just because they were not meant for the old Jeep.
If you don't care about new Jeep features, and want a Jeep to strip and Customize the Jeep based on how you want to use it, a used Jeep is cheaper and the previous owner might already customize the Jeep for you!
Used Jeep Buying Guide – Checklist
The first thing you should do after deciding you want a used Jeep is to buy an OBD Scanner. This will save you on the cost involved in checking if the Jeeps parts are functioning properly and any other condition logged in the Jeeps Computer (ECU), that can only be detected by analyzing the used Jeep with a computer.
We recommend buying an OBD2 scanner that will help you diagnose most of the problems of an old Jeep; this is a very cheap gadget but cost an arm and a leg to let a professional analyze the problems for you, all the problems and things to look out for highlighted below (plus many more) will be detected by an OBD2 Scanner.
These are the best OBD2 Scanners for Jeeps, the Bluedriver OBD2 scanner is a budget-friendly OBD2 Scanner, while the Innova OBD2 Scanner is a high-end OBD Scanner, both are good Jeep scanners, however, the Innova OBD2 Scanner has more features and will detect more problems in a used Jeep.
The advantages of getting a Jeep diagnostic tool now are that you will be able to use it after buying a used Jeep, you will also be able to diagnose problems yourself, and get alerts and notifications in case the diagnostic tool detects problems with your used Jeep after buying it.
You will also need to scan many used Jeeps with your new OBD scanner before settling for one without problems, after a Jeep has been analyzed with your OBD2 scanner and no problems are detected, we recommend having a professional take a final look by using a more professional look and manually checking for faults on the used Jeep.
OBD2 Scanner tip: Test your OBD Scanner with a friend's Jeep to make sure it is working properly, also note that older models might not be supported by modern OBD2 scanners, which are compatible and detect and analyze newer Jeep ECU systems.
Now that you are considering buying a used Jeep, we will help you narrow down your research and buying process, by highlighting the parts and factors to consider when buying a used Jeep:
Do jeeps have engine problems?
Yes, Jeeps have lots of engine problems, The first thing you should check when buying a used Jeep is the engine, this is the most crucial part of the Jeep and should be in tip-top condition, Jeep engines are made to last and can last up to 100k miles and still be in tip-top condition if the previous owner followed the Jeep service and maintenance schedules.
Check for any cracks on the engine, any Oil leaks, and any modifications added to the Jeeps engine. One of the best ways to know a Jeep engine is well maintained is by requesting its service maintenance records and checking if the previous owner took care of the used Jeep. A service maintenance record from a reputable Jeep dealership or mechanic will help you know the history of the Jeep's engine.
Another factor to consider when buying a used Jeep is the condition and type of engine installed, some engines have HEMI engines which are more powerful and others have factory engines with no modifications, knowing how you want to use your Jeep will help you settle on the torque and horsepower requirements, some Jeeps are turbocharged and some are not, some engines have lots of cylinders that will increase the power of the engine, but will cost you to maintain and have high gas mileage.
You should also check if the vehicle is automatic or manual, and how this will affect how you want to use your Jeep, if you plan on off-roading or heavily customizing your Jeep, you should settle for a manual engine as manual engines give you more handling capabilities when performing off-roading stunts.
You might be interested in this post: Are Jeep Wranglers Automatic?
Check the Spark Plus.
Engine spark plus tells a lot about the condition of a used Jeep engine, check with your OBD scanner for any issues with spark plus not firing and cylinder problems. After checking with an OBD scanner, remove every spark plug and check if they are clean and dry (free from any oil leaks), if the spark plugs are clean and dry with no oil patches, it means the engine is well maintained, and there are no oil leakages or loose engine parts.
Stay clear of used Jeeps with leaking oil and spark plugs as this can indicate a serious engine problem, you might also have a reputable mechanic examine the engine and let you know what the problem is with the engine and why the spark plugs have oil in them. Any problems with a Jeep engine are very costly to repair, and might also cost you a new Jeep engine.
Check the Jeeps exhaust
After scanning the used Jeep, you are interested no issues are detected, or there might be issues you can correct, before removing the OBD2 scanner because the Jeeps engine is still running, go out and check the smoke that is coming out of the Jeeps exhaust, you can have the owner or a companion rev the engine so that you can see the type of smoke that comes out of the used Jeep.
If your OBD2 scanner reported a coolant problem, white smoke will be coming from your exhaust and this is a confirmation that the Jeep is leaking coolant. If the used Jeep has lots of black smoke, there might be an issue with the Jeep's fueling system, if the Jeep's smoke is blue, it means the engine is burning more fuel and should be inspected by a mechanic.
Check The Jeeps Transmission.
An OBD2 scanner will help you know whether there are problems with the Jeeps transmission such as transmission fluid leaks, the OBD2 scanner will alert you of any problems with the Jeeps transmission.
However, you can test the used Jeep manually by checking if there are any oil leaks underneath the Jeep where it's been parked, and also test driving it and looking for any jerking or strange behaviors or noises when shifting gears. Gears are lubricated and should shift easily and without noise, any noise or gears getting stuck is a sign of transmission problems.
Jeep gears and transmission are complicated, some used Jeep gears have been regeared for more output, being a complicated process, the process can go wrong and cause problems to the transmission. Repairing a transmission is a costly affair you don't want to be involved with after buying a used Jeep just to be slapped with transmission repairs or worst changes.
Related Post: Jeep Rubicon Locker Problems
Check on the Jeep brakes and Steering.
Used and old Jeeps are notorious when it comes to having steering problems, a common problem is Jeep death wobble, which you can only detect when driving the Jeep, and you will check the behaviors of the steering wheel and its stiffness.
A jeeps suspension system is one of the most upgraded and customized parts of a Jeep, it's very important to check on the aftermarket parts installed and their conditions, you should also check if the suspension components are strained by adding aftermarket suspension or body lifts and how they lift kits were installed because some require removal of factory parts and body modifications.
The brakes should also be examined, you should check if the brakes are noisy, or inconsistent. Manually checking the brake pads is advised.
Check for any signs of rust
This is something an OBD2 Scanner cannot detect for you, but checking for any signs of rust is a very crucial part of determining whether a used Jeep you are considering is worth buying. One of the best places to check for any rust contamination is the undercarriage of the Jeep.
Related Post: Jeep Frame Rust Treatment & Body Rust Repair.
Use a flashlight to check for any signs of rust or cracks on the Jeep's Undercarriage, you should also check for rust in the suspension components and the interior of the Jeep. If the Jeep is Rhino Lined, or freshly painted, check for any signs of bubbling on the paint since rusted parts will likely have corrosion which has air that needs to escape even after being painted on lately.
Rust is a major concern and can spread like wildfire, any sign of rust is a major problem and a factor to consider when buying a used Jeep.
Conclusions.
If you are considering buying a used Jeep, you should do proper research on the specific Jeep and look for problems it might have, factors such as mileage should not worry you when you are purchasing a used Jeep, even 100k mileage Jeeps are still a good investment if they have been well maintained – Jeep Engines and parts are made to last.
Customization, year of manufacture, and model of a used Jeep will highly determine the value of your Jeep, you should also check for used Jeeps with features you would like as this will save you on costs associated with modifying the Jeep after buying it. Do thorough research and consult with a professional mechanic to check for any problems with the Jeep including electrical problems.
Last update on 2023-11-26 / Affiliate links / Images from Amazon Product Advertising API