We built a Jeep Wrangler Overlanding build that allows us to be self-reliant, off-road in remote off-grid locations, and interact with other Overlanders across the United States.
Jeep Wranglers are one of the best Jeep Overlanding vehicles from the Jeep lineup, Jeep has been working on making the Jeep Wrangler energy efficient and also improving on the interior and safety features that all make Jeep Overlanding appealing to Jeep Wranglers owners.
You can go camping in a Jeep Wrangler, by adding Overlanding gears that can handle outdoor elements and rigors, the Jeep Wrangler is a compact and mid-size four-wheel drive off-road SUV, there will be so many gear set-up decisions that will make your Jeep Wrangler Overlanding build work for you, one of the best Jeep Wrangler Overlanding setups recommendation is to mount heavy-duty Overlanding and off-road gears outside of your Jeep by making use of roof racks.
This guide is for Jeepers building their own Jeep Wrangler Overlading build, we don't recommend buying an already built Overlanding Jeep Wrangler, this is because the very gear you have on your Jeep should be specifically made for your needs and wants during your Jeep Overland expeditions, and you will need the best Overlanding gear that works for you.
Some Jeep Wrangler Overlanders prefer basic Jeep Camping supplies, a rooftop tent that will let them sleep high and dry in their Jeep comfortably during the nights, and durable recovery and safety equipment, others Overland for long periods, and this purpose need lots of gears to sustain them during their Overlanding expeditions.
If you are planning on building your Jeep Wrangler Overlanding build, here is how to set up a Jeep Wrangler for Overlanding, our essential Jeep Wrangler Overlanding Gears, and Overlanding Accessories, including Cool Jeep Wrangler Overland gear for your next Overland trip.
Jeep Wrangler Overland Setup
Three essential jeep wrangler overland setup essentials involve your Stock Jeep Wrangler that you need to customize for Overlanding, they include your Jeep tires, Lift Kit, and Mechanical reliability.
Jeep Overlanding Tires
One of the most common Jeep parts failures when Overlanding is the tires failing on your, for these reasons a reliable tire set will be one of the first upgrades you will require, we recommend all-terrain or mud-terrain tires between 31 and 37 inches for Jeep Overlanding.
Jeep Overlanding Tires (All-Terrain Tires)
Jeep Overlanding Tires (Mud-Terrain Tires)
Check out our earlier post on "Are Toyo Tires good on a Jeep?"
Jeep Overlanding Suspensions.
Your Jeep Wrangler suspension is also another Jeep part you should consider upgrading, since you will be spending your time on the grid on off-road roads, you will need a high Jeep Wrangler ground clearance that will determine how far you will go off the trail without getting stuck, and also having high-quality suspension system will determine how your Jeep Wrangler can handle itself when off-road.
Upgrading your suspension system will determine how comfortable your Jeep Wrangler Overlanding expeditions will be, or how far you can go without your Jeep getting stuck due to low ground clearance or damaged suspension systems due to low-quality suspension set-ups. Our previous post on the best lift kit for a Jeep Wrangler with bigger tires dives into more details, make sure to check it out.
Service and Upgrade Parts of your Jeep Wrangler.
Depending on how well you understand your Jeep Wrangler, you will need to service your vehicle as per the recommended Jeep Wrangler service schedule, you will also need to investigate and upgrade parts and accessories that frequently fail on you, the Jeep Wrangler is a reliable off-road SUV, and but servicing and maintaining your Jeep parts and accessories is crucial to lessen your chances of being stranded off the grid.
Jeep Wrangler Overland Upgrades and Safety.
You will also need to upgrade your Jeep Wrangler to thrive off the grid, these upgrades will improve your safety and that of your vehicle, when upgrading your Jeep with modification it's important to note that you will have additional Overland gears you will need to purchase, and also every accessory added to your Jeep adds weigh to your Jeep, and this will affect your Jeeps towing and fuel economy.
Jeep Wrangler Overland Upgrades are expensive, there are a lot of aftermarket Overland products, you will need to ensure you are only buying the necessary Jeep upgrades to optimize your Jeep for Overlanding, these safety upgrades we deem as essential include: Jeep Brakes, suspension systems, Jeep Gears, regearing your Jeep Wrangler will improve the performance off-road and also save you on money by bringing it back to factory settings.
Other Jeep Wrangler upgrades that focus on safety when Overlanding include Jeep Overlanding/Off-roading lights, we recommend buying low-mounted LED lights on your bumpers or hood using light mounting brackets, you can also upgrade your headlights to LED headlights, and rear lights to improve visibility when camping or driving at night.
Adding a backup rear camera that improves visibility when parking or driving at night will also come in handy since you will be spending most of your nights in your Jeep Wrangler, Jeep Wranglers have Parkview Rear Back-up Camera, but the backup camera is not well-optimized for Overlanding that's why we recommend taking a look at Garmin Wireless Backup Camera the camera can transmit via WIFI to your GPS navigator display and can withstand harsh Overland elements such as rain, dust, mud, and snow.
Other safety features we recommend upgrading on your Overlanding Jeep Wrangler include, upgrading your front and rear bumper, and installing skid plates, and rock sliders that will protect your Jeep Wrangler from physical damage.
Our previous post on Jeep off-road mods (Must have Jeep Modifications) dives into more details on protecting and safety of your vehicle, so make sure you check it out.
Jeep Wrangler Overlanding Gear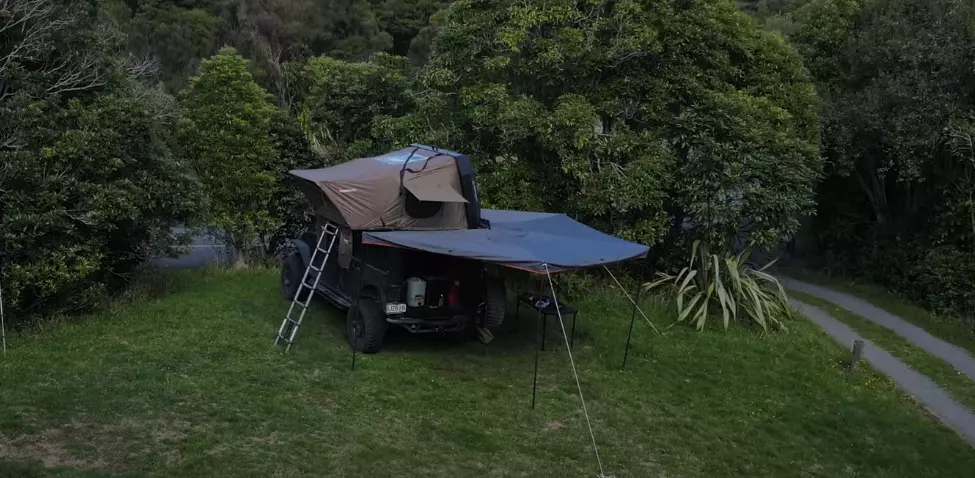 Same to Upgrading your Jeep Wrangler parts and Accessories, Buying Overland gear is also an expensive endeavor, for these reasons you must understand your Overland requirements, and only buy essential Overlanding gear for your Jeep Wrangler.
Based on our years of experience Overlading in a Jeep Wrangler, these are the basic Jeep Wrangler Overlanding Gear you will need for both long-term and short-term overland camping in your Jeep Wrangler.
Food and Water
You will need one gallon of water per day per person when Overlanding, you will also need foot that will last you your entire Journey, for this reason, you will need containers that you will use to store your food and water in your Jeep Wrangler. Some of the containers you should check out include:
You will also need some essential camping kitchen accessories such as cooking, portable coffee maker, plates, etc. all the necessary lung/dinner accessories you will need when camping.        
Jeep Recovery Gear and First Aid.
After making sure you have enough food and water to last you the entire length of your Jeep Overland adventure, you will need your Jeep recovery gear and a first aid box. You will want to be able to perform first aid on yourself, your partner, or fellow Overlander you will need off the grid stuck with an injury, the same thing applies to your Jeep recovery gear.
Here is a list of the essential Jeep Wrangler recovery gear that we use when Overlanding and off-roading in our Jeep Wrangler.
Apart from the essential Jeep recovery gears and first aid kits, we also advise our readers to make sure they regulate their tire pressure when off-roading to improve their Jeep traction when off-roading, for this reason, these are the essential items that will help handle your Jeep when off-road:
Also, check out our post on the Best Portable Air Compressor for Jeep you will find the best air compressors that will help you inflate and deflate your Jeep tires when driving through different off-road terrains when Overlanding, deflating your Jeep tires will improve the ride and handling of your Jeep Wrangler on rough surfaces.
Best Communications Devices for Overlanding
We recommend a multipurpose satellite communication device that will be able to send text messages when you are not connected or near a mobile phone signal, display GPS for navigation, check the weather and your GPS location and be able to send SOS signals to in case you are lost, in an accident or need help when stuck Overlanding.
Features Communication Devices for Overlanding That We Use and Recommend
The best device we have and recommend as an essential Jeep Wrangler Overlanding communication system is the Garmin inReach Satellite Communicator, and also buy and install a weBoost Drive Reach OTR Phone Signal Booster on the roof of your Jeep Wrangler, that will boost the signal of your mobile phone when off-roading off the grid, and the signal is weak or distorted.
Jeep Campsite Equipment
Jeep Campsite Equipment ensures a comfortable Jeep camping and Overlanding experience, when packing your Jeep camping gear or planning to buy your first Jeep camping gear, use this checklist so that you don't forget essential camping gears you will Need when Overlanding in your Jeep Wrangler.
Here is our list of the essential Jeep Campsite Equipment when Overlanding in your Jeep Wrangler.
The first thing you will need is a Jeep Wrangler rooftop tent or an old-school tent, Over the past few years of owning tents for camping when Overlanding.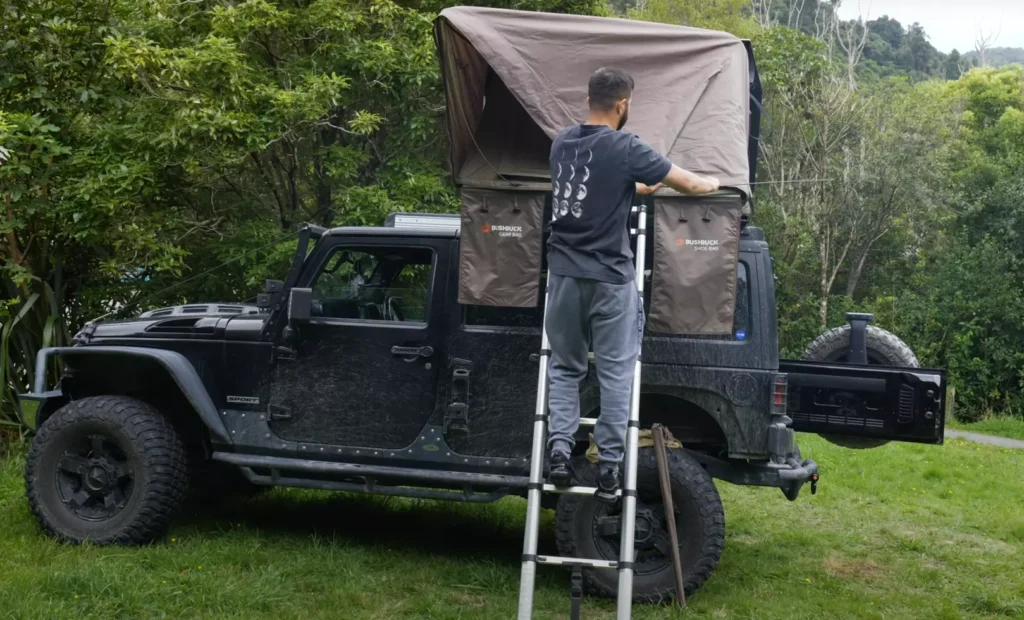 We have bought both ground tents and Jeep Wrangler rooftop tents, and so far, rooftop tents give us a better nature view experience, easy to set up, easy to find a Jeep campsite, comfortable, offer additional storage, stay clean, warmer, better ventilation, safe, durable and long-lasting.
Here is a list of the best Jeep Wrangler rooftop tents available for purchase today:
If you are an old-school camping guy or have a limited budget, and need more living space for your family you can invest in a ground tent for camping when Overlanding in your Jeep Wrangler. Some of the Jeep ground tents we have bought and used with our Jeep Wrangler based on the above pros include:
Related post you will like: Can you put a rooftop tent on a Jeep? And learn how to install a rooftop tent on your Jeep and factors to consider when adding a rooftop tent on your Jeep Wrangler Overland Build such as rooftop tent weight, your Jeep roof weight limit, and other useful tips on installing a rooftop tent.
If you have a limited budget, you can also sleep in your Jeep, by buying an Air Mattress Car Bed Camping, that you can install in your Jeep by pushing forward driver and front passenger seats, and inflating the air mattress with a portable air pump to form a comfortable sleeping bed for two, you can also purchase a sleeping back (we recommend a temperature regulating sleeping bag to prevent heat loss when sleeping at night.
You can find our top recommended Air mattress and Sleeping bag in the list below:
Once you have secured a place to sleep in your Jeep Wrangler, its time to get yourself some campsite equipment, as a general rule of thumb it's important to prepare for the unpredictable, our list of essential camping gear for Jeep list below shows our list of the right camping gears you will need when camping in your Jeep Wrangler, allowing you to stay longer, confident and improve your Jeep Wrangler Overlanding experience in general.
List of Essential Jeep Campsite Equipment
The list above contains essential camping gear, that is essential and in one way or another, they are used in conjunction with other Overland equipment and gears to improve our Jeep Overland experience.
Cool Jeep Overlanding Accessories
Over the years, we have added to our Jeep Wrangler some Cool jeep Overlanding accessories that improve our Overlanding experience, improves our Camping experience, and Storage solutions. We recommend purchasing these Cool Jeep Overland accessories after you have a complete list of the essential gear you will need when Overlanding in your Jeep Wrangler.
Some of the products in this section are more luxurious than budget-friendly, as they intend to make sure you have improved on the experience of Overlanding in your Jeep Wrangler.
Here are Cool Jeep Overlanding Accessories that will improve your Jeep Wrangler Overlanding experience:
You will need to buy Jeep gas cans, this handy off-road gas cans will come in handy when you run out of fuel when Overlanding, and serve as a safe storage solution for flammable fuel such as Gasoline and diesel Unless you own an electric Jeep Wrangler 4xe with improved fuel economy and can switch from gas to electric powered, you will need to check out our list of the Best Jeep Gas Cans for off-roading and Overlanding.
From the list of the best Jeep Gas Cans for off-roading and Overlanding report, you will find gas cans such as the Goplus 20-Liter NATO Jerry Can, but our favorite and the one we use and recommend due to its stackability purposes and dependability is the RotoPaX 3-Gallon Gasoline Pack
You can also purchase a Jeep hitch rack, that can expand your Jeep Wrangler storage, we love the fact that we can add up to 500 lbs. of Jeep Overland gears and Accessories weight on our Jeep Wrangler Tailgate, by just installing a Jeep hitch.
Our top recommended products are the Meefar Hitch cargo basket, OKLEAD hitch cargo carrier, and Mockins Folding Cargo Carrier, all of which you can get a deep dive into the products on our earlier post on Best Jeep Hitch Rack.
You can also buy a 270 awning or a Tarp that would keep you cool in the sun and dry when it's raining, when camping off the grid, it will also protect your equipment from the harsh weather elements once you have removed them from the Jeep for use in your camping spot. Here is a list of the best Jeep Wrangler Awning available today:
To learn more on why we recommend the OVS Nomadic Awning 270 Jeep Awning, and the SJK Roadhouse Tarp, check out our post on the Best Jeep awning for Overlanding & Camping.
 The last thing on our list of cool Jeep Wrangler Overlanding accessories is a DIY Jeep Trailer,  with enough time, mechanical aptitude, a welding machine, some sheets of metal, some basic woodworking and welding tools, and an adventurous spirit, you can be able to follow our guide on how we made a DIY Jeep Trailer that we tow with our Jeep Wrangler, and use it to store our Overlanding gears and accessories.
Conclusion
Jeep Wranglers are good SUVs for Overlanding, regardless of which Jeep Wrangler trim and configuration, they are all built with features to get you to Jeep Trails, and Overlanding Spots in public BLM or national forest lands. Thanks to their high ground clearance, big tires, towing capacity, aftermarket Overlanding pieces of equipment, and upgrades for self-sufficient off-road travel.
That's all for our Jeep Wrangler Overlanding readers, we hope you have added in your Overland Gears and accessories a gear or two that you had missed, for new Jeep Wrangler Overland builders, bookmark this page and visit more often as we will keep it updated with new Jeep Wrangler Overlanding gears and accessories that we will come across or released in the market.
Choose your Jeep Wrangler Overlanding gears carefully, by keeping tabs on the weight of the gears and accessories, how you plan to carry and mount them, and your budget, its also important to only buy essential Overlanding gears to make use of the limited storage spaces in your Jeep Wrangler, as having the right gear can make or break an Overlanding Jeep Expedition.
Last update on 2023-09-19 / Affiliate links / Images from Amazon Product Advertising API