For many Jeep campers and Overlanders, installing a rooftop tent on a Jeep is one of the best options compared to sleeping on a ground tent. There are a lot of options for a Jeep rooftop tent including hard-shell Jeep tents, soft-shell Jeep tents, folding Jeep tents, inflatable Jeep tents, and pop-up Jeep tents.
A rooftop tent allows you to expand on your Overland expeditions, installing a Jeep rooftop tent allows you to sleep anywhere you wish and enjoy your Overland expeditions, you can sleep on camping grounds, or anywhere with a flat surface as long as it's secure and safe to camp.
Can You Put A Rooftop Tent On A Jeep?
Yes! Your Jeep can support A Jeep rooftop tent since most Jeep rooftops can hold up to 165 pounds of weight. Jeeps have the structural capacity to support a rooftop tent, and some might need a rack system to install a rooftop tent.
In this article, we will highlight the feasibility of installing a rooftop tent on your Jeep! We also thought you might find these Jeep roof top tents related posts interesting:
How Much Weight Can A Jeep Top Hold?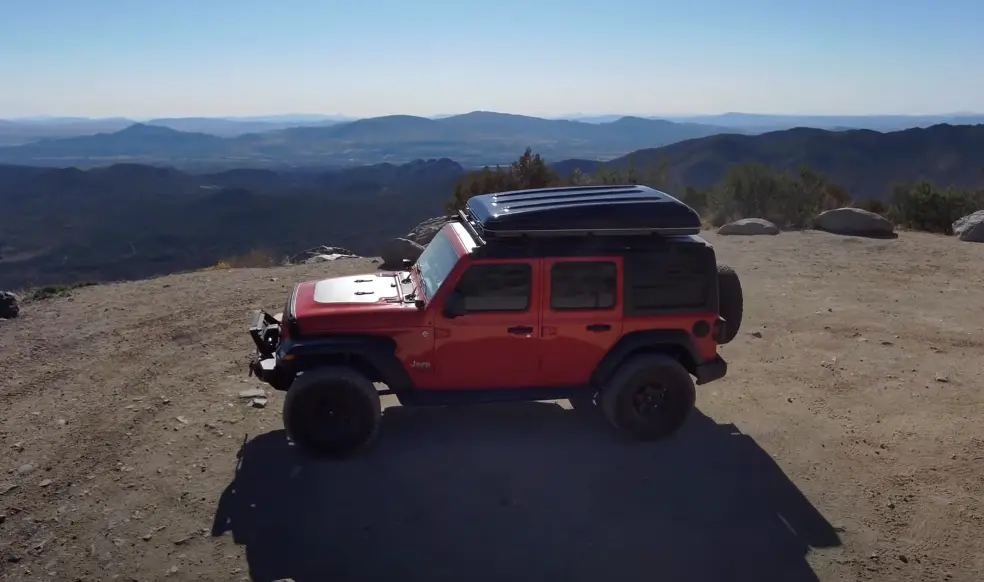 A Jeep rooftop can hold up to 150 pounds of weight, they are designed from a sheet molding compound that makes them hard and strong. Your Jeep's ability to support a specific type of rooftop tent will be determined by the rooftop tent specifications and the type and model of your Jeep.
It's important to note that installing a Jeep rooftop tent will alter your Jeep's center of gravity, and might affect your Jeep's handling, and your Jeep's gas mileage.
To understand your Jeep's rooftop handling capabilities, you will need to examine your Jeep's model and the features that make it ideal for mounting a rooftop tent. Here are some points to consider:
SUVs such as Jeep Patriot, Jeep Cherokee, Jeep Renegade, and Jeep Compass may not be strong enough to support an entire rooftop rack and rooftop tents, especially when dealing with hard shell tents, and heavy tents in general, but this will depend on the particular Jeeps roof top limits, which is uniquely based on each Jeep model.
Jeep Wranglers and Jeep Gladiators are the most suitable Jeep models that are strong enough and have lots of aftermarket parts and accessories such as roof rack systems that will help you mount your rooftop tent securely on the rooftop of your Jeep.
Is There A Weight Limit For A Rooftop Tent?
There is a weight limit for rooftop tents, that will help you understand the type of rooftop tent and the weight to expect based on the number of occupants. A rooftop tent has a weight capacity of 200 pounds per occupant, this means that a two-person rooftop tent can hold up to 400 pounds and so on.
What Happens If You Put Too Much Weight On A Roof Rack?
Installing a heavy rooftop tent on your Jeep that exceeds the weight capacity of your Jeep's roof will have serious consequences and might damage your vehicle and affect your driving experience and handling capabilities. Some of the effects of installing a heavy rooftop tent in your Jeep Include:
The handling capabilities of your Jeep will be affected and you will experience a drift onto one side and your steering wheel will start to pull you on the counteracted side.
Installing a heavy rooftop tent that has a weight limit that exceeds your Jeep's rooftop ratings, and is not properly supported by your Jeep's rooftop base, rooftop racks, and cargo racks might lead to your Jeep losing stability.
The rooftop tent will also cause a change in the center of gravity, which will affect the control of your Jeep, especially when driving at high speed or during a windy period, reduced control of your Jeep might also be attributed the poor aerodynamics due to a roof tent.
A rooftop tent also affects your Jeeps gas mileage, due to the drag caused by the rooftop tent, the rooftop tent affects the Jeeps aerodynamics and adds weight that will affect your Jeeps gas mileage.
Installing a heavy rooftop tent will also accelerate your suspension wear and tear due to the added weight that is not supported by the shocks and suspension components of your Jeep.
A heavy and not properly mounted rooftop tent will also increase the risk of roof damage, such as some users might experience a leaking sky one-touch roof, a bent rain gutter, or the roof itself.
Pro Tip: You must understand that you should only install a rooftop tent on a Jeep with a rooftop weight load limit of 165 pounds, anything below that cannot support a rooftop tent.
How To Install A Jeep Rooftop Tent.
Installing a Jeep rooftop tent is a simple process regardless of the type of Jeep and rooftop tent you have purchased, the preliminary steps of installing a Jeep rooftop tent include:
The first step is to determine the weight limit of your Jeep's roof.
Determine the weight of your Jeeps when loaded including the weight of your camping accessories.
Determine your Jeep's dynamic weight capacity and the best weight of a rooftop it can hold.
Purchase a compatible rooftop tent for your Jeep, based on the type of your Jeep you might also purchase a roof rack system.
Build a base for your Jeep rooftop tent, including mounting your roof rack, crossbars, and flat racks.
Attach the base of your roof rack by connecting the mounting tracks with the roof rack or the tent's hinges.
Align the bolt holes on the tracks or rails and use the bolt to tighten and hold the rooftop tent in place.
If your tent has a ladder, add the ladder and secure it with bolts.
Final Thoughts.
Roof tents are a great way to sleep in your Jeep, and can act as your Jeep's storage spaces. Installing a roof rack on a Jeep allows you to install a rooftop tent, most aftermarket roof racks made for Jeeps have a holding capacity of 165 pounds, which is enough to install a rooftop tent.
Heavy-duty SUVs and Trucks such as the Jeep Gladiator, and the Jeep Wrangler are strong enough to hold a Jeep rooftop tent, they also have a lot of aftermarket roof racks and tent accessories that will help you mount your Jeep roof rack securely and stably distribute the weight of the roof top tent to the whole Jeep build.
Overall Jeep rooftop tents are better compared to other types of camping tents, they are more secure than ground tents and are easy to install and mount requiring a few minutes to get them set up. It's important to understand your Jeep's rooftop load capacity to understand what type of roof rack is suitable for your Jeep.
What we love about Jeep tents is that they are a home away from home, and built to be ready to go for more off-road and Overlanding expeditions, without having to worry about a place to sleep or camp.