In this post we are going to highlight some of the basic Jeep off-road mods you will need to start off-roading, or improve your off-roading experience for experienced Jeepers building their off-road rig one part and accessory at a time.
Jeeps are one of the best off-road vehicles in the market today, Jeeps such as the Jeep Wrangler, Jeep Gladiator, and the Jeep Cherokee are rated as the best off-road vehicles due to their rugged look, high ground clearance, big tires, suspension/ lift kits, and the ability to upgrade them to fit your off-roading requirements.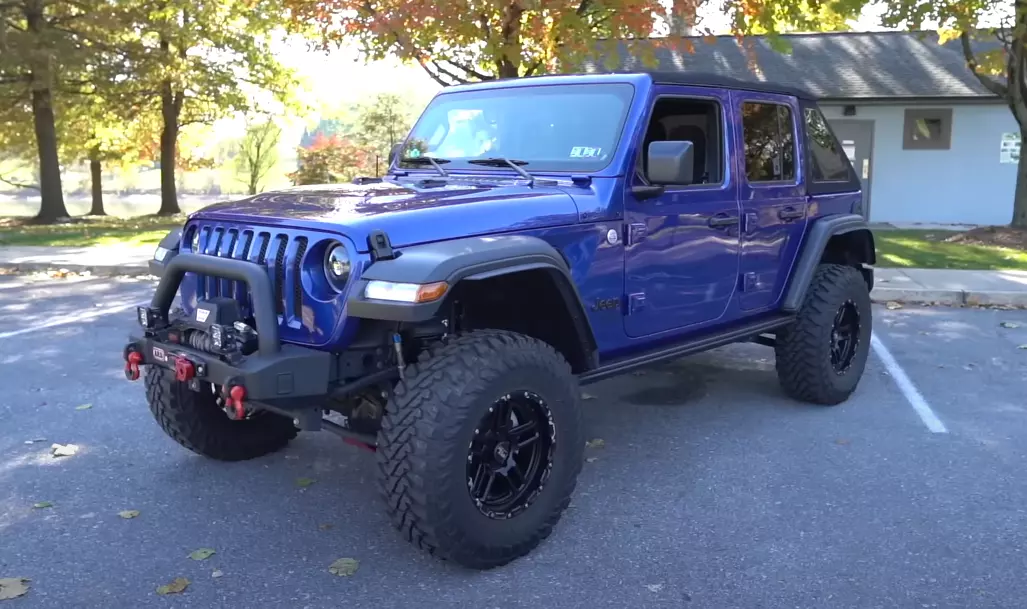 Jeeps are made for off-roading; this has resulted in the influx of many aftermarket parts and accessories that you can buy to personalize and improve your Jeep's performance when off-roading. Whether you have a factory Jeep or a modified Jeep off-roading fun is the same, however, you will need some basic mods to make sure you don't get stuck off-roading, and also improve the performance of your Jeep.
Let's dive in.
10 Jeep off-road mods (Must have Jeep Modifications)
If you are currently customizing your offroad rig, and don't want to hit Jeep trails without the right tools and accessories, we have put together a list of the top 10 Jeep off-road mods for any Jeep model you might own:
Jeep Winch
A Jeep winch is an essential mod for any off-roading Jeep builds, you will need to install a winch on the front bumper of your Jeep, investing in a Jeep winch not only helps your Jeep buddies get unstuck when off-roading, but also helps you pull yourself out when there is no one near to help you get unstuck.
There are a variety of winches available for your off-road Jeep, made by different manufacturers, there are some which are budget friendly and some that are more expensive, depending on your budget there is always a winch available at your budget.
One of the budget-friendly and most used Winch is the Badland 12,000 lb Winch
We recommend investing in a Jeep winch that has a steel or nylon rope, this is because they are heavy-duty ropes, and will last longer and help you pull yourself out without damaging the winch rope. We also recommend buying an electric-powered winch that can be operated by one person.
You can also buy a winch cover that will protect your winch from dust and water, and also protect your winch from the harsh weather. An off-road Jeep with a winch also looks badass and adds to the exterior looks of your off-road Jeep rig.
Jeep Off-Road Tires
Depending on your favorite off-road activities, there are various tires for each activity, you can upgrade your Jeep tires with mudding tires, snow tires, rock crawling tires, all-season tires, or all-terrain tires.
The type of tires you will choose for your off-road Jeep will be determined by how extreme your off-roading activities are, and the trails you will be frequenting.
Some of the features to look for when upgrading your Jeep tires include tire size and tread patterns. Treads are important for improving your Jeeps tractions and will dig you out on any off-road trails.
If you off-road during the weekend and also use your Jeep for daily use we recommend all-terrain tires, mud tires, and rock crawling tires are noisy on road and are not gas friendly.
Jeep Spare Tire.
You will also need to invest in a Jeep spare tire, we recommend purchasing a full-sized spare tire for your Jeep, and maintaining it by frequently rotating your spare tires with the tires in use.
Related post: 5 tire rotations for Jeeps.
Tire punctures are normal when off-roading, rocks, and sharp elements can easily puncture your Jeep tires when off-roading, and you will need a spare tire to get you out of the situation. We don't recommend a Jeep donut spare tire because you will need all the wheels in your Jeep to be of the same size for maximum traction and improved handling.
You should also invest in an air compressor, and tools to change your tires such as spanners, and a High lift Jack.
Jeep Tow Points
An off-roading Jeep requires a tow point in its bumper, depending on your budget you can install two tow points on the front of your off-road Jeep, and two points at the rear bumper, if you are on a tight budget, you can buy one tow point for the front of your Jeep or the rear of your Jeep.
Tow points are used for recovery when off-roading or towing things with your Jeep such as trailers, or pulling out stuck colleagues if they get stuck when off-roading.
There are many types and designs of tow points, however, we recommend loop styles tows that are forged, some bumpers include tow points that are directly in line with the frame of your Jeep for added stability and strength.
Jeep Recovery Straps
If you have tow points or not, you should invest in recovery straps, there are a lot of recovery ropes available in the market, however, we recommend kinetic recovery ropes as they can stretch up to 30% of their length without snapping, and prevent your Jeep from jerking when they are being used, Jerking can cause damage to your Jeep or your gears.
Most Jeepers use traditional nylon ropes that are good for recovery on road, but when off-road and in uneven terrain Kinetic ropes are preferred and you should upgrade them if you are into off-roading or Overlanding. We don't recommend using nylon ropes for yank tows.
Recovery ropes work best when pulling a log that blocks your trails, and also getting yourself unstuck. You can tie them on your tow points or the bumper if you don't have tow points installed.
Jeep Auxiliary Lights
Jeep lights are also an essential mod for you to consider, you can buy light bars, flood lights, or Cube lights, this is cheap upgrades that are very useful when Overlanding or driving at night.
We recommend LED Lights which are energy efficient and will not drain your battery when in use. Some factors to consider when buying auxiliary lights include the lumen count (brightness), and mounting options.
When off-roading at night, you will need more than just your headlights to light up your road, you can also consider upgrading your headlights for a more powerful headlight.
Here is a post where we have highlighted some of the best LED headlights for your Jeep Wrangler.
Jeep Suspension or Body Lift Kits
Jeeps have lift kits installed on them from the factory, however, you might consider lifting your Jeep to improve your handling and off-roading performance. Some of the lift options include a body or a suspension lift.
You might consider upgrading your lift kit to install bigger tires required for off-roading, a suspension will improve your traction off-road, and also improve the handling of your Jeep.
Investing in a high-quality suspension kit improved the ride for both the passengers and the driver and creates a high ground clearance that will prevent your Jeep undercarriage from being damaged by large obstacles when off-roading.
For serious off-roading, you can consider air suspension that allows you to lower or raise your Jeep when needed, air suspension will improve your gas mileage on the highway, and also give you more control when clearing obstacles in the trails.
Jeep Skid Plate
Some Jeep parts are more exposed to damage than others, for example under your Jeep you have a transmission, engine, and radiator that can easily be damaged by elements when off-roading.
Installing a Jeep skid plate will protect your undercarriage and prevent expensive repairs and damages. A skid plate will give you confidence when off-roading, and give you a buffer that will protect your undercarriage from damage.
It doesn't matter whether you have a lift kit installed or not, a skid plate will add a layer of protection regardless of the ground clearance of your Jeep, some elements are tall enough, especially on rough terrain, and can find their way to Jeeps parts on the undercarriage of your Jeep.
Jeep Roof Rack
A roof rack is also an essential Jeep upgrade, especially for off-roaders and Overlanders. Roof racks allow you to store your storage boxes, Jeep gas cans, Recovery gear such as hi-lift Jacks, and camping gear such as awnings and rooftop tents.
A high-quality roof rack is an essential Jeep upgrade, it allows you to max out your storage for your off-roading gears and accessories. You should have the roof rack professionally mounted on the roof of your Jeep, a professional will install your roof rack, and ensure that it is strong enough and free from water leaks that can damage the roof of your Jeep, and prevent water from leaking into your Jeep.
Having ample storage allows you to extend your off-roading or Overlanding Jeep expeditions since you can carry more camping items and gear you will require for your Jeep expedition.
Jeep Rocker Protection.
Jeep rocker panels protect your Jeep's undercarriage from damage, it is normally installed from the front tire to the back on each side. They are made of steel and act as buffers for your undercarriage, and protect your Jeep parts.
We recommend installing rocker panels that are customized for your Jeep model, they should also be mounted properly as they can cause problems if not installed properly. They get hit more often and might get loose if not installed properly.
Final Thought.
We have highlighted some of the basic Jeep mods you will need for off-roading, some factors to consider when customizing your Jeep with aftermarket parts and accessories is that you should factor in their weight, and aerodynamics, aftermarket parts are notorious for affecting your gas mileage.
Check out our article on how to improve your Jeep's Gas Mileage.
Most of the highlighted Jeep parts and accessories are covered in depth on some of our Jeep parts and Accessories posts, please check out the sites menu and navigate to some of our posts full of Jeep aftermarket parts and accessories you can buy today to improve the performance and looks of your off-road rig.
Related posts: