Want to improve your Jeep Overlanding and Off-roading expeditions but have a tight budget? You may want to look into a DIY Jeep Trailer!
In this post, we will showcase the best DIY Jeep trailers we have seen and give a step-by-step guide on building a Jeep trailer, the cost of building a Jeep trailer, and much more.
Related Post: What is Jeep Overlanding?
Building your Jeep trailer is not something that should be taken lightly; you will need to research and consult with professionals when needed; here we will summarize what you need to build a trailer and the process of building a basic Jeep trailer that you will support your Jeep Overlanding expeditions.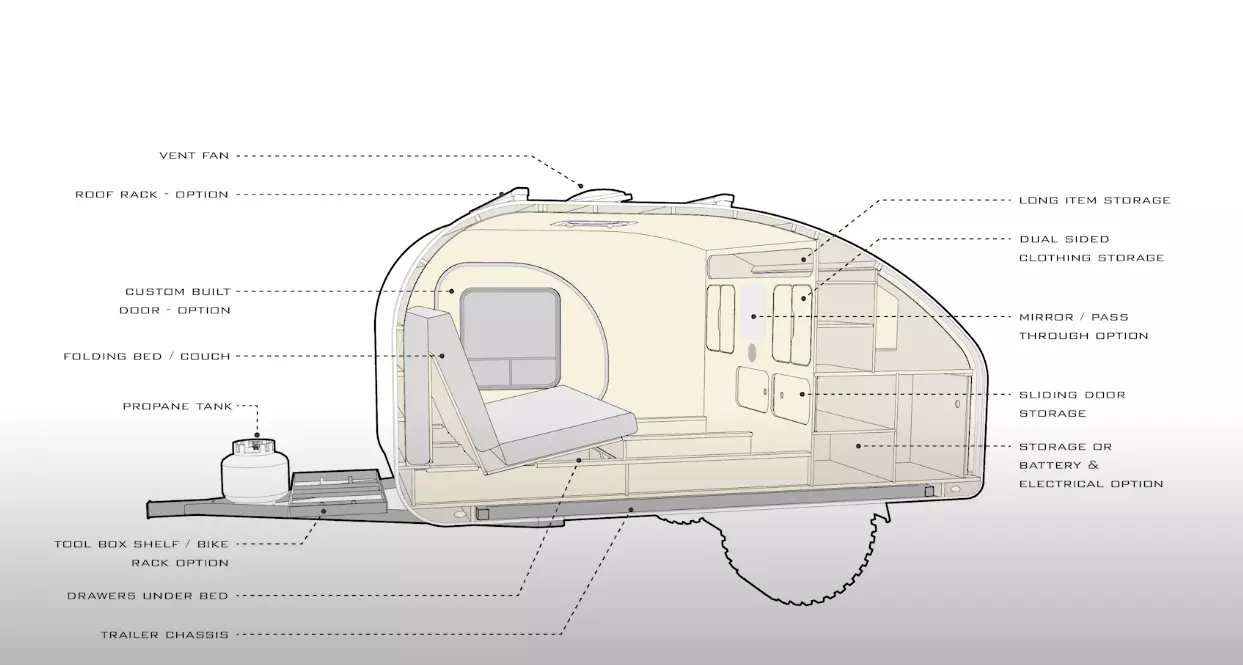 Towing a Trailer with a Jeep.
One of the most important things to consider when building your Jeep trailer is the towing capacity of your Jeep and your Jeep Hitch configurations; you don't want to build a Jeep trailer that is too heavy for your Jeep. We have summarized the towing Capacity of various Jeeps models to help you in your Jeep trailer build and design process:
| Jeep Model | Towing Capacity |
| --- | --- |
| Jeep Compass | 2,000 lbs. |
| Jeep Renegade | 2,000 lbs. |
| (Two Door) Jeep Wrangler | 2,000 lbs. |
| (Four Door) Jeep Wrangler | 3,500 lbs. |
| Jeep Cherokee | 4,500 lbs. |
| Jeep Grand Cherokee | 7,200 lbs. |
| Jeep Gladiator | 7,650 lbs. |
| Jeep Wagoneer | 10,000 lbs. |
| Jeep Grand Wagoneer | 10,000 lbs. |
Knowing your Jeep towing capacity will help you watch out for your Jeep Trailer weight when building your Jeep trailer, so you may have extra cargo capacity in your Jeep Trailer for the Jeep Overlanding gears you will carry onboard your Jeep trailer.
Ready to build something with your own hands? Let's go!
How To Build a Jeep Trailer
This tutorial presents building your Jeep trailer for off-roading or Overlanding. The plan is to design a small trailer that will carry all your Overlanding and camping gears and accessories and be pulled by a Jeep.
We have also suggested some tips on speeding up the construction process by ordering some already-built parts that are hard to build at home and critical to the performance of your Jeep trailer off-road and on-road. These parts are professionally designed and manufactured, they are just suggestions, and you can order other brands. However, we will explain why we choose the parts and what to consider when ordering your parts.
Let's not waste time and get into the Jeep trailer build process!
Step 1: Choosing a 5×8 Trailer Frame Kit
You can buy a bolt-together trailer frame kit or build your trailer frame; since this is the most important part of a Jeep trailer build, we recommend purchasing a bolt-together trailer frame kit.
While bolt-together trailer kits come in many sizes, we recommend a 4×8 trailer frame kit for towing with a Jeep. A 4×8 trailer will fit two people if you need to build a camper, and it's big enough to fit most of your Jeep off-roading or Overlanding gear.
One of the best trailer frame kits we recommend is the Ironton 4ft. x 8ft. Steel Folding Jeep Utility Trailer Kit.
The reason we recommend buying an already-made Jeep trailer frame is that it will reduce the time needed to weld and work with metal to build a trailer frame, you will also need to design the frame yourself, and for beginners who are not experienced with building a trailer frame, they will need a professional to guide them through the process not to mention the equipment's needed to weld together a trailer frame.
That's where the Ironton is 4ft. x 8ft. Steel Folding Utility Trailer Kit comes in, it's a simple trailer frame that you can build on top, the design of the top build is what matters, and you will be able to apply your customization on the build to fit your Jeep storage requirements.
The Ironton is 4ft. x 8ft. Steel Folding Utility Trailer Kit payload capacity is 1170 pounds with 1400-pound max GVWR; this is the right weight of a frame to build your Jeep trailer since the top build doesn't have to be built with heavy materials.
Step 2: Designing a Trailer
The second step involves designing a trailer, go over Pinterest or Google, and you will find various trailer designs you can find inspiration on to build your Jeep trailer.
Your Jeep Overlanding trailer design should be based on your Jeep trailer requirements and needs. For example, you can choose a trailer for Overlanding gear storage if you have an Overlanding tent, or you can build a Jeep trailer for camping in; all these factors will influence your Jeep trailer design.
Factors to consider when designing your Jeep trailer include safety, comfort, weight (try and make your Jeep trailer bottom heavy to resist tipping over due to extreme winds and stormy weather), space planning, and operational costs; at least these are the major things to consider before adding your personalization requirements.
Step 3: DIY Trailer Enclosure
The next step involves building your trailer enclosure on top of your trailer frame; there are three phases of building a trailer enclosure the floor, Cabin, and roof. You can build the trailer enclosure from parts you can purchase at your local lumber store, saving you the cost of purchasing an already-built trailer enclosure.
The trailer enclosure build is where you get your hands dirty and start working on the DIY Jeep trailer, so we thought it would be a good idea to add a video guide on the process of building the trailer enclosure:
The video below shows how to build a DIY Jeep trailer enclosure using an already-built trailer frame, you can follow the steps included in the video above, or your can customize your trailer enclosure to meet your own specific needs, regardless of your personalization requirements the trailer enclosure built, below are some of the trailer parts you will need:
Wood planks ½ an inch thick for the trailer floor.
Bolts (with washers) and nails
Rubberized coating.
Waterproof paint (Coating)
Plywood sheets for the trailer roof and floor.
Aluminum panels.
Prepare the trailer parts and assemble your Jeep trailer enclosure over the weekend.
Step 4: Trailer Wiring
You will need to wire your trailer to fit your trailer tail lights, turn signals, and other electrical systems you will need to use in your trailer, such as lights. Lights etc.
There are five ways to wire your tail lights; they include
4-Pin Trailer Wiring
5-Pin Trailer Wiring
6-Pin Trailer Wiring
Round 7-Pin Wiring
RV Blade 7-Pin Trailer Wiring
Again, the wiring of your trailer can be challenging without visual help; here is a trailer wiring video to help you in wiring your Jeep trailer:
You can find several trailer wiring diagrams online to help you wire your trailer; however, If you are not comfortable wiring your Jeep trailer, we recommend hiring an electrical professional to help you add wiring and insulation to your Jeep trailer build.
Some of the electrical trailer wiring parts you will need to purchase include the following:
A switch or a fuse panel.
A Wall socket to add your electrical accessories.
A deep cycle trailer battery.
Pin connectors & Wiring harness.
A pair of tail lights.
Thermal insulation.
Step 5: Finishing your Build. (Trailer Cladding & Trailer Painting)
Congratulation on reaching the final step of your Jeep trailer build!
The final step involves cladding, trimming, and painting your Jeep trailer; at this point, you have a basic Jeep trailer that works, a Jeep trailer with a trailer enclosure that you can tow with your Jeep.
When finishing your Jeep trailer build, it's important to keep the weight of your trailer at the recommended towing levels; for this reason, we recommend using 14-gauge aluminum panels (0.0641 inches; 1.63 mm) for cladding your Jeep trailer because they are lightweight, and corrosion resistant. The majority of Overlanding trailers use aluminum panels for cladding for these reasons.
To paint your Jeep trailer framer, you will need to use Rustoleum self-etching automotive primer as the first coat for your Jeep trailer and later use the Rustoleum gloss protective paint for the final coat; this is the best trailer frame paint that will protect your trailer frame from corrosion.
Conclusions.
Jeepers love camping, and Overlanding with Jeep trailers is gaining popularity for a good reason. A Jeep trailer offers excellent Overlanding gear storage solutions and additional freedom. Like anything, building your trailer has its pros and cons.
This article highlights the key steps in building a DIY Jeep trailer from start to finish, with additional resources you will need to know during your trailer build; the processes include purchasing a trailer frame, designing your DIY Jeep trailer to fulfill your personalization requirements, building your trailer enclosure, trailer wiring, and lastly cladding and painting your trailer.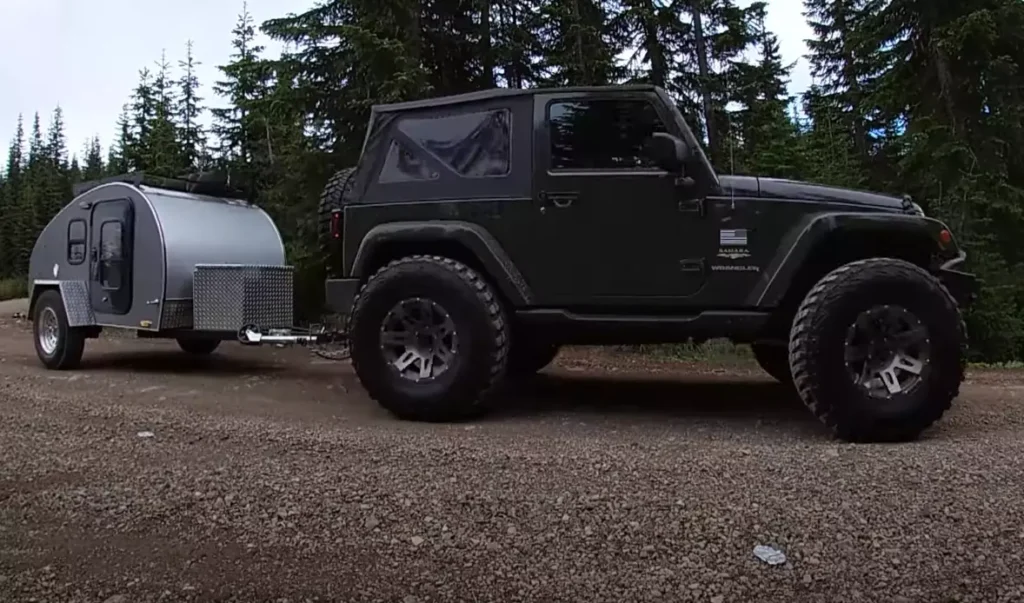 To drive your custom Jeep trailer, you will need to register your trailer with the state. One of the key components the lawmakers require your Jeep trailer to have been the electrical lights, and your trailer should be well-built and safe to drive on the road.
We have now come to the end of building your DIY Jeep trailer from start to finish; it's our belief you are now equipped with all the necessary information to build your Jeep trailer, and we would love to see your Jeep trailer built, send us an email at Jeeprunnerblog(@)Gmail. Com with pictures of your build so we can share them with other Jeep trailer DIY builders for inspirational purposes; you can also send us the steps you took to personalize your Jeep trailer.
If you are stuck or have questions regarding a Jeep trailer build, contact us, and we will guide you through the process. Regard, and happy building!
Last update on 2023-09-21 / Affiliate links / Images from Amazon Product Advertising API