We will share our field-tested Overland Storage solutions, when the goal of Overlanding is to become reliant on your Overland vehicle for transportation and camping gear, everything you will need during your Overland expedition should be available within your Overland vehicle, and this is where the problem begins, the struggle of disorganized overland gear storage.
Without the overland organization of your Overlanding and Camping gear and accessories, you might end up damaging delicate items such as foodstuff, soiling up your beddings, cluttering your Overlanding rig, loose items during packing and unpacking, wearing and tearing your camping and overland gear and accessories, and lastly, it will take you more time to set-up and tear down your camp.
After years of struggle with disorganized Overland storage, we did a lot of experiments through trial and error, and after various Overland expeditions with my Overland Jeep, we have finally mastered how to store our Overland gears and accessories, Our Overland Jeep is not cluttered, and it's easy to navigate through our Jeep storage, and now our camp set-up and teardowns that took us 1-2 hours, only takes 20 minutes, and the set-up is not complete until I have a glass of tequila and coke in hand.
In this Overland Storage guide, we will share our Overland organization system, so that you can get Overland storage ideas to keep your Overland and camping trips fun and organized without clutter.
5 Essential Steps for Organizing Your Overlanding Gear Storage
When it comes to the Overlanding organization, it's important to realize that every Overlander will have different gear from ours, this is because we advocate you buy Overlanding gear and accessories based on your personal needs during your Overland expeditions.
However, while this post is dedicated to how we organize our Overlanding gear and accessories, we wanted to make the post more inclusive through the personal steps that we take to pack for our Overland expeditions.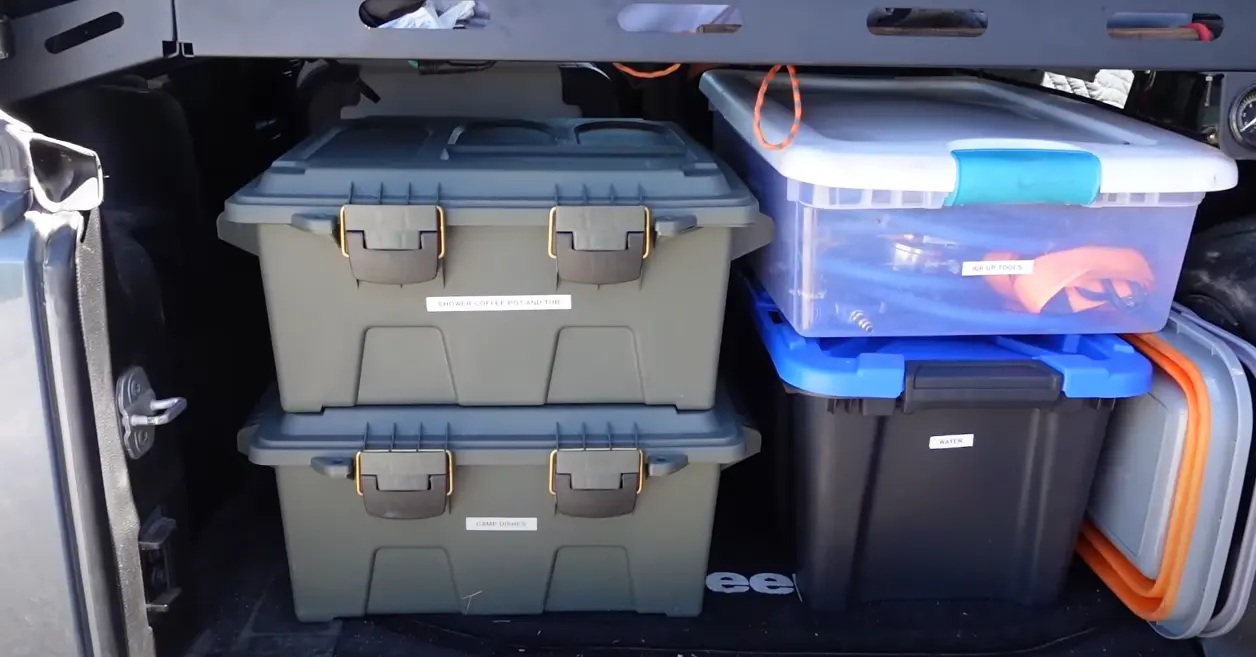 Before venturing into any overland expeditions, these are the five main steps that we follow:
Measure your Overland vehicle storage space.
Assess what you need during your Overland trip.
Sort your Overlanding gears and accessories into categories.
Label storage boxes into categories.
Pack your Overlanding gears and accessories.
Now that you understand the steps that we follow to keep our Overland storage systems organizes, let's briefly explain more about the steps in the list:
Measure Your Overland Vehicle Storage Space.
You will be surprised so many Overlanders don't know their overland vehicle storage space, if you are one of them, you will need to measure the space on your Overland rig to better plan, and organize your gear and equipment, and also determine whether your storage boxes, bags, and items will fit inside or outside your vehicle.
To measure your vehicle's interior storage space, you will need to first clear out the space completely, and measure the height, width, depth, and volume, this will help you determine how many storage boxes, bags, and other boxes and other storage containers that can fit into the vehicle, and their measurement for a perfect fit, to avoid unnecessary movement of the storage containers when transporting your overland gear and accessories.
Now that you know the exact measurements of your Overland rig, its time to access the items you will need to transport, this step needs to make sure you consider how frequently your go Overlanding, and are into weekend getaways or long-term expeditions, as this will determine the items you will need, and their storage solutions.
Assess What You Need During Your Overland Trip.
After measuring your vehicle storage step, the next step involves accessing your Overlanding and Camping items you have and listing them based on whether you need them and if they will fit in your Overland rig, these are the essential items you will need during the exact trip you are planning, whether it's a weekend getaway or a long-term Overland expedition.
Below are some essential items to consider, clothing, food & water, communication and navigation gadgets, camping gear, recovery gear, emergency supplies, and first aid kits, among other items you will require during your trip.
Taking your time to access the items you will need for your Overland expedition, will help you be well-prepared for organizing your overland storage system. Once you have figured out the Overland gears and accessories you will need to store and transport in your vehicles, you are now ready to move on to the next step, which is sorting your items into categories.
Sort Your Overlanding Gears and Accessories into Categories.
Sorting out your overland and camping gear is a very important step towards maintaining and organizing your Overland gear storage, sorting your items will make it easy for you to retrieve products, for example, you don't want to pull out a first aid kit when you are reaching for navigational equipment's, we've been there, that's why we organize and sort out our gears and accessories into four categories.
Shelter and Sleeping Overland Gear.
Kitchen and Food Items.
Clothing and Hygiene Items.
Lighting and Navigational Items.
Now let's dig deep into why we categorize our items into four categories, despite making it easy to stay organized, each category of items will require different storage solutions. Let's briefly about what's exact items we place under each category and the type of storage solutions we recommend for storage of the items in the categories.
Shelter and Sleeping Overland Gear.
There are two items in this category shelter and sleeping gear, we like placing our shelter on the roof of our Overland rig, this is because most shelters have a carrying case and are long, and this means most of them don't fit inside our Overland vehicles, if you are lucky enough to have a roof top tent, or a bed tent, good for you if you don't have any form of storing your tent, we do recommend purchasing a soft shell carrier bag that you can store your tent on the roof of your car whether you have a roof rack or not.
Most of these bulky shelter and sleeping items cine with their custom storage bags or compression sacks which makes it easier to stack and store them in your overland vehicle. If you don't have a storage bag for this item, we would recommend looking for a storage bag or compression sack to store your shelter or sleeping items.
Our number one recommendation is the MeeFar Car Roof Bag which is 20 cubic feet and waterproof so that your shelter items don't get wet, items that can fit into the MeeFar Car Roof Bag include, Tents, tarps, stakes, guy lines, ground cloths, and any other gear used for creating a shelter.
You don't have to worry about transporting your shelter items on the roof of your Overland vehicle this is because these items are lightweight, and will not damage your roof, they are also used first and it's easier to first set-them up, before removing the other items in your vehicle.
You will need the first items to be used when setting up your camp easier to reach, and this is why we do recommend opting for a rooftop carrier bag to store your shelter items as these items are used first and are the last items to be stored after teardown.
When it comes to sleeping items, you don't need to risk storing them on the roof of your vehicle, instead, you can purchase a storage box, or foldable storage bag such as the Lifewit storage bag organizer and find a place to store them inside your vehicle.
Best sleeping items storage bag organizer
The Lifewit storage bag organizer is made of thick fabric and reinforced handles for added protection, they also have reinforced seams meaning that it can withstand heavy usage due to the doubled load-bearing capacity, it's very easy for your bedding to be contaminated with moisture due to poor ventilation, the Lifewit storage bag organizer is made from three-ply composite non-woven fabric that lets in the air into the bag when stored and prevents odor in your beddings.
Alternatively, you can opt for a storage box made from plastic to store your bedding, especially if you normally overland with your family and friends, this will allow you to stack multiple storage boxes depending on the storage capacity, we recommend Front Runner Wolf Packs since they are stackable and are made from durable materials.
Best sleeping items storage box.
You can learn more about Front Runner Wolf Pack Stackable Storage Boxes and other storage boxes alternatives on our best Storage Box review post
Both Lifewit storage bag organizer and Front Runner Wolf Packs can be used to store your sleeping items such as Sleeping bags, sleeping pads, air mattresses, blankets, and any other gear used for sleeping inside your Overland vehicle.
Kitchen and Food Items.
Your kitchen items include things like Fire Pits, Stoves, fuel, cookware, utensils, plates, cups, and any other gear used for cooking and eating. To store them you will need a heavy-duty plastic container, this is because it's easy to clean and will handle medium-weight kitchen items without damaging them, storage containers made from aluminum are not recommended neither are fabric containers as kitchen items are heavy for fabric bags.
For kitchen items we recommend storing them in Front Runner Wolf Packs which come in packs of two and will fit your kitchen items, it's a rugged storage container that can handle the weight of heavy kitchen items such as cookware and utensils, they are also stackable and you can increase the numbers depending on the number of your kitchen items.
Best Kitchen items plastic storage container.
We recommend the Front Runner Wolf Packs plastic container because plastic storage containers will prevent moisture that contaminates your kitchen items, the Front Runner Wolf Packs containers also have a lid that will protect your kitchen items from insects and pests that will be attracted by the smell of food to your food items.
You will also need to store food for your Overland expeditions, when it comes to food storage there are a lot of options depending on what kind of food you like to eat during your expeditions, for example, dry foods such as nuts, dried fruits, cereals, pasta, crackers, and granola bars you can store them in grocery store bags, we recommend Tuff Viking grocery bag that has tie-down straps that you can safely secure your items inside your vehicle.
Tuff Viking grocery bags are waterproof and will not get your dried food contaminated with water, they also contain three large compartments that will help you sort and organize the groceries that you will need for your Overlanding expedition.
If you like spices in your food or barbeque you can pack them in tic tac containers, we recommend URALFA Spice Shaker Jars, they are sold in a pack of six, and are colorless so that you can see the spices in them, they have tight sliding lid that will prevent your spices from spilling all over your kitchen items.
Best spices storage container.
Other food items such as perishable food items such as meat, milk, beverages, ice, condiments such as ketchup, and snacks can be stored in a cooler, there are several coolers available in the market if you camp with your family and friends you might need to store lots of food items in your cooler, for this, we recommend a bigger cooler such as the Coleman Xtreme Portable Cooler which can store up to 100 cans and keep them cold for up to five days.
If you are a solo camper or don't have enough space you can go for a smaller cooler such as the RTIC Portable Backpack Cooler.
The best cooler recommended for solo campers
When using a cooler its important to make sure your items are packed properly to make sure your food stays fresh and safe to eat, it's also important to separate raw food items such as meat from other food items and keep the cooler closed as much as possible to keep the food in the recommended temperatures.
Clothing and Hygiene Items.
For items such as Clothes, hats, gloves, and any other gear used for the clothing we recommend storing them in a Waterproof, Collapsible, Durable and Multi Compartments organizer such as the Oasser Trunk Organizer Cargo Organizer for extended Overland expeditions.
Best Overland clothing organizer.
The Oasser Trunk Organizer Cargo Organizer contains several compartments that you can use to sort out your clothes, you can store items such as socks in the side pockets, jackets in the larger compartments, and light clothes in the smaller compartments such as huts and t-shirts.
For Toiletry Items you can purchase a toiletry bag and store it inside one of the compartments of the Oasser Trunk Organizer Cargo Organizer, we recommend the DD D&D Wanderlust Hanging Travel Toiletry, which you can keep your hygiene items, it's a portable toiletry bag that you can carry when you want to shower in public shower facilities and store them separately in your vehicle when not in use.
If you are a solo camper, or you just Overland on the weekends you don't need a big storage organizer for your clothes, a duffle bag such as the Wildroad duffle bag works just fine, if you are a couple, you can have two duffle bags that you can store your clothes separately. You can also purchase smaller mesh bags that you can store inside the duffle bag to separate your clothing such as underwear and socks.
Best Overlanding duffle bag.
When it comes to dirty clothes you will need a separate bag to place them, we recommend purchasing a compression sack such as LeanTravel Compression Packing Cubes so that you can store your dirty clothes and separate them from the clean clothes.
Best Overlanding compression packing cubes.
If you plan on extending your Overlanding expeditions, we recommend purchasing much larger compression sacks or having a dedicated bin for such items.
Recovery, Lighting, and other heavy Items.
When it comes to recovery gear, camp lighting, and other heavy camping items, we would recommend investing in a storage box, a storage box such as Front Runner Wolf Packs will allow you to store such items safely and keep them organized if you have lots of items you can be able to stack the Front Runner Wolf Packs storage containers and keep them neatly organized in your vehicle.
Best Overland storage box.
We recommend Front Runner Wolf Packs storage containers as the best boxes because we have used them to store a variety of our Overlanding gears and accessories, and they can withstand heavy usage and are strong enough to handle bulky items, we recommend spending more on stackable storage boxes that will fit neatly in your vehicle.
Label Storage Boxes into Categories.
Now that you have bought your camping storage systems, boxes, and bags and you know where each item will be packed, its time to label your storage boxes and contains, for example, we have similar Front Runner Wolf Packs storage containers that are so similar without labeling them it would be difficult to identify which container holds which items.
Labeling your storage boxes will help you identify which boxes hold what items, making it easier to find the items you will need, this will save you time and frustration in finding what you are looking for in the storage boxes, especially if you have lots of storage boxes.
Labeling your items will also help you know which boxes hold the heaviest and most fragile items, they will need to be placed near the floor of your truck to prevent unnecessary movements during transportation, and also keep the gravity low especially if you are carrying a lot of Overlanding gear.
Pack Your Overlanding Gears and Accessories.
You are now in the final phase of Overland organization, if you follow all these Overland gear storage ideas, there is no doubt in our minds that you will have enough space for all your Overland equipment, know exactly what you will need in your Overland vehicle, how and where to pack your gear and accessories, and also how to label them for easier retrieval, its time now for you to pack your Overland gear based as we had planned in the Sort Your Overlanding Gears and Accessories into Categories steps.
Conclusions.
We hope that this guide on Overland gear storage will help you keep your Overland gear organized and has helped you in one way or another in terms of Overland organization, there are so many ways to pack your Overland gear and accessories, and we would love to hear how you organize your Overland gears in your vehicle for both short term and extended expeditions.
In the meantime, check out our other guides and accessories recommendations by navigating through our navigational menu.
Last update on 2023-09-19 / Affiliate links / Images from Amazon Product Advertising API