Jeep Hitch Rack combines easy access and usable capacity for your Jeep Overlanding and Off-roading gears. It's easier to access your gears and cargo on waist-level access. You must first install a Jeep hitch receiver to your Jeep to mount a Jeep cargo rack.
Hitch receivers have a standard size of 1.25 inches or 2 inches and can be used for various mounting and towing needs, check out our post on the best Jeep Hitch Receivers for your Jeep.
Your hitch rack "basket' will fit in a hitch receiver, and you will be able to secure it in place with a hitch pin or a hitch lock that comes with the hitch receiver or the hitch rack.
Make sure to also read our post on the Best Jeep Storage Boxes to Place on your Jeep Hitch Rack.
Featured Jeep Hitch Cargo Carrier
Our Jeep hitch racks selection criteria reflect a wide variety of Jeep hitch cargo carrier styles to fit different needs of Jeep Overlanders and Off-roaders budget and needs, we have evaluated Jeep hitch cargo carriers available on the market today based on their price, reputation among users, materials used whether being steel or aluminum, ease of access, compatibility with Jeep hitch receivers, rack construction and design, weight, and storage capacity to meet your towing and cargo space needs.
Factors to consider when selecting the best Jeep Hitch Rack.
There are three things to consider when selecting your Jeep hitch rack or Jeep Hitch basket:
Jeep Hitch Rack Capacity.
The first thing to consider when purchasing a Jeep hitch rack is the storage capacity of your Jeep hitch rack and your Jeep tongue weight capacity, most Jeeps have a tongue weight of 350lbs. Jeep hitch racks are designed to be attached to your Jeeps hitch receiver and both must be able to support your hitch rear cargo rack and the cargo you intend to carry in your Jeep hitch cargo carrier, be sure to check out our guide on Jeep towing capacity for a guide on your Jeeps towing capabilities.
Hitch Rack Protection.
You will also need to factor in the protection of your cargo and the rear cargo rack, when choosing your hitch rack make sure it includes a hitch pin or a hitch lock that will secure your Jeep hitch cargo carrier from thieves, you should also make sure you have s cargo net, cargo bag, or rack cover that protects your cargo from weather elements depending on the kind of weather in your location.
Hitch Rack Access.
There are two types of hitch racks, a fixed hitch rack, and a swing away frame rack, fixed frames are good when traveling and will secure your cargo and rack from unnecessary movements, however, compared to swing away racks they are not easy to access, swing away racks will swing for up to 180 degrees for clear access to the rear of your Jeep.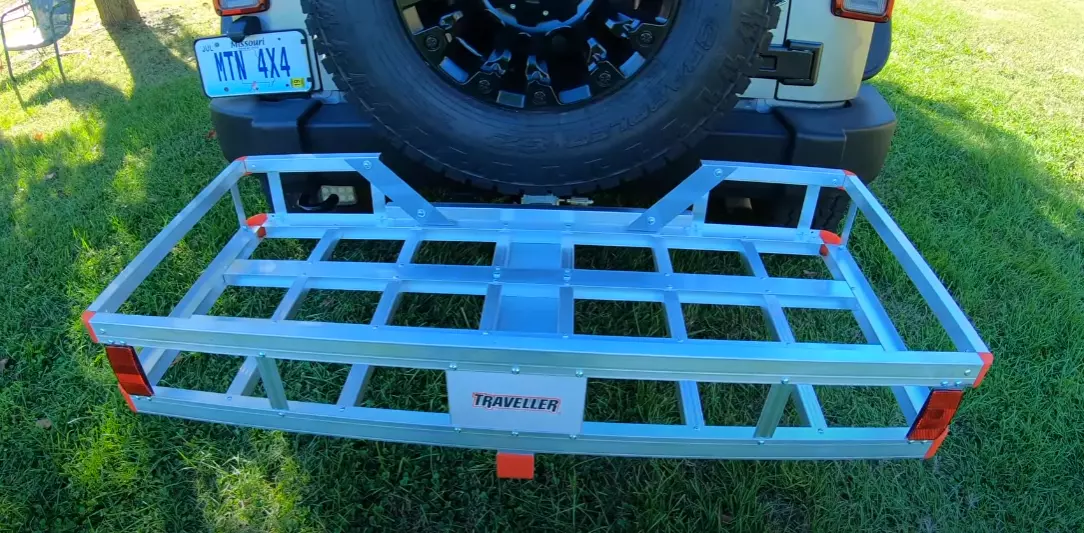 Best Jeep Hitch Rack in 2023
Now that you understand what to look out for when selecting the best Jeep hitch racks, and your Jeep hauling capabilities, its time to show you the best Jeep hitch cargo carrier available for purchase today so that you can gear up and enjoy your Jeep Overlanding expedition without loosing your rear cargo carrier, cargo and causing unnecessary damages to your Jeep.
Yakima EXO Hitch Rack.
On top of our list is the Yakima EXO Hitch Rack, the hitch rack acts as a double-decker rack that you can use to mount Jeep accessories such as storage boxes, Jeep hitch bike racks, Kayak Racks, Hi-Lift Jacks, and other Overland and Camping accessories you will need to mount on the rear of your Jeep.
The reason we like the Yakima EXO hitch racks is their design and ease of access, the hitch rack has a base arm swing that allows you to swing the rack for easier access to the hatches and cargo mounted on it.
We choose the Yakima Hitch racks for their design which allows you to have two stackable shelves that allow you to add additional components and cargo to it without detaching, unloading, or moving the hitch.
One thing you should note about the Yakima EXO Hitch racks is that they will only mount on Class 3 (2.0 Inch hitch receiver and this is the only con of the revolutionary rack system from Yakima.
MaxxHaul Compact Hitch Rack.
MaxxHaul compact Hitch Rack is one of the budget-friendly hitch racks we found on the market, it also fits on a 2.0-inch hitch reviver and has a fixed frame that will prevent it from swinging when traveling and unnecessary movement of your cargo.
The MaxxHaul compact Hitch Rack is made from heavy-duty steel bars with a sidewall that is six inches high to prevent your cargo from falling, the rack is stable enough to carry up to 500 pounds of weight on the rear of your Jeep.
One of the things we have noted about the Maxxhaul Hitch rack is that it sits too close to the rear of your Jeep, though this feature adds to its stability some might think it's too close to the exhaust pipe and this might be a problem and a factor to consider.
The hitch rack has steel bars, steel bars are not ideal for storage of small items, unlike other hitch racks made from a mesh of bars that support small sizes of cargo.
The cargo rack includes reflector lights, a good feature for Jeep campers and Overlanders who you will find outside at night, and the reflectors are good for security purposes.
CURT Basket-Style Hitch Rack.
The CURT basket style hitch rack is ideal for off-roaders or any other Jeeper who travels on off-road roads, the hitch rack has a high ground clearance thanks to its folding shank that elevates the rack even when loaded with up to 500 lbs. of cargo.
Another feature about the rack that we love in regards to the design is that you can fold the CURT basket style hitch rack upright when you are not using it and this not only protects the rack when not in use but also saves space.
The rack is made from steel bars and features a mesh base that allows you to carry even the smallest cargos you can think of, the base and the bars of the rack are coated with a black powder coat that makes it easy to clean the hitch rack.
For Overlanders and Campers, or any Jeeper who travels at night, the CURT basket style hitch rack features four reflectors on each side of the hitch rack that improves visibility of the rack at night and prevents accidents.
The disadvantage of the CURT basket style hitch rack is that it's quite heavy compared to other racks available in the market weighing at 70lbs and has a vertical play that might require a hitch stabilizer due to the upright foldability joint.
MaxxHaul Aluminium Hitch Rack
MaxxHaul Aluminium Hitch Rack is a lightweight rear rack that can be installed on your Jeep, it weighs only 53 pounds and has a carrying capacity of 500 pounds. It features a high sidewall that will protect your cargo from falling.
Compared with the MaxxHaul compact Hitch Rack made of steel we have reviewed earlier in this post the MaxxHaul Aluminium Hitch Rack weighs less but has the same carrying capacity, we added this hitch rack to our list of the best Jeep hitch racks because of the durability of the hitch rack due to anodized finish of the aluminum, unlike its steel counterparts, the aluminum made hitch rack is rust proof and easy to clean.
Another advantage of the MaxxHaul Aluminium Hitch Rack that you should consider is the number of tie-down points available to secure tall cargo on the rack, it also features security reflectors for added security. The rack has an aluminum ramp that allows you to easily load and unload your cargo on the hitch rack.
The MaxxHaul Aluminium Hitch Rack mounts on 2-inch receivers making it a common and universal fit hitch rack. The disadvantage of the hitch rack is that it's meant to fit large items, small items can fall through the aluminum gaps on the base of the rack.
Mockins Hitch Rack.
If you are looking for an all-in-one solution for your Jeep storage, the Mockins hitch rack is a perfect fit with the right combination of accessories for hauling various Jeep cargo and accessories you might need in your Jeep expeditions.
The Mockins hitch rack includes a waterproof cargo bag, 6 buckle straps, 2 ratchet straps, a safety bag lock & cargo net that will allow you to safely secure your items in the rack. Unlike the Curt hitch rack, the Mockins hitch rack includes a hitch stabilizer that will secure your cargo when transporting them on the rear of your Jeep.
Related Posts
Frequently Asked Questions.
Do hitch cargo carriers work?
Yes, Hitch cargo carriers are the best storage options for your vehicle, they make it easy to store your cargo, unlike roof racks you must lift the cargo to the roof, hitch cargo carriers provide a waist heigh access to store your cargo.
It's also easy to remove and install a hitch cargo carrier compared to a roof rack that might damage the roof of your vehicle during the installation, creating problems such as roof leaks over time.
Do you need a roof rack for a hitch cargo box?
Both roof racks and hitch cargo boxes provide storage options for your vehicle, a roof rack has a limited storage capacity of 350 lbs. compared to a cargo box of 500 lbs. we would recommend installing a hitch cargo box over roof racks based on the carrying capacity.
What should I look for in a hitch cargo carrier?
You should look for a hitch cargo carrier capacity, protection, ease of access, design, and durability when looking for the best Jeep hitch cargo carrier.
How do I stop my cargo carrier from bouncing?
You can install a hitch stabilizer on your cargo carrier to prevent the cargo carrier from bouncing especially if you have a swing-away rack, you can also add a cargo rack net to prevent your cargo from unnecessary movement when transporting your cargo.
How do you stabilize a hitch cargo carrier?
You can stabilize a hitch cargo carrier by purchasing a hitch stabilizer, and installing it on your hitch rack, adding a hitch stabilizer will prevent your hitch rack from unnecessary movements and also give you a stable and comfortable towing experience giving your peace of mind when transporting your cargo.
Last update on 2023-11-29 / Affiliate links / Images from Amazon Product Advertising API