Camping in a Jeep Wrangler is a rather convenient and super fan activity for Americans, camping in a Jeep Wrangler allows Jeep Wrangler owners to explore off-road places like never before.
A Jeep Wrangler is one of the best Reliable Overlanding SUVs available in the market, and when it comes to adventures, there is nothing as thrilling as Overlanding in a Jeep Wrangler. Camping in a Jeep Wrangler is the perfect starting point for Overland beginners, and a great way for new Jeep Wrangler owners to enjoy the freedom the Jeep Wrangler brings to their lives.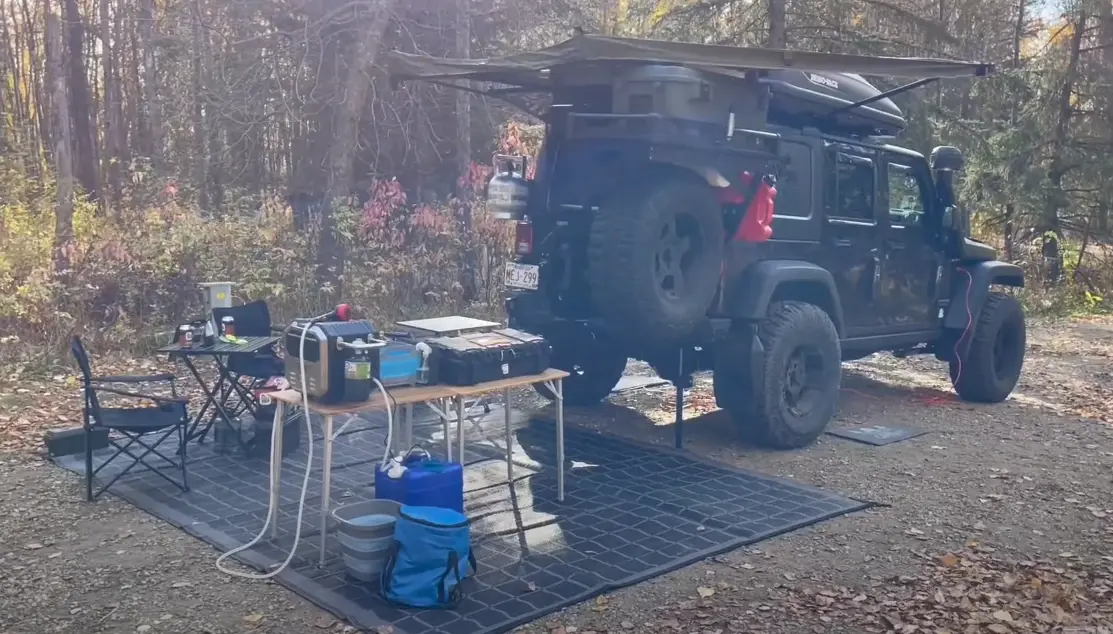 In this post, we have highlighted everything you need to know about camping in a Jeep Wrangler.
Can you camp in a Jeep Wrangler?
Yes, you can camp in a Jeep Wrangler, the Jeep Wrangler is spacious enough to fit an air mattress, a rooftop tent, or camp alongside it in a ground tent.
Camping in a Jeep Wrangler allows you to explore new places, if you are seriously looking to improve your Overlanding experience in your Jeep Wrangler, you can customize it by making it Overland ready, an Overland-ready Jeep Wrangler is self-reliant, and improved to allow you to camp in it for an extended period.
Being an off-road SUV, a Jeep Wrangler will allow you to tour remote places, over an extended length of time, and tour multiple locations, camping in a Jeep Wrangler involved off-roading and camping in remote places.
The Jeep Wrangler has features such as high ground clearance, big tires, and suspension systems that give it a great foundation for an Overland build, to unravel the unknown, and indulge in nature.
Customizing your Jeep for Camping and Overlanding is a fun process, you will be able to customize your Jeep Wrangler for camping based on your personal preferences, there are a lot of Jeep Wrangler aftermarket parts, and Jeep Wrangler camping gears for you to choose from.
Before Customizing your Jeep Wrangler for Camping, you should ask yourself the following questions:
How comfortable do you want your Jeep Wrangler Camping to be?
Is your Jeep a 2 door Version or a Four-Door Version?
What's the space inside your Jeep Wrangler?
What's the location of your favorite Jeep Camping Grounds?
What's the weather like?
Similar Post worth your time:
Best Jeep Wrangler for Overlanding
The Jeep Rubicon is one of the best Jeep Wrangler models for Overlanding and Camping. It features a 4×4 transmission that can extend your Overlanding experiences, and allow you to explore difficult terrains, a Jeep Rubicon has features such as traction control ESP, high ground clearance, lockers, and suspension systems that make it ideal for off-roading and camping.
However, it doesn't matter what type of Jeep Wrangler you have, and whether it's customized or not, you can camp Overland with a factory Jeep Wrangler without roof racks, gas can mount, and rooftop tents. You just need a place to sleep, or a mattress and food and water to last you in your Jeep expedition.
How to prepare your meals when Camping:
Camping in a Jeep Wrangler can be achieved without additional Overlanding gears and accessories, however, having them improved your experience and also allows you to extend your camping trips.
Some of the basic Jeep Wrangler Overland upgrades you will need to camp in a Jeep Wrangler include a good set of tires, a Jeep Awning, A camping tent, a first aid kit, a fire extinguisher, a well-serviced Jeep Wrangler, and some basic camping gear and items.
What do you need to camp in a Jeep Wrangler?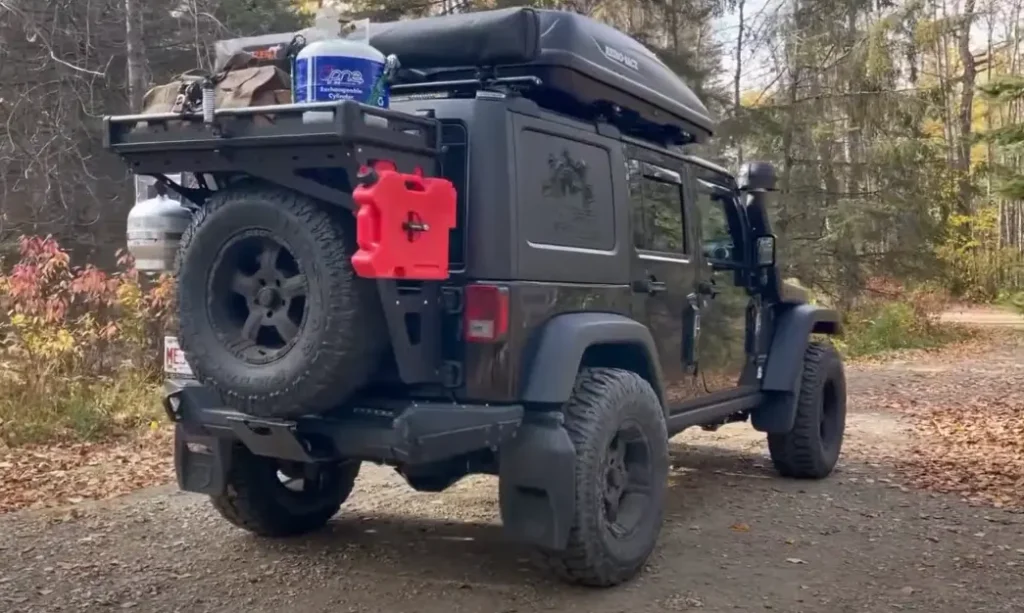 The only thing you will need to camp in your Jeep Wrangler is planning for the Journey and packing all the necessary Jeep Wrangler camping gear and accessories you will need to last you days you will be camping, you will also need to service your Jeep, and search for places that you are familiar with or have good camping ground, Jeep trails to off-road during the day.
You can leverage the use of trails apps highlighted in this post:
Prepare your mind for the Journey ahead.
After planning your journey, knowing the days you will be camping, and packing all the necessary items you will need to last your Overland Jeep expedition, you will need to prepare mentally for the journey.
The key and fun part of camping in a Jeep Wrangler is self-reliance and delving into survival mode, you will need to prepare your mind to find obstacles, and survive them, you will need to prepare for the unknown ups and downs of the journey.
Now that you have prepared your mind to be self-reliant and activated your survival mode, it's time to plan for Overlanding in your Jeep Wrangler.
Planning an Overland trip.
Some of the planning you need to focus on include the location you want to camp, the days you will travel, the locations you will spend the nights, and how many hours it will take you to reach each camping ground.
You should also research the weather conditions, and the road conditions, and be ready to face the obstacles that you have not planned for by including emergency camping grounds and trails.
Preparing for an Overland trip.
The first thing you should do to prepare for the journey is preparing your Jeep Wrangler for camping, you should service the Jeep, and pack all the essentials you will need to last you your journey.
You should double-check your camping gear and accessories, and also double-check the weather conditions, and emergency kits you might need in case things go south.
It's important to list all the stores near your trail, petrol stations, and emergency contacts, we advise buying a physical map and mapping out your journey on the map, you should also mark all the physical landmarks you should encounter on the journey.
Jeep Wrangler camping accessories.
To improve your Jeep Wrangler camping experience, we recommend buying the right gear, for starters you don't need a lot of gear for camping in a Jeep Wrangler, we have listed the essential Jeep Wrangler camping accessories you should pack in your Jeep Wrangler below (The most beginner friendly Jeep Wrangler Capping accessories on the internet)
Check the list below and use it when planning on camping in a Jeep Wrangler:
Jeep Wrangler camping setup
When planning on your Jeep Wrangler camping setup, what you will buy is determined by several factors, such as your budget, how often you camp, your location (Climate Considerations), Your favorite Camping grounds, and who accompanies you for Camping.
These are the major factors you should consider when buying Jeep Wrangler camping accessories, let's dive into factors and explain them in detail:
How Often Should You Go Camping?
One of the determining factors that determine how often your go camping in a Jeep Wrangler is the proximity of the camping grounds, the key is to enjoy camping without undergoing too much stress planning your camping trip and heading out to unknown risky camping sites.
If you live near a camping ground you should go camping as frequently as you want, knowing how often you plan on Camping in your Jeep Wrangler will determine which products you should buy.
If you plan on going Camping frequently, you can buy most of the gear you would require for Camping since you will use them quite often, if you plan on camping in a Jeep Wrangler occasionally you can buy only essential items.
If you are not a Camper and want to camp in your Jeep Wrangler this weekend only, you should not even be buying camping gear. You can leverage sites like Outdoor Geer and rent out accessories you will need to camp in a Jeep Wrangler and return them once you are back from your camping trip, this will not only save you money but also prevent you from buying accessories you might not use in the future.
Do you camp with your friends, family, or partner?
If you take your family camping, you need to consider their needs first, you should buy family-oriented Jeep camping accessories, such as a large tent that can fit all your family members, kitchenware, and sleeping bags. Camping with a family is a high-cost venture and should be planned.
Camping with your family is a great way to connect and build shared memories. One of the reasons I like camping with my wife and kids is the fact that each one of us has a different daily schedule, my wife and I go to work, and our kids go to school daily, the only time we spend together is only on school holiday and in the evening when everyone is tired, and lots of homework to be done.
We love going to camp and doing fun activities together such as off-roading, and other social activities especially when there are other families involved, by sharing a tent with my family we strengthen the bond between each other. To build such experiences I have invested heavily in a comfortable environment where everyone will be happy to accompany me to such ventures.
For example, since I have kids, I have made sure to include security camping gear such as nigh lights, camp covers, an outdoor toilet and shower tent, and an alarm system. I have also bought a four persons tent and lots of storage boxes so that my wife and kids can have plenty of room to store all their camping gear including clothes.
Jeep Overland Storage Options:
For solo campers, the situation is different you will only need essential camping gear that you know you will need, for a new couple, should buy camping gears that will help strengthen their bond such as a two-person tent, a group kitchen where they can cook together, and avoid buying large and expensive camping accessories.
Your location is due to weather conditions.
A Jeep Wrangler is the Ultimate Overlanding vehicle and is mostly used to drive to extreme conditions, its good in snow, woods, and rocky places. Your location and camping ground location will determine what type of camping gear you will buy.
For example, if you live in a cold climate location, you will need to buy lots of heavy-duty materials that are also waterproof, for example when buying a sleeping bag, you should buy a sleeping bag that has temperature control, the same thing with a tent, you should consider more of a hard shell than a soft-shell tent – you should also consider a roof top tent, than a ground tent.
Another example is a cooking stive, when camping in cold places, investment in a propane tank is preferred to depending on wood or charcoal that can get wet.
Summer temperatures (60+ degrees) don't require special equipment, you will need lightweight Jeep camping accessories such as soft-cover tents, and beddings, but if you live and camp in cold places you should do your research and invest in more expensive temperature control equipment.
Final Thoughts.
We hope that you will be camping in a Jeep Wrangler soon, and we have helped spark further your interest in enjoying the outdoor life by providing you with adequate and well-compiled information to help you make informed decisions and plan your next Jeep Wrangler camping trip.
Also, make sure to check out our list of essential Jeep Wrangler Camping accessories that you might need on your next Jeep camping trip.
If you camp in your Jeep Wrangler, or just wrapped a Camping trip in one – please let us know, we would like to know how it went.
Last update on 2023-09-18 / Affiliate links / Images from Amazon Product Advertising API