We have put together this list of the best Jeep gas cans for Jeep off-roading and Overlanding available for purchase today, taking into consideration the construction materials, Jeep gas can mount options, and sprout styles amongst others.
We recommend purchasing a Jeep gas can if you are into Jeep off-roading and Overlanding, this is one of the most essential Jeep Overlanding accessories whether you are an experienced overlander or off-roader, and a gas can ensures that you have enough fuel stored for your Jeep expeditions.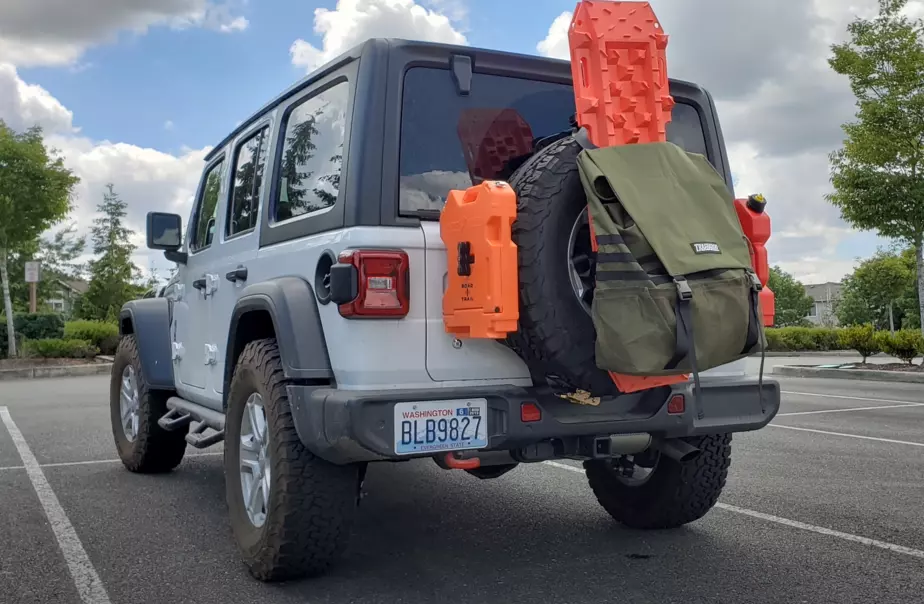 There are so many Jeeps gas cans available in the market today, it can be hard to decide on the best and the worst, and of course one of the biggest concern is the quality of the gas cans, and their durability.
Safety and designs of your Jeep Gas Can is a major consideration, we recommend buying gas cans with automatic lids, and built-in safety features on the sprout valves, however, fancy and low-quality safety features on the sprout valve are prone to damage meaning that you might get stuck with your sprout valve refusing to dispense gas.
So, let's find you some of the finest Jeep gas cans.
Top 5 Jeep Gas Cans
Here are some of the top-rated Jeep Gas Cans:
Jeep Gas Can, Ratings Check Price.
Things to look for when buying:
Gas Can Color: Complying with OSHA and NFPA Code 30 requirements regarding storage, handling, and use of flammable liquids, you should consider and understand the four color identification system and what they mean: Red: Gasoline (Flammable), Yellow: Diesel (Flammable), Blue: Kerosene (Flammable), Green: Oils (Combustible).
Material: Some Jeep gas cans are made of metal and some are made of plastic, metal Jeep gas cans are expensive, heavy, and more durable and made for long-term fuel storage, while their plastic counterparts are cheap and designed for short-term fuel storage.
Jeep gas can mount options: Depending on where and how you want to mount your Jeep gas can, it's always a good idea to research and get the correct Jeep gas can mounts, for example: if you want stackable jeep gas cans, you have to buy a gas can mounts that allow you to sack two or more gas cans.
Below, we have reviewed the top 5 Best Jeep Gas Cans for off-roading and Overlanding, and the factors to consider before settling on the best Jeep gas can for you.
ROTOPAX Red 1.75 Gallon Gasoline Pack
RotoPax is one of the best-known brands manufacturing Jeep gas cans and Jeep Water cans, We recommend the RotoPax Gas cans because of their designs, and mounting accessories availability. RotoPax is known for its quality and intelligent design that allows you to mount the gas cans in stackable or a single can on any flat surface.
RotoPaX boost of being the only Jeep gas can that complies with the environmental protection agency (EPA), AND California Air resources board (CARB) regulations in the United States, thanks to its formulated plastic barrier and patented three-layer Roto molding design.
We recommend the RotoPax Jeep gas can for its unique design and mounting options, you can install the RotoPaX gas can on your Jeeps tailgate, roof rack, or any flat surface. RotoPaX has various gas can mounting kits available in the market designed specifically for the RotoPaX gas can and water cans.
Depending on your Jeep Overlanding and off-roading gas storage requirements, RotoPax offers 1-gallon, 1.75-gallon, and 2 Gallons gas can sizes. The sprouts are included with every sale – remember to vent the pax regularly after purchase.
Goplus 20-Liter NATO Jerry Can
Goplus 20-Liter NATO Jerry Can is our number two choice for Jeep gas cans, the gas can has a unique design made of military-grade steel.
We recommend the Goplus 20-Liter NATO Jerry Can because of its automated locking lids, with a bayonet-style sprout that makes it easy to refill your gas tank without spilling gas.
You can mount the gas can on the roof rack of your Jeep, its slim design makes it easy to store neatly inside your Jeep cabin, and its cold rolled steel and quality paint makes it an anti-corrosive and anti-explosive gas can ideal for your Jeep Overlanding and off-roading excursions.
Pros
Adequate gas storage capacity
Leak-proof, with high-quality anti-explosive construction.
Easy to use sprout.
Cons
Expensive due to the metallic material used to manufacture the gas can.
The safety lid can be complicated to operate.
Wavian USA Authentic NATO Jerry Fuel Can
The 5-gallon Wavian USA Authentic NATO Jerry Fuel Can is the second metal gas can on our list, the gas can is made in Europe and is a favorite among Jeep off-roaders and overlanders. It's EPA and CARB-compliant thanks to its unique safety lock sprout design and 0.9mm cold rolled rust-proof steel materials.
The flexible sprout on the Wavian gas tank makes it easy to refill your Jeep gas tank with gas without spillage, the flexible sprout is pretty flexible and allows you to refill small gas receivers such as generators that you might have in your camping ground tents.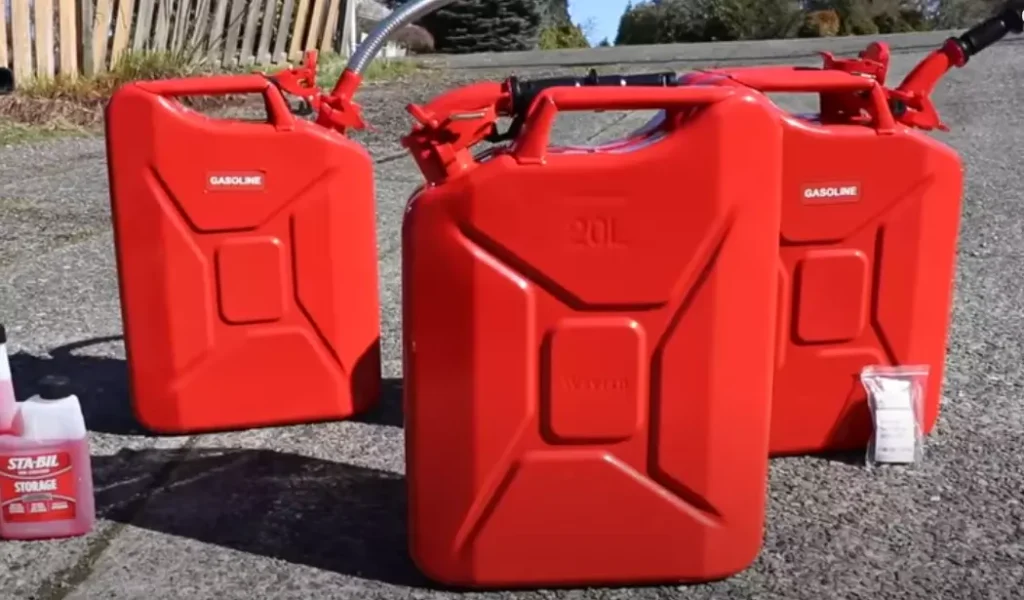 Rest assured that the Wavian USA Authentic NATO Jerry Fuel Can is a good Jeep gas can that is impact-resistant, and lightweight, and its design allows you to place it on almost all flat surfaces on your Jeep. If you plan on mounting your gas cans beside your rear tire, or roof rack, or placing it inside your Jeep the Wavian Jeep gas can will not even leak gas if you have not spilled gas on the outside of the gas can.
The 2.5-gallon Justrite 7225120 AccuFlow 2.5 Gallon is a simple red Jeep gas can that just works, the reason we love our Justrite gallon is the fact that the base of the gas can is pretty wide and considering the height of the gas can which is quite small, the can is stable when mounted on the roof of our Jeep, and when placed inside the Jeep.
The Justrite 5-Gallon Steel Gas Can is recommended by most Jeepers, and it's one of the most bought gas cans on amazon, probably by Overlanders, the gas Justrite gas can meets the safety requirements of OSHA, NFPA, UL/ULC, and others.
Did we say the gas can is made of steel? Yes, the gas can is made of galvanized steel that is corrosive resistant, it also has a safe squeeze trigger that will control your gas when refilling your Jeep.
In terms of portability, the Justrite 5-Gallon Steel Gas Can has limited mounting options, and is not stackable compared to other Jeep gas cans we have listed in this post, however, it's a budget-friendly gas can that is well built and can last you years.
We love the red plastic WINTOOLS Gas Can 8-Gallon gas can, and love the various mounting options available in a Jeep, the fact that the gas can is stackable it's a good Jeep gas can that we recommend for experienced overlanders including beginners who want to store a large quantity of gas for their long-range Jeep excursions.
No products found.
The plastic that makes the WINTOOLS Gas Can 8-Gallon is high-density and anti-corrosive resistant, impact resistant, and anti-UV. The Jeep gas can have a flexible spout that prevents gas spillage when refilling your Jeep.
The WINTOOLS Gas Can 8-Gallon is one of the most portable Jeep gas can we have listed in this list, it has three grab handles, and 5 gas can mounting options, to mount it in your desired location in and outside of your Jeep. You can mount the gas can horizontally or vertically and the look of your gas can placement will look just fine.
We recommend choosing this gas tank if you want a large gas storage capacity because you don't want a large gas tank that will be too big for your gas tank storage needs.
Conclusion
We don't recommend going on any Jeep expedition without a Jeep gas can with extra fuel, extra fuel can come in handy in case of energy, you get stuck or you might need to spend extra few days on your trip. Gas can prevent the inconvenience of running out of gas when camping or off-roading in your Jeep.
We choose the list above because we have tested the gas cans physically and can attest to their reliability, durability, and ease of use including mounting options and mounting accessories. When making your choice sure you understand where you need to mount your Jeep gas can, your fuel need, and the type of Jeep expeditions your take.
Last update on 2023-09-19 / Affiliate links / Images from Amazon Product Advertising API