Jeeps have a high ground clearance that protects the undercarriage from potential damage from off-road elements, but do I need Jeep skid plates on my Jeep? We will answer all your questions regarding Jeep Skid plates, their importance, costs and if worth it to install a Jeep Skid plate.
A Jeep is an off-road and Overland vehicle, they are mostly used for weekend adventures and gateways on the most difficult Jeep Trails & offroad terrains, you will find Jeeps in the forest, deserts, and in extreme weather conditions.
Do I need skid plates on my Jeep?
You don't need skid plates on your Jeep to go off-roading or Overlanding, your Jeep has impressive features that protect your Jeep's undercarriage from potential damage, such as high ground clearance, big tires, and a powerful suspension system.
However, we recommend having skid plates installed because they are inexpensive and protect the most crucial parts of your Jeep's undercarriage from elements you might encounter when off-roading, such as rocks, trunks, steep slopes, etc.
Your Jeeps undercarriage has the most expensive and essential parts that are costly to replace and repair such as the transmission system, transfer box, fuel tank, axles, etc. installing a Jeep skid plate is a long-term investment that is worth it and protects your investments saving your repair costs in the long run.
So, what are the benefits of Jeep skid plates, and can you hit your favorite off-roading trails without them, or will they cause more damage when installed, what are the costs of installing Jeep skid plates, and are they worth the money? Read on the learn more about Jeep Skid plates questions you might have and more information regarding Jeep skid plates.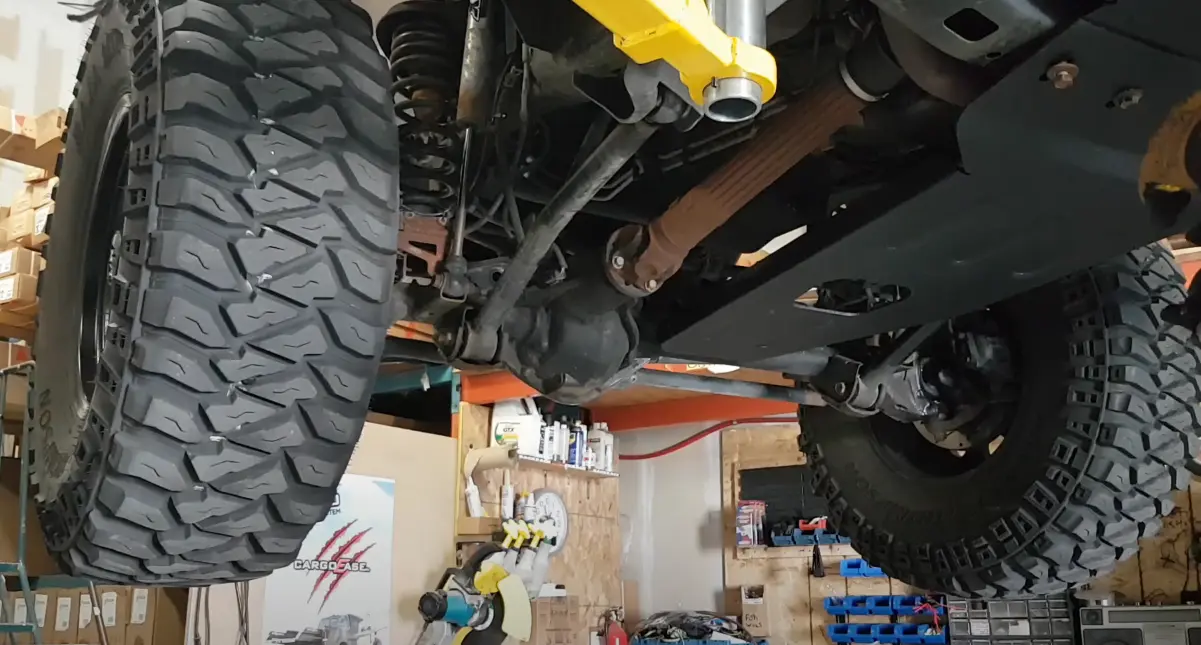 Do you need Jeep skid plates for off-roading?
Off-roading on your Jeep is a recreation activity that involves taking your Jeep on off-road trails, Jeeps are good for off-roading due to their powerful engines, high ground clearance, big tires, heavy-duty suspension systems, and lots of heavy-duty aftermarket parts that are meant for building off-roading Jeep builds.
Jeeps will get you through the most difficult terrains, and they are a favorite among, bushwhackers, rock crawlers, river campers, or other off-road activities. You can use your Jeep to get through all these off-road trails and enjoy off-road activities, while also camping in your Jeep as is the perfect SUV or truck for Overlanding.
Off-roading and Overlanding Related Posts:
Off-roading and Overlanding expose your Jeep to all kinds of elements that might damage your Jeep, for example when Jeep mudding you might get your Jeeps undercarriage sprayed with mud and debris, off-roading on beaches can get sand on your undercarriage, and off-roading in the bushes can get tree branches to rub to your undercarriage.
You will need Jeep skid plates to protect your Jeep's undercarriage and the dangers associated with off-roading and Overlanding.
What is a Jeep Skid Plate?
A Jeep skid plate is a strong metallic plate installed on your Jeep's undercarriage to protect it from elements you might find on your off-road and Overlanding trails. The skid plates run from the front axles to the rear axles of your Jeep undercarriage, and parts such as fuel tanks, transmission, transfer case, and axles.
There are different types of Jeep skid plates depending on your requirements and specifications, some Jeep skid plates are bolted to cover the entire undercarriage of your Jeep, while others are bolted to protect specific areas of your Jeep undercarriage.
Skid plates are common in Jeep rock crawlers, and install on their rock crawlers to protect their Jeeps when rock crawling goes awry. The most important elements to protect when rock crawlings are the transmission and transfer case which are the most exposed parts of a rock crawling Jeeps.
Do all Jeeps come with skid plates?
Yes, all Jeeps have a skid plate installed from the factory called a belly pan, they are not heavy duty and some are made from plastic or fiberglass and not made to endure the dangers of heavy-duty off-roading and Overlanding.
While Jeep factory belly pans are similar to skid plates, they are not skid-plates, the belly pans on a factory Jeep are installed and designed to help in the aerodynamics of the Jeep, by reducing the contour of the Jeeps front exposed undercarriage to protect drag, and don't do a good job of protecting your Jeep undercarriage from damage when off-roading and Overlanding.
What are the benefits of Jeep skid plates?
Is it essential to protect your Jeeps undercarriage, and what are the disadvantages of not installing Jeep skid plates on your Jeep? The undercarriage of your Jeep holds the most critical parts of your Jeep, they include the oil pan, gas tank, transmission, transfer case, and engine, which are vulnerable to damage when off-roading or Overlanding.
Installing a Skid plate will also protect your transmission from the shock that might cause your transmission seals to be broken, and you will get transmission oil leaks, transmission oil leaks can cause your transmission to get damaged due to lack of lubrication.
The best Jeep skid plates are made from steel, and heavy-duty aluminum, we recommend installing steel Jeep skid plates, Steel is heavier, durable, and resistant to dents and digs that are most common in the undercarriage of your Jeep.
Aluminum Jeep skid plates are lightweight and prone to holes, rips, and tears after being in contact with a heavy or strong rooted road obstruction such as tree trunks, however, steel Jeep skid plates are more expensive to install and purchase compared to aluminum jeep skid plates.
How Much Do Jeep Skid Plates Cost?
As we have seen skid plates are important and a worthy investment for your Jeep. It might cost you anything between $150 to $1,500 to purchase a Jeep skid plate depending on the quality and its features. The cost so installing a skid plate can range from $100 to $1,000 depending on the complexity of the skid plate. Serious off-roaders and Overlanders understand the importance of Jeep Skid plates and invest heavily in a skid plate, as it's cheaper to protect the Jeep's undercarriage than fixing or replacing your punctures or damaged undercarriage parts.
For example, a Jeeps transfer case costs between $1,000 to $3,000, and a new Jeep transmission costs anything between $1800-$3400, if by any chance you get your oil pan damaged when off-roading it might lead to serious engine damage depending on how early you detect your engine oil is leaking, and you might be required to get an engine replacement.
It's worth also noting that getting your undercarriage will halt your activities, and also cost you to get your Jeep towed to the nearest mechanic or Jeep dealers.
Final Thoughts.
Jeep skid plates are designed to protect your Jeeps undercarriage, the undercarriage of a Jeep is exposed compared to other SUVs or Trucks due to their unique design, big tires, heavy and high suspension, and high ground clearance, and some of the Jeep essential mechanical components reside on your Jeeps undercarriage, and you will need a Jeep skid plate to protect them from damage when off-roading or Overlanding.
You don't need to be off-roading or Overlanding with your Jeep to install Jeep skid plates, you can install Jeep Skid plates on a Mall Crawler or a lowered Jeep that sits low to avoid the undercarriage from high-speed bumps and other road obstacles.