Are Toyo Tires good on a Jeep? Are you looking for the best All-terrain tire for your Jeep? Open Country R/T Toyo tire might be the right tire choice for your Jeep!
The Toyo Open Country R/T are one of the best Tires that Jeepers use on their Jeeps, they have a unique tread design, and are perfect for off-roading and Overlanding due to their sturdiness. They also give your Jeep an aggressive appearance and traction you might need when off-roading and Overlanding in your Jeep.
Related Post:
If you are looking for a Jeep tire that will provide excellent all-terrain performance, the Toyo brand possesses compatible features Jeepers look for to improve the handling and performance of their Jeeps. If you need to convert your metric Jeep tires, check out our Metric Jeep Tire Size Converter.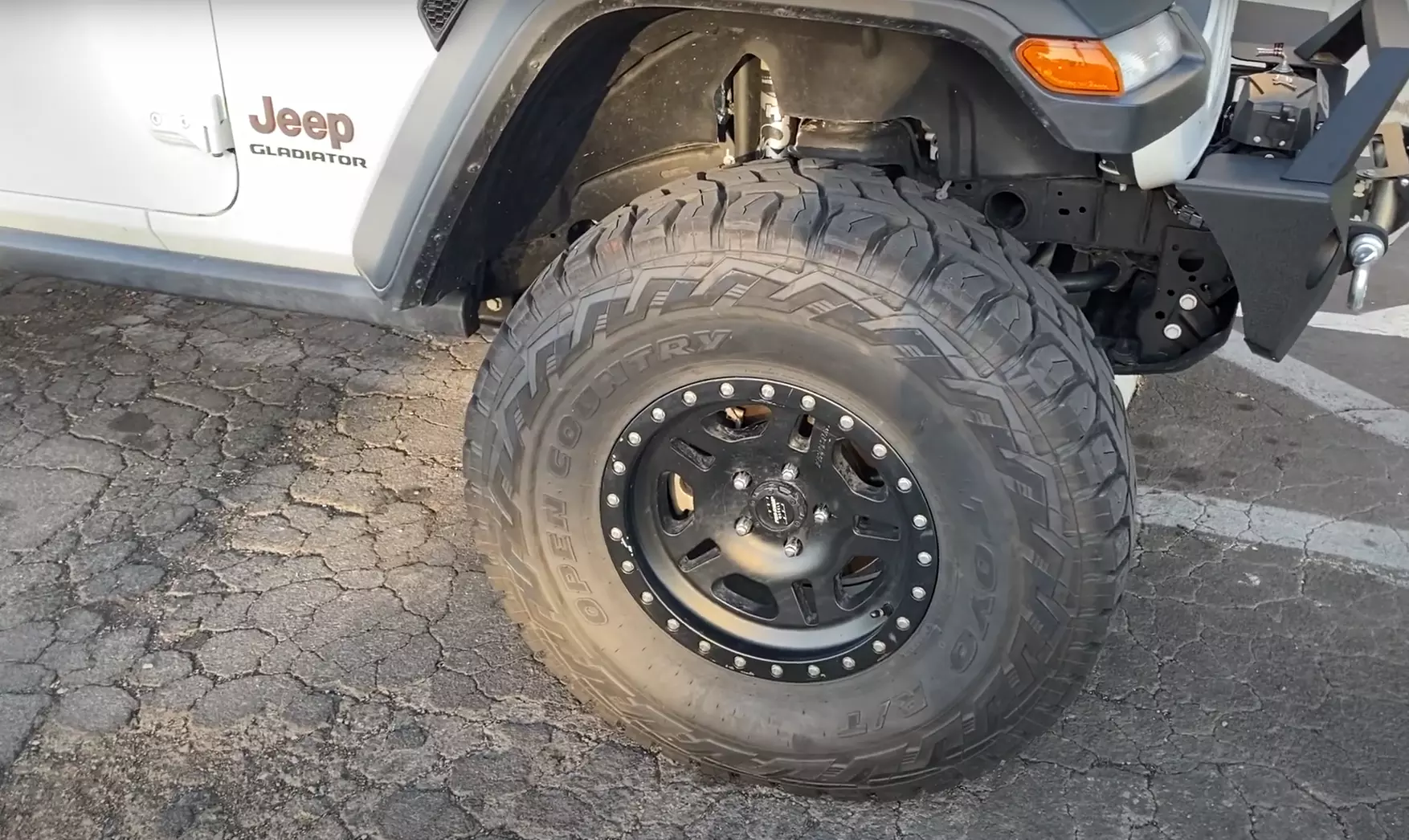 Let's read on to discover if Toyo Tires are good on a Jeep!
Are Toyo Tires Worth it?
Yes! Toyo Tires are worth it, we tested them with our Jeep on dry roads and wet grip to check if they will improve our Jeep handling, tire comfort, and braking, and Toyo Tires did not disappoint. Toyo Tires are a worthwhile option for use on your high-performance daily driving, off-roading, or Overlanding Jeep.
Let's get to the test drive results!
We tested Toyo Tires on our off-roading and Overlanding Jeep Gladiator to understand the best features of Toyo Tires subjected to different driving conditions.
Using this information, you will be able to understand the performance of Toyo Tires on different off-roading, dry traction, wet traction, and extreme terrains to give you an overview of the performance of Toyo Tires.
This information will help you get an assessment if Toyo Tires are good for your Jeep or not.
Let's dive in!
Toyo Tires Performance on Dry Pavements.
We tested Toyo Tires on dry pavements that many users will use for their daily driving needs, because of this the tire of choice needs to be of many specialized features and also operate on dry surfaces.
Toyo Tires Tread Depth (1/32″): 18.9, and Inflated Overall Width (In.): 10.6 performed better on dry traction compared to competitors, its superior in that the handling of our Jeep in the dry pavement was greatly improved on high traction surfaces even when engaged on auto drive.
Toyo Tires had a good grip on dry pavement, this is because Toyo has improved the Tires by replacing the conventional tire compound with a new one that is currently applied to the new generation Tires of Open Country R/T that we tested.
Not only has the conventional tire compound improved Toyo Tires improvement in traction, but also the presence of Silica compounds has made the Tires tough and durable when used on dry roads where wear and tear are common on Tires. the compounds increase the density of the Tires making them more resilient and durable than their competitors when used daily on dry pavements.
We checked on what is different about Toyo Tires from their competitors, and interestingly Toyo Tires feature an asymmetrical tread structure that provides impressive dry performance compared to competitors' symmetrical design of the treads.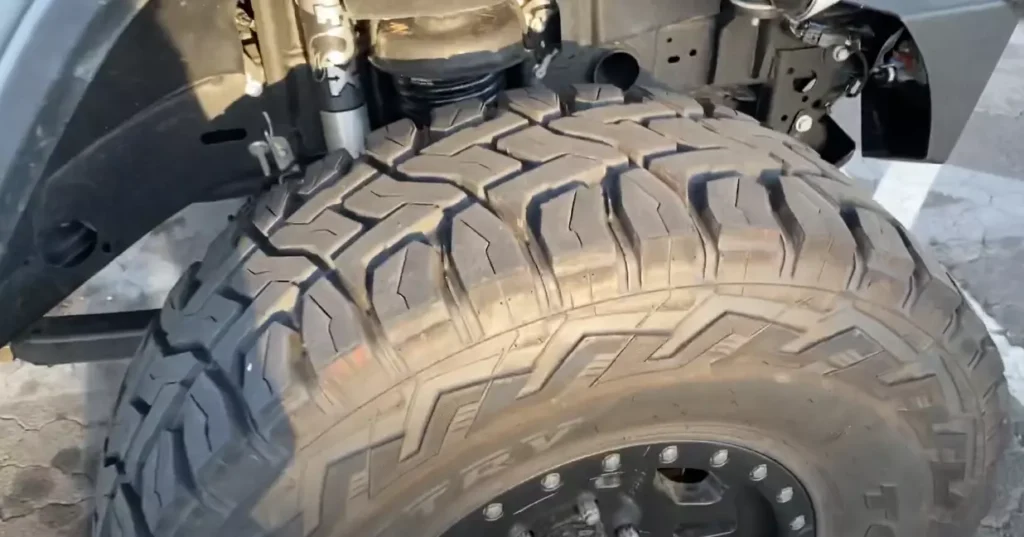 The asymmetrical design of Toyo treads and the tread's wider ridges increase the grip when driving and cornering, to ensure the Jeep stays stable and also flexible. the wider treads are useful in that they prevent sand, rocks, and other agents from entering the Tire treads which can have serious consequences while driving at high speed on dry pavements.
When driving on dry pavements, the chances of encountering sharp objects are very high, Toyo Tires feature a 3-layer construction that maximizes their protection, making them more durable and cut-resistant from outside sharp elements.
According to our test, Toyo Tires are impressive on dry pavements, they improved the performance of our Jeep, and increased its stability by improving the Jeep's grip on the road.
Toyo Tires Performance on Wet Roads.
One of the most common problems when driving on wet roads is hydroplaning or aquaplaning because it reduces the friction of the Tires. this phenomenon is a common problem on slippery roads.
What we loved about Toyo Tires is that the treads are deep and flexible enough to remove water from the tire surface, so that water doesn't stay on them for long. What happens when water stays on them for a long is that the tire will lose grip, hydroplaning is a safety issue that affects the handling of your Jeep on slippery surfaces.
Toyo Tires have an incredible ability to reduce hydroplaning through their design approach of relatively wide and large-depth grooves. Hydroplaning is only possible when water cannot escape from the tire surfaces, when the Tire treads are large enough, the situation is no longer a concern and will let water out regaining your Tires grip again.
Toyo Tires handling capabilities.
Toyo Tires are greatly improved in handling wet and dry surfaces thanks to the company's emphasis on the grip of the Tires. when driving at high speed you don't have to worry about slipping off the road. The tire treads' asymmetrical pattern and grooves provide the control factor that improves and enhances the control of your Jeep.
When off-roading, braking and control of your speed are critical, and the inertia of the Tires is also a factor to consider. We tried Toyo Tires for off-roading on our Jeep Gladiator and the braking is instantaneous, you don't need to travel a long distance to brake.
On road, the grips of the Tires provide enough braking capabilities to stop the Jeep instantaneously, a feature that reduces accidents when you apply emergency brakes.
Toyo Tires requires only a short distance to brake and will provide you a sense of security when off-roading or driving at high speed and want to stop your Jeep Instantly.
Are Toyo Tires good for daily?
Yes, Toyo Tires are good for daily driving, this is because the manufacturers have emphasized the comfort of the Tires. Toyo Tires are elastic and help dissipate external forces when off-roading through the deep grooves system that removes obstructions from the Tires.
The Tires provide a smooth ride while maintaining your Jeep's stability, the noise of the Tires is also reduced on-road and off-road. As a daily driving Jeep, you will need Tires that provide stable and safe Tires and Toyo Tires don't disappoint in terms of traction control, durability, and features that make the good Tires for daily driving.
Are Toyo Tires good for snow?
No! we tried the Open country R/T on snow roads with our Jeep Gladiator and Toyo Tires were a big disappointment. We drove through a snow road with 3 inches of snow and the Tires sunk too deep getting us stuck.
We also tried a thinner snow layer on a paved road, the Jeep moved but the handling of the Jeep was not smooth and the Tires did tend to slip through the ice.
We don't advise Open Country R/T for snow, The Tires performed poorly on snow, this is because the instability you will experience when handling your Jeep might bring unpredictable consequences, and you might get stuck for hours.
Are Toyo Tires worth the money?
Yes! Toyo Tires are worth the money if you need high-performance Tires to be used for off-roading and Overlanding in your Jeep on dry and wet traction roads, the Tires are also long-lasting thanks to their deep grooves and 3-layer design that makes them durable and you don't need to replace your Tires now and then.
We recommend Toyo Open Country R/T if you need Tires that will improve your handling, give you a sense of security and provide more stable traction in various Jeep trails from simple Jeep Trails to extreme & challenging Jeep Trails.
Conclusion
There you have it, we bought Toyo Open country R/T Tires to provide you with more detailed and transparent information regarding Toyo Open Country R/T Tires to help you make an informed decision if they are the right Tires for your Jeep.
We believe that we have answered all your questions regarding Toyo Tires, and you can now make an informed decision. Sharing is caring, share this article with your friends who are looking forwards to upgrading their Jeep Tires soon!
Related Posts:
Last update on 2023-11-29 / Affiliate links / Images from Amazon Product Advertising API