This informative post will help you improve Jeep wrangler handling on a custom Jeep, and also help new Jeep buyers understand what to expect when buying their first Jeep. It's catered for novice and experts with goodies-packed downloads to guide you through improving your Jeep wrangler handling capabilities.
Jeep wrangler handling feels remarkably slow when maneuvering, especially if you are coming from a long-wheel-based vehicle, and the Jeep has a short wheelbase. It's important to understand your Jeep Wrangler and the modification that impact Jeep Wrangler handling capabilities.
The first modification to a Jeep apart from adding a bumper is lifting your Jeep, but lifting your Jeep without understanding how it impacts a Jeep wrangler handling is a bad idea, you see lifting gives your Jeep a high center of gravity.
Is your Jeep Wrangler Shaking when accelerating? Read our Jeep Wrangler vibration at highway speeds (Troubleshooting Guide)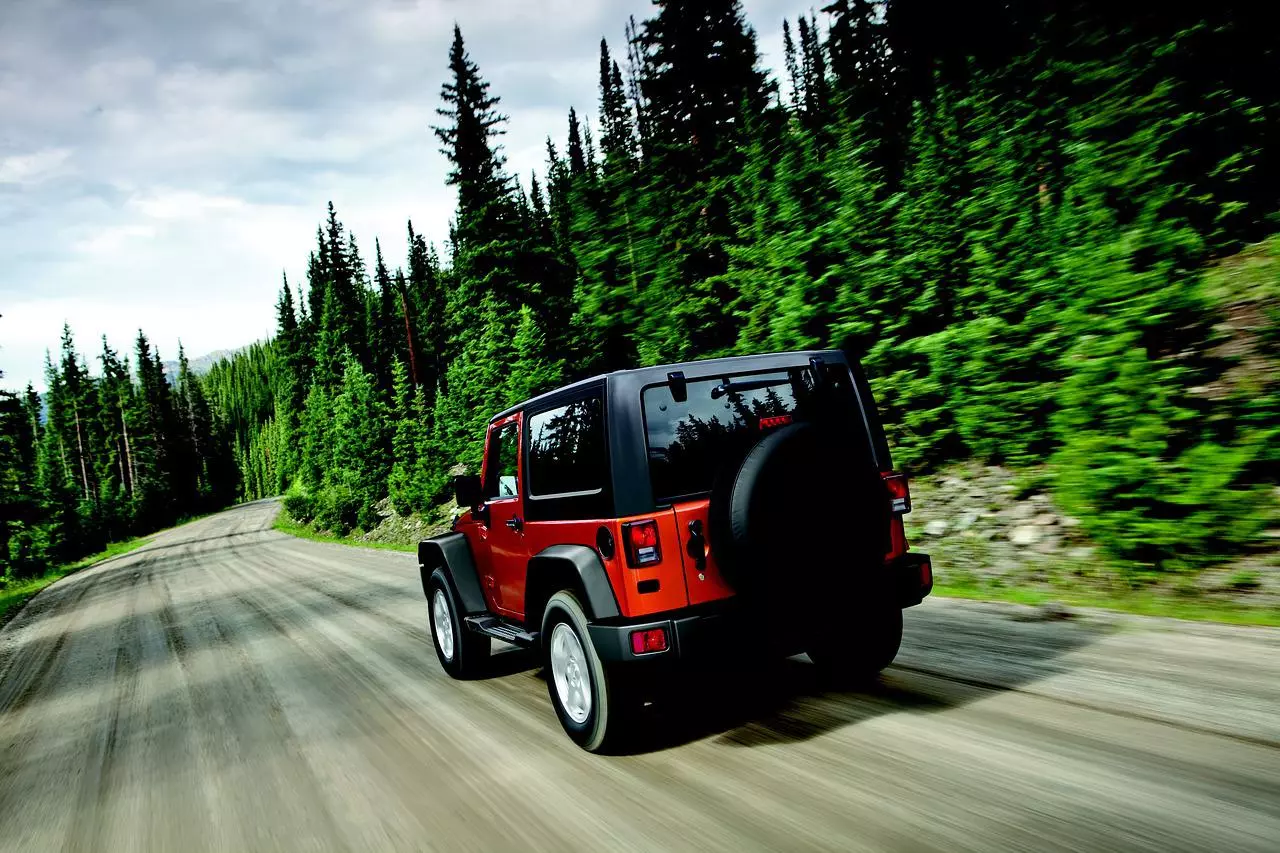 With a higher center of gravity due to centrifugal force, your Jeep will tend to move out of the road when your Jeeps body rolls (axial rotation of the Jeep towards the outside of the turn), other conditions such as tire pressure, type of tire, road surface, speed are also major factors that affect cornering in addition to the increased center of gravity.
Improve your off-road handling experience by checking our list of the Best shocks for a Jeep JK or reading our Rancho rs7000mt review.
Truth: A Jeep Wrangler will not beat you to death, just a harsher ride, but when off-roading outshines other types of SUVs, the Jeeps wrangler's big body is also poor in aerodynamics, making it venerable to wind buffering at high speed, this makes keeping the wrangler straight on the road requires plenty of driver concentration.
Jeep Wrangler Handling in entry-level Jeeps.
With new Jeep wranglers, Jeep has improved the stability of their Jeeps trying to capture daily drivers Jeepers with their entry trim Jeep wranglers without compromising on the old shape and look of the wrangler we have been accustomed to, features that have improved jeep Wrangler handling are the size of the Jeep entry trims, and comfort which is heavily focused on entry trim Jeeps to give a good driving experience as a daily driver.
Jeep has tried improving Jeep Wrangler handling, they have improved the quality of stock Jeep parts with the focus on daily drivers, High-performance coil springs, specially tuned JSPEC and FOX shocks, sway bar fast disconnects, adjustable track bars, and other features are typical in a stock Jeep Wrangler.
Compared to other vehicles Jeep wranglers are not the best when it comes to highway handling because they are designed and manufactured focusing on off-roading features, Jeep wrangler handling has been compromised to focus on other 4×4 features.
Jeep Wrangler Handling in custom Jeep.
This is where the problem starts, customizing a Jeep wrangler makes handling even worse, if your suspension modification is not properly done and you don't know how to handle them, then your handling of the Jeep wrangler will be worse.
Higher trim Jeeps are equipped with solid axles and stronger suspensions that are meant for off-roading such as the Rubicon, in stock they will perform very well since the manufacturers have tested them and they are fit to be driven on the highway, any modification on them without properly understanding what you are doing you are likely to affect the suspension, center of gravity and handling of your Jeep.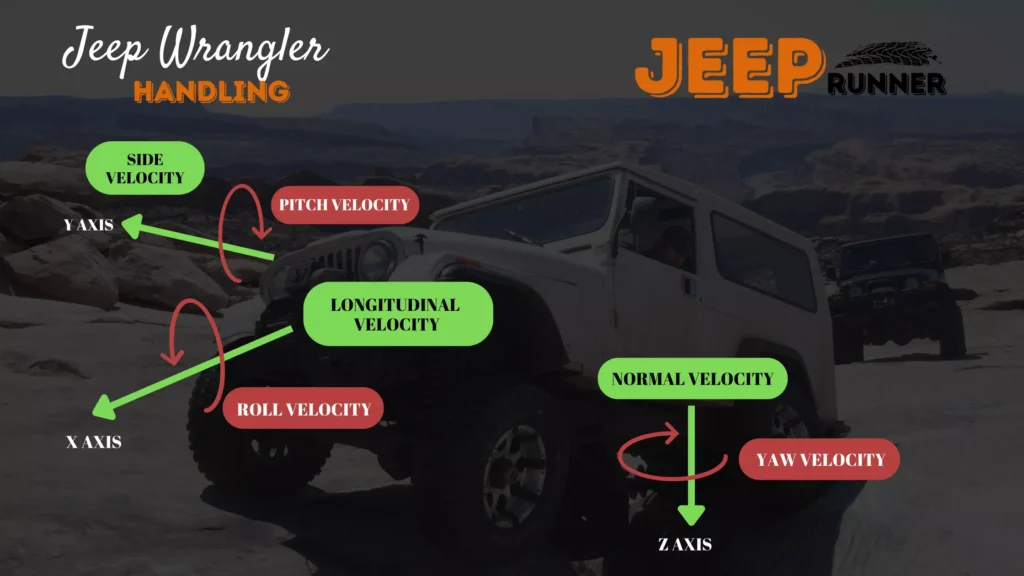 In the Jeep wrangler handing infographic above, you will be able to understand some of the motions and angles associated with sideslips, they include, motion along the Y-axis (Side velocity/ Lateral Velocity), Rotation about the Z-Axis (Yaw Velocity), and rotation about the X-Axis (Roll Velocity). The behavior of your Jeep Wrangler in these motions will determine its handling characteristics whether when offroading or on the highway.
Handling a Jeep is mainly concerned with the response of the steering commands and to the environmental inputs subjected to the motion of your Jeeps, such as wind and road obstacles. When customizing your Jeep you must solve two basic problems, control of your Jeep to the desired path, and stabilization of your Jeep towards the direction of your motion against external disturbances.
Some of the things to watch out for when customizing your Jeep wrangler include Distributions of weight on the front tires and back tires, driving or braking torque, and application of tractive effort during turns.
Jeep Wrangler Handling Improvements
Here is a simple thing I want you to understand:
Low center of gravity + Properly tuned & responsive suspension = Good Handling of your Jeep.
In the years 2002 Frank D who is one of the most famous group members of Jeepaholics Anonymous helped us understand Jeep's center of gravity, and roll-over angles of Jeeps through his informative booklet How To Determine The Center of Gravity and Roll Over Angles of Your Jeep, that has been a bible to us and many Custom Jeep Builders. You can also use the Jeep Centre of gravity calculator developed by Frank D, to help you understand your Jeep's center of gravity.
Understanding your Jeeps trim and configurations will help you improve your Jeep wrangler handling improvements, factors such as your jeep height, steering linkage geometry, front and rear axles, load distribution, length of the wheelbase, center of gravity, and roll-over angles, and how they come together towards improving your Jeep wrangler handling improvement.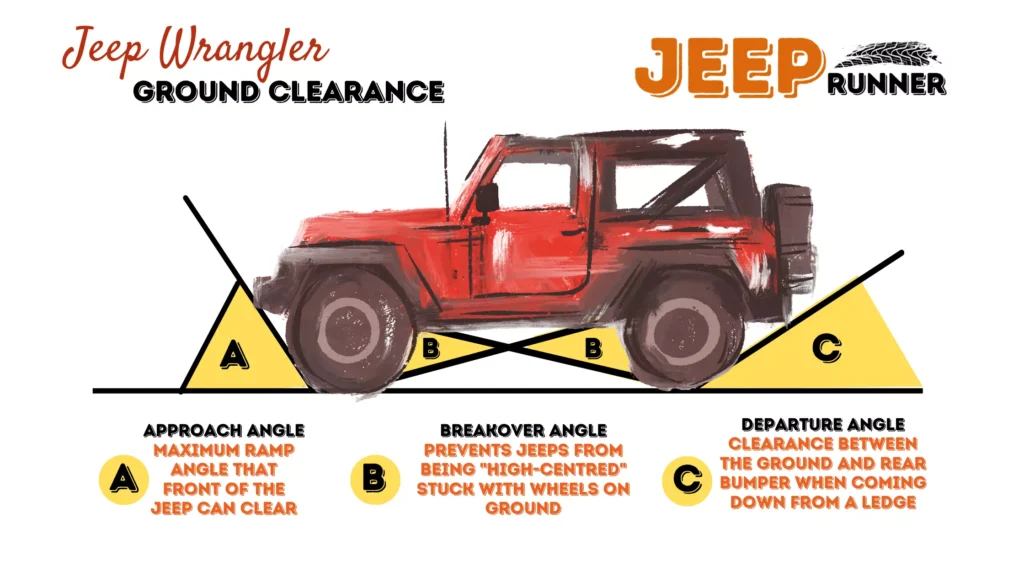 To improve your offroading handling, Jeep Runner advises a minimum of 8.5 inches of ground clearance, 41.4-degree approach angles (A), 25 degrees break-over angles (B), and 35.9-degree departure angles (C) as seen in the infographics image above.
Learn more about Jeeps Ground Clearance and more factors that impact your Jeeps capability and your capabilities if handling your Jeep when driving a Jeep.
Jeeps tire pressure.
Tire pressure can also affect your Jeeps Wrangler handling, if your Jeep wrangler has more tire pressure the tire will be stiffer and reduces your Jeep wrangler handling capabilities, because the tire with more pressure will not correctly absorb impacts, sending them to your Jeep suspensions, overinflating also makes your Jeep tire grip as the contact patch is reduced impacting your Jeep handling.
Check out our list of the best portable air compressor we recommend for off-roading Jeeps.
We recommend making sure your Jeep Wrangler tire pressure is between 32-36 PSI to improve handling. However, for off-roaders, we recommend airing down your Jeeps using the Jeep airing down infographics guide provided below but don't forget to inflate your tires back to normal after off-roading.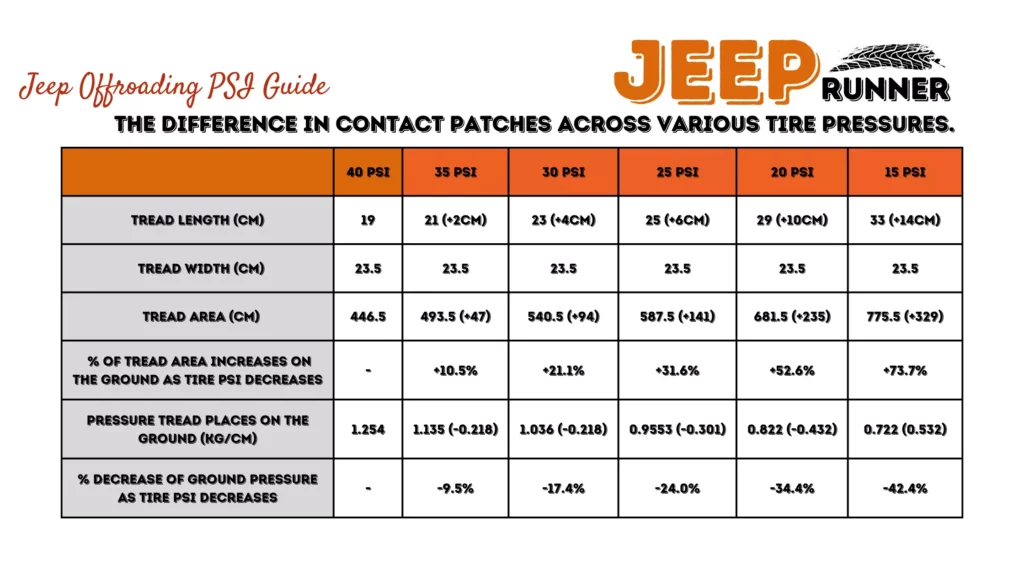 Type of tire in your Jeep.
There are different types of tires depending on the use of your Jeep, each has its benefits and specific use purposes, most Jeepers use different tires from their day-to-day use such as bigger tires just for the looks and end up making it worse for them to handle the Jeep when daily driving their Jeep.
We don't recommend installing Jeep tires without fully understanding what they are good for, a Jeep is not the best when it comes to handling compared to other SUVs, and installing the wrong type of tires will only make your handling worse.
The types of Jeep tires available for your Jeep include all-terrain tires, mud terrain tires, multi-terrain tires, sand tires, and highway tires, each tailored to your use of your Jeep.
We have a list of Jeep tires; we would recommend to our users available in the best tires for Daily drivers post.
Installing the wrong type of tires on your Jeep will make it worse when it comes to handling it.
Road surfaces affect Jeep's handling
The road surfaces affect a Jeep Wrangler's handling capability, this is because the roughness of the road surfaces will influence the steering behaviors of your Jeep, by producing a variation in the normal forces between the tires contact patch and the road surfaces affecting how you can handle your Jeep Wrangler, coupled with the slower steering set-up of the Jeep Wrangler, most people will complain of poor Jeep Wrangler handling.
Conclusions.
We love writing informative posts like this, most people blame the driver for poor handling of their Jeeps, creating a bad name for Jeeps in the automotive industry, but they do nothing on making sure the drivers have information regarding how to handle their Jeep Wranglers, because a Jeep is made for off-road it might have issues as a daily driver, and you have to understand the factors that might affect your Jeep handling.
This information post is packed with information regarding factors that can affect your Jeep handling, from the factory and customization you have applied that can affect your Jeep handling capabilities, it also shows how you can improve your Jeep handling when customizing it to suit your daily activities, with downloadable calculators and free booklets.
It's also important to learn how customizing your Jeep affects its handling capabilities, and what to do about it, as a Jeep driver you should understand your Jeep Wrangler, read more on our Jeep Guides, you should also share this post with your Jeep community and friends to spread the word.