The Van life lifestyle had exploded over the last few years, and Jeep Gladiator owners have been wondering "can you sleep in a Jeep Gladiator?" is it even possible considering the Jeep Gladiator has only 103 cubic feet of passenger room?

The Jeep Gladiator is the perfect off-roading, Camping, and Overlanding mid-sized family utility and fun truck with a seating capacity of 5 passengers, in its 103 cubic feet passenger area. Most Overlanding SUVs can be converted and allow people to sleep in their passenger area, but the Jeep Gladiator offers much more …
Sleeping In a Jeep Gladiator.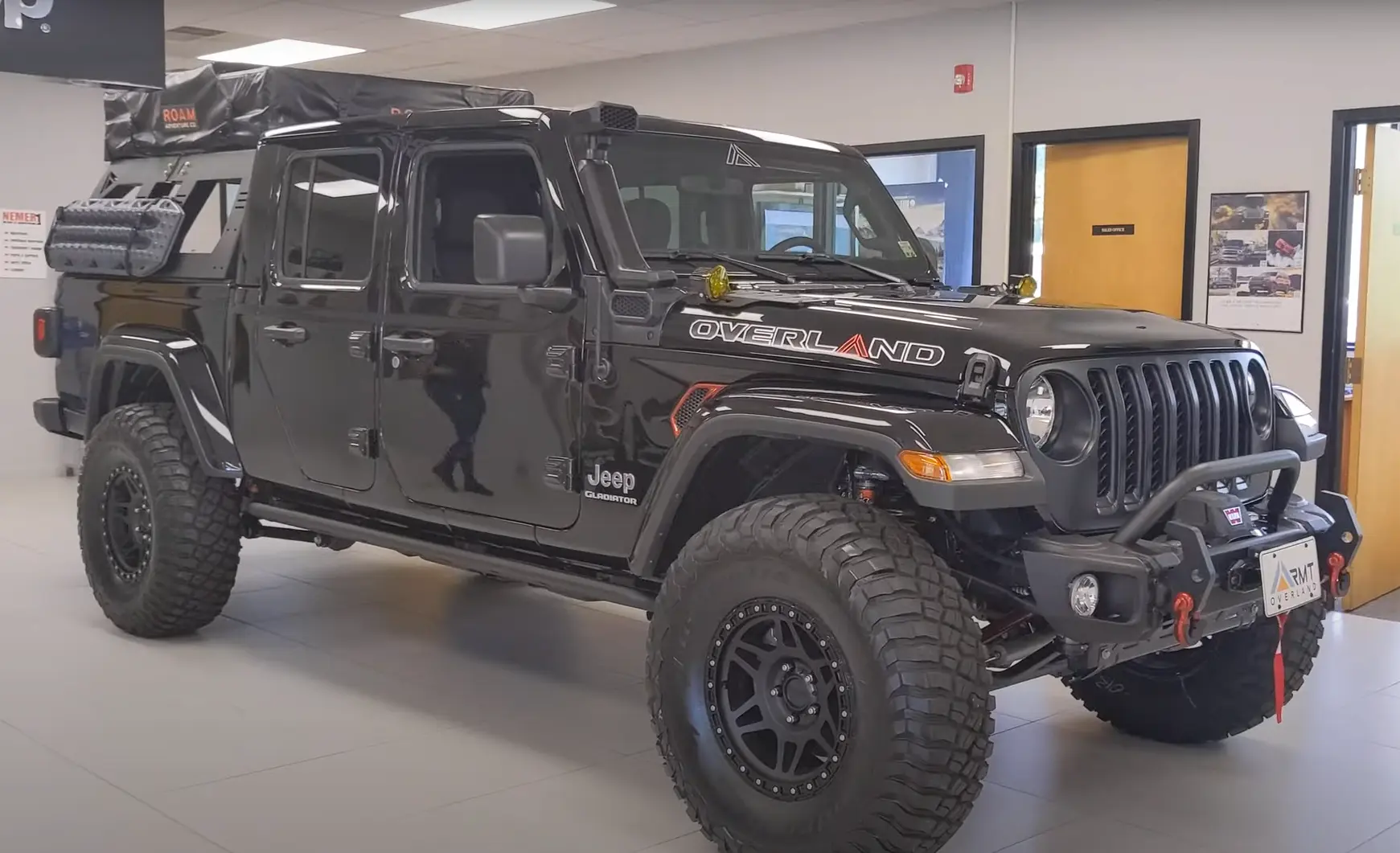 Some of the areas that you can convert to a sleeping area include Sleeping in the Jeep Gladiator truck bed, and Sleeping in the Jeep Gladiator roof with a roof rack, The Jeep Gladiator also has a towing capacity of 7,700 pounds enough to haul a camper that you can sleep on.
The post below will explain more about the sleeping options of the Jeep Gladiator:
Sleeping in your Jeep Gladiator when Jeep Camping and Overlanding can save you time, money and gas, if you are considering joining the Van life movement or crushing in your Jeep Gladiator, this post is full of information and tips to make sure you have a slumber night in your Jeep Gladiator.
How long is the bed in a Jeep Gladiator?
The Jeep Gladiator bed is 33.5 Cubic feet, 60.3 inches long (fits a 5ft long person perfectly but you will need a longer bed tent to fit a 6ft person), and 56.8 wide.
If you are a person who is interested in sleeping in their Jeep Gladiator the trunk bed is one of the options that you have, however you can add a bed tent to make the experience more comfortable.
Bed tents can be expensive, and the pricier the tent the more features it will have such as cover options, waterproofing, automatic pistons, and many more features, despite the bed tent is expensive if you are someone who finds camping on the ground investing in a tent is better than foraging the forest for a perfect sleeping spot.
Sleeping in your Jeep Gladiator trunk bed allows you to park in most US camping areas, you will just drive over to some of these spots, set up your bed tent, and stay the night.
Whether you are looking for a temporary sleeping area, on a country road trip, straight-up lifestyle change, or building your Ultimate Overland Jeep Gladiator, the trunk of the bed is one of the options you should consider, twin beds measure 74×38 inches, that's only 10 inches more than your Jeep Gladiator trunk bed.
Looking for Temporary Sleeping Options?
Apart from the more complicated rooftop tents, bed tents, and ground camping, there is another sleeping option for any Jeep Gladiator owner. If you are looking for Jeep Gladiator sleeping ideas, look no further, we will highlight some of the temporary sleeping options available:
Jeep Gladiator back seat mattress
You can fit a back seat mattress at the back [passenger seats of your Jeep Gladiator, for this you will need to buy a Jeep Gladiator back seat mattress that can fit an area of 38.3 inches which happens to be the leg room of your Jeep Gladiator rear passenger seats.
We recommend the Pittman back seat mattress, as it fits the back of a Jeep Gladiator seat rather nicely.
The Pitman's back seat mattress is one of the most durable backseat mattresses available in the market today, it features a 300D blended fabric that is durable and resistant to punctures and abrasions.
You may have to maneuver it a bit after you pump in the air with the portable DC pump it comes packed with, but once it is in, it shouldn't move around much. Unlike other competitors you don't have to stuff up empty spaces with blankets to ensure the back seat bed doesn't move when the Jeep is in motion – it perfectly fits.
Air mattress for Jeep Gladiator
An Air mattress for a Jeep Gladiator can be used either in the tent or in the rear passenger seats, but we find it more convenient when you use it on the tent at the rooftop or the trunk bed tent. It has a similar concept to the back seat mattress in that you have to inflate it to fill the space you need.
One of the air mattresses we recommend is the Pittman AirBedz Truck Bed Air Mattress:
Remember we said the Jeep Gladiator bed size is 60.3 inches long, this mattress takes into consideration and adds up an extra mattress that can fill up the tailgate cover, to fit a longer person of 6ft.
You can also use the Pitman's Airbedz mattress in your bed tent, the benefits of the Pitman's Airbedz is the fact that you can deflate it when not in use to prevent abrasion and punctures, and to save space for other storage, it comes with a carrying bag that you can travel with it much easier. Choosing Pitman's Airbedz can potentially save you extra room for other camping gear and accessories.
Overland sleeping bag/ Pad.
An Overland sleeping bag is one of the options you have to be able to sleep in your Jeep Gladiator, they are packable and easier to travel with compared with an air mattress or a back seat mattress, you can also use it in your tents making it a multipurpose sleeping bag.
One of the best mattresses we recommend is the Coleman Big & Tall Sleeping Bag, the Coleman sleeping bag has heat locking flannel liner that keeps your temperature under control by preventing heat loss on a chilly night.
You don't need to inflate sleeping bags, making them more convenient and easier to use compared to air mattresses and back seat air mattresses. You don't need to worry about forgetting your DC portable air pump adapter at home or using a manual air compressor.
Memory Foam Topper
A Memory Foam topper is another option that you can use to sleep in your Jeep Gladiator, it's similar to a sleeping bag or a bed roll, however, a memory foam topper is more expensive despite being lightweight and thinner.
We recommend them because they are easier to use and great for packing in your Jeep Gladiator racks, if you don't need too thick of a surface to sleep on, the Memory foam tapper is a perfect solution for you. You can even toss out your Jeep Gladiator back seats to fit the Memory Foam Topper.
Final Thoughts.
You can park your Jeep Gladiator in national parks, Wal-Mart parking stations, campsites, and other places you deem secure and fit, despite where you want to sleep, you should always find a spot that is free from elements such as wind, rain, or haul that can cause damage to your tents, or vehicle.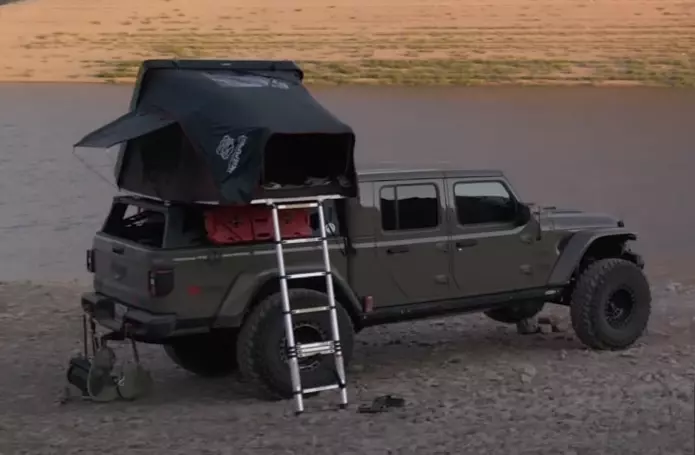 You should always park on a stable flat surface away from rocks, or uneven ground, this is because such surfaces can cause accidental damages and accidents, and are also extremely dangerous in bad weather conditions.
You should make sure your Jeep doors are locked, and your cargo and accessories are securely locked away, if your Jeep windows are tinted, that's better, as tinting your windows tent to keep intruders away. You should also remember to activate your car alarm so that you get alerted in case an animal or a person gets near your Jeep.
You should also ensure you have enough airflow flowing inside your Jeep, and leave a window cracked open to ensure clean and fresh air gets in your car.
Sleeping in your Jeep Gladiator is one of the most cost-effective ways to Overland, or Camp. However, you will need to prepare ahead of time, the more you invest in sleeping gear such as tents and mattresses, the more you will have an enjoyable experience.
Be safe, get prepared, and enjoy your Jeep Gladiator experience!
Last update on 2023-11-24 / Affiliate links / Images from Amazon Product Advertising API