Wondering how to update Uconnect software, are looking for a simple step-by-step guide on how to update your uConnect software, look no further – we got you covered!
We recommend updating your Uconnect software every time there is an update, Updates on Uconnect focus on bug fixes, adding new features, and security fixes that prevent remote car hackers from remotely accessing and exploiting your data and taking control of your Vehicle.
Most people looking forward to updating their Uconnect software, do so in order to solve issues they are experiencing with their Uconnect infotainment system or get new features released in a new UConnect software.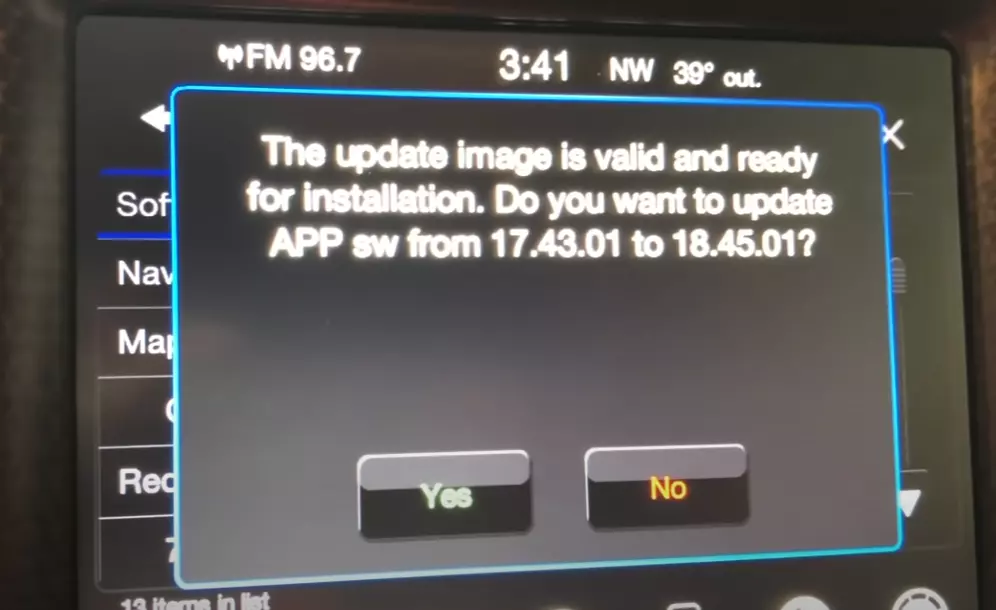 Outlined below, are the requirements, and processes to follow when updating your UConnect system yourself.
Requirements:
Computer with Windows Installed.
Internet connection.
Your Vehicle VIN (You can find your vehicle VIN by checking the sticker affixed on the lower left corner of the dashboard, or in the driver's door jamb.
 4 GB USB Drive or higher.
Anti-theft Code (only available at a CDJR dealership)
How To update Uconnect software
To update Uconnect software on your Uconnect Infotainment system, just follow the following steps:
Format the USB Drive
Head over to "Uconnect Software Update Download Page" using your windows computer, In the download, you will be prompted to enter all 17 digits of your vehicle VIN to check for updates.
If there is an update available for you, you should then proceed to locate the software update download button, however, if there are multiple updates available for you, there will be a prompt requesting you to download Akamai NetSession Interface to help you manage multiple files.
After locating the update download button, click on it and download the software update in ZIP format.
Transfer the downloaded Uconnect software in ZIP Format to the formatted USB Drive (If you have multiple updates, you will need to install them one at a time, since Uconnect allows one update at a time)
Remove any USB or SD Cards connected to your Uconnect system, and insert your USB drive with the downloaded software update.
Set the ignition to run (For Push to start Buttons – Keep your foot off the brake pads and Push the Start button twice to reach run)
You will now get a screen pop-up that will ask you if you want to upgrade your Uconnect software.
Say Yes, your Uconnect system will start copying files from your USB. (Note Uconnect software update might take up to 15 minutes).
After a successful update, you will be requested to enter your Anti-Theft Code (Make sure you have the right code failing the code three times will force you to wait for 30 minutes for you to try again)
Looking for a visual tutorial, check out the video below on how to update your Jeep Uconnect system:
Congratulations! You have successfully updated your Uconnect to the latest Uconnect software, and have saved yourself some money from your dealer who could have asked for payment to get your Uconnect software updated.
Uconnect Update Not Working – Possible Reasons and Fix
Over the past few years, I have had my fair share of failed Uconnect updates, the good thing is that at each failure your Infotainment system will try to help you diagnose what the problem is, for example, you might get a pop-up message or a screen response.
The following are the most common errors you might get when upgrading your Uconnect software:
Uconnect update files are not supported.
Uconnect Update-Nothing Happens.
Uconnect Software is not Compatible with the Vehicle.
Uconnect Cannot update software.
How Do I Force Uconnect Update?
You cannot force Uconnect to update, you must check if there is something wrong or something you missed on the update process and whether you followed the process correctly.
Uconnect Boot Loop After Update Fix.
A boot loop might occur when updating your Uconnect system, the first solution is to try and leave the negative battery cable unplugged overnight, or wait for at least a few hours before connecting the terminal, the reason for disconnecting the battery is to reset the memory of your ECU and Uconnect System.
Try updating Uconnect software again, if it fails and the boot loop continues, disconnect the vehicle battery, reformat the USB disk, re-download the software update, transfer it to the USB, and repeat the update process.
Pro Tip: If the process persists, you should look for an older version of the Uconnect software and try installing it.
Uconnect Update Files Not Supported Fix.
If you receive an error that "Uconnect update files are not supported" it might be because you did not format the UBS as advice, and had other stuff in it, you did not format your USB Well, or your Software Update was corrupted during download, or you did not save the file as a ZIP file.
We would recommend you reformat the flash disk, download the update, and follow the installation process again.
Uconnect Update-Nothing Happens To Fix.
If nothing happens after you follow the process, it means that your Uconnect infotainment system is not detecting your USB disk or the downloaded software update.
You might check whether the USB device you are using is recognizable by your Uconnect infotainment system, check whether your downloaded file is in the correct file format (ZIP), and also check if you are following the Uconnect software update process properly.
You might also be using a USB port that is damaged and not working, make sure you only use a USB port that is working.
For example, if you don't follow the process as stated, and you just insert the USB disk on the USB port with other devices attached, the Uconnect infotainment system might not detect the USB with the software update. If you fail to let go of the brake pedal, the vehicle computer will not be able to detect you want to update your software.
Uconnect Software Is Not Compatible With Vehicle Fix.
If Uconnect is displaying a pop message that the downloaded software is not compatible with the vehicle, you should check if you downloaded the right software, check the contents on the USB and make sure only the software update is on the flash disk, make sure you did format the Flash disk before using it. You might need to re-download the software again to try and solve the problem.
If the problem persists, try and download an earlier software version and upgrade your Uconnect infotainment system using the process highlighted above.
Uconnect Cannot Update Software Fixes.
If Uconnect cannot update the software, it's mainly because you did not follow the process properly, the software you downloaded is corrupted, the flash disk you are using is not detected, or the file downloaded is not compatible with your Uconnect system and version.
Other Possible Uconnect Software Update Failing Causes.
Other possible reasons your Uconnect software is failing might be related to a faulty electrical system of your vehicle, the vehicle might have short, or the Uconnect infotainment system is already updated to the latest versions.
Final Thoughts.
Updating your Uconnect system is essential, if you are not computer savvy, we would recommend getting a reputable garage to update your Uconnect software for you, they will possibly charge you anything between $500 to $1,000.
Updating your Uconnect system is a risky process, you will need to be well prepared, and understand each process and why it's being followed. Understand the requirements and the time it will take to complete the Uconnect software update.
In this article, we have also highlighted some of the possible issues you might encounter and how to solve them, the solutions highlighted should be done by a professional or a person who understands what they are doing, as you risk damaging your Uconnect infotainment system and might need to replace it, at a high cost of more than $2,000.
Hope this guide is helpful and will help you update your Uconnect software without issues. please share it with your friends and families who own modern vehicles with Uconnect and they are looking forward to updating their systems, also share it with friends who have tried to update their Uconnect infotainment system and they are facing issues updating their Uconnect software.
Related Uconnect Posts: