Jeep Overlanding put simply is adventure traveling with a Customized Jeep made to be self-reliant on long-distance grid travels to camping grounds, mountains, forests, deserts, and off-road trails.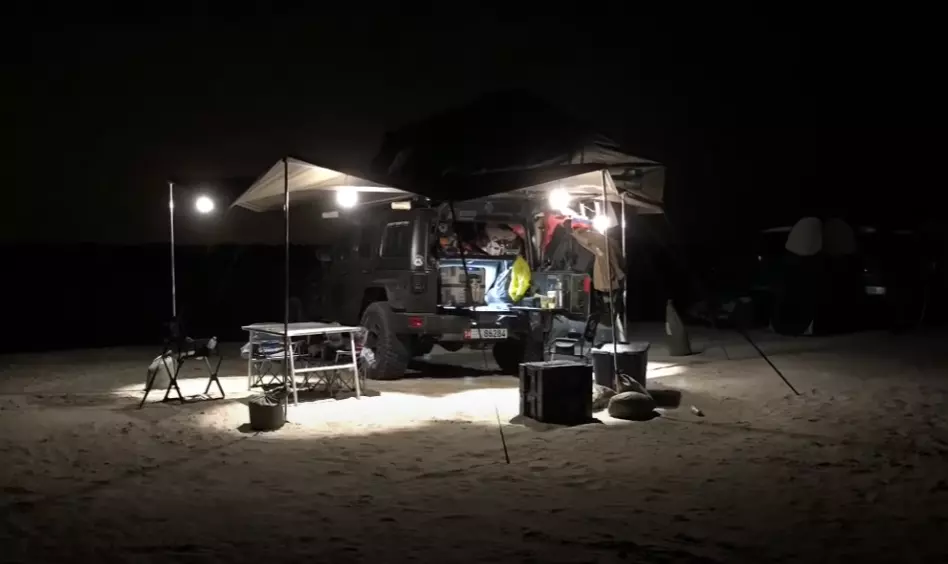 The appeal of Overlanding in a Jeep differs from one Jeeper to another, for me, Jeep Overlanding means traveling wherever I want with one of the best off-road vehicles (Jeep), spending weeks, months, or years Camping in my Jeep, this means freedom, spending time outdoors with nature, and bonding with families and friends.
If you love off-roading in your Jeep, and camping in general, it's time to take your hobbies to another level with an Overlanding Jeep. Jeep Overlanding without taking the necessary precautions might suddenly lead to being trapped in remote places, which is horror on its own, and expensive to extract. That's why we have made this Jeep camping guide for you, to make the best use of your Overlanding Jeep, and improve your Jeep Overlanding experience.
Sounds interesting! Read on to learn more.
Jeep Overlanding Terminology
Jeep Camping: Camping with a Jeep in your favorite overland camp. This could mean having to sleep in a Jeep camper shell, rooftop tent, truck bed tent, or an old-school ground tent attached to your Overlanding Jeep.
Overlanding Jeep: A customized Jeep made to be self-reliant, with all the necessary camping and cooking equipment, that can last for one day up to two months.
Jeep expedition: An organized journey on a Jeep with a defined purpose, often geographic or scientific. One of the most famous Jeep expeditions was the 1978 Jeep Expedition of The Americas, which took 13 men on their Overlanding Jeeps, to cover 21,000 miles from South America, through Central America, and going through north America before ending their Overlanding trip in northern Alaska.
What is the Best Jeep for Overlanding?
The best Jeep models for Overlanding include the Jeep Wrangler, Jeep Cherokee, and the Jeep Gladiator. According to Overland Expo, a Jeep that is more than 15 years old is not recommended for Overlanding because of reliability, safety, and Overlanding gear support.
The Jeep Wrangler, Jeep Cherokee, and Jeep Gladiator are rated among the best Overlanding Jeeps because of their ground clearance, and they have plenty of Overlanding gear made specifically for these Jeep models.
There are different types of Jeeps models, and they are all pretty much good for Overlanding, there are a lot of plenty camping grounds with easy trails and roads that you can access with any Jeep model you might have, so there is no need for spending thousands of dollars buying a new Jeep to overland with … we recommend starting with the current Jeep you own, and get a feeling of Overlanding in a Jeep first.
Behind the Trend: Jeep Overlanding
The Jeep brand has been the top choice for overlanders looking to build their Overland Vehicles, after buying a new or used Jeep, Jeepers are investing an average of $20,000 in buying overland gear and equipment to personalize their overland experience.
One of the most famous events with Jeepers is the Jeep Jamboree USA events held across the United States, boosting the interest of the Overlanding movement.
Jeeps are one of the most customized vehicles in the United States, as result aftermarket suppliers of Jeep parts, accessories, and Overlanding gears have invested heavily to supply to the growing market of Overlanding, there is a lot of aftermarket overland equipment's for Jeeps such as rooftop mounted tents, Jeep kitchen, and Jeep camping gears.
Jeepers are known to use their Jeeps for weekend trips, off-roading, and camping, the Jeep is a reliable vehicle suitable for an extended length of travel to remote destinations because of its large tires, reliable body and suspension lift kits, and high ground clearance.
The cool thing about owning a Jeep is that you can start Overlanding with it without having to customize anything, and without any skill level! No matter what level your customized Jeep overland is, there are lots of places to overland with factory and custom Jeeps.
If you own a Jeep, there are a lot of off-roading and Overlanding destinations in various national parks and public lands spread across the United States. The bureau of land management (BLM) has various recommendations for off-roading and camping destinations for you to explore and navigate with your Overlanding Jeep.
For Jeep Overlanding starters, we recommend using Overlanding applications such as iOverlander, OnX Off-road Maps, and FreeRoam to find suitable and tested Overlanding destinations across the United States.
There are Jeep off-roading and camping communities spread across the United States, you can find them in various Facebook groups, and events such as Overland Expo where you can find inspirations for Jeep Overland builds, and resources you will need to improve your Jeep Overlanding experience.
What do you need to camp in a Jeep?
Jeep camping accessories and gear you will need include a place to sleep (options include a rooftop tent, truck bed tent, or a ground tent), food (options include dry packed food or a Jeep kitchen where you can cook fresh food), and Camping Water.
As you gain more experience, you will learn more about the gears you will need to improve your Jeep Overlanding experience, over an extended period, you will find that having recovery gears, an air compressor, first aid kits, camping lights, cellphone booster and GPS kits (We recommend having a Paper Map together with a GPS Map) are helpful and you can incorporate them in your Jeep Overlanding gear.
Other parts to consider upgrading to could include Roof racks, bed racks, snorkels, suspensions, winches, tires, and window tints, For more information, check out our Jeep camping guide.
Below is a video of the ultimate Jeep Overlanding set-ups, for inspiration towards building your ultimate Jeep Overlanding build: