Jeep camping is one of the most exciting adventurous hobbies you can have with your Jeep, and we encourage you to try it out!
Ready to hit the trails? Learn more about What is Jeep Overlanding!
The best Jeep models for Jeep camping are the Jeep Wrangler, Jeep Gladiator, and the Jeep Cherokee, all of which are good models for camping. I have used my Jeep Wrangler to Camp in major United States Parks, paid campsites, and convenient camping spots.
At Jeep Runner we want Jeepers to experience Jeep Camping, and equip them with the knowledge to explore the world and wake up in the most amazing views without a hustle, so we made this Jeep Camping guide equipped with gears and other resources that you need to know about Jeep camping.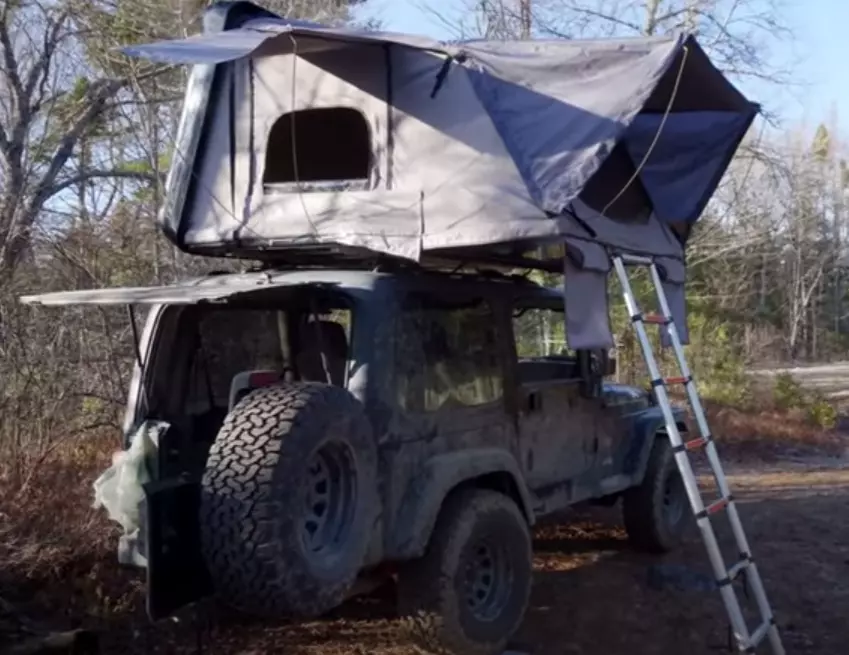 This guide is for experienced Jeep campers, and Jeepers who are new to Jeep Camping, I've been Camping in my Jeep for the last 12 years, and I have bought every gear in the market and tried all the methods on planet earth recommended by other Jeepers.
Common Jeep Camping Questions (Answered)
With more than 12 years of camping experience in an overlander Jeep, here is a guide to gears and things you should know when planning for your next Jeep camping.
Quote: Feel Free to Follow the Highlighted texts with links for more in-depth details on the topic.
Five Things You Need When Camping in Your Jeep.
When planning for your next Jeep camping, there are five essential things that we have classified as a must-have in your Jeep camping adventures, they include:
Camping Food
The first thing you will need and we insist is packing food, whether you will pack dry packed food, or you plan on cooking when camping you must plan on what you will eat, for this reason, you will need a place to store your food or cooking materials and accessories, you will also need to clean up your dishes after using them, we will explain on this in details.
Fancy Cooking? Check out the following post:
Water and Water Storage.
I have previously purchased bottled water for my Jeep camping adventures, and honestly, this is not an effective system when Camping in your Jeep, we will explain later on ways to make sure you have adequate drinking water, showering water, and cleaning water you will need when camping in your Jeep.
Related Reading: Jeep Water Storage
Camping Tent
Most Jeepers have a Jeep tent or a Jeep Camper shell that they use as a place to sleep, I will share some of the best Jeep shelters for camping that we recommend and have tried on our Jeep adventures.
Temperature Control
Whether you plan to visit your jeep camping locations in the summer or during the winter, you will need to control the temperature of your environment, this is one of the things I didn't take seriously when I started camping in my Jeep, but after several years of staying in cold and hot climates, I believe its one of the most essential Jeep camping essentials to consider. More on that later.
Sleeping Mattress or Bag
We emphasize the importance of choosing the best sleeping mattress or sleeping bag when planning for your next Jeep camping adventure. You will need to have a good sleep to enjoy the camping experience the following day and be able to drive after resting. You will need to sleep comfortably so that you can wake up the next day feeling refreshed and ready for the day.
Jeep Camping Setup
Now that you understand the basics of Jeep camping, its time to dig into the Jeep camping set-ups options whether you have a Jeep Wrangler, Jeep Gladiator, or the Jeep Cherokee, there are four Jeep camping setups that we like and recommend:
Jeep Camper Shell
Jeep camper shells are common for Jeep Wrangler & Jeep Cherokee owners because of the space at the rooftop, however, it's not common with Jeep gladiator owners who have a big truck bed and prefers truck bed tents (Much on this later).
Jeep camper shells are a simple and the preferred method of Jeep camping setups, it included mounting the camper shell at the top of your Jeep rooftop, and tossing in a good mattress and your gear in the camper shell.
You can build your camper shell or buy a ready-made camper shell, The wayward home camper shell guide provides ways and ideas for you to customize and personalize your Jeep camper shell, very useful for Jeep gladiator owners who have built or looking forward to building a camper shell in their Jeep gladiator bed rack.
Jeep Rooftop Tent
Last year I camped in Sequoia National Park which is one of my favorite Jeep camping locations, I had a rented Jeep gladiator with a Jeep rooftop tent mounted on its roof, and supported on the Jeep gladiator bed rack.
Having used a Jeep camper shell before, the Jeep rooftop tent is lightweight, easy to use, and secure, and the sleeping pad/ platform is wide and long enough to fit three people. The Jeep roof tent lets you sleep off the ground and experience the same experience you will have when sleeping on the ground.
For this reason, I went shopping for a Jeep rooftop tent and discovered there are three categories of Jeep rooftop tents, the first one is a hard shell and the second one is soft-shell Jeep rooftop tent.
I bought the YAKIMA, SkyRise Annex Rooftop Tent for my Jeep Gladiator, and can also be mounted in a Jeep Wrangler making it a multipurpose tent, the reason I choose the YAKIMA, SkyRise Annex Rooftop Tent is because its Camo shades that will guarantee camouflage when camping, it's a two to three person tent that I plan to use with my wife, and it's easier to assemble (Takes us less than 10 minutes to complete the installation and assembly) compared to other tents.
Here is the link for the YAKIMA, SkyRise Annex Rooftop Tent, available on Amazon – It's a hidden Gem!
Having used the Campoint roof tent, despite having ample room for your camping activities and relaxation, I would say its an easy-to-clean rooftop tent, and has a waterproof floor that will protect your camping gear in the winter and in the rain which is something I have learned a lesson having bought a cheap camping tent that leaked water underneath – trust me you don't need this to happen to you!
There are various reasons why I dint purchase a hard-shell rooftop tent, the first one being it's expensive and the second one being that hard shells are limited in space.
Some of the rooftop tents that were on my list of considerations included the iKamper, Roam, Smittybuilt, and Roofnest because I have heard some good news and recommendation about these brands.
Jeep Truck Bed Tent
If you have a Jeep Gladiator, I would recommend considering a Jeep truck bed tent, this is because they are cheaper and make use of the raised space you have on your Jeep Gladiator truck bed, we don't recommend a Jeep truck bed tent for Jeep Wrangler owners.
We have researched some of the best brands for Jeep truck bed tents, and include FOFANA, Guide Gear, and Quictent.
We will research, buy and test some of the Jeep truck bed tents on our Jeep Gladiator, and link the post here for easier access.
Old School Ground Tent
If you have an old-school ground tent, you can use it in your next Jeep camping adventure, while you will not be utilizing your rooftop or truck bed, you can still use them to store your camping gear.
There are some of my friends who swear with the old school ground tent, this is because they are used to it and they have so many camping gears mounted on their rooftops, truck bed, and truck bed racks. Ground tents are also good if you will be camping with some of your friends 9more than three), this is because the camper shell, rooftop tent, and truck bed can fit a maximum of three people.
Sleeping in a Jeep
When planning for camping, the most important thing to keep in mind is the quality of your sleep, remember you will be so excited with your day-to-day camping activities, and spend a lot of energy driving, hiking, and enjoying life. You will need the same kind of energy to continue enjoying the camping experience, and having a good night's sleep is important and will help you rest and rejuvenate.
There are two options for sleeping in a Jeep whether you have a tent, or you are sleeping inside your Jeep without a tent, the first one is a Jeep sleep mattress and the second one is a Jeep sleeping bag. We emphasize the Jeep sleeping bag and Jeep sleeping mattress because you will need a mattress and sleeping bag that will fit in your Jeep.
Jeep Sleep Mattress
I have bought many mattresses and even used a small normal home mattress for camping, and I would say the quality of the mattress matters a lot in terms of the quality of sleep you will get.
If you have purchased a rooftop tent with a sleeping pad, you should consider buying a Jeep sleeping mattress because of the quality of the sleeping pad. The platform provided in the rooftop package is not always the best quality.
One of the mattresses we recommend and use to date is the AirBedz Lite inflatable mattress from Pittman's Outdoor Store. Despite being an inflatable mattress, the AirBedz Lite inflatable mattress is convenient, and comfortable, and takes virtually no space when packing for your next Jeep camping adventure.
Here is a link for the AirBedz Lite inflatable mattress available on Amazon:
The AirBedz Lite inflatable mattress fits perfectly on the back of our Jeep Gladiator bed rack, and also on our Jeep Wrangler with the seats folded down or removed, making this a multipurpose mattress that we can use on our Jeep Gladiator and Jeep Wrangler.
We highly recommend the AirBedz Lite inflatable mattress which is sold in three styles, full size 6-6.5ft truck bed, Full-sized old bed, and mid-sized short bed trucks. They are not expensive compared to other premium mattresses despite offering the same comfort and features.
Jeep Sleeping Bag
Serious Jeepers and Campers own a Jeep sleeping bag – This is one of the most underrated Jeep camping gear you should put on your Jeep camping Wishlist or just buy our recommended Jeep sleeping bag in the link below if you have the budget.
We recommend the Big Agnes Lost Dog (FireLine Eco) Sleeping Bag which we have used for the last three years, we use it with a sleeping bag liner to protect it from water, and dust contamination, this makes it easy to clean our Sleeping bag after camping.
Here is a link so that you can Grab the Big Agnes Lost Dog (FireLine Eco) Sleeping Bag:
We would recommend a Big Agnes Lost Dog (FireLine Eco) Sleeping Bag for solo, and Winter Camping instead of a Jeep mattress, Jeep sleeping bags are more comfortable and warmer because you can control the temperature and conserve heat energy trapped in the sleeping bag from your body.
There are two reasons why we recommend Big Agnes Lost Dog (FireLine Eco) Sleeping Bag, the Jeep sleeping bag is made of synthetic insulation and secondly, the Jeep sleeping bag is highly rated in the camping and overland community for having the proper temperature ratings.
Having used Big Agnes Lost Dog (FireLine Eco) Sleeping Bag we can comfortably report that the synthetic insulation of the sleeping bag makes it hard for the sleeping bag to be affected by insulation and moisture, we also recommend and attest to its zero to 15 degrees ratings, the bag is easy to clean, partly because we use a sleeping bag liner and also because the bag liner is easy to clean and doesn't get sticky.
Jeep Kitchens
When I started camping on my Jeep, I dint have a Jeep Kitchen, so I used to eat dry packed food that only needed hot water to get them ready to eat, as time went by, I saved up for a Jeep kitchen set-up that will allow me to cook my favorite meals and even roast some meat and hot dogs when camping.
When planning for a Jeep kitchen, whether you plan on a complete jeep overland kitchen, a jeep wrangler tailgate kitchen, or a jeep slide-out kitchen; there are two essential things you should consider, including a camping stove and some kitchenware.
Jeep Tailgate Stove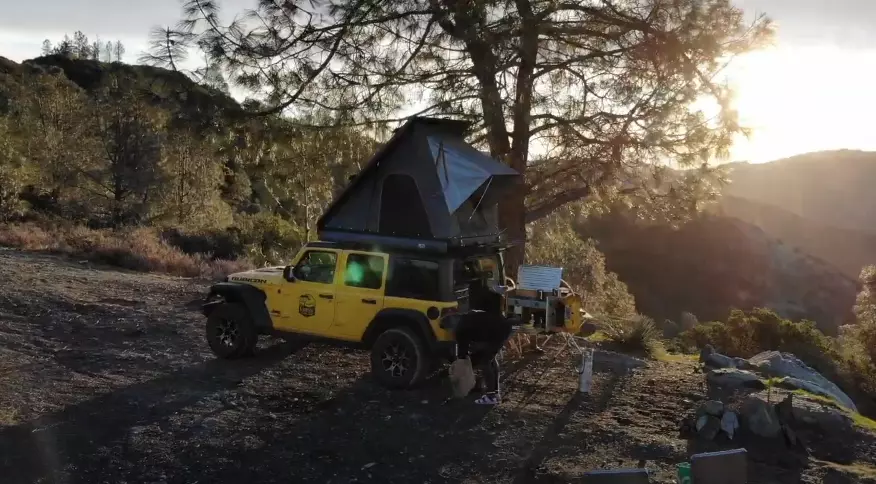 One of the most sought-after Jeep stoves is the Jeep tailgate stove, and we have one installed on our Jeep Wrangler, our favorite Jeep tailgate stove that has never let us down is the Eureka! Ignite Portable Camp Stove.
Here is a link to our favorite Jeep Wrangler tailgate stove, hands down!
The Eureka! Ignite Portable 2-Burner Propane Camping Stove is compact and fits perfectly on our Jeep Wrangler and Jeep Gladiator tailgate, the Jeep tailgate stove from Eureka is reliable and made of quality stainless steel with a steel lid to protect the burners from your camping gear when traveling, it also has side panels that protect the burner flames from the wind when cooking your favorite meals.
Eureka! Ignite Portable Camp Stove is ideal if you want a Jeep kitchen setup such as Jeep slide-out kitchen or the most common Jeep wrangler tailgate kitchen.
Other Jeep Stoves
Despite recommending our favorite Jeep tailgate stove, some Jeepers buy other types of stoves just because their tailgate is occupied by other Jeep Camping accessories or they like having the capability of having to move their cooking stoves whenever they need them moved to a location in their Camping grounds.
For this reason, we recommend the Camp Chef Explorer standing grill, and if you are on a budget for a Jeep stove, Coleman two-burner grill is a good option that we have researched and liked because the Colemans brand has been in the market for years and have quality Kitchen accessories under their belt.
Throw in a Samdew Stove carrying case, that supports Eureka! Ignite Portable Camp Stove, Camp Chef Explorer, and Coleman two-burner grill that will protect your Jeep stove with its interior padding on the sides and top, the passing is useful when transporting them to your next Camping grounds, we all know that roads to camping grounds are always rough and will Jerk all your camping accessories, and you don't want to get there and your camping stove is not working.
Here is a link to the most amazing Samdew Stove Carrying case sold on Amazon; This Jeep stove carrying case will save you from going hungry, or canceling your Jeep Camping trip and purchasing a new stove – thank me later.
Jeep Overland Kitchen Products
My wife and I don't like having a messy Jeep kitchen, for this reason, we don't have much of the kitchenware you will have at home, we have minimal Jeep kitchen accessories that keep the Jeep kitchen simple and minimalistic.
On our Jeep kitchen, we make sure to include the following kitchenware, that we can use for other camping emergencies and activities.
| | |
| --- | --- |
| Cast Iron Skillet | Chopping Board |
| Backpacking Pot/Pan Set | Camping Mug |
| Spatula | Tongs |
| Camping Knife | Flatware Set |
| Camping Plate | Scissors |
| Paper Towels | Other Utensils |
Jeep Camping & Jeep Kitchen Rules: It's always important to clean up after eating, for this reason, you should have trash bags, and camp soap for cleaning out your dishes.
Jeep Camping Storage
When packing for your next Jeep camp, there are three things you will need to store on your Jeep, the first one is the Jeep camping gear, Jeep Water storage, and Camping food. Planning on the Jeep gear you require on your camping trip and how you will store your camping gear is essential, as this will keep your Jeep and trip organized and you will know where everything is stored for easier access.
Jeep Boxes
You will need Jeep boxes to store your camping gear, kitchen accessories, camping clothes, Jeep recovery gear, sleeping bags, pillows, mattresses, etc. Jeep boxes are ideal as they are made to fit inside your Jeep. Some Jeep box options include:
DEE ZEE
Aukmak
Hooke Road
Make sure to read our guide to the best Jeep boxes for more information on Jeep Boxes!
Jeep Water Storage
Water is one of the essential items you should carry on your next Jeep camping trip, for this reason, you will need to store the water safely in your Jeep, and be able to access it easily when you need water to drink, cook, shower or clean when on the Camping ground.
When we started Jeep camping, we always bought bottled water, which we later learned was not an ideal Jeep camping idea, this is because bottled water is expensive, has disposable plastics, and is not ideal for camping situations such as showering, cleaning utensils and other camping needs that require water.
We researched and an onboard Jeep water storage solution that allowed us to carry as much water as we can on our Jeep, and also eliminate the need to throw away water bottles after use littering the camping ground or after cleaning carrying around empty bottles of water, we were also able to channel the water to other facilities such as the shower, near the Jeep wrangler tailgate kitchen.
With onboard water storage, we can refill our water on a regular tap and stay camping until our Jeep camping trip days are over, there are a lot of water refill spots in most Jeep Camping spots, Travel centers, and rest spots I have been to, and always refill my water at no cost to my onboard Jeep water storage tanks.
When working on your Jeep water storage, make sure to include a water filter, that will filter the water for you, preventing pipes blockage or dust and debris from entering your water system when off-roading to your favorite campgrounds.
Camping Food Storage
Your food storage determines which food you will eat when camping, camping in a Jeep is difficult compared to camping in a van or an RV, this is because you will have amenities such as refrigerator spaces or an even better onboard refrigerator from the manufacturer.
If you don't have a 12 volts refrigerator, Ice chest, or cooler, forget about cooking fresh food, you will be better off carrying dry-packed food on your Jeep camping trip, this is how important a refrigerator is in your Jeep camping planning.
We recommend the BougeRV 12 Volt Refrigerator it's one of the most precious Jeep camping storage boxes, we store our fresh vegetables, meat, and drinks and we always get them cold and fresh.
Here is a link to grab yourself the BougeRV 12 Volt Refrigerator on Amazon.
The BougeRV 12 Volt Refrigerator is not a battery drainer, for us, we have a custom wiring system that we use to connect battery power 12 volts to the cooler, however, the cooler can be plugged into the cigarette lighter on the dashboard or the 12 volts outlet at the back of your Jeep near the tailgate.
The BougeRV 12 Volt Refrigerator is not as big as most fridges, but camping on a Jeep is limiting in terms of space considering we also have other camping items on the Jeep, with 28 Liters capacity, we recommend the BougeRV 12 Volt Refrigerator Jeep Campers since they don't spend much time camping, and will just fit some of the fresh vegetables, meat and drinks you will need on your weekend camp trip.
As for coolers, we recommend Arctic Zone Titan Deep Freeze Zipperless Hardbody Coolers, its one of the most favorite coolers on the market, and campers recommend them, having bought two coolers from Titan, one holding 30 cans and another 16 cans, we can report that when two people are camping in a Jeep, 30 cans cooler is the best and 16 cans cooler is ideal for solo camping.
The coolers keep our drinks cooled off even when exposed to the sun, the cooler sippers are sturdy and the cooler pockets are deep, it's easy to clean after your camping trip and its made of long-lasting materials, making them ideal for Jeep camping, or even Jeep off-roading in Jeep Trails spread out all over the United States.
All the food storage accessories we have recommended are animal-proof, and animals will not easily get inside your food storage containers, however, if you are on a budget and using plastic food containers, you should at least place your containers where animals such as bears and wild dogs cannot access your food, or smell it, which will attract them to your camping ground.
Jeep Shower
You will need a Jeep shower so that you can keep clean when camping in your Jeep, in most Jeep camping grounds you will always find a place designated for showering. However, when you are camping in a place or getting stuck in a location with no such amenities your overlander Jeep should have a showering system or a portable showering system.
We recommend Nemo Helio Portable Pressure Camp Shower, which is a pressurized camp shower, Nemo Helio Portable Pressure Camp Shower comes in 11 liters ideal for solo campers, and 22 liters ideal for a couple camping together in their Jeep.
We have included a link below for easier access to Nemo's pressurized portable shower.
We also recommend purchasing portable shower curtains, on our Jeep camping trips we use the WolfWise Pop-up Shower Tent, we highly recommend WolfWise Pop-up Shower Tent, we bought in case we take our girls out for a weekend camping trip on our family Jeep, they like the idea of going to a toilet-look-alike tent where their privacy is guaranteed, My wife also likes WolfWise Pop-up Shower Tent and always makes sure it's packed for the next Jeep camping trip.
Despite being labeled as a shower tent, we use the WolfWise Pop-up Shower Tent as a showering and toilet tent. Here is a link to WolfWise Pop-up Shower Tent on Amazon:
You will not go wrong with the WolfWise Pop-up Shower Tent, it's easy to set up in just 5 minutes (We recommend securing the tent in the firm ground – due to its height and width it gets blown out by the wind if exposed), its roll down the window allows you to roll the windows up so that air and heat can easily flow into the tent and dry up water sprinkled inside the tent.
I'm lucky I started Jeep camping with my wife years ago, she always carries with her baby wipes, and full body wipes, I cannot stress how important these wipes have been in my Jeep camping experience, I always add them to my list of Jeep camping essentials in case a friend asks me for advice, on the best Jeep camping accessories they should purchase.
We have been using Venture wipes, and the only reason we like them is brand preference and we can be able to repurpose them when needed.
Other useful Jeep Camping Gear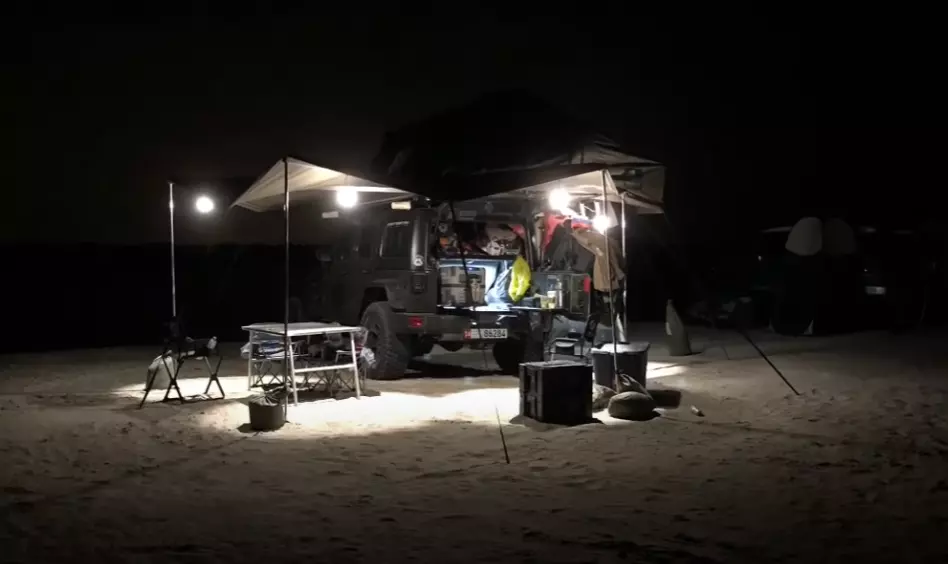 We have listed and explained some of the Jeep camping gears that we term as essential when camping, however, there are other camping gears that we always carry with us on our Jeep camping trips, this is not a must-have but would be good if you can be able to add them into your Jeep camping gear list, they include:
| | |
| --- | --- |
| Camp Chairs | Propane Fire Pit |
| Camp Tables | Leveling Blocks |
| Camp Sink | Portable Toilet |
| Head Lamps | Gas Cans |
| Camp Lighting | Personal protection devices |
Jeep Recovery Kit
You should always have a Jeep recovery kit when camping in your Jeep, In my list of Jeep recovery kits, we recommend having the following items:
| | |
| --- | --- |
| Portable Air Compressor | Basic Tool Box (With Ratchets, Screwdriver, Hammer, Drill gun & Bits) |
| Tire Patch Kit | Kinetic Recovery Rope |
| First Aid Kit | Snatch Block |
| Bear Spray | Traction boards |
| Bug Spray | GPS & |
| Sun Screen |   |
We will compile a report on the essential list of Jeep recovery gear and post a link here to the article, this will help you
Jeep Camping Locations
I always plan my Jeep camping locations and study them before starting my engine and going to the said location, I study the terrain, weather, security, history, and the features available in the camping ground.
Is there a trails offroad app?
I always use the following Apps to find my next Jeep camping location, I don't like camping in one place, I like exploring in different locations and I find the following Apps very useful:
You can also check out our post on the 4×4 off-road maps app
I also google or get invited to go camping by some of my Jeep friends and Jeep Runner readers from all over the United States, they always know a Jeep Camp which is a hidden Gem with features such as Jeep trails and off-road obstacles to test our off-roading skills when camping.
Last update on 2023-09-19 / Affiliate links / Images from Amazon Product Advertising API