Jeep unveiled its first future Jeep electric vehicles in its 4xe Day celebrations held on September 8th, 2022, during the event Jeep, revealed its 4xe Electric SUV Lineup, its first Jeep Wrangler-inspired electric vehicle the Jeep Recon EV, and the all-electric Jeep Wagoneer S, However, the name Wagoneer is just a placeholder as Jeep is currently running a Jeep naming contest with its Jeep community to help name the Jeep Wagoneer.
Automakers including Jeep believe that the future is bright for electric cars and will dominate the industry in the years ahead, according to research by Precedence Research, the global electric vehicle market is expected to reach USD 1103.17 billion by 2030 growing at 23.1% annual growth from a mere USD 170 billion in 2021.
And most Americans are aligned with the market, with most polls done in America showing an electric vehicle is on Americans' shopping list if it costs less, more charging stations become available and if there was a wide variety of electric vehicles available.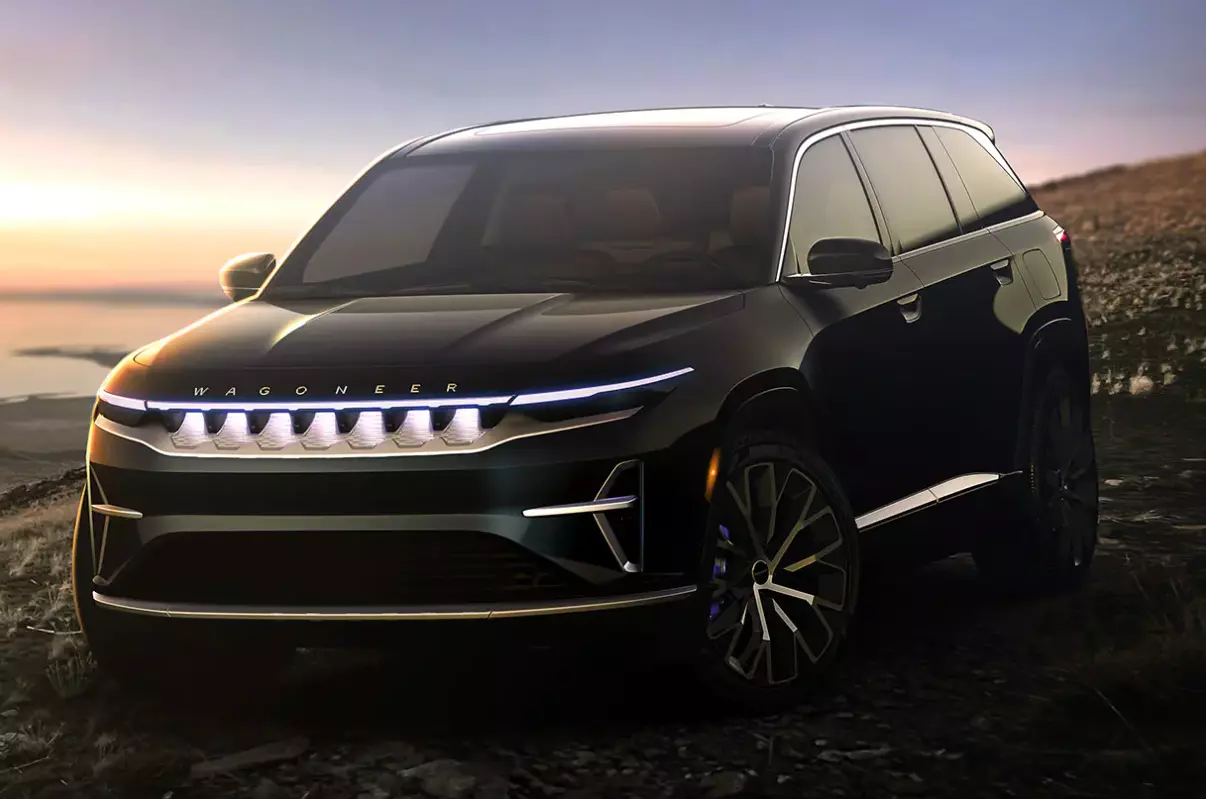 Image source: Jeep
What consumers can expect in future Jeep electric vehicles
Some leading automakers which are Jeep competitors in the trucks and SUVs market such as Ford, Chevrolet, and Tesla all have electric SUVs and Trucks available in the market today.
Jeep on the other hand is currently on the path to an all-electric vehicle that will be available in 2024, All electric Jeeps are still in development phases, and these are some of the features Jeepers can look forward to seeing in their future Jeep electric vehicles.
Jeep Lithium-Ion Batteries
Stellantis has a battery joint venture with Samsung SDI to power future Jeeps, the battery cells will be made in North America towards the electrification plans of Jeep future vehicles the leading lithium-ion batteries manufacturer Tesla has a Gigafactory that currently produces 35GWh per year, while Stellantis goals are to start with 23GWh and increase the production to 40GWh by 2025, currently most vehicles are powered by 12 volts lead acid batteries, but companies are switching to lithium-ion batteries.
As we all know Jeeps are known for their Jeep Overlanding and Jeep Off-roading capabilities, for this reason, Jeep needs a battery pack that will be sufficient and meets the needs of its consumers to sustain them off the grid, Lithium battery packs have more power dense and offer longer off-grid capabilities, their cycles also last longer and will save its owners cost of maintenance and money in lithium battery replacements in the long run.
Improved Jeep Aerodynamic designs.
Jeep has been working on improving the design of their vehicles without losing the iconic features they are known for especially on the Jeep Wrangler, the designs have been focusing on improving the aerodynamics of Jeep vehicles to improve the fuel economy. Some of the details Jeep is looking on improving in future jeep vehicles include the legendary seven-slot grill, and the windshield to improve airflow over the vehicle.
Jeep will need to reduce wind resistance in their Future Jeep vehicles as they adopt electric-propelled Jeeps, the more aerodynamic the Jeep SUV or Truck will be the less power it will need to propel it or tow your favorite Jeep gears.
Jeep is known for its poor aerodynamic designs on their Jeep models, however, competitors such as Ford and Tesla are way ahead in aerodynamic designs, allowing them to manufacture lighter, aerodynamic SUVs and Trucks that have improved fuel economy and towing capabilities. For the future Jeep electric vehicle to compete in the growing market they would need to design their future Jeep vehicles with a focus on aerodynamics.
Solar-powered Jeep.
Solar-powered vehicles are not new in the automotive market, their automakers already making a move with large solar and battery packages that are making off-roading and Overlanding much simpler allowing their users to use their SUVs and Trucks off the grid for a longer period.
Solar-powered SUVs such as Mercedes-Benz Vision EQXX, Fisker Ocean, Hyundai Ioniq 5, Aptera Sol, Lightyear One, and Wolfgang Thundertruck all come with solar-powered systems with optional upgrades that will allow Overlanders and Off-roaders to go camping, and Overlanding without having to worry about running out of gas or carrying off-road gas cans.
We can expect future Jeeps to integrate curved sheet-like or flat roof solar panels in their future Jeep vehicles, the roof of the vehicle is one of the best places Jeep can install a solar panel and allow a large enough and good spot for large capacity solar panel systems.
Low-Power Jeep Air Conditioning.
The current air conditioning system found in Jeep consists of a compact evaporator, condenser, compressor, expansion device, and fan that takes power from the engine's crankshaft and is operated by the passenger by pressing a button assigned to it on the cockpit.
In future Jeep electric vehicles, we can expect the air conditioning system to draw its power from lithium batteries and the air conditioning system will be low wattage cooling system. Typically, it takes ¼ HP to run a car air conditioning system that is powered by the car's engine on a cool day, and over 10 HP to cool your car on a hot day (note 1 HP is 746 watts).
Jeep will likely integrate low-powered air conditioning system that consumes less energy, designing and implementation of low-powered air conditioning systems will likely use smart vehicle features that will establish a prediction of the number of passengers on the Jeep, ambient temperature, battery cooling systems, and motor heat recovery in the management of the temperature inside the vehicle.
Talking of smart future Jeep vehicles!
Smarter future Jeep Vehicles.
We expect future Jeeps to be smarter, utilize more advanced features and improve on the current features found on the Jeep Uconnect systems, Jeep currently has a modern and smart Uconnect system that allows you to remote start your Jeep, and monitor your Jeeps performance and parts, however, we expect future Jeep vehicles to integrate connectivity of the internet and integrate it with other Jeep parts and aftermarket components that we might own.
For example, we expect the smart future Jeep to allow its users to operate things like doors, power roofs, Windows, and more through our smartphones. Smart future Jeeps will also allow you to monitor your Jeeps lithium batteries, charging, and other network appliances and infrastructure to help Jeep owners to better manage how they use power in their Jeep.
Connectivity inside our Jeeps and vehicle monitoring on our smartphones will allow Jeep owners to improve and optimize their battery, Jeep will be able to update and optimize its smart features through over-the-air Jeep updates, a technology that is already in use in the Jeeps smart system today.