If you have been wondering who makes Jeeps, we have the answer for you, we will give you the history of Jeep Ownership, and how the Jeep became the weekend warrior we all came to love.
The Jeep is a rugged capable off-road machine, possessing the tenacity of a bulldog, the Jeep is an American-born and bred vehicle that won't win a beauty contest, but it's like a Billy goat, it will climb over mountains and vertical pavements like no other SUVs available in the market today.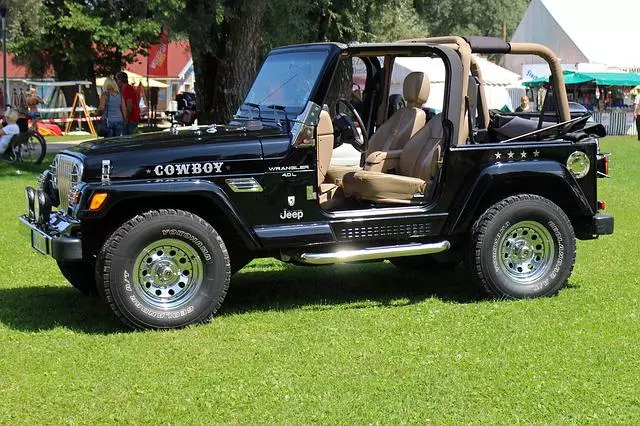 Who makes Jeeps?
Jeep is manufactured by Stellantis, a merger of Fiat Chrysler Automobiles (FCA) and PSA Group, after a 50-50 stock merger that happened on 18th December 2019. Jeep was previously owned by Chrysler from 1987-2019, after its acquisition from American Motors Corporation (AMC).
The $52 billion deal was first announced in October 2019, and the deal was officially completed in December 2019, the merger benefits included cost reduction by $6.1 billion, with 80% being realized by 2025. Stellantis expects to sell more than 8.1 million vehicles annually, with total annual profits amounting to $14.5 billion.
Jeep has been part of Chrysler since 1987
The merger meant that Stellantis is the fourth largest automobile manufacturer in the world by volume by being the parent company that oversees the following brands:
Chrysler, Dodge, Jeep, Ram, Fiat, Alfa Romeo, Abarth, Lancia, and Maserati which were owned by Fiat Chrysler Automobiles (FCA), and Citroën, DS, Opel, Peugeot, and Vauxhall which were owned by PSA Group.
Previously owned by Fiat Chrysler Automobiles, the Jeep Wave Program was acquired by Stellantis, a merger of Fiat Chrysler Automobiles (FCA) and PSA Group. Jeep gives all-new Jeep owners a free two-year Jeep Wave membership experience that includes complimentary oil changes, tire rotations, roadside assistance, access to Jeep brand events, same-day rental coverage, and a three-year unlimited mileage warranty.
Uconnect is also owned by Stellantis, a merger of Fiat Chrysler Automobiles (FCA) and PSA Group, Uconnect offers Stellantis brands of vehicles with connectivity, multimedia, climate, and navigational functions in a central touchscreen Infotainment system. Uconnect is produced by the Harman division of Samsung and is powered by an android automotive system that is owned by Google.
Where are Jeep cars made?
Jeep cars are made in Stellantis North and South American manufacturing facilities.
The Jeep Cherokee is manufactured in Belvidere assembly, Belvidere, Illinois, Jeep Grand Cherokee is manufactured in Detroit Assembly Complex, and The Jeep Gladiator is manufactured in the Southern Toledo Assembly plant, Toledo, Ohio while the Jeep Gladiator is manufactured in the Northern Toledo Assembly in Toledo, Ohio.
Jeep Brand
The Jeep brand consists of a range of authentic SUVs that include the Jeep Cherokee, Jeep Compass, Jeep Grand Cherokee, New three-row Jeep Grand Cherokee L, Jeep Grand Cherokee 4xe, Jeep Renegade, Jeep Wrangler, and Jeep Wrangler 4xe, all Jeep brands will have a 1005 electric range by the year 2025.