Considering the Jeep life? Here is the best Jeep Wrangler year and model narrowed down to all infinite possibilities to just one Jeep Wrangler based on individual prospect use cases and Jeep features to consider when choosing a Jeep.
Jeeps were officially founded in the year 1941, and they were used by the military to transport soldiers, military supplies, and military officials. In the year 1945, the first civilian Jeep (The CJ-2A) was produced and sold commercially to the civilian public.
Jeep has established itself as the supreme producer of off-road vehicles, in the expanding civilian market of the automaker, Jeep is seeking to appeal to a larger young enthusiast's market, by using the charisma of different types of Jeep Wrangler s.
There are many reasons why the Jeep is in demand, people are buying Jeeps for off-roading, family SUVs, and daily driving SUV, Customers also buy Jeeps based on their everyday terrains such as highways, snow, and city driving. There are also Jeep customers looking forward to buying Jeep Wrangler s based on their features such as Jeep engine performance, Jeep model reliability, Jeep gas mileage, and others who are just investing in collectible Jeeps.
The Best Years, Models & Use Case (Summary)
| Year | Model | Use Case |
| --- | --- | --- |
| 2006 | Jeep Wrangler  LJ Rubicon | Offroading |
| 2020 | Jeep Wrangler  Unlimited Sahara | Family |
| 2022 | Jeep Wrangler Rubicon | Daily Driving |
| 2020 | Jeep Wrangler Rubicon | Highway Driving |
How we have classified the Best Jeep Wrangler Year and Model
According to a car buying and research report by Edmunds, Auto consumers are classified into thinkers, Achievers, Believers, Innovators, Experiencers, Makers, Strivers, and Survivors, we have a chart image showing the percentage of Jeep owners and prospects under this category below that has helped us narrow down the best Jeep Wrangler  based on use cases and features of Jeep being sought after by prospect consumers: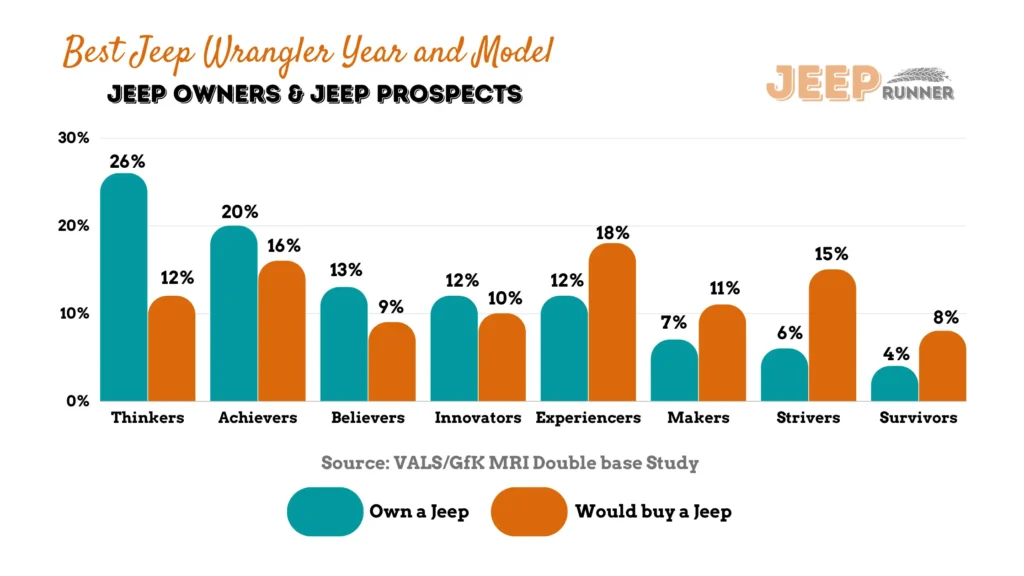 According to the VALSTM framework, we have also classified Jeep Wrangler consumers, based on attitudes and behaviors that would fulfill their interests and characteristics as shown in the infographic image and table below, this has helped us narrow down, the best Jeep Wrangler year and model based on the customer use cases and features they would love in their Jeep Wrangler s (We will reference the infographic image and table below a lot throughout the site).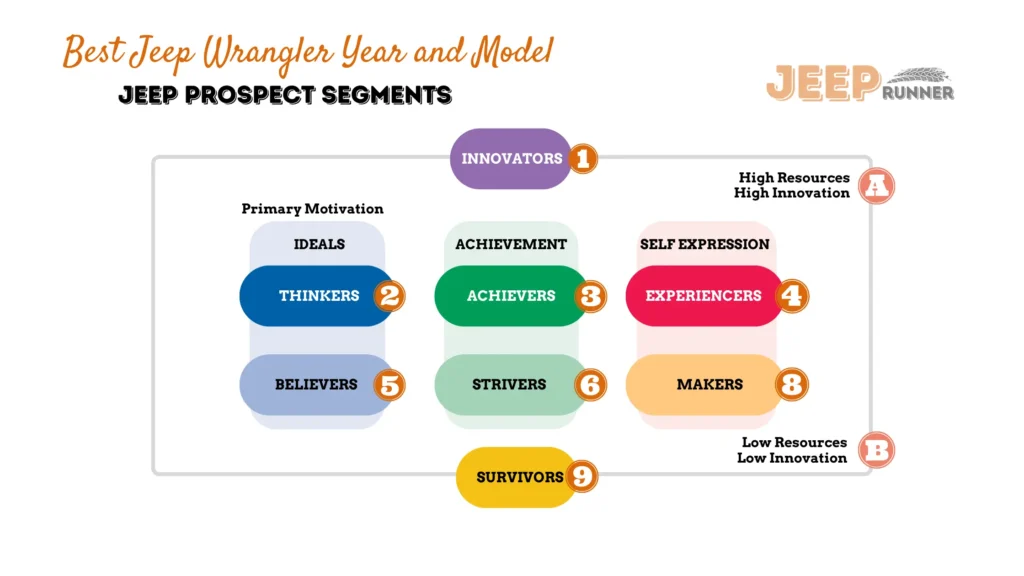 | | | | |
| --- | --- | --- | --- |
| Innovators | Thinkers | Achievers | Experiencers |
| Take Charge Sophisticated Curious | Reflective Informed Content | Goal Oriented Brand conscious Conventional | Trend Setting Impulsive Variety Seeking |
| Survivors | Believers | Strivers | Makers |
| Nostalgic Constrained Cautious | Literal Loyal Moralistic | Contemporary Imitative Style conscious | Responsible Practical Self Sufficient |
Being experts in Jeep Wrangler s, there is a lot of factors we have considered and isolated for you to match each user's characteristics and preferences are given the shape, circumstance, and satisfaction in their lives, so read through this article as we break down the best Jeep Wrangler year and model to consider when buying a Jeep Wrangler.
Best Jeep Wrangler Years and Model Based on Use Case
Whether you live in the city or the country, you will probably see a lot of Jeeps on the road whenever you drive, Jeeps are commonly used for offroading, family vehicles, daily drivers, city driving, highway driving, and difficult terrains such as snow.
All Jeeps can be good in different use cases, but some models outperform others when it comes to each use case, that's why Jeep has different models and configurations because the market for each Jeep Wrangler is different and each prospect consumer has different tastes, Jeep Wrangler s are seemingly the same but mechanically and in terms of features are different.
That's why it's essential to start with a solid foundation of knowledge and research on the best Jeep Wrangler year and model for your individual use case. In this article, we have presented the best Jeep Wrangler year and model for the best model line up from offroading, family crossovers, driving habits, and conditions.
Here is a list of Top Five Jeep Wrangler Years to Avoid
We aim to help you be informed, narrow down your research and arrive at the dealership prepared, confident … and more knowledgeable about your dream SUV.
Best Jeep Wrangler for off-roading
Jeep customers looking for the best Jeep Wrangler for off-roading fall under the innovator's (1) Jeep prospect category (Image 2), which means they take charge, are sophisticated and are curious. These segments also have high resources and innovation (A) and can afford a high trim and configuration Jeep Wrangler as long as it matches their off-roading interests. Their primary motivation is a moral ideal, and orient toward the best Jeep Wrangler to be made based on manufacturer viewpoints.
The best Jeep Wrangler for off-roading enthusiasts has to have a 4-wheel drive system, skid plates, high ground clearance, good suspension, and a locking differential with a high crawl ratio compared to other Jeep Wrangler trim models and configurations. The Jeep preferred by off-roaders also has to have high off-roading features from the factory and is recommended by both off-roaders and the manufacturer.
This doesn't have to mean they won't customize the Jeep Wrangler more to fit their needs, no – they just want the best Jeep Wrangler from the factory and modify it more outstanding when it comes to off-roading.
What is the best Jeep Wrangler model to buy for offroading?
The 2006 Jeep Wrangler  LJ Rubicon is the best Jeep Wrangler model for off-roading. According to Jeep's own words, the Jeep Wrangler  Rubicon is the most capable Wrangler ever, you get four-wheel drive, front and rear locking differential, disconnect-able sway bar, big chunky off-road tires, big off-road orientated suspension, 285-hp 3.6-liter V-6 engine from the previous-generation Wrangler, wading depth of 76cms.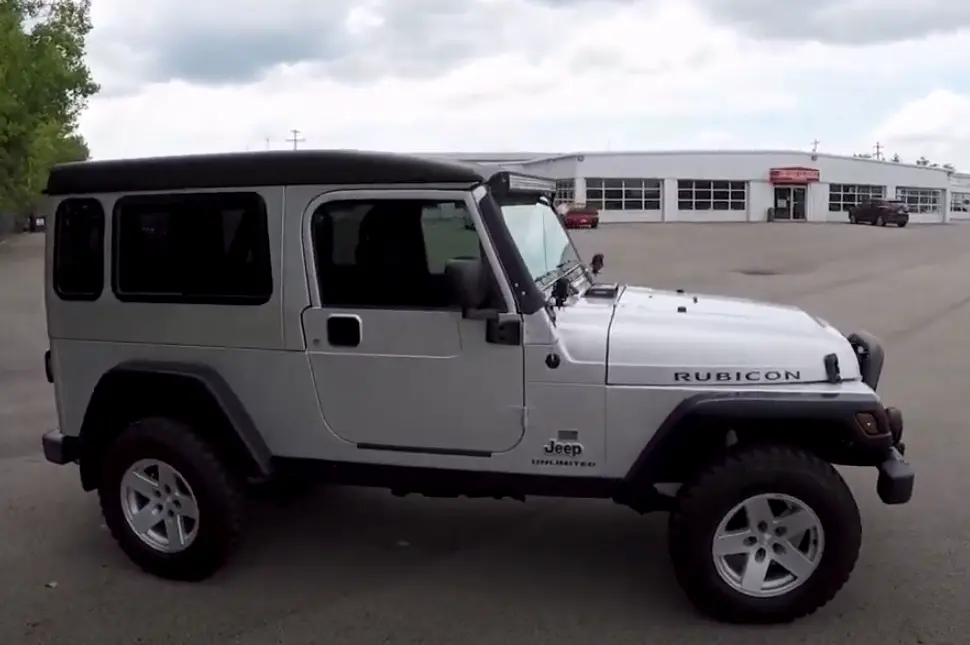 Driving on the road, the Rubicon is not impressive, however, its surprisingly quiet, the steering is vague and the suspension is quite busy, when we were test driving the Rubicon, the grip on the road was quite a lot of grips on dunk/wet road, and the Jeep Wrangler would slide even with cruise control activated.
The Rubicon's on-road manners are not a priority, the LJ is made to explore. When off-road, all its on-road flaws become irrelevant, and the slow steering becomes a blessing since you don't need to make quick turns off-road. The suspension is bumpy on-road, but off-road the suspension can absorb bumps and impacts when off-roading, and the engine can push through the off-road terrain.
Best Jeep Wrangler year to buy for off-roading.
The best Jeep Wrangler year to buy for off-roading is a Jeep Wrangler  LJ Rubicon 2006, Being a 2006 LJ it's the last of the LJ lineup, before Jeep made JK in 2007, they have a longer wheelbase LJ but not as big as a four-door, being a Rubicon, it came with a 42-transfer case, Dana 44 with lockers front and rear, 4.0L engine that off-roaders love, and a lot of good off-roading parts right from the factory.
Here is a review of the Jeep LJ, the off-roading Legend
If you are looking for the best model year for a used Jeep Wrangler  LJ Rubicon for off-roading then we would only recommend any Rubicon made between the years 2003 and 2006, after that Jeep started adding up a lot of comfort and electronics in the interior and turned off a lot of purists. They are not cheap; Jeeps hold their value, especially unicorns like the 2006 LJ Rubicon.
What Jeep Wrangler years to avoid for offroading?
We have a list of Jeep Wrangler s years to avoid for offroading Jeeps, starting with the Jeep Renegade, you should avoid the Jeep renegade made between 2015 and 2018, they have lots of transmission problems and a terrible design. When it comes to the Jeep JK you should avoid the JKs made between the year 2007 – 2008 and 2012-2014 which have lots of death wobble issues, and electrical and engine issues.
Best Jeep Wrangler year for family
The four-door 2020 Jeep Wrangler  Unlimited Sahara is the best Jeep Wrangler for family, despite Jeep being an offroading SUV, it has made improvements to the safety and its reliability to better suit prospecting consumers centered on family.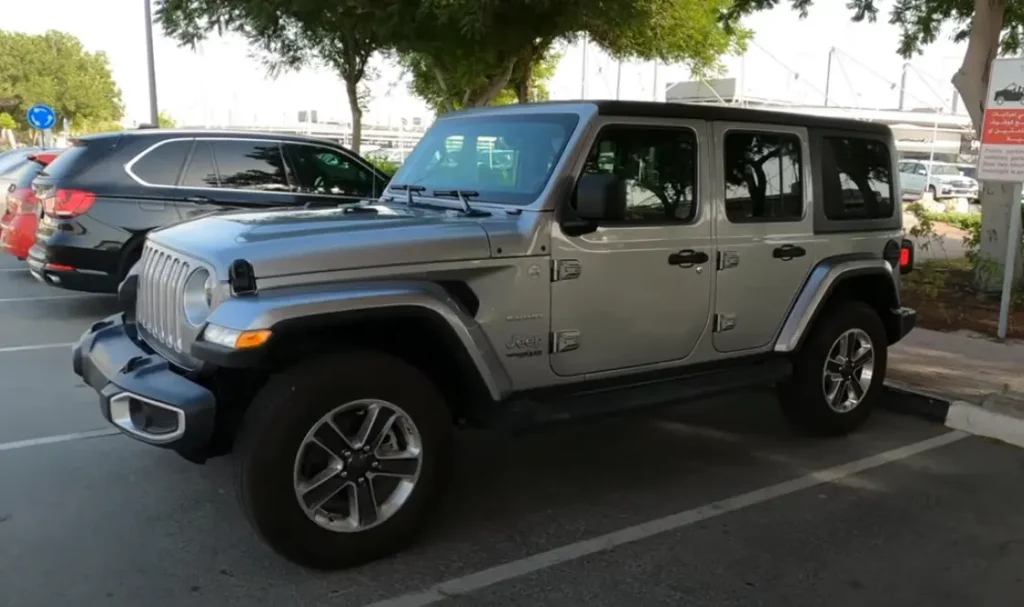 According to the Vals Framework potential consumers looking for a family Jeep Wrangler, are classified into believers and Makers. Believers have limited resources and are motivated by ideals, while makers value self-sufficiency ad are focused on family, work, and physical recreation. Both makers and believers appreciate functional and practical products.
The best Jeep Wrangler model and year for a family are the 2020 Jeep Wrangler  Unlimited Sahara, We believe this is a Jeep Wrangler that would fit into believers and makers because the 2020 Jeep Wrangler  Unlimited was manufactured to be a family car focused on the pricing, comfortability, functionality, and reliability to be used as a family SUV, without loosing on its ability to be used for recreational purposes.
The interior of the 2020 Jeep Wrangler  Unlimited is fun and functional, for a vehicle intended to be dusty and muddy hard plastic makes a lot of sense, the Jeep Wrangler Unlimited feels like an elevated experience for a family SUV.
The interior space is a little bit tight, this is because of the seats fitted in the Jeep Wrangler Unlimited, they are functional and good to fit your child's seats, and there is a little bit of clearance between the front and back seats.
One thing we have noticed that most families don't like is the doors of the swing gates to open the cabin for storage purposes, however, the space on the cabin comes in handy to compensate for the extra time it would take to open the two doors.
There are a lot of handy interior accessories that come with the Jeep Wrangler Unlimited including the hand rests cup holders, an entertainment system with a lot of real estate to work on, and a good interface of the touch screen. the styling of the Jeep Wrangler Unlimited is top-notch with different color options.  The Jeep Wrangler  Unlimited is emotional in all places possible, and good for family adventures.
The Jeep Wrangler Unlimited is a tall vehicle and offers lots of ground clearance, it's not fun to steer and requires less physical effort, and is the best fit for road tripping and long journeys. The adaptive cruise control with automatic heating offers maximum capabilities and comfortability for a family SUVs
The Jeep Wrangler Unlimited comes with a four-cylinder engine that connects to an eight-speed transmission.
Best Jeep Wrangler year for a daily driver (best Jeep Wrangler model for everyday use)
We have compared the Jeep Sahara, Jeep Wrangler Sports, and the Jeep Wrangler Rubicon as a daily driver, and settled with the 2022 Jeep Wrangler Rubicon as the best Jeep Wrangler as a daily driver.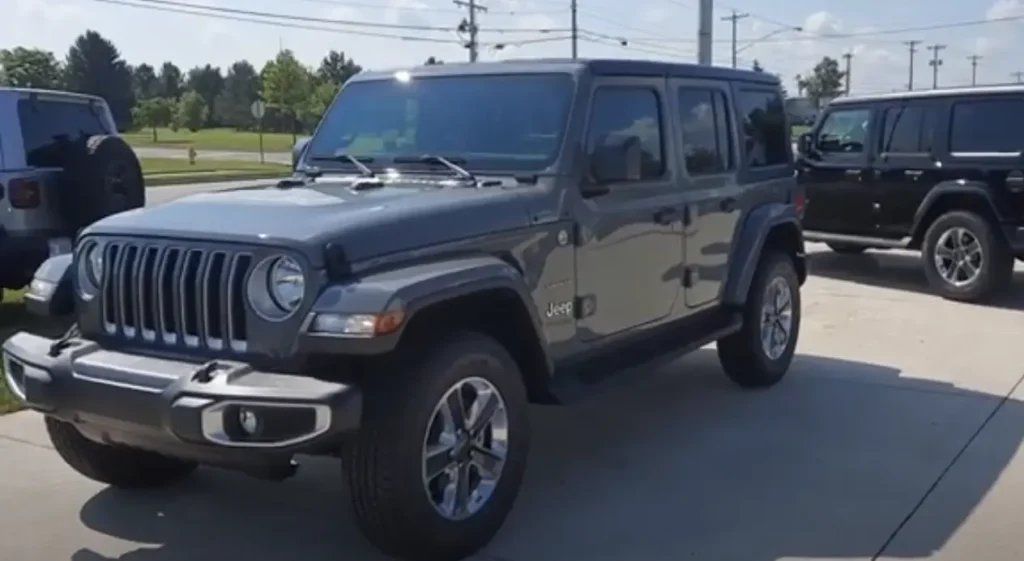 Potential buyers of a daily driving Jeep Wrangler are divided into believers and makers according to Val's Framework. While creators desire independence and are focused on family, career, and physical enjoyment, believers have limited resources and are motivated by ideas. Makers and believers value useful and practical items equally.
In terms of pricing, the Jeep Wrangler Rubicon is one of the most expensive Jeep Wrangler models, and costs around $70,000, the Jeep Rubicon is made for offroading and most of the offroading features give The Jeep Wrangler Rubicon some of the most beneficial features for a family SUV. Cost is relative you have to figure out what it's worth to you, to us, the Jeep Rubicon is one of the best family SUVs for daily driving.
Buying the latest model of the Jeep Rubicon would be the best idea because you will get all the new upgraded features of a Jeep, as a daily driver you will want comfortability ad reliability, and Jeep Engineers and designers are focusing more on the comfortability and reliability on their new Jeep trims and configurations.
As a daily family SUV, the Jeep Rubicon has upgraded features that offer reliability when you want to go offroading, too much of an upgrade that we don't recommend it to just sit on the city pavements as a mall crawler SUV.
Being a Rubicon, the suspension system is one of the best compared to other Jeep Wrangler types, the suspension on the Jeep Wrangler Rubicon gives it enough ground clearance that will allow you to fit in your family and enough cargo and not cause any stress to the suspension system. The upgraded suspension system offers the Jeep Wrangler Rubicon one of the most comfortable rides whether offroading or highway driving the Jeep Rubicon.
Talking about the cargo, the Cargo space is big enough to fit in your family cargo when out on family vacation and weekend adventures. Under the cargo space you can hide pieces of stuff in the groove compartment, anything put down in the groove compartment is hidden and unless the doors are open you cannot open them.
Inside the Jeep Rubicon, you can be able to control your air conditioning and heating requirements, there are lots of manual temperature control on a Jeep that include the blower control, temperature control, air direction controls, air conditioning control and to top it off Jeep offers economy mode, that will use less energy when using A/C.
The Jeep Rubicon offers a ton space of leg room & headroom where the people at the back and front still have a ton of space, we believe this is good since some days you will want to tag some of your friends and families in your daily driving activities.
The Jeep Rubicon offers the best transition from offroad to on-road, the Jeep Rubicon suspension offers one of the most amazing rides for both offroading and onboarding the Jeep Rubicon as a daily driver, you shouldn't feel cranky on the road.
However its worth noting the Jeep Rubicon lockers have many problems, and you might spend thousands of dollars over the lifetime of the Jeep in case they get into problems, buying a new Jeep Rubicon offers you the Jeep warranty you will need to get them replaced with original parts in case transmission and lockers issues arise when it's still brand new.
Best Jeep Wrangler year for highway driving
When it comes to highway driving, the 2020 Jeep Wrangler Rubicon is our number choice and this is why: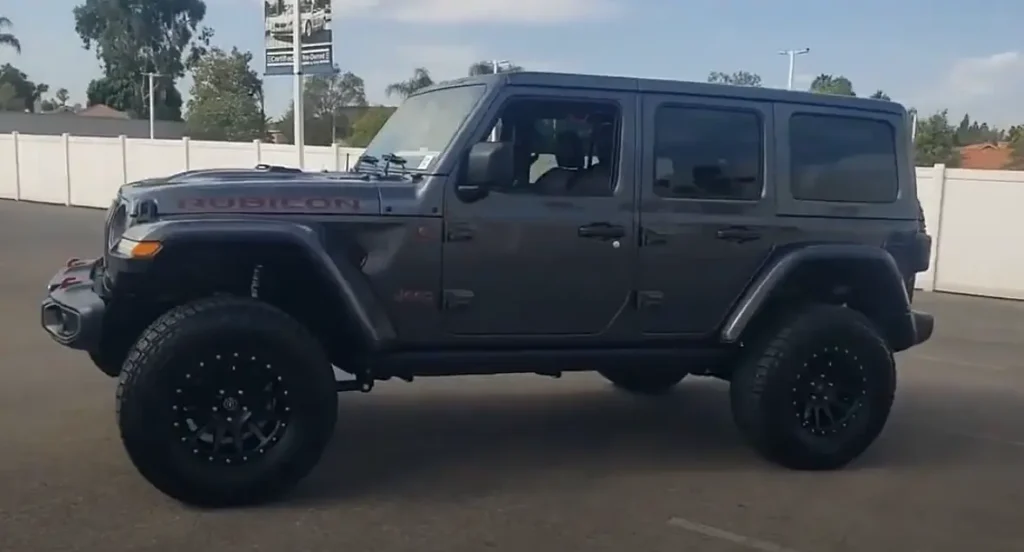 | | |
| --- | --- |
| Engine | 2.0L DOHC DI Turbo 14 |
| Power | 270 HP @5,250 RPM |
| Torque | 295 lb-ft @3,000 RPM |
| Transmission | 8-Speed automatic – 4WD |
| Top Speed | 158 km/h/98 mph |
| Curb Weight | 1,989 kg/ 4,386 lbs |
The 2020 Jeep Wrangler also offers 3L diesel that put outs over a 400-pound foot of torque, the great news about the high performance of the diesel engine is the 29mpg on the highway and that is an awesome number of fuel economy on a Jeep Wrangler which is known for its poor design that affects its fuel economy and speed. The diesel engine is only available on Automatic Jeep 3.0L Diesel Jeep.
Most people say the Jeep Wranglers are slow, uncomfortable, drive poorly, and tip over easily, and as people who have owned different types of Jeep Wranglers over the years, these comments are true for the old Jeep Wranglers. But the 2020 Jeep Wrangler Rubicon is more refined for comfortability and reliability when offroading and also on road.
| Features | Rating |
| --- | --- |
| Performance | 7 |
| Interior | 7 |
| Safety | 9 |
| Quality and Reliability | 81 JD Power |
Being a go-anywhere offroader, the Jeep Wrangler Rubicon is also good on road, but how good is it on the road, does it compete with other SUVs on the market on road, and does it offer comfort, equipment, and fit and finish?
You would expect the Jeep Wrangler to be good offroad, and it's good offroad with solid axles, big tires, and locking differentials, and these features also make it a good SUV for on-road and highway driving, for example, ground clearance offers it the ability to run over curves without issues, we also have comfort and reliability features such as an eco mode that optimizes output efficiency, and delivers eco-friendly experience and great fuel economy on long drives.
Solid axles in the front and rear offer the uncomfortable ride for on road Jeep Wrangler because if you hit a bump with one wheel it will affect the other wheel as well, but the 2020 Jeep Rubicon has improved suspension design to the point of its hard to differentiate the Jeep Grand Cherokee in on-road performance and comfortability.
Other notable features that make the 2020 Jeep Wrangler  Rubicon ideal for highway driving are the safety features on the 2020 Jeep Rubicon trim and configuration, such as the heated steering wheels, heated seats, proximity cruise control, blindside monitoring, and automatic braking on top of other basic features found on other Jeep Wranglers such as locking front and rear differential, disconnectable sway bar, 4WD, and low-speed transfer case.
Summary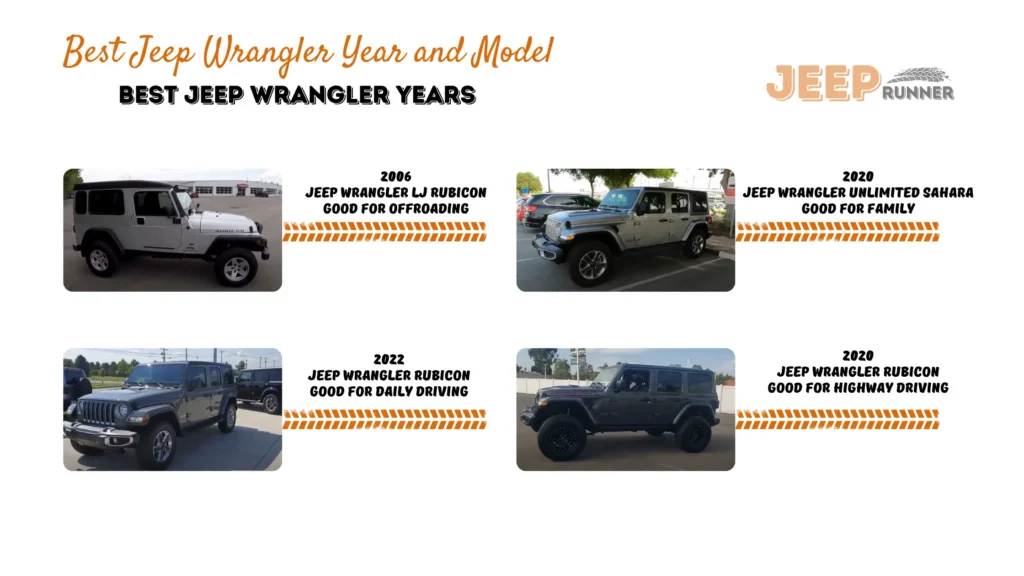 This concludes our informational post on the best jeep wrangler year and model, now that you know everything you will need to know about the best Jeeps for each use case and some of the Jep models to avoid, we hope the information was helpful to you. If you still have any queries visit our Jeep guides for more posts like this, or contact us – we always have your back.