Rhino lining a Jeep can increase your Jeeps life and quality for years, it also reduces noise and vibration when off-roading, this is because rhino lining is much quieter than traditional aluminum or steel that we used to have on our Jeeps in the old days.
Rhino lining a Jeep is the process of hard spraying your Jeep bed and other parts of your Jeep to protect them when off-roading and other conditions such as corrosion and elements that might damage your Jeep.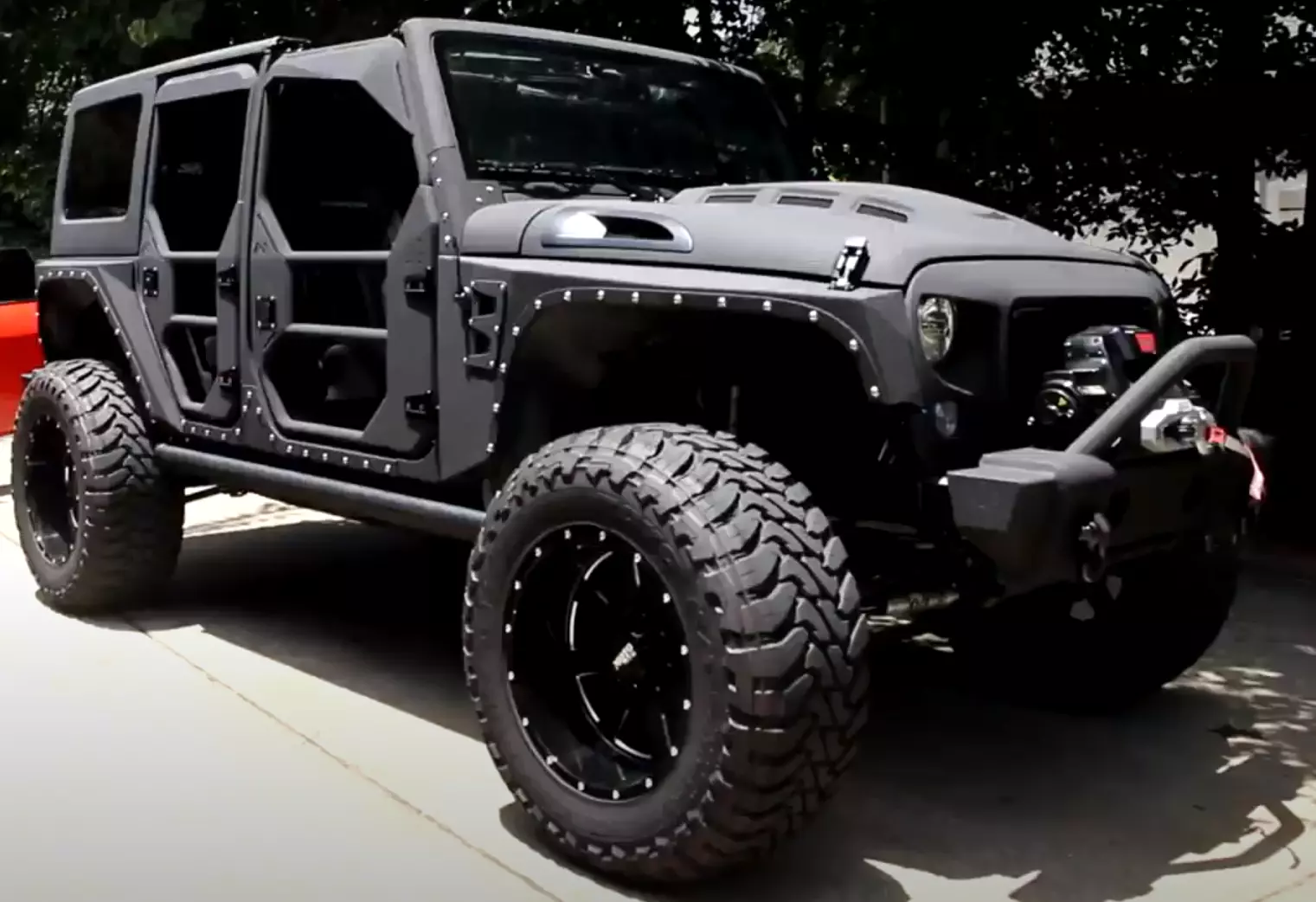 When we were choosing the best paint for our Jeep Wrangler, we had no choice but to get a Rhino Lining, this is because its rhino lining Jeep gives it the rugged look we were after, it's more durable, reduces noise, it's easy to clean after Jeep wheeling, and protects the Jeep from rust and brushes.
Rhino lining a Jeep process.
Rhino lining a Jeep process involves disassembling the Jeep, wrapping it in paper and scuffing the Jeep surfaces, wiping with acetone, rhino lining, removing the wrap, and assembling back the Jeep.
Rhino lining a whole Jeep did cost us some money $700 to be precise, however, we had quotes of $4k-7k for Line X Rhino, the $700 cost involved Rhino lining the Jeeps tub, doors, seats, seatbelts, center console, carpet, rocker panels, fenders, grille, and fender flares. We can do this ourselves but decided to call an expert to guide us through the process since it would be more efficient and we can get to learn in the process.
Disassembling the Jeep.
Before rhino lining a Jeep, you must strip down your Jeep fenders, Light bars, rocker panels, decors, tailgate, panels, and latches among other accessories on your Jeep.
Wrapping your Jeep in Paper.
After preparing your Jeep for Rhino lining, you should mask off the parts you don't want to be painted on, you can also use double-sided tapes to mask the outline of your paint coat. Where you will wrap your Jeep with paper, this will give your coat a clean and crisp edge.
Scuffing and cleaning your Jeep.
How far to strip down a Jeep depends on the condition of your current Jeep paint, your Jeep paint might be factory paint or a repaint. If it's a factory paint you will need to sand down the paint with 400 to 600 grits, you will also need a compressor and we recommend sanding in a circular motion.
Having an Abrasive Brussel to prepare the Jeep for repaint will give an uneven surface for the paint to stick on, before abrasive blast cleaning your Jeep interior you should clean the Jeep surfaces to be repainted to prevent contamination and old paints, this gives the required rhino lining look we are all after.
Depending on the size of the repaint on your Jeep, we recommend doing this yourself all by hand, except for the broken edges of paint on which we recommend using an orbital sander to further off the edges.
Sanding a Jeep can be tricky if you are new to car painting, some Jeepers cut too much, and others cut too fast and burn through the edges. We recommend having a designated place as sanding in your driveway will be too much messy since you should keep the hose running and rinse the gutters which might upset your neighbors. If you don't have a compressor, we recommend using a rattle can primer to cover any bare metal you will have exposed to prevent rust and corrosion on your Jeep.
Rhino lining a Jeep.
Rhino lining a Jeep interior is done with Rhino lining 1 to 1 high-pressure hybrid application. We did spray the interior up to 1/8″ of an inch and it did bond very well to the interior parts of the Jeep, we did also apply a really nice texture to the interiors, we did choose black to match our exteriors but Rhino lining is available in any color you would want.
We researched the best spray gun on Amazon, evaluating the ease of using the spray gun to coat our Jeep, its durability, and its value for professional painting applications. Here are the best paint sprayers #1 is the best overall, #2 is our Pick and #3 best budget paint sprayer
Our Jeep was rhino lined and we love it, its matted-down carpet seemed to calm it down a little. When it rains and subsequently freezes, we now discover ice and water on the Jeep's floor, but we are not at all concerned.
Effects of rhino lining a Jeep
After the process was done, we had to wait for 24 hours to get the paint to dry up, we loved it and used the Jeep, as usual, however, there were issues we discovered that if we knew we would have considered rhino lining our Jeep.
After we applied Rhino paint, the weight of the Jeep increased dramatically, on our Jeep the weight was 50lbs, however, we were warned rhino ling the Jeep will add up to 45 and 65 lbs. depending on your application. This can affect your Jeeps gas mileage and other issues such as lifts and tow.
The Rhino paint also increased the heat on our Jeep, as we said earlier, we did choose black to match the exterior of our Jeep, and since black is the most commonly used, we saw it was wise to warn you against the heat you will likely face on your Jeep, especially if you live in the hot places and your Jeeps air conditioning is not reliable.
We also had a friend telling us he is having trouble selling his Jeep, and most of his customers are saying they don't want a Jeep with Rhino paint, Rhino lining a Jeep is a personal preference and if you plan on selling your Jeep most customers who are aware of rhino lining collecting dust, will likely pass over your Jeep because they just prefer carpets.
Our rhino paint was done by a professional, we can do this ourselves, but we didn't want to risk it, this is because if done wrong rhino lining a Jeep will look trashy and messy.
Conclusions.
We have tackled the rhino lining process, factors to consider and the effects of rhino lining a Jeep, this is an informational post for beginners, but we have included all the right information you will need to paint your Jeep bed and interiors.
The best protection is due to your Jeep. Your Jeep will be protected against harm with rhino linings. Although it may be placed on any section of your car, Rhino liner is most frequently utilized for Jeep beds and interiors. To get the most protection from the outdoors, you may even totally enclose it like us. Even though there are numerous advantages, not everyone may choose a Rhino-lined Jeep.
We hope this will help you in your rhino lining process, and the research you need before rhino lining a Jeep, share this information with friends and families looking forward to rhino lining their Jeep, sharing is caring, right?
Full inside and out detail on a Rhino-Lined Jeep Wrangler.
Last update on 2023-09-19 / Affiliate links / Images from Amazon Product Advertising API