Do you have a Jeep Cherokee or planning to buy one, and you want to build a Jeep Cherokee Overlanding build for your Overlanding expeditions? Well, this guide is a starter guide highlighting factors and things to consider when upgrading your Jeep Cherokee to be an Overland-ready SUV!
The Jeep Cherokee is one of the most popular Jeep models in the United States, after the Jeep Gladiator and the Jeep Wrangler, and makes a perfect Overland build due to its features and the ability to customize its interiors and exteriors.
Can you camp in a Jeep Cherokee?
Yes! You can camp in a Jeep Cherokee with or without camping upgrades, however, most campers with a Jeep Cherokee prefer having a tent that they can sleep in, the interior of the Jeep Cherokee is also big enough to fit a couple without the back seat installed.
The Jeep Cherokee also makes a good Overlanding vehicle because of its ground clearance which makes it easy to access remote locations for camping, Jeep Camping requires a capable vehicle that will be able to access camping grounds and be able to be customized as per the liking of the Owner. There is also the fact that most aftermarket Overlanding gears and accessories can be used on a Jeep Cherokee.
If you plan on buying a Jeep Cherokee and want to build a new Overlanding build, you should know that building an Overland build is not for the faint-hearted and would cost an arm and a leg to build a perfect 100% self-reliant overland build – Same as with any 4×4 that retail north of 30k before upgrades.
We don't recommend buying a used Jeep Cherokee for Overlanding that is more than 10 years old, this is because you will need a reliable vehicle to get you out of most Overlanding problems you might encounter, enjoy the adventure and your travel instead of having to spend time diagnosing and repairing an old Jeep.
If you are on a budget, you can buy a used Jeep not more than 10 years to build your Jeep Cherokee Overland build, used Jeep Cherokees are cheaper than new Jeep Cherokees, you will be able to buy a used Jeep Cherokee and still have money left to purchase your Overlanding gears and accessories such as tents.
Jeep Cherokee Overlanding build mods.
The Jeep Cherokee is one of the easiest Jeeps to modify to make them Overland ready, unlike the Jeep Wrangler and the Jeep Gladiator, the Jeep Cherokee favors minimalistic Overlanders who are more into the Overland experience than the build themselves.
We will highlight some of the basic features you can modify and upgrade to make your Jeep Cherokee Overland ready. We are currently upgrading a 2022 Jeep Cherokee using these accessories and parts for one of our family members who want an Overlanding Jeep Cherokee Build, however, most of this modification will fit any Jeep Cherokee, if you have any question regarding your specific Jeep Cherokee build you can always contact us, using the contact page:
Ready, let's get to the Upgrades!
Jeep Cherokee Awnings
One of the features we would recommend is a Jeep Awning, the Jeep Canopy will give you plenty of space around your Jeep Cherokee when camping, it will also block the sun without blocking your views while offering your privacy if you are camping on camping ground with other campers.
We have listed some of the best Jeep Awnings that can fit your Jeep Cherokee, you can find them in our post highlighted below:
Best Jeep Cherokee awning for Overlanding & Camping
Service and Upgrade your Hood
The first to do is to have a professional mechanic check under your hood, and upgrade some of the parts that they will consider weak for stressed driving or extreme conditions. Small parts such as timing belts, spark plugs, and pipes are prone to damage when under stress, or if they have cracks in them, let the mechanic replace weak and old engine parts with new high-quality parts.
Under the hood, we also recommend upgrading to a bigger, and better battery that will withstand all the accessories you will be using, and lighting up your camping ground at night.
One of the most practical Overlanding Jeep Cherokee Battery is highlighted below:
If you find this battery is not good for you, we recommend considering a battery that is three times more powerful than your current battery, and up to three times the service of the factory battery.
 You should also make sure the battery is well positioned and secured, you might have to buy additional mounts if you bought the battery as a second Overland battery make sure you place it in a well-secured place free from rattling.
Think of your Jeep Cherokee battery as insurance since you will not have access to Jeep Wave Program emergency services, or Uconnect emergency services in remote places – if you purchase the above battery, we got you covered.
Interior Jeep Cherokee Upgrade
If you want to sleep and live in your Jeep Cherokee, there are some basic interior upgrades you might consider, however, your interior should be personalized to fit your needs and personal preferences.
The first thing to consider when upgrading your Jeep Cherokee floor before hitting Jeep trails is the Floor, being outside all the time in rocks, mud and sand will wreak havoc on your Jeep floor, for this purpose you should invest in the high-quality floor and Cargo liners, and if you can Rhine Line your floor.
Below is one of the Floor and Cargo Liners we recommend:
These floor liners are perfectly made for the Jeep Cherokee and will fit your floor perfectly covering all the parts with a custom fit. They are easy to maintain and clean them.
Jeep Cherokee Interior Fridge
Adding an interior fridge to your Jeep Cherokee is one of the most important interior upgrades for an Overlanding build, some of the basic things you will require when camping in a Jeep Cherokee are food, water, and fuel, and you will need cold when it's hot and fresh when you need to cook them.
Below is one of the best Jeep Cherokee fridges we installed on our friend's Jeep:
If you already bought a second upgrade you can connect it to the fridge and let it cool your food, and beverages for days without having to start your Jeep, we recommend the fridge because it's power efficient and large enough to carry food that can last for more than 3 days.
Jeep Cherokee Storage Options
You will also need to buy Jeep Cherokee storage boxes to store your Overlanding and camping gear, we have a list just for you on this post:
We recommend organizing the little space you have on your Jeep Cherokee to fit all the accessories and gears you will need for camping and recovery of your Jeep in case of an emergency.
Most of the storage boxes analyzed in the article above are stackable allowing you to stack multiple storage boxes and scale the storage capacity of your Jeep Cherokee, you can also mount them outside on any flat surface or using a mounting tool. Having storage boxes allows you to have enough Overlanding gear to last you days off the grid.
We also recommend having extra fuel on your Jeep Cherokee, one of the best ways to carry extra fuel is to purchase Jeep gas cans, we have a list of the best Jeep Cans and some of the Gas cans we have installed on our friend's Jeep Cherokee:
Best Jeep Gas Cans for off-roading.
Most of the Jeep gas cans we have mentioned in the above post are stackable, and you will be able to stack them on your Jeep to carry enough fuel to go any distance.
Jeep Cherokee Tires and Suspension Upgrade.
Another part of your Jeep Cherokee that needs an upgrade is the tires, and suspension system. The reason you will need to replace and upgrade your tires and suspension system is to improve your ground clearance and improve the quality of your off-road ride.
If you have a used Jeep, chances are you will need to replace your tires anyway, so you better plan on upgrading your Jeep Cherokee tires and suspension with high-quality off-road tires and suspension.
Upgrading your tires goes hand in hand with lift kits and suspension systems, we recommend upgrading both tires and suspensions, the suspension system will allow you to install bigger tires, so both go hand in hand.
Conclusions.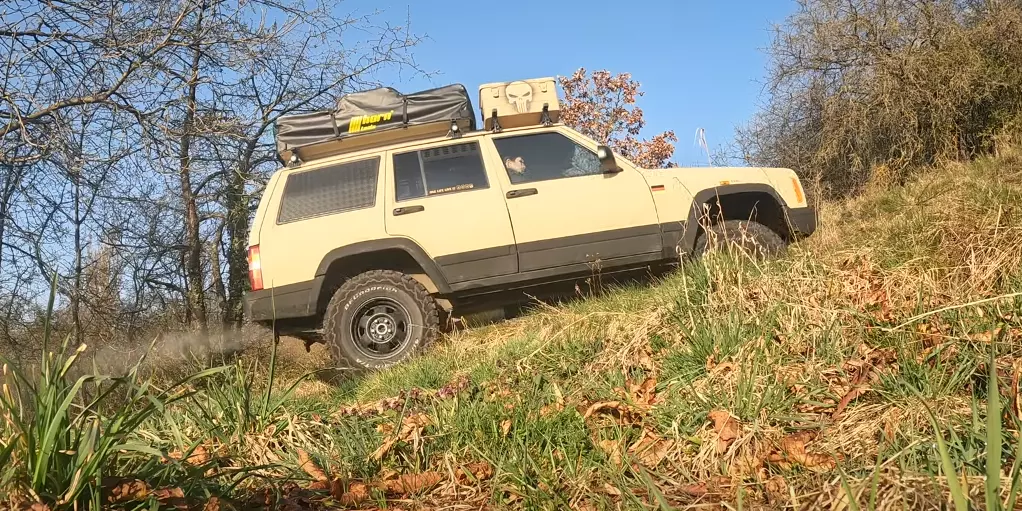 Now that we have a Jeep Cherokee Overland Build ready to hit the trails, we recommend using online resources such as Expedition portal and Overland Journal for tips and guides on improving your Overlanding experience, we also have lots of posts that you can learn from, so make sure to check out our Jeep Guides, Jeep accessories and Jeep Parts for related Overland posts.
Also share this post with friends and families, especially those who own a Jeep Cherokee, and are considering using it to build an Overland Vehicles, there are those with Jeep Cherokee but don't think it's a good SUV for Overlanding, share this post as sharing is caring, and that's why we are here, right?
Last update on 2023-09-18 / Affiliate links / Images from Amazon Product Advertising API