There is only one button for Jeep electronic stability control (ESC), and traction control system, on a Jeep the electronic stability control will engage while on higher speeds and traction control will engage while on lower speeds.
The technology behind a Jeeps electronic stability control is highly effective in assisting the driver to maintain the handling of their Jeeps when driving and will make use of automatic computer-controlled braking of individual wheels, and steering wheel inputs to maintain the control of your Jeep during hard steering maneuvers.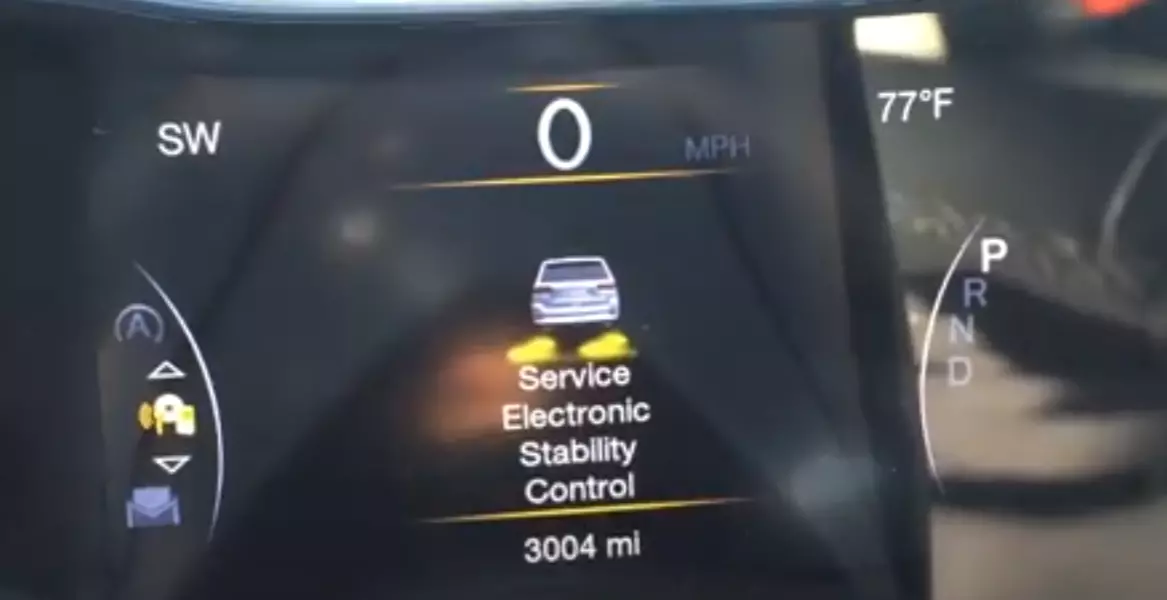 How does a Jeep electronic stability control work?
There is a direct correlation between your Jeeps electronic control system and your anti-braking system, if you have an issue with ESC the first place to check is the braking system, and your steering control.
Jeep's electronic system monitors the steering wheel position sensors to the actual response, and if there are problems the Jeeps ESC makes automatic adjustments to the braking system and the engine torque to help you maintain control of your Jeep.
The adjustments made by your Jeeps ESC system will reduce the risks of your Jeep rolling over, and helps keep your Jeep on the road, according to Federal Motor Vehicle Safety Standard (FMVSS) No. 126 all registered cars from 2012 models in the united states should be equipped with electronic stability control to prevent rollover fatalities.
How to Operate Electronic Stability Control on Jeeps
Most Jeepers have both electronic stability control and traction control but don't know the various control settings they should be using, and it's very difficult to find the complete details on how they work unless you read the Jeeps owner's manual which has a few paragraphs on the systems.
Want to understand more about your Jeep handling systems, read our post on Jeep Wrangler Eco Mode and How it Works!
When you start your Jeeps engine, it will automatically turn on stability control, you should be okay driving under stability control under most driving conditions, however, you should understand that on different driving conditions such as rock crawling, or off-roading you should adjust the settings as we are going to describe in this ESC guide.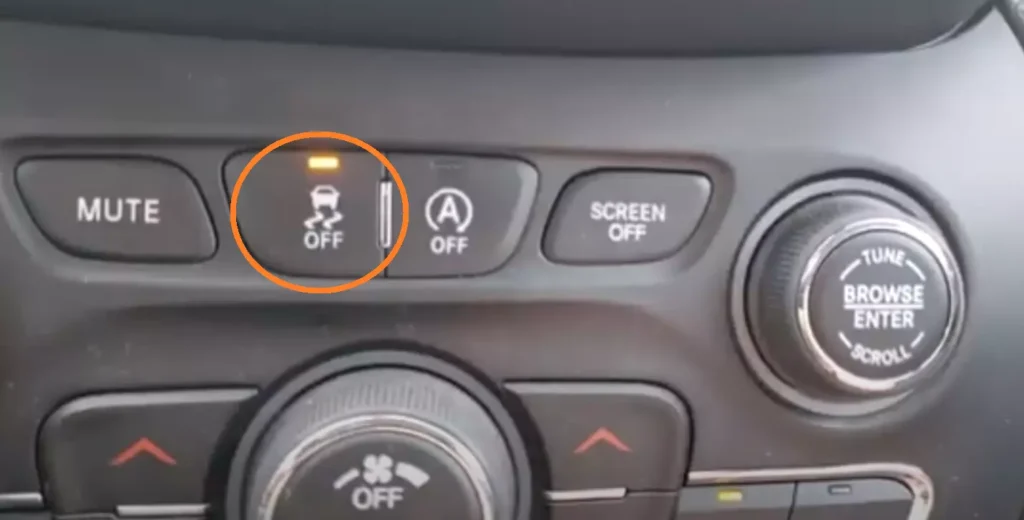 If your Jeep is stuck, or you want your Jeep wheels to spin faster, you will need to turn off partially your electronic stability control, to partially turn off electronic stability control you will just need to press the ESC button just once, and your Jeep will modify the traction control system and electronic control system for a more spirited driving experience. Partially turning on the electronic stability control will illuminate the ESC Light on your Jeep.
Tip: If your Jeep has multiple ESC modes, pushing the ESC button might toggle the electronic stability modes, and not turn off partially the electronic stability control.
When off-roading with your Jeep, you might need to turn off electronic stability control by pushing the EXC Button for five seconds until you hear a chime sound, and the ESC OFF indicator light will illuminate on your Jeep instrument cluster.
Jeep electronic stability control problems
Unfortunately, with every technology you might experience some issues with the system for example you might just randomly get a Jeep electronic stability control warning if something is not right with the whole system, in some cases, we have had Jeep electronic stability control warning pop up on the instruments cluster when there are faults in ESC and Stop/Start Unavailable service Stop/Start System. Some Jeepers have also reported having the Jeep electronic stability control warning if they have issues with their braking system, primary and auxiliary battery, vacuum pump, and vacuum sensors.
You might also have a Jeep service electronic stability control and a vacuum kick for a few seconds, which might indicate an issue with the vacuum pump or a loose hose pipe that causes a vacuum leak, when this happens your Jeep electronic stability control lights stay on and won't go away.
It's worth taking your Jeep for service checks if you have a Jeep Warranty to get the issue fixed, or if your warranty is expired or voided get the issues fixed and diagnosed by a reputable mechanic.
If you have a problem with your anti-lock braking system in your Jeep such as a faulty brake booster check valve, you might get a Jeep electronic stability control warning light, some other issues relating to the braking system that might cause electronic stability control issues on your Jeep include worn out brake linings, and air or dirt in your brake fluids, which is common on high mileage Jeeps, and off-roading Jeeps. A defective brake light switch can also trigger your Jeeps ESC light and also give you a Jeep service electronic stability control on your instrument cluster.
You will find that after fixing the issues, the Jeep service electronic stability control warning will need to be tested by your Jeeps computer, and you will need to drive your Jeep for at least 50-100 miles to get the computer system to check if the system has been fixed, and the warning lights will go away automatically.
Jeep electronic stability control warning light
Your Jeep electronic stability control warning light might illuminate under various conditions, and is a valuable safety feature you should keep an eye for, as we have explained earlier it can be used to let your know when the electronic stability control has malfunctioned on your Jeep and also might illuminate if the electronic stability control on your Jeep is active and operating, it might also illuminate if the computer senses your driving conditions are slippery and the Jeep is not under control.
You might also have a Service Electronic Stability Control warning light and a power steering deactivated, if this happens you should park your Jeep right away as this might be a serious issue, in most cases the issues originate if your fluids levels are too low or there is a leak, you should check the steering wheel fluid reservoir for your fluid levels, if the fluids are too low, top up the fluid levels and start up your Jeeps engine to check if the problem has the lights are off.
In case your fluid levels are okay, the issue with your power steering might be caused by a loose fuse, and if you are handy, you can check the fuses if they are well seated, and check your PCM as these are the common issues with power steering and are easy to fix.