A Jeep Wrangler Eco mode restricts engine and transmission to improve your Jeep fuel economy, Selecting Jeep Wrangler eco mode will the engine and accelerator less responsive to inputs and in the process reduces fuel consumption, this was a response to making sure your Jeep Wrangler is environmentally friendly by reducing the air-con throughput.
What is Eco Mode?
Eco mode (Economical Mode)  is a new technology on your Jeep Wrangler, it's a special driving mode that is on all newer Jeep wranglers, the main purpose of Jeep Wrangler eco mode driving is to help you save on fuel consumption and Improve your Jeep wrangler's environmental friendliness.
Activating Jeep Wrangler eco mode.
The eco mode button is located in the instruments panel of your Jeep Wrangler, you should press it to activate the eco mode, activating your Jeep wrangler eco mode will modify your engines and transmission settings to save on gas and sacrifice your Jeep Wrangler performance. We have noticed a slight increase in our Jeep wrangler exhaust noise and vibration after activating eco mode.
The vibration of the exhaust is normal and should not worry you, the vibration and noise are due to the increased operation of the cylinders when in shut-off mode.
Things to note:
Jeep Wrangler eco mode is available in automatic transmission Jeep wranglers.
You can activate the eco mode on your Jeep by pressing the eco mode on your Jeep wrangler by pressing the eco button on your Jeeps instruments panel, you can also activate eco mode in the Jeep setting, activating eco mode will activate a green ECO indicator.
To deactivate eco mode you can change the drive mode and this will deactivate eco mode on your Jeep Wrangler.
You can also push back the eco mode button, and Eco mode will be deactivated.
Shifting to Sports mode will also deactivate your Jeep wrangler Eco mode.
Our experience of using Jeep Wrangler Eco Mode.
We have been using eco mode on our Jeep Wrangler frequently and we have observed a change in our fuel consumption, we save up to 25% of fuel on the same journey. In our 8 Speed transmission, we have not noticed any change in eco mode driving, it instead fights on moderate acceleration until you have to press the gas pedal, however, an 8-speed transmission can coast much easier.
Eco mode varies from one type of Jeep to another and is also determined by your driving habits, it's not the same with changing your driving habits, eco mode will give you better fuel economy, and whether you accelerate slower or jeep your top speeds down the old school way.
We use eco mode frequently on our Jeep wrangler, and we use it mainly when driving on the highway, this is because activating eco mode will make sure our Jeep wrangler will activate your gears at the right time, and will not cause your engine to accelerate and decelerate at harsh speeds. We mainly use eco mode in traffic and this is where eco mode helps.
When should you use eco mode on a Jeep Wrangler?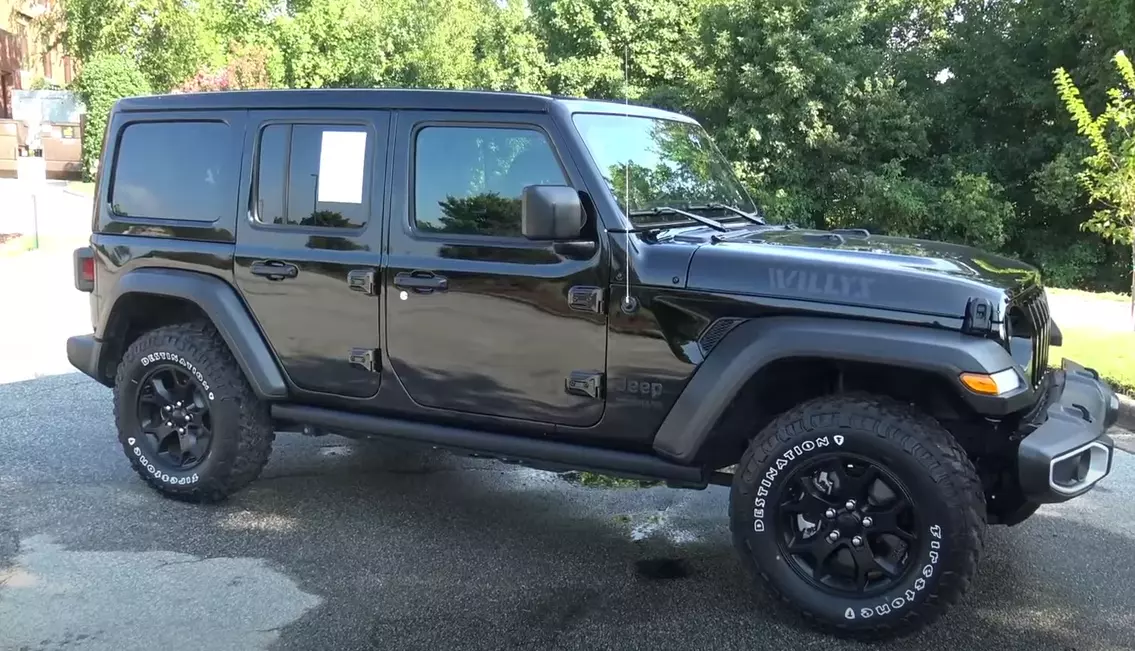 Eco mode is good when you are urban driving and you want to save on gas, however, we don't recommend using eco mode when you are off-roading with your Jeep on your favorite off-road trails. This is because your Jeeps need maximum performance when the off-roading and activating eco mode will not help in such kinds of situations.
We have noticed eco mode on a Jeep wrangler is not much effective when you are driving on a busy road and you would like quick accelerations, or you are moving fast, when you need maximum performance from your Jeep wrangler, we don't recommend using eco mode.
In a Jeep wrangler, we don't recommend activating eco mode at all times, most Jeep wranglers are off-roaders and need performance from their Jeep, and there are times when you will demand more power from your Jeep Wrangler engine, activating eco mode will only harness your Jeeps engine power.
We also don't recommend using Eco mode when you are towing with your Jeep Wrangler, this is because you will need some extra torque for a smooth ride. When eco mode is activated during towing with your Jeep, torque is reduced for better fuel economy.
Is Eco Mode Bad for a Jeep Wrangler Engine?
Eco mode alters your engine performance, eco mode is known to adjust your air and fuel mixture to further promote fuel economy on a Jeep wrangler, and a driver might also be scared to push the accelerator with eco mode activated causing stress to your Jeeps engine and reduces your engines life.
It's important to note that eco mode also regulates the power on your Jeep wranglers air conditioning system and other accessories such as dimming the lights to further increase fuel efficiency.
Final thought.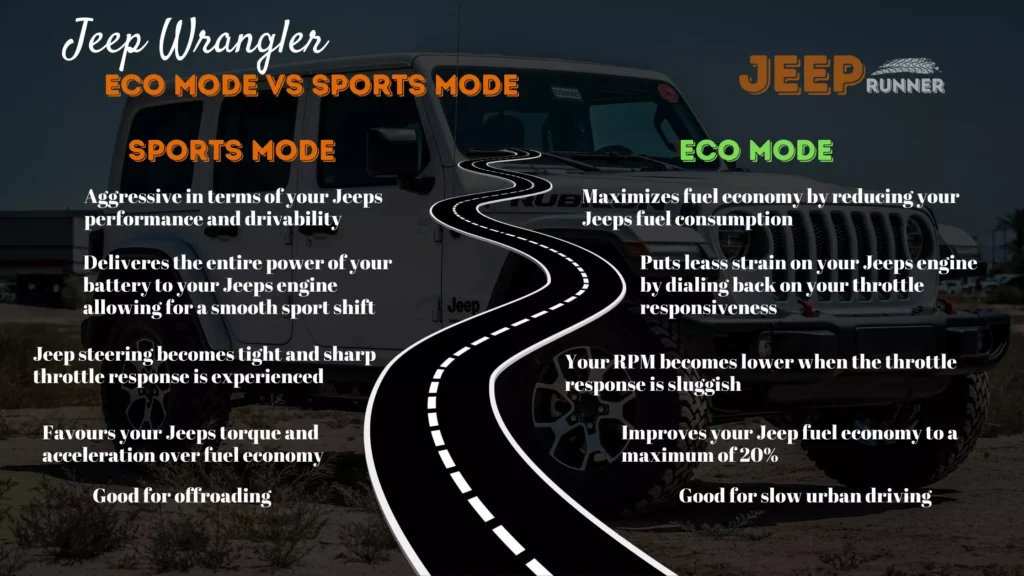 Automatic Jeep wranglers have different driving options, such as Power, Sports, and Snow, Power mode and Sport modes are similar as they both increase your Jeep's acceleration. Activating sports and Power modes increases your engine's RPM, Eco mode also holds your Jeep wrangler in lower gears longer, and your Jeep can accelerate sensitivity much faster due to higher accelerator sensitivity.
Snow mode on the other hand improves your Jeep wrangler traction, in slippery conditions such as rain and snow, activating snow mode in a Jeep wrangler will enable you to drive more safely compared to driving in sports or power mode.
Eco mode allows your Jeep wrangler to run more economically and also reduce your carbon footprints, that it would in normal driving conditions. Activating Eco Mode reduces your engine power and acceleration levels. Eco mode is useful in urban environments where you need to stop and go and you don't want your gas pedal to be sensitive.
Eco mode is controlled in your Jeep Wrangler ECU, which has been programmed to multiple driving modes, the ECU makes adjustments to the throttle mapping and controls your Jeep wrangler engine's performance, shifting mapping to the transmission and the suspensions.
We have included a Jeep wrangler MPG test on Eco mode video below (+4)