This is an informational post on the origin of the mall crawler Jeep, and how to identify one.
The Jeep Wrangler is one of the most iconic vehicles in production today, the journey of the Jeep wrangler started in the year 1987 with the Jeep Overland which was succeeding the Willy MB (1941-1945), Willy Overland CJ (1945-1954), Willy CJ-5 (1954-1983), and the legendary Jeep CJ-7 (1976-1986).
The Jeep Willy and the Jeep CJ were loved by Jeep purists because of their off-road capabilities, their design was borrowed from the first military Jeep that was used during World War II, which were used as off-road lightweight military vehicles.
The Jeep CJ (Civilian Jeep) was one of the best Jeeps ever made and was loved by Jeep lovers and off-roaders because it was a fully off-road SUV. In the year 1987 Jeep introduced the Jeep Wrangler to appeal to a larger market of young Jeep enthusiasts, for this it meant that the Jeep Wrangler had to contain parts and accessories that were not off-road capable.
And this is where the problem began!
The styling and DNA of the Jeep Wrangler were borrowed from the first military Jeep, and this was the reason the Jeep sold so many Jeeps with more than 200,000 Jeep Wranglers being sold in the United States each year, and this is when the mall crawler Jeep was born.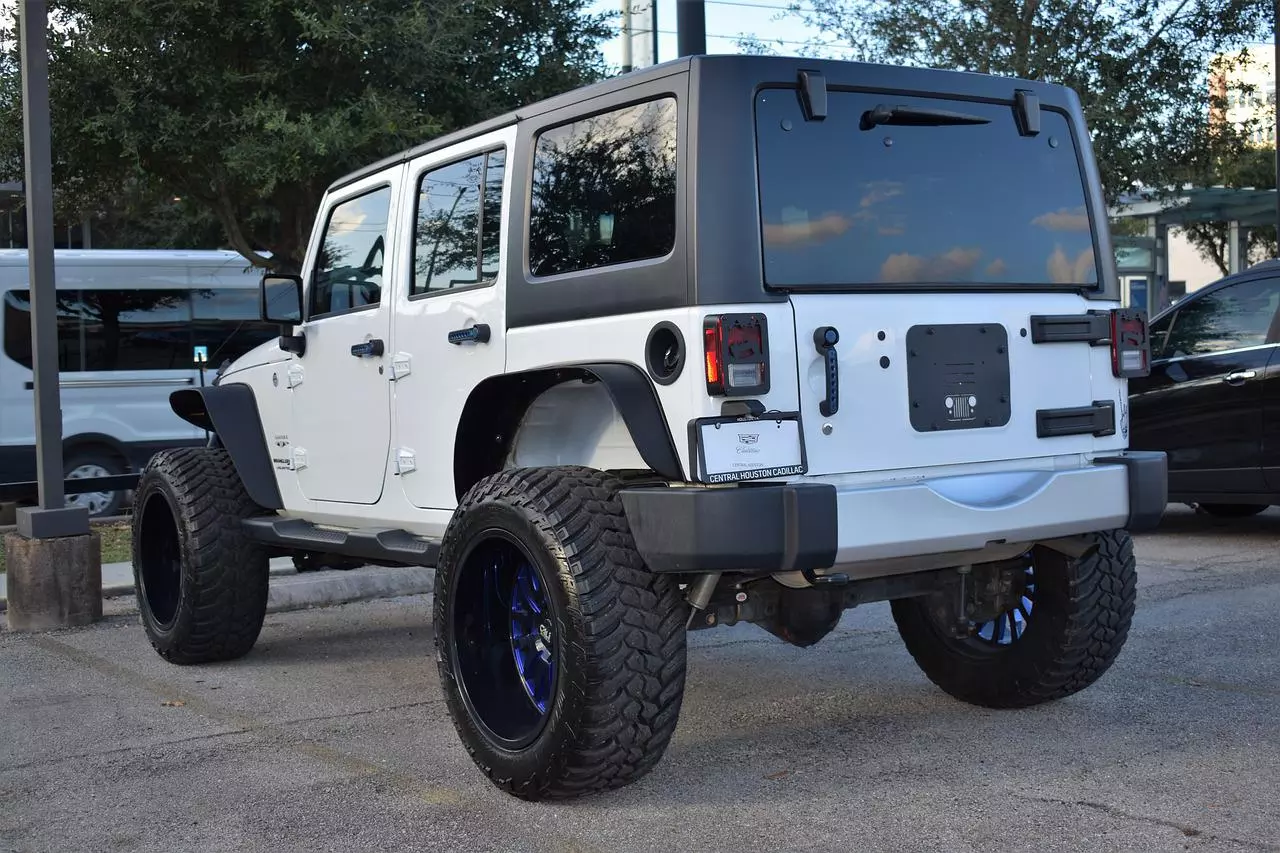 Sadly, Starbucks edition and mall-rated Jeeps as Jeep Purists will joke around started popping up, people started buying Jeeps just for the sake of cruising on the street with them.
What Is a Mall Crawler Jeep?
A mall crawler Jeep is a name given to Jeeps that are bought just for aesthetic purposes and not for their functionality which is off-roading.
The Jeep Wrangler had so many cosmetic upgrades that were not needed for off-roading, upgrades in terms of convenience, and technology that were suitable for the new market of off-roaders as well as aesthetic urban dwellers. The Jeep Wrangler made a special place for itself in the city and Jeep Purists couldn't stand the Jeep Wrangler's new age, and labeled all Jeeps that were not going off-roading as mall crawler Jeeps.
Jeep Purist could understand why people were spending thousands of dollars for an off-roading SUV and yet not use it for its intended purposes, the Jeep Wrangler has traction control, Water fording capabilities, precision steering, axle articulation, high ground clearance, powerful engine, 4×4 system, locking differentials – and yet the new buyers were using the Jeep Wrangler for basic daily driving activities.
How to Identify a Mall Crawler Jeep.
We are all fans of the Jeep Wrangler, but so few Jeepers use them for their intended purpose, you will see a Jeep Wrangler being used as a family sedan replacement, which is a complete waste of the Jeep Wrangler's capability.
We have listed down some of the ways you can spot a mall crawler Jeep below:
Clean Jeep, probably a Mall Crawler Jeep.
A dirty Jeep will earn you respect from the Jeep community, you will also deserve a Jeep wave in respect to using a Jeep as intended, a clean Jeep without dirt and scratches, and looks brand new is probably a mall crawler and Purists and Jeepers will likely not even give you a Jeep wave since your Jeep is just a mall crawler Jeep that is being babied in the suburbs and the streets.
A Jeep with low-profile tires.
Low-profile tires have their place, but they don't belong on a Jeep Wrangler, even the manufacturer sells stock Jeep Wranglers with high-profile tires on them, Low profile tires modification says that the Jeep is not intended for any off-road activities because you will need wider and high-profile tires for increased traction during off-roading.
Low-profile tires also lower the ground clearance of the Jeep Wrangler which is needed for off-roading activities to protect the undercarriage of your Jeep. You will also need high-profile tires for traction on the sidewall when off-roading, low profile tires have 50 or fewer aspect ratios and are not ideal for off-roading. If you spot a Jeep with low-profile tires, that's a mall crawler Jeep.
Big Tires with stock axles.
Off-roading Jeepers who upgrade their Jeep Wrangler tires upgrades several stock components to run big tires on their Jeep. The stock axles cannot handle 40 inches tires because of the weight of the tires unless your Jeep doesn't leave the pavement, and you will just need to baby it in the streets.
Speaking of big tires, you will also need to lift your Jeep to maximize the Jeeps ground clearance, you will also need to regear your Jeep Wrangler because the stock gears cannot handle the weight of the big tires, and you will also need to upgrade your drive shaft, the stock driveshaft wear out much quicker when you add up increased angle over stock by using bigger tires. A Jeep Wrangler with bigger tires and stock axles, a stock lift, and a stock driveshaft is probably a mall crawler jeep.
No battle scars on Skid Plates and Rock Sliders.
Skid plates and rock sliders are intended to protect your Jeep Wrangler from nasty trail terrain when offroading in Trails in Parks or Public Land, the rock sliders offer protection to the door sills, and door bottoms from damage from obstacles such as rocks, and the skid plates offer protection to the undercarriage of the Jeep such as the fuel tank, differential, and the transfer box when off-roading.
Off-roaders' skid plates and rock sliders have battle scars, and they will mainly be spotted with scratches, and dents as they battle against obstacles, off-roader welcome them but owners of mall crawlers Jeeps want a spotless Jeep will always want them clean and shiny. They just have them for their looks and have never or don't want to use them to protect their Jeep from obstacles, because they will never off-road with their mall-crawling Jeep.
Jeep with Chrome parts.
Chrome parts such as rims greatly compromise the Jeep Wrangler's off-road capabilities, because they are hard to clean and break off easily when subjected to stress when off-roading. Shiny chrome rims on a Jeep wrangler place the Jeep as a Mall Crawler Jeep.
We also have chrome Suspension and exhaust pipes, no off-roader should have shiny suspension systems and exhausts pipes on their Jeep, because it would be hard to clean them up, and will easily get scratched up after off-roading. Shiny Jeep parts just tell you the Jeep is a Mall crawler and just bought for aesthetic purposes and the owner didn't buy the Jeep for its functionality.
Here is a video of a mall crawler, we love the passion and the time it went to make sure the Jeep looks as good as it is, but is not functional for offroading purposes.
Final Thoughts.
The question of why someone would buy the Jeep just to use it on the street is still a mystery to us and doesn't make sense. We have no problem with Jeep owners who buy a Jeep and customize it for their own needs and personalization requirements.
True to the Jeep Wrangler slogan "Go Anywhere, Do Anything" you can use your Jeep to go anywhere and do anything with it, Afterall the Jeep Wrangler was made with the aftermarket in mind, it had cheap parts, that were meant to be replaced with aftermarket parts.
We hope you find this post informative on "Mall Crawler Jeep" please if you buy a Jeep Wrangler use it for off-roading, at least now and then, it was made to be an off-roading beast with all the parts and features already in place from the factory for off-roading purposes.