You will need a Jeep Wrangler Oil Change reset after changing your Jeep Wrangler Oil, the reason for resetting your Jeep's oil indicator is to let you know when you will need to change the oil at a later day based on the Jeeps odometer and other factors that affect the oil quality.
The Jeeps indicator is based on a smart algorithm that measures the quality of your Jeep Wrangler Oil based on your climate,  idle time, engine load, temperature, and driving habits, which can affect the quality of your oil.
Looking forward to changing your Jeep Wrangler Oil, Read our Post on Jeep Wrangler oil change expert guide, We also believe you will be interested in our other article on Jeep Wrangler Transmission Fluid – Type, Change & Leak Guide
Unfortunately, the Jeep Wrangler Oil indicator system will not reset itself after changing the oil, that's where you will need to manually reset the oil indicator.
| Year | Model | Oil Change Interval | Recommended Oil Type |
| --- | --- | --- | --- |
| 2018 | JK/JKU | Every 6 months or 8,000 miles (whichever comes first) | 5W-20 or 5W-30 conventional or synthetic blend |
| 2019 | JL/JLU | Every 12 months or 10,000 miles (whichever comes first) | 5W-20 or 5W-30 full synthetic |
| 2020 | JL/JLU | Same as the 2019 model year | Same as the 2019 model year |
| 2021 | JL/JLU | Same as the 2019 model year | Same as the 2019 model year |
Oil Change Information for 2018-2021 Jeep Wrangler Models
2018-2021 Jeep Wrangler oil change reset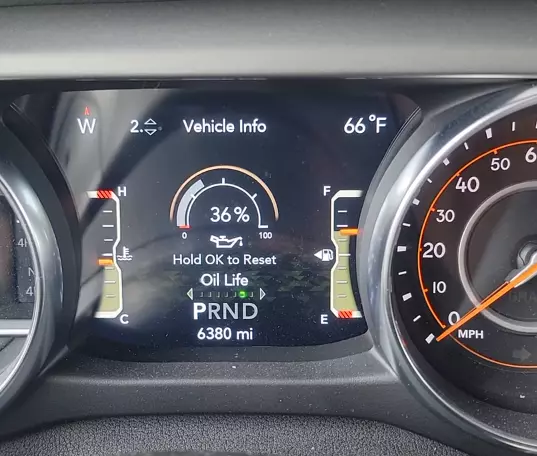 You can reset the engine oil light on 2018, 2019, 2020, and 2021 Jeep Wrangler models by following the following steps that will clear the change oil soon message on your Jeep Wrangler, and reset your oil life to 100%
Turn the ignition key to the run position. (On Push to Start Ignition you will need to Push it two times)
Once your Jeep is in the run position, You will use the buttons on the left side position of your steering wheel and scroll down until you will see the vehicle info/tire pressure screen in the instrument cluster display.
Once you have the Vehicle info menu, You will press the over button (Right or left) Until you get to the Oil Life Screen.
Press and hold down the Okay Button to 100%, this will reset the Oil life on your Jeep Wrangler 2018, 2019, 2020, and 2021.
2007 – 2017 Jeep Wrangler oil change reset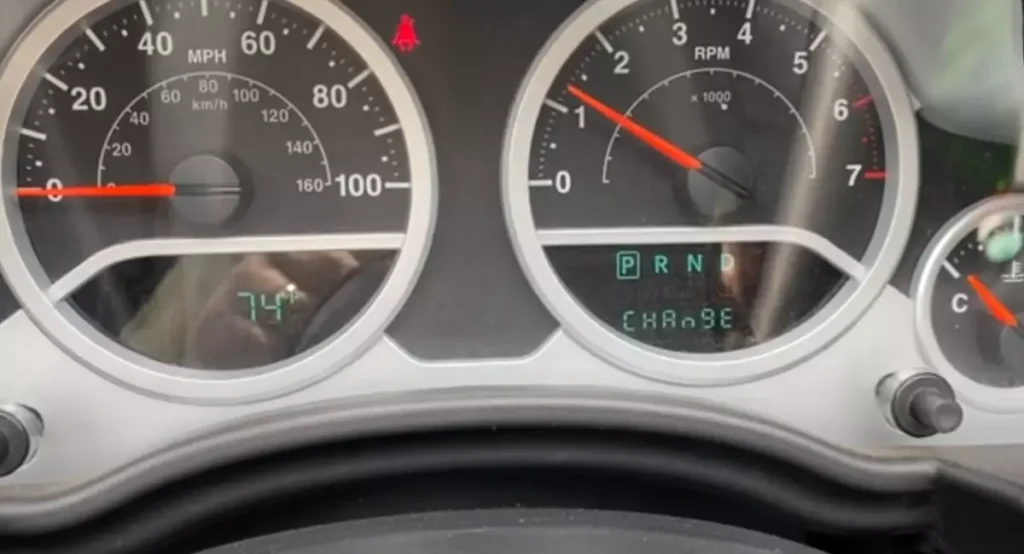 For Jeepers with any Jeep Wrangler made in 2007, 2008, 2009, 2010, 2011, 2012, 2013, 2014, 2015, 2016, and 2017 Jeep Wrangler, you can reset your oil life to 100% and clear the change oil soon message by following the following steps:
Put the Key into Ignition, and turn the key to the accessory mode (Don't turn it all the way on)
Wait for the lights to go off.
Push the gas pedal three times all the way down within 10 seconds (Depending on your Jeep Model, you may or may not hear a ding sound after the oil change reset has been done)
Navigate to the Vehicle Info, Oil life, and confirm if the oil life is back to 100% remaining.
Oil change reset issues you might encounter and possible solutions.
We have had cases when the oil change indicator is not resetting and will illuminate once you start your Jeep, this means your oil change indicator system did not reset properly And you will need to repeat the process again.
We have also had cases of Jeepers claiming that the process doesn't work, but instead turns off the oil change indicator system, for this reason, you will need to consult a reputable mechanic to check it for you and get the sensors checked or the system flushed.
Jeep oil change reset Tips.
Jeepers have been changing their oil after every 3,000 miles despite their driving habits, Oil life monitors came along and changed the way we change our Jeep Wrangler engine oil and filters, Jeep Oil change system monitor our driving habits, and this means Jeeps offroading more frequently will have their oil changed much sooner than Jeeps meant for city driving, just because of the driving habits of the users.
Oil change monitors use sophisticated algorithms, that now alert us when we need to change our oil and filters, to prevent wastage of good oil over the years.
It's important to reset your engine oil monitoring system after every oil change.