Jeep in partnership with Electrify America, plan on deploying Off-Road Trailheads Jeep Charging Stations in Iconic Jeep Badge of Honor Trails throughout the United States.
The Jeep brand has been the go-to off-roader for Americans for decades. The reason why the Jeep model is popular, Jeep Plug-in Hybrid vehicles such as the Jeep Wrangler 4xe, Jeep Compass 4xe, and the Grand Cherokee 4xe are engineered with off-road features such as high ground clearance, approach angles and locking differentials that are similar to gas-powered Jeep vehicles.
Jeep's future electric vehicles that will benefit from the new Jeep charging stations include:
Jeep Recon EV (Level six trail rated)
Jeep Avenger
Jeep Wrangler 4xe
Now, Jeep plans to install Off-Road Trailheads Jeep Charging Stations to expand on its environmentally friendly initiative and to strategically place itself in the growing electric SUVs market by installing several Jeep electric smart charging stations conveniently located in Jeep Fans' favorite off-road destinations.
Off-Road Trailheads Jeep Charging Stations will allow Hybrid Jeep owners to login and unlock free charging via the Electrify America custom mobile app, which will allow them to find Jeep charging stations, start charging, track and end their charging sessions from their mobile phones.
Here are the links for the Electrify America Mobile App:
Off-Road Trailheads Jeep Charging Stations
Among the first Jeep Trails with Jeep charging stations operated by Electrify America are the Moab jeep trails in Moab, Utah; The Rubicon Trail in Pollock Pines, California; and Big Bear Trail in Oakland, California. Jeep's plans include deploying Jeep Solar powered stations by creating charging hubs in offroad destinations across the United States that may not have existing electrical capacity.
Jeep Charging Station Details.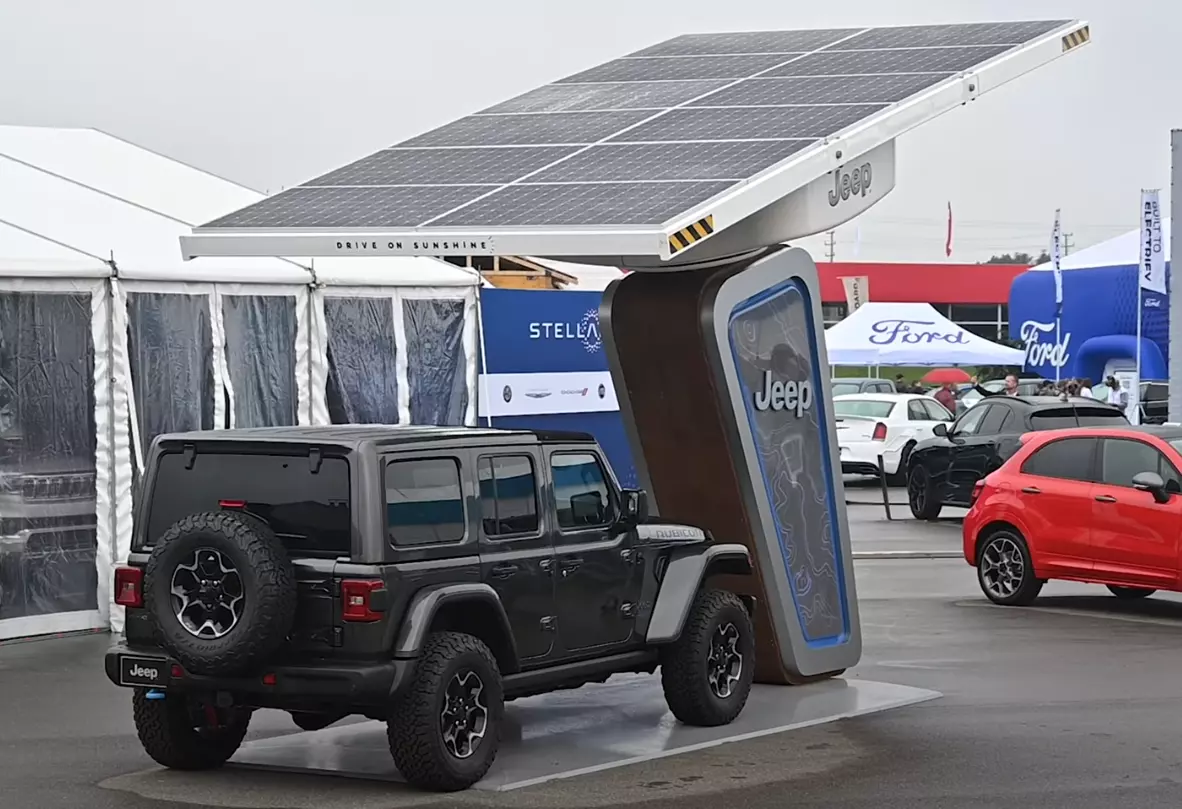 Jeep charging stations will have a maximum output of 3.5Kw and will be either directly connected to the power grid near the power stations or use solar power to generate electricity,
Off-Road Trailheads Jeep Charging Stations will be equipped with Level 2 charging infrastructures which is the quickest form of charging your PHEV Jeep and uses 240 volts applications, they are similar to charging stations you can install in your garage, workplace, or used in public stations.
For more information regarding Aftermarket cutting edge Jeep Level 2 chargers and be the first to get one, read our informative guide on Aftermarket Jeep Charger recommendations.
| | | | |
| --- | --- | --- | --- |
| Jeep Charger Type | Jeep Charger Specs | Full battery Charge Hours | Driving range per hour of charge |
| Jeep level 1 charger | 16-amp 3.7 kW | 12 hours | 4 miles/ Hour Charge |
| Jeep level II charger | 32-amp 7.7 kW | 2 hours | 32 miles/ Hour Charge |
Off-Road Trailheads Jeep Solar Powered Charging Stations will be able to charge your Jeep 17-kilowatt-hour battery pack for 2 hours using the Jeep Level 2 charger, instead of the twelve hours taken by the standard Jeep Level 1 EV charger. For off-roaders looking to top off their Jeep Battery before hitting the trail in less time, the fast charge capabilities are a welcome gesture on Off-Road Trailheads Jeep Charging Stations.
When fully charged Jeep Hybrid vehicles have no problem completing some of the Jeep trails, Jeep electric motors will be able to go up to 21 miles on all electric power; however, factors such as off-road driving skills such as braking, elements such as dirt, silt and rocks will eat that range other features such as air conditioning and aired down tires synonymous with Jeep off-roaders are also some of the factors that will affect their driving range after topping up their batteries at Off-Road Trailheads Jeep Charging Stations.
Can You Fast Charge Jeep 4xe?
The quickest form of fast charging Jeep 4xe is using the level 2 charger, which uses 240 volts. Level 2 chargers can fully charge Jeep 4xe in about two hours.
It's important to note that level 3 chargers are incompatible with PHEV since they only support 10% charging capabilities of fully electric vehicles. Level 3 chargers are designed for high-mileage vehicles such as EV fleets and long-distance driving, which makes them different from PHEV vehicles. If you own a Jeep with PHEV, you are limited to level 1 and 2 AC-based charging stations.
Conclusions.
Adventurous electric Jeep owners willing to participate in the Jeep Badge of Honor program now have a reason to start packing and hit the trails; with access to charging stations near their favourite Jeep trails, Jeep electric vehicles are making it a reality for electric Jeep owners to participate in off-road activities by adding off-road charging stations near poplar off-roading destinates in the United States.
Top locations such as Moab, Utah; Big Bear, California; and Pollock Pines, California are some of the off-road Jeep destinations to be equipped with Jeep solar-powered charging stations, allowing electric Jeep owners to fast charge their electric jeep in two hours before hitting the trails.
A wilderness adventure with an earth-friendly Jeep sound awesome, but only if you are confident your Jeep will have enough juice to drive through off-road trails; with 49 MPGe and 21 miles of all-electric range, electric Jeep owners have the freedom to get into off-roading activities without having to worry about running out of gas or battery power.