Jeep has introduced several plug-in hybrid vehicles in the market, models with Jeep hybrid technology include the Jeep Grand Cherokee, Grand Cherokee 4xe, Wrangler 4xe, Wrangler, Cherokee, Renegade, and the Jeep Compass.
Jeep introduced Plug-in hybrids Jeep models targeting the growing Plug-in hybrids market (PHEV) forecasted to reach USD 279.4 billion by 2030, the market is growing due to customer preferences for efficient electric vehicles, but aren't yet to fully commit.
When fully charged Jeep plug-in hybrids have a short electric range, making an electric Jeep a great choice for Americans who have access to a Jeep charger at home or work, when the Jeep battery is depleted the Jeepers can switch to the hybrid mode that is used a combination of gas and electric power.
How Do I Charge My Hybrid Jeep?
Upon purchase a hybrid Jeep comes with a Level 1 charger, however for fast charging Jeep hybrid owners can purchase a fast-charging Jeep level 2 charger that they can use to charge their Jeep at home or work. The charger is used to charge Jeep's battery packs located on the rear cargo area below the load floor, the battery is charged by connecting your Jeep charger to the type 2 connector accessible via the charging port on the left front side of your Jeep.
When using a 120 Volts Jeep level 1 charger it takes more than 12 hours to charge your Jeep battery, if you have upgraded to a 240 volts Jeep level 2 charger it takes just two hours to fully charge your Jeep with a smart charger.
Your Jeep recharges its battery by charging it with a level 1 or a level 2 charger or through regenerative braking.
Does The Hybrid Jeep Take Gas?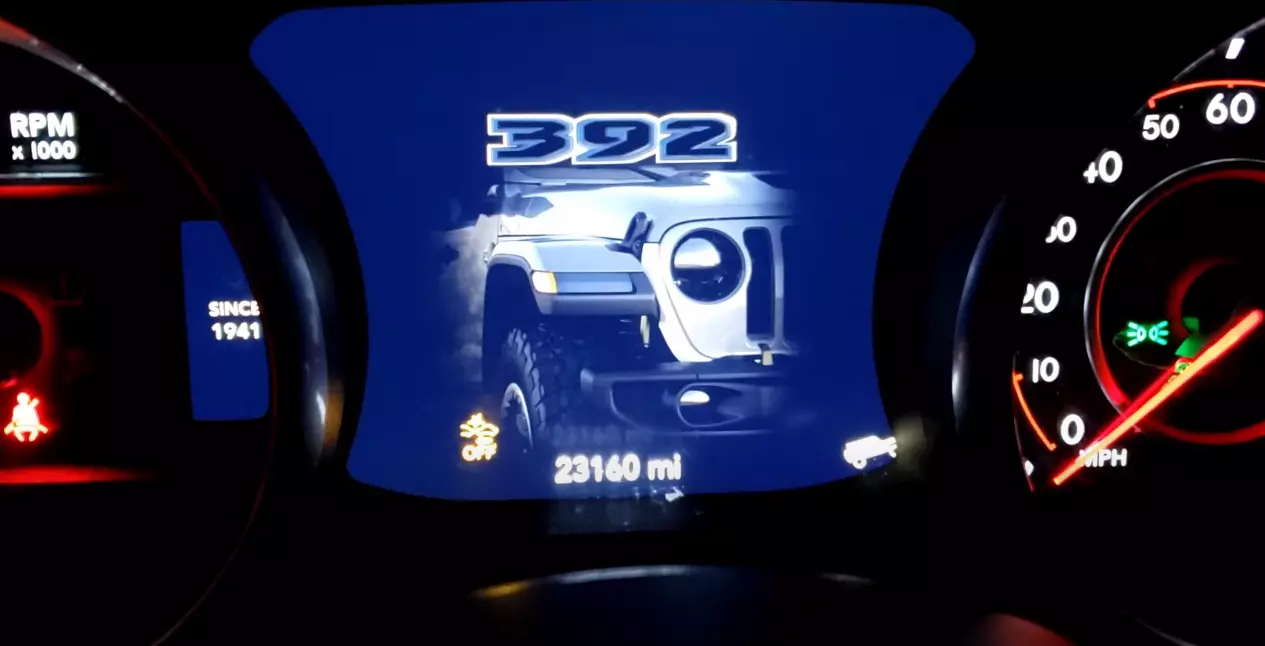 There are several types of electric Jeeps, all-electric Jeeps such as the Jeep Wagoneer S, Jeep Avenger, the Jeep Wrangler 4xe, and the Jeep Recon EV which can only be powered by an electric motor that draws electricity from a battery, there are also plug-in hybrid Jeeps that combines the use of electric motors powered by a battery and also supports an internal combustion engine (ICE).
Electric Jeeps that take gas are called plug-in hybrids, they have an internal combustion engine and an electric motor, the internal combustion engine work through ignition and combustion of fuel in the engine, the engine then converts the energy from the combustion to power the Jeep, the internal combustion engine of an electric Jeep consist of a fixed cylinder and a moving piston.
Does The Jeep Hybrid Charge Itself?
Yes, every Jeep hybrid can charge itself when driving using regenerative braking, the process works through regenerative braking that uses braking friction and turning the kinetic energy (forward motion) to run the generator that recharges the Jeeps onboard battery, the engine is also able to recharge the battery directly.
If you own a plugin hybrid Jeep, you can also charge your Jeep battery by plugging it into the mains using a Jeep level 1 or a level 2 charger, this means you are not dependent on regenerative braking to charge the battery, or using the engine as a generator to charge the battery.
When the battery levels indicate less than 1%, the battery still has 155 capacity under the 1% its just that the status is not indicated to you, at this stage, your Jeep will shift from charging to discharging based on the power demands of your Jeep, and you will still have electric power even when the battery levels indicate the battery is less than 1%.
Hybrid Jeep Driving Modes (e-select modes)
There are three electric Jeep driving modes, they include the Jeep Electric mode, Jeep Hybrid Mode, and the Jeep eSave Mode which improves your power efficiency without compromising on the electric Jeep performance.
In the infographics image below we have classified Jeep's prioritization of the hybrid Jeep system to maximize efficiency without compromising on the performance in the three driving modes, electric mode, Hybrid Mode 7 eSave Mode.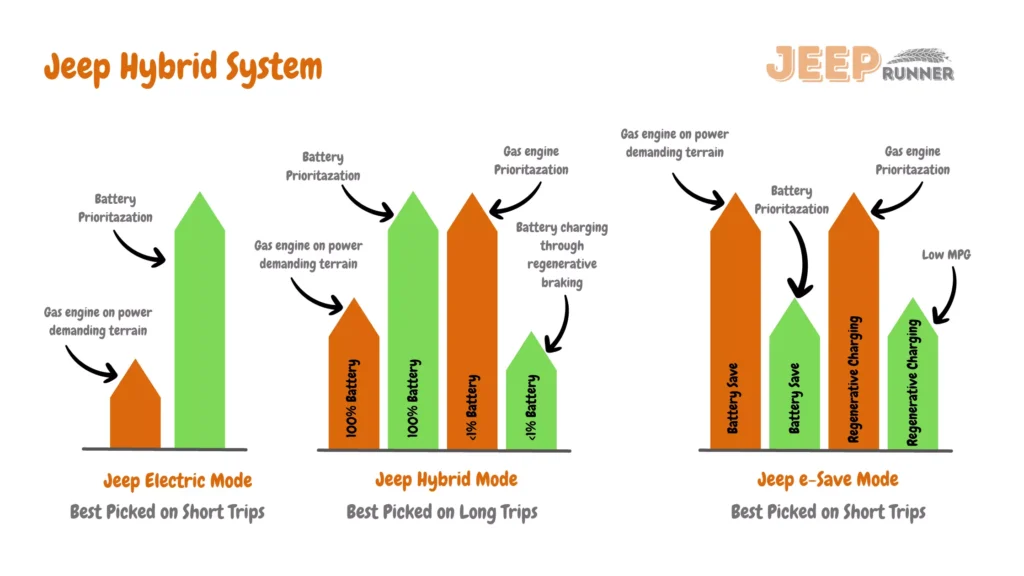 As you can see from the image above, we do recommend using Jeep electric mode and e-save mode on short trips, and Hybrid mode on long trips, as you can see the hybrid Jeep is always using gas and battery at the same time for regenerative braking that charges the battery.
Hybrid Jeep Electric Mode
Electric Jeep Electric Mode prioritizes battery power over gas engine power, It is cheaper to run on electric than on gas on a Jeep in electric mode, not only is it cheaper running your Jeep on electric mode is environmentally friendly reducing your carbon emission by up to 70% compared to a gas engine Jeep.
We recommend driving on Jeep electric mode on short trips where your battery levels will not fall below 1%, the short trips on electric mode are mainly on city driving from home to work and will ensure an improved quiet ride of 21 miles on a Jeep 4xe and 25 miles on a Jeep Grand Cherokee 4xe.
We noticed our Jeeps acceleration and heating performance when we select electric driving mode, and the engine will switch on when performance is needed through a wide-open throttle event, we don't recommend driving in electric mode with manual gate operations, and if you have to, we do recommend switching on 4WD low and also activating Selec-Speed control.
Once your battery is depleted, you will get a message on your Jeeps cluster stating the unavailability of electric mode and the ICE engine will be activated automatically, and your Jeep will activate its hybrid mode.
Hybrid Jeep Hybrid Mode
The hybrid mode combines both Hybrid Vehicle Powertrain Systems and electric power, depending on the battery level your Jeep can switch from battery to gas, when the battery is fully charged your Jeep can prioritize battery power, but when the battery is less than 1% (15% threshold) your Jeep will prioritize on gas while using regenerative braking technology to charge the battery.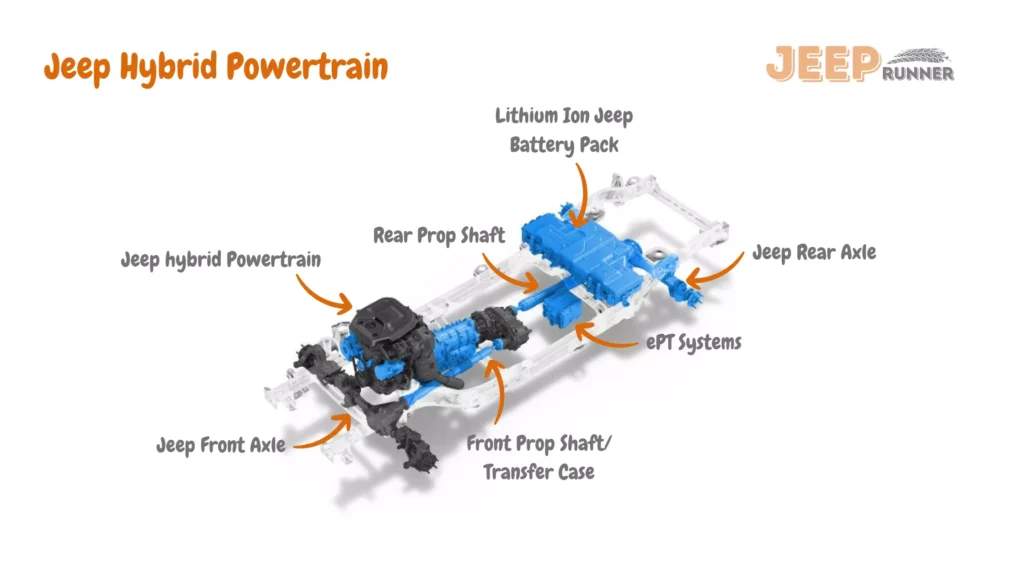 When you select hybrid driving mode, your Jeep can combine both its internal combustion engine and the electric motor to generate the highest torque and horsepower to improve its performance while also factoring in its energy efficiency.
A hybrid Jeep will still favor electric power over ICE until the battery reaches its 15% threshold, you can still use hybrid mode even when the battery is below 15% battery capacity. Depending on your engine prioritization on gas and its internal combustion engine your Jeep can drive from 45MPGe to 56MPGe depending on your electric Jeep model.
Hybrid Jeep eSave Mode
While in Jeep e-save mode, Jeep prioritizes its power on its engine combustion engine, either when saving the battery or using regenerative braking to recharge the battery. When the battery is below 1% the battery will recharge to maintain its recommended battery levels. Recharging your Jeep's battery using the e-save driving option will use more fuel and it's not an efficient way to charge your Jeep battery.
Since using e-save mode will lower your electric Jeep's MPG we do recommend using it for short trips where you have a low battery and you want to reserve battery power. We were able to customize the e-save option under Uconnect settings on the dashboard of your Jeep.
Last update on 2023-09-18 / Affiliate links / Images from Amazon Product Advertising API