In our post on the best Jeep 4xe chargers, we recommended opting for Jeep smart chargers, for their cost savings and energy efficiency, in this post we will explain how Jeep smart charging works and why you should upgrade to a smart Jeep charger.
While Jeep is planning on going all electric in the not-too-distant future, most electric Jeep owners are still trying to understand the different charging options for their Jeeps, with rapid advancements in technology that hope to improve on Jeep charging technology benefits over gasoline counterparts, few can understand the new smart features of smart chargers available in the market, their benefits, who should upgrade to smart charging, and how smart charging system works, and how to optimize your Jeep smart charging systems.
While we were working on trying to understand our Jeep Charging costs, we noticed consumers are facing high charging costs, despite incentives and initiatives that are encouraging consumers to shift from combustion engines to electric Jeeps. Jeep smart charging helps solve this issue as we are going to demonstrate in our Jeep smart charging explainer article.
Jeep Smart Charging Explained.
To explain how Jeep Smart charging works, we will compare how Jeep Smart charging works compared to how normal Jeep chargers work.
A Jeep normal charger allows you to connect directly to the main electricity grid once you plug your Jeep charger into the charging point, your Jeep 4xe then charges at 7.2W/hr. which is its maximum onboard charger capacity until the point at which your Jeep battery charges to 100% Soc, at this point your Jeep automatically stops charging.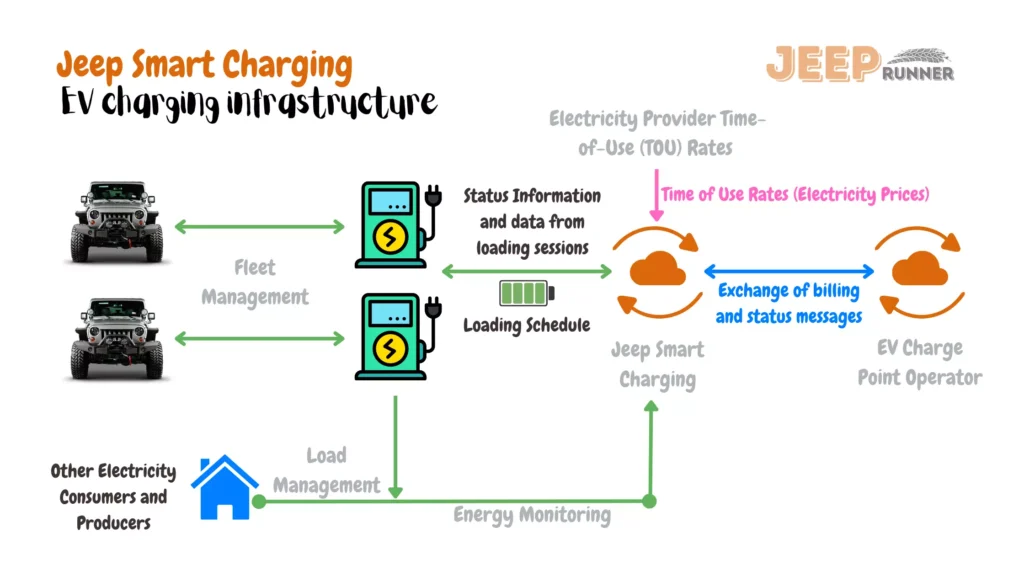 Jeep smart charging, on the other hand, is automatically controlled and coordinated when charging your Jeep; your Jeep smart charger includes a central computer system that controls and co-ordinates your charging to avoid the approach of using maximum electric power until 100% SoC is achieved, which is a more efficient way of charging your Jeep.
Jeep smart charging chargers are equipped with a central computer system that applies intelligent decision-making processes that allow your Jeep charger to adjust the power output from your Jeep charging station. The central computer system can control the charging process, including increasing power, reducing power, or delaying the Jeep charging processes at appropriate times.
What are the benefits of Jeep smart charging?
If you are planning on installing a Jeep charger, we recommend considering purchasing a smart Jeep charging system, or a Jeep smart charger, to benefit from Jeep smart charging benefits:
Jeep Charging Cost Saving: Jeep smart charging will help you have control of your Jeep charging costs, especially if your electric power provider has volatile electric costs as the United States face volatile natural gas prices. Having a smart charger to charge your Jeep will help you have control of your Jeep charging times and mitigate the effects of dynamic energy pricing, spot electric prices, and time of use rates.
Efficient Jeep Charging Energy: Jeep smart charging can also be used with energy-efficient solutions. Jeep is installing offroad trailheads Jeep charging stations throughout the United States that utilize renewable energy sources and energy storage solutions. The use of solar energy solutions in the Jeep offroad trailheads charging stations allows the company to create microgrids that don't rely on the main electric grid creating more efficient and environmentally friendly Jeep charging solutions.
Optimized Jeep Charging: With different Jeep chargers available in the aftermarket, Jeepers are now able to choose a Jeep charging station that is right for their Jeep and charging requirements based on how much energy is needed for their daily commute; this is beneficial as companies advancement in charging technologies can mix fast charging (DC), and slow charging (AC) Jeep charging solutions.
Why You Should Consider a Jeep Smart Charger.
We have highlighted some of the best Jeep 4Xe chargers and also some of the best Chargers for Hybrid Jeeps; included in our list of Jeep chargers, we have included chargers that incorporate smart charging features; each charger has its unique smart charging features depending on different use cases, and factors such as charging point type and location.
As electric Jeep owners, one of the common challenges that we face is changing energy tariffs; we use Time-of-Use (TOU) rates which have seen the introduction of dynamic pricing systems that adjust electric costs based on the time of day and seasons, aimed at aligning with the grid demands as shown in the infographics image below: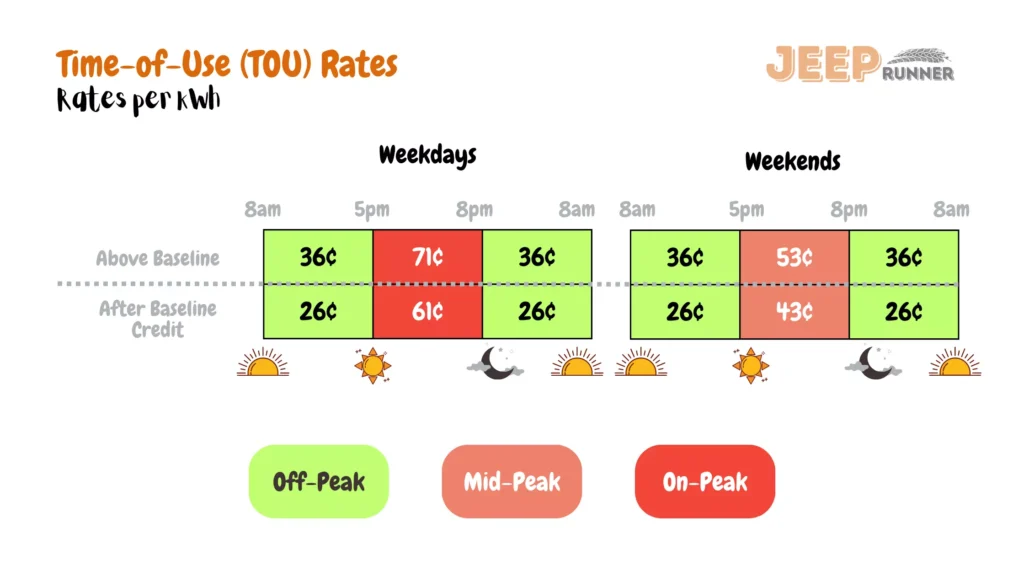 As more people are purchasing electric vehicles, considering the EV market is expected to grow from USD 287 billion to 1,318 billion by 2028, the demand for EV charging will increase grid demands, for this reason, you will need smart charging for your Jeep to avoid the peak-demand by setting your Jeep smart charger to consume more energy during off-peak hours and less energy during peak hours reducing your Jeep charging costs by shifting your electricity consumption a move also recommended by International Renewable Energy Agency (IRENA).
Jeepers with more than one electric Jeep, normally face the challenge of choosing which Jeep to charge and how to manage the charging of their fleet of electric Jeeps. By using a smart charger Jeepers can manage their Jeeps' charging schedules more efficiently and manage their charging power output saving both electric costs and Jeep charging hardware costs, especially in companies investing in EV charging facilities as incentives for employees, and also residential companies working on implementing residential charging infrastructure.
How to Implement Jeep Smart Charging.
To implement Jeep smart charging solutions, you will need a Jeep smart charger with two main features, a Jeep charger that uses Open Charge Point Protocol (OCPP) to connect with charging stations allowing you to remotely control your Jeep charging by using an App or Online Platforms, and also a Jeep smart charger that has an intelligent smart charging software system that allows you to manage and optimize your Jeep charging processes to reduce costs and increase the reliability of your Jeep charging processes by avoiding demand charges.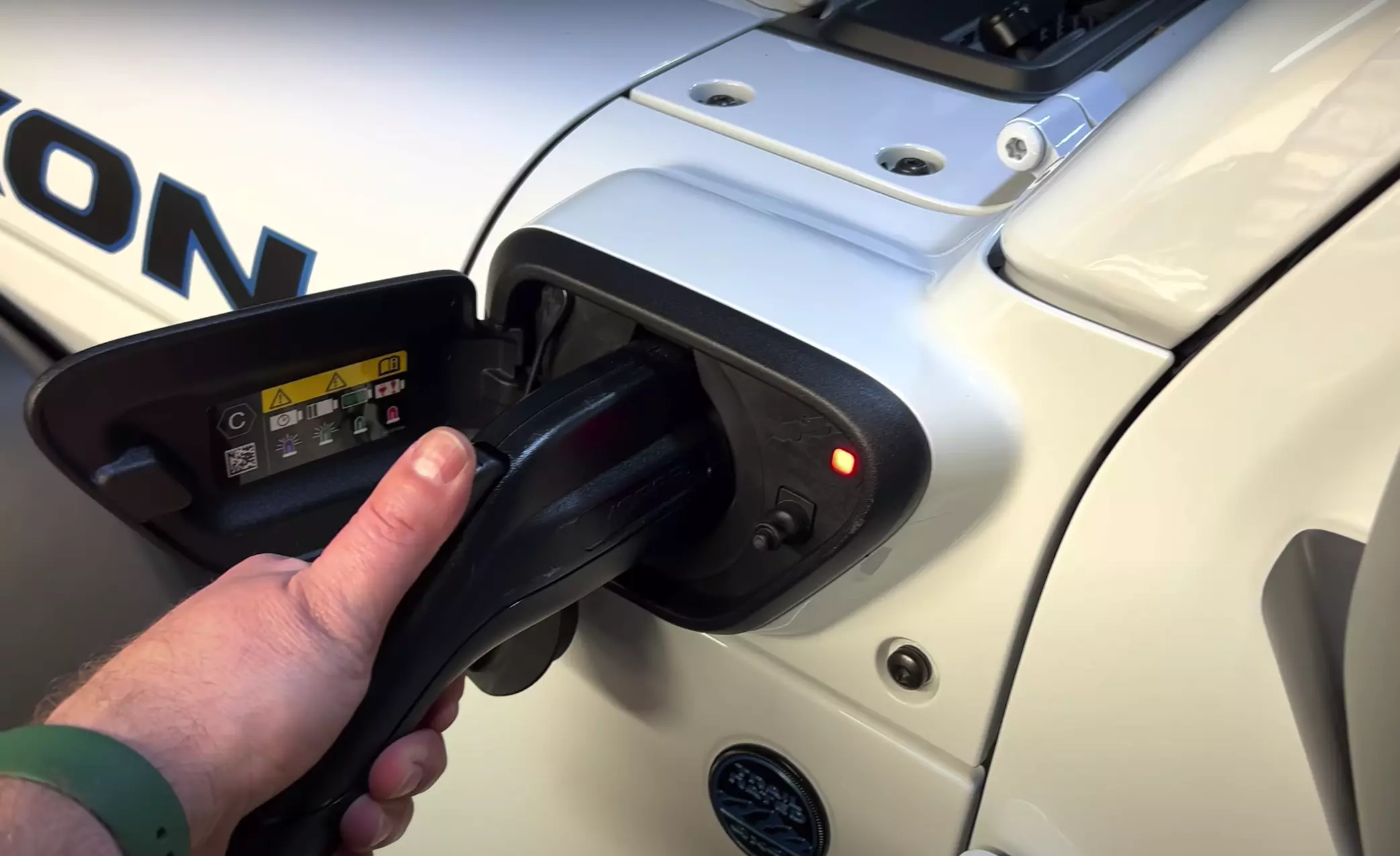 Conclusions.
The main challenges Jeepers are facing at the moment when it comes to the adoption and use of electric Jeeps are the cost of charging their Jeeps, fluctuating electricity supply, and the lack of optimized and energy-efficient Jeep charging infrastructure, especially in our favorite Jeep trails which are mainly off-grid.
Jeep smart charging offers a convenient solution to the problem we face as electric Jeep users as it offers low-cost solutions and effective strategies by giving us the control to balance electric power demand with the grid supply, keep our Jeep charging costs low, and ensure our Jeeps gets the right energy demanded to complete our commute or journey.
Related Jeep Chargers Post.
Last update on 2023-09-19 / Affiliate links / Images from Amazon Product Advertising API