Is Uconnect Free or do you need a Subscription to use Uconnect?
We are here to provide you with information regarding Uconnect subscriptions, free and Paid features so that you can make the most out of your Jeeps, Dodge, Ram, Chrysler, Fiat, Alfa Romeo, Maserati, Abarth, and Lancia Uconnect infotainment system, and enjoy your driving experience and entertainment even more.
Uconnect is an award-winning infotainment system that is designed to keep you safe, connected, and entertained, its features are tailored to help you navigate, and avoid road distractions while staying focused on the road.
Uconnect is limited to what you pay, you won't find all Uconnect features across every Uconnect package, and you won't get all features in all types of vehicles, for example, the Jeep Cherokee is built to be more luxurious than a Jeep Wrangler, this means there are more Uconnect features in a Jeep Cherokee compared to a Jeep Wrangler.
Check out our post on What Does Uconnect® Do? For a more in-depth read on Uconnect features and capabilities. You can also check out vehicle-specific Uconnect features by clicking on the following links:
Is Uconnect free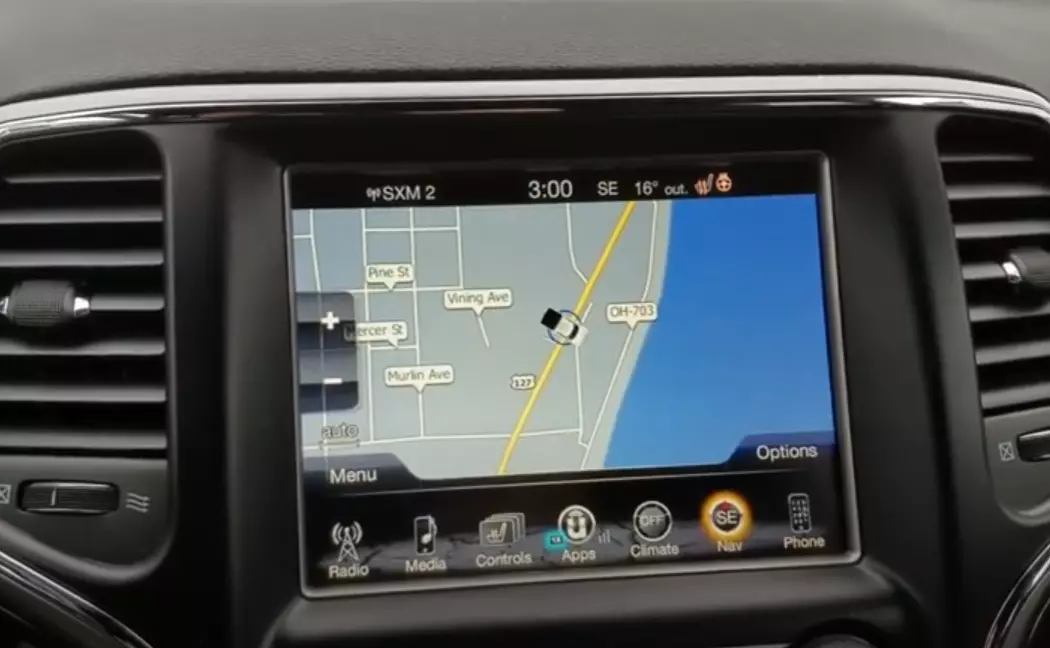 One of the most frequently asked questions by first-time Uconnect users is: Is Uconnect free or does Uconnect cost money?
The Uconnect infotainment system doesn't cost anything above what you paid for the vehicle, without paying for any Uconnect packages, your Uconnect boils down to just an AM/FM, and Bluetooth Radio, however, you can purchase a Uconnect membership to Uconnect services at $149.99 per year or 14.99 per month.
How much is Uconnect a month?
There are three packages to choose from based on your needs and requirements, they include:
Safety + Security Uconnect Package
Vehicle Performance Uconnect Package
Assistance + Navigation Uconnect Package
Safety + Security Uconnect Package
The safety and security package of Uconnect offers both passive and predictive software technology that improves your safety when on the road, some of the safety and security features available on Uconnect safety and security packages include:
| | | |
| --- | --- | --- |
| SOS Call | Vehicle Theft Alert | Jeep® Customer Care |
| Automatic SOS Call | Roadside Assistance | Stolen Vehicle Assistance |
| Assist Call | Jeep® Connect Customer Care | Remotely Clear Personal Data |
Uconnect Performance Pages.
Uconnect Vehicle performance packages allow you to have performance pages displayed on your infotainment system, they are a suite of tools that allows you to monitor in real-time the performance of your vehicle to optimize your driving experience.
Vehicle performance package features:
| | | |
| --- | --- | --- |
| Monthly Vehicle Health Report | Off-Road Pages | In-Vehicle Messaging |
| Vehicle Health Alert | Remote Software Updates |   |
Using the performance packages display tabs, you will be able to visualize speed times (Including braking speed).
Some gauges will help you monitor the temperature and pressure of your oil (both engine and transmission, the voltage of your battery, and the coolant temperature.
You will also have a display that will allow you to monitor your vehicle drift, steering angles, turning, and acceleration forces.
The most important part of the performance packages by Uconnect is the engine monitoring pages, they allow you to visualize your vehicle speedometer, horsepower, torque, oil pressure, gears, and boost pressure.
Using these tools, you will become familiar with your vehicle's performance, timers such as G-force, gauges, and engine performance gauges will help you understand your vehicle, and be able to detect any abnormalities that might occur.
Is Uconnect navigation free?
There are a lot of features available on Uconnect, specifically tailored for off-roaders and Overlanders. The assistant and navigation package allows you to enjoy remote vehicle operations and has a lot of features that are all tailored to help you navigate and commute.
Some of the Assistance + Navigation Package features include:
| | | |
| --- | --- | --- |
| Remote Vehicle Operations | Alexa Built-In | Advanced Search |
| Alexa Vehicle Assistant | Smartwatch Extension | Dynamic Range Mapping |
| Drive Alerts | TomTom® Navigation | Charging Station Locator |
| Send Destination to Vehicle | TomTom® Traffic and Travel Services |   |
| Last Mile Navigation | Remote Map Updates |   |
We have tried out the assistant and navigation package to identify points of interest with stunning 3d views, the navigation by Uconnect boosts having landmarks, buildings, cities, and terrains all to help you get the direction of your destinations. You will also be able to ask for directions using voice commands.
What we love about the assistant and navigation package by Uconnect is the fact that they use GPS positioning to determine the location of your vehicle, the GPS sensors are accurate and will help you navigate even the most difficult terrains such as tunnels without obstruction.
Sirius traffic plus is another assistant and navigation package that is our favorite, having used it we can say it's accurate and allows you to avoid traffic by giving you detailed information and suggesting to you easier routes.
How much does Wi-Fi cost on Uconnect?
Most people who purchase a Uconnect subscription also ask for a WIFI subscription, the WIFI subscription allows you to have a WIFI hotspot on your Vehicle, the WIFI package is sold separately, and from a different company (AT&T in car WIFI), and costs $20 per month.
How long is Uconnect free trial?
Uconnect allows you to have a free trial of their products before deciding on which package is right for you.
You will get a 12 months trial for SiriusXM Guardian connected services, for the security and safety package Uconnect offers a 10-year trial, the Vehicle performance package offers a five-year trial, and the most exclusive and premium package of assistance and navigation only offers a 3 months trial.
Safety + Security Package (10-year trial)
Vehicle Performance Package (5-year trial)
Assistance + Navigation Package (3-month trial)
Related Posts:
Final Thoughts.
There are a lot of opinions on Uconnect subscriptions, after buying a vehicle with Uconnect, buyers are given a free trial for them to use Uconnect to decide whether they will need a subscription to the services or not.
After the free trial has expired some people get used to the Uconnect system and end up paying for the subscription, while there is other who don't pay for the subscription. It all depends on the features and alternatives available, for example:
Most off-roaders and Overlanders prefer using third-party maps and navigation systems, most of these gadgets have more features than the Uconnect Navigation, and they use them as an alternative:
For example, we use the Garmin Tread XL GPS System as an alternative for Uconnect navigation;
We prefer the Garmin Tread XL GPS System as an alternative Uconnect navigation system because compared to Uconnect it offers more features when it comes to off-road navigation, with the Garmin Tread XL GPS System you get topographical maps of North and South America, and land boundaries for BLM, Forest land, and private lands.
Other people say that if you have a smartphone, you don't need a Uconnect subscription, and it's not worth it. But since there is a free trial, you have to first use it and check if you would like the features Uconnect offers.
Last update on 2023-09-24 / Affiliate links / Images from Amazon Product Advertising API