First introduced to Jeeps in the year 2003, Jeep Uconnect infotainment systems have evolved over the years due to the frequent changes in technology demands and frequent upgrades to the Uconnect systems.
Uconnect is an infotainment system built into Chrysler, Dodge, Jeep®, Wagoneer, Ram, and FIAT® modern vehicles, it combines advanced connect ability, navigation, communication, entertainment, and information that is shown in form of audio or visual for an enhanced vehicle experience
The upgrades and technology upgrades are all focused on improving user experience and easy technology that is all-inclusive than the previous generation of Uconnect.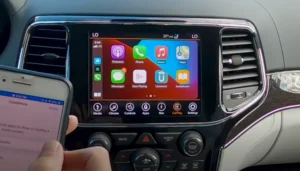 What does Uconnect do in Jeeps?
Uconnect allows Jeep owners to have access to different entertainment and informational features on their Jeeps, some of the features of Uconnect Include:
Uconnect entertainment features.
The Uconnect infotainment system is installed in thousands of Jeeps, one of the benefits of Uconnect is its entertainment features on 5 inches to 8 inches touch screen which include:
SiriusXM® satellite radio allows you to listen to ad-free music, live sports, news, and original talks.
HD Radio™ a digital broadcasting solution with AM and FM that allows you to listen to local radios at an improved sound quality without monthly fees.
Rear-Seat Entertainment System that keeps your passengers/ kids entertained on the rear seats.
Smartphone integration with Apple CarPlay® and Android Auto™ to listen and see some of your smartphone features, entertainment files, and features such as applications, maps, phone calls, voice texts, etc.
Built-in Wi-Fi® allows you and your passengers to have access to the internet on your Jeep, allowing you to stream movies, access internet browsers, and more …
Uconnect Safety features.
Uconnect has safety features integrated into the Uconnect infotainment system of your Jeep, the safety features include remote start and lock/unlock of your Jeep through the Uconnect App, vehicle finder, WIFI Hotspot, Roadside Assistance, Vehicle health monitoring, theft alarm, and stolen vehicle assistance.,
It's worth noting that you can upgrade your Uconnect to access more features of the Uconnect platform on your Jeep, however standard Uconnect packages will get you advanced connectivity entertainment, and performance of your Jeep monitoring that will improve your user experience.
Want to learn more about Jeeps Uconnect entertainment and Informational Features, check out the related post below:
There are different versions of Uconnect based on your Jeep's trim and configurations, while most of the functionalities are similar each version of Uconnect has its differences, we have highlighted some of the different versions of Uconnect available on a Jeep below.
What Uconnect system do I have?
The Uconnect system you have depended on the trim and configuration of your Jeep, there are five Uconnect versions Uconnect 4, Uconnect 5.0, and Uconnect 8.4, each Uconnect version is different from the other in terms of technology and features, let's talk about each feature to determine which version of Uconnect is in your Jeep.
What does Uconnect 5.0 do?
Uconnect 5.0 features a five-screen Jeep touch screen display infotainment display, AM/FM Radio, Voice prompts calls & texts, AUX Audio, USB connection, Bluetooth, speed-adjusted volume, and "Do not disturb" mode when driving.
Jeep introduced Uconnect 5 with a focus on personalization of user experience, since most Jeeps have five seats, Uconnect introduced five user profiles on the Uconnect to enhance each user's Jeep preferences and setting when using Uconnect. This means that each of the five profiles can set up their favorite places, music, and apps, among others, and be able to request their profiles at the touch of a button.
You will also find that Uconnect 5.0 allows various applications and devices to interact with it, for example, you can connect your iPhone with Uconnect 5.0 via Apple Car Play, and your Android Device Via Android Auto. The Uconnect's five most used and loved feature is the remote lock and unlocks of your Jeep, starting your engine remotely, or receiving a notification regarding your Jeep remotely.
Uconnect 5 features TomTom's Traffic & Travel Services that will provide and update you on the latest information regarding your trip, Uconnect also can tell you how much fuel you will need to reach your destination, Uconnect also shows your fueling station, and if you have an electric Jeep, you will find charging stations on Uconnect navigation. The navigation system of Uconnect is advanced and one of the features Jeep owners use daily.
Uconnect 5.0 features a five-inch touch screen that has fast responsive capabilities, the screen features a card-based style of display screens that you can customize and personalize based on your needs and preferences. Uconnect 5.0 features are tailored based on individual countries and the type of Jeep.
What does Uconnect 8.4 do?
Uconnect 5.0 features an 8.4 inches touchscreen display infotainment system, some top features of Uconnect 8.4 include SiriusXM Satellite Radio, Android Auto & Apple Car Play compatibility, Hands-Free Voice Prompts including Siri, and Amazon Alexa that you can use to send messages, and phone calls, email, navigate, etc.
Uconnect 8.4 has some similar features such as Uconnect 5.0 however Uconnect 8.4 is accessed via an 8.4 customizable touch screen. Additional features of Uconnect 8.4 include HD Radio, SiriusXM Satellite Radio, and added support for Android and Apple devices.
It's important to note that there are two versions of Uconnect 8.4, there is Uconnect 8.4 and Uconnect 8.4 NAV (Uconnect 8.4 with GPS Navigation). If your Jeep has Uconnect 8.4 NAV, it means that you have additional features tailored towards improving your navigational experience, such features include; a Sensor-based GPS navigation system that also shows 3D landmarks, city models, and terrains.
If you prefer using the third-party navigational system, you can opt-out of Uconnect 8.4 NAV, some of the features rarely marketed and most Jeepers don't even know are included in their Uconnect system including speed-adjusted volume, and SiriusXM Guardian.
What does Uconnect 4 do?
Uconnect 4 has both 7-inch and 8.4-inch displays and infotainment systems and was available on Chrysler, Dodge, Jeep®, Wagoneer, Ram, and FIAT® modern vehicles starting in the year 2018.
Uconnect 4 has a navigation improved version called the Uconnect 4C NAV, similar to the Uconnect 8.4 NAV, Uconnect 4C focuses on Navigation and has more improved navigational features compared to Uconnect 4.
Some of the top features of Uconnect 4 include improved smartphone integration through Apple Airplay, and Android Auto, Faster processing and High-resolution display, Uconnect smartphone application support, remote engine start, remote lock and unlock, Vehicle finder, WIFI hotspot, and vehicle performance monitoring and diagnostics.
On the entertainment side of Uconnect 4, users get SiriusXM® which has more than 150 channels, Auxiliary Input Jack, and Bluetooth® Streaming Audio. The connectivity feature of Uconnect 4 has been improved with smartphone integration that allows you to use features such as Voice command prompts, Bluetooth pairing, Contacts sync, Siri support and So not Disturb mode.
What does Uconnect App do?
The Uconnect App is a Smartphone Application that is compatible with Android and iOS (iPhone), Uconnect users can use it to communicate with their Uconnect Infotainment system and send commands through their phone.
Uconnect App has subsided the Uconnect Access that old school Jeepers were accustomed to, some of the features available on the Uconnect App include Remote Lock/Unlock, Remote Engine Start, Vehicle Finder via Uconnect Plans, Wi-Fi Hotspot, Roadside Assistance, Health Report & Alerts, Theft Alarm & Stolen Vehicle Assistance.
You can download the Uconnect Application for your Android device on Play Store (Uconnect for Android), or Uconnect on Apple Store (Uconnect on Apple Store). After downloading the application for your device, you can use the same email and password you used to create an account on the Mopar Owner site to log in to your account and access your Uconnect Package features.
Here is a video on how to use the Uconnect App on your Android device or iPhone:
Related Posts: