In this post, we are going to tell you how to connect a phone to Uconnect on a Jeep, what to do when your phone doesn't connect, and every other thing you may want to know regarding Uconnect connectivity issues.
Uconnect is an infotainment system manufactured by Stellantis on their Jeep, Dodge, Ram, Chrysler and FIAT vehicles, the main purpose of Uconnect is to allow the owners of the vehicles to control the car's computer system, entertain themselves and also use navigation features amongst other cool features.
This post might also interest you >> Is Uconnect worth it?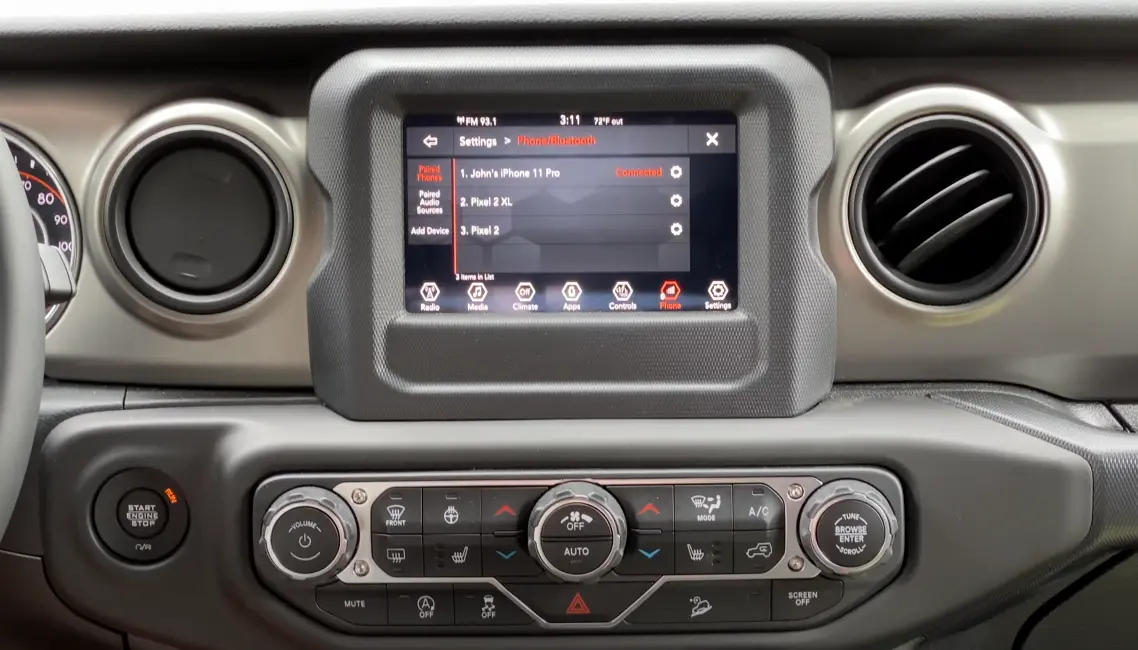 How do you register for Uconnect?
Before pairing your device to Uconnect you might first of all need to register with the vehicle assist button or online to the Uconnect services.
To connect your car to Uconnect® and get you on board, you have to register your vehicle online using a smartphone. To register, you'll push the assist button on your rearview mirror, hit the Uconnect® Care icon on the touchscreen, and talk to an agent who will help you with the rest of the registration process online.
If you prefer to register and create your account online, you'll need to push the Uconnect® Apps button, open the Uconnect® Care website, log in with your Citigroup ID, and click "Register by web."
Press the Uconnect apps button and select Register by Web.
Enter your email address.
Check your inbox for a link to continue your registration.
Create an account and start your trial.
How to connect a phone to Uconnect
After registering for Uconnect services, the procedure of connecting your phone to Uconnect is not complicated, follow this step to connect a phone to Uconnect:
Turn on the Bluetooth of your mobile phone
Press the phone button on your Uconnect Screen> Add Device> Settings. (You can also use Voice Prompt, say "Set-Up" and the "Phone Pairing"
Your mobile can now scan for the Uconnect device and might ask for a unique 4-digit pairing pin.
Select your Jeep from the Menu on your Mobile Bluetooth Menu, the two devices will connect and a pairing request will be confirmed on your Jeeps Uconnect system
Bluetooth has been established between your phone and Jeep Uconnect infotainment system.
Here is a video detailing the process of connecting your Jeep 2014 – 2021 with your phone, the process is the same when connecting your phone to Uconnect on Jeep, Dodge, Ram, Chrysler, and FIAT vehicles.
Uconnect supported phones
Uconnect supports both android and Apple devices, running Android operating system 6.0 (Marshmallow), and IOS 10.0 of the Apple mobile operating system.
We have tested Apple iPhone 5 to Apple iPhone 14 and all devices seem to connect with Uconnect 4C NAV with an 8.4″ display, Uconnect 3 with a 5″ display, and Uconnect 4 with a 7″ display on our Jeep Wrangler.
We have tested most android devices such as Samsung, OnePlus, Sony, and TLC with android 6.0 and they are all connecting with 5", 7", and 8.4" Uconnect Touchscreen for Displaying Music Info and Climate Controls.
Uconnect supported Carriers in the United States include; AT&T, Boost Mobile, Cricket, Metro PCS, Simple Mobile, Sprint, T-Mobile, TracFone & Verizon.
Uconnect Unsupportive Devices, Uconnect doesn't support old devices running android 6.0 and below and iOS 10.0 and below, this is because the operating system is not compatible with Uconnect's latest technologies, and older devices operating systems and versions are venerable to connection problems.
If you keep getting a message device is not supported on Uconnect despite previously connecting, and syncing it with Bluetooth or a USB cable, please read through our solutions below to get your phone to connect to Uconnect.
To check whether Uconnect supports your exact phone, check out Uconnect® phone pairing instructions
Uconnect Phone Not Available Message Fix
If you cannot connect a phone to Uconnect, several possible causes are related to the Uconnect phone not being available or connectivity issues between your phone and the Uconnect infotainment system.
The following are some of the reasons why your phone is not connecting to Uconnect on your Jeep, Dodge, Ram, Chrysler, and FIAT vehicles and how to fix them:
Uconnect screen delamination
One of the most common problems with Uconnect touchscreens is screen delamination especially on the bigger 8.4 inches Uconnect screens, the most affected are Jeep, Dodge, Ram, Chrysler, and FIAT vehicles manufactured in 2017 and later.
Uconnect delamination is what causes bubbles on your Uconnect touchscreen and spreads your whole touchscreen, and it easily spreads over the whole screen after starting in one spot.
If your Jeep, Dodge, Ram, Chrysler or FIAT vehicle is still on warranty we advise you to take it to a Jeep dealership and get the screen replaced, replacing the screen of your Uconnect system is a complicated process that involves the screen digitizer and we advise you to get your screen replaced by a professional only.
Uconnect Navigation Issues.
One of the weird problems we have witnessed with Uconnect is navigational issues, we have had pairing troubles when the screen starts jumping between features, without touching the controls, ghost touches are present and the process becomes fast over time.
This problem is more common with USB pairing than with Bluetooth pairing, removing and reattaching the USB Cable tends to fix the problem. We have also had success when Uconnect users reported updating the Uconnect system solved their software-related issues.
If the problem persists, we recommend you perform a soft reset on your Uconnect device by pressing the volume control and audio knobs simultaneously until the system reboots, once your Uconnect system reboots, connect your phone and Uconnect device again.
Uconnect Bluetooth problem
One of the most causes of Uconnect phones not being available is the disconnection of your smartphone and Uconnect infotainment system, some of the reasons might be tinting windows with metallic tint film that blocks the wireless connection, if you have any obstacle between your phone and the Uconnect system we recommend you to remove it.
Some other Bluetooth-related problems are related to poor connection between your Bluetooth and Uconnect infotainment system, and you will occasionally get a pop-up message of a Uconnect phone not available.
To solve the Uconnect phone not available message related to Bluetooth connectivity issues, you should delete the pairing history on your phone, clear all the cache, and pair your smartphone and Uconnect device using Bluetooth again.
Conclusions.
If you read through our article, and still haven't successfully paired your device to Uconnect, we believe it's time to contact Jeep or Uconnect customer support because the issues might be with the Uconnect device itself.
If this article has been helpful to you, you have learned how to connect your phone to Uconnect, and devices supported by Uconnect, fix related issues, and solve them within a few seconds.