We went Jeeping in snow early in December, we went to Big Horn Mountains in Wyoming, this article gives you a sneak peek of what we learned during the occasion to help you prepare for the next Jeep expedition in winter, we learned a lot and decided to write an article about Jeeping in snow, what you require, safety precautions and some of the best places for your winter escapades with your Jeep.
We love off-roading in our favorite Jeep trails, but when winter arrives in December and the early months of the year, the trails have snow and we normally challenge ourselves by off-roading in the new snow terrains.
We normally off-road in the snow with our custom Jeep Wrangler, equipped with 33-inch all-terrain tires. we recommend larger tires because of their ground clearance and traction capabilities, large tires on your Jeep will prevent you from being stuck and will provide you with the traction you will need Jeeping in snow.
What Do You Need To Off-Road In The Snow?
After years of off-roading with our highly modified Jeep, we have come to a conclusion of the basic gears you will need for Jeeping in snow, from warm clothing and emergency kits, recovery gear and navigations equipment that we will highlight in this post:
Related Posts:
Be Prepared for Winter Off-Roading: Invest in a Quality Winch
A good winch for your Jeep will need to be able to get you out of any unstuck situation that might occur when Jeeping in snow, we recommend anything from 8,000lbs but having a 10,000lbs winch is the best, if you won a Jeep, the best winches you can purchase should be able to have a line pull capacity of 9,000 to 12,000 pounds to recover yourself in case you get stuck off-roading in your Jeep.
We recommend getting yourself a quality winch, some of the things to consider include the construction materials, we recommend synthetic or steel winches, we also check out the mounting option of the winch, if you have a Jeep Wrangler, you can mount the winch on the front bumper, for Jeep Cherokees, you will need to modify the front bumper to fit a winch that you can use when off-roading.
Brand matters, some of the best winches for your Jeep include Warn VR EVO 12, and Smittybilt X20, on our Jeep we have a Smittybilt X20 installed on our Jeep Wrangler front and rear bumper combo. The Winch has the pulling power, and speed and is reliable to get you out of any situation you might get yourself into when jeeping in snow. We have listed the links below where you can buy some of the best Jeep winches for off-roading in winter:
The Warn winch has been rated for 8,00. 10,000, or 12,000 pounds, while the Smittybilt X20 winch which we recommend has a 17,500-pound load capacity. The Smiltybilt winch is more reliable than the Warn VR EVO winch, we have used both winches, the Smiltybilt is more effective and we have battle-tested the winch in most off-roading situations, we can attest to the winch's capabilities as the best winch for off-roading in snow.
Some of the equipment and gears you will need for Jeeping in snow include coats, gloves, boots, and safety equipment, when off-roading in snow, we are always ready with the following gear:
All these items we have suggested are waterproof, and include waterproof fabrics and seams, to ensure that they will keep you dry and will keep you warm and dry when off-roading in your Jeep.
Is Lower Tire Pressure Better For Snow?
When off-roading in snow, we recommend lowering your tire pressure, we have checked our tire pressure with AstroAI Digital Tire Pressure Gauge, and we recommend at least 30 to 35 PSI tire pressure when Jeeping in snow, lower tire pressure is not ideal. Since cold temperatures will cause your tire pressure to drop.
We recommend investing in a digital tire pressure gauge, to keep your tire pressure in check, as the cold temperatures will lower your tire pressures based on the environment you are in, we have been using the AstroAI Digital Tire Pressure Gauge recommended above and we can attest to the accessory accuracy and ease of use, the gauge also features an LED that comes in handy when Jeeping in snow during the nights, and in some instances during recovery. The AstroAI Digital Tire Pressure Gauge shines when it comes to offroading kits.
How Well Do Jeeps Drive In The Snow?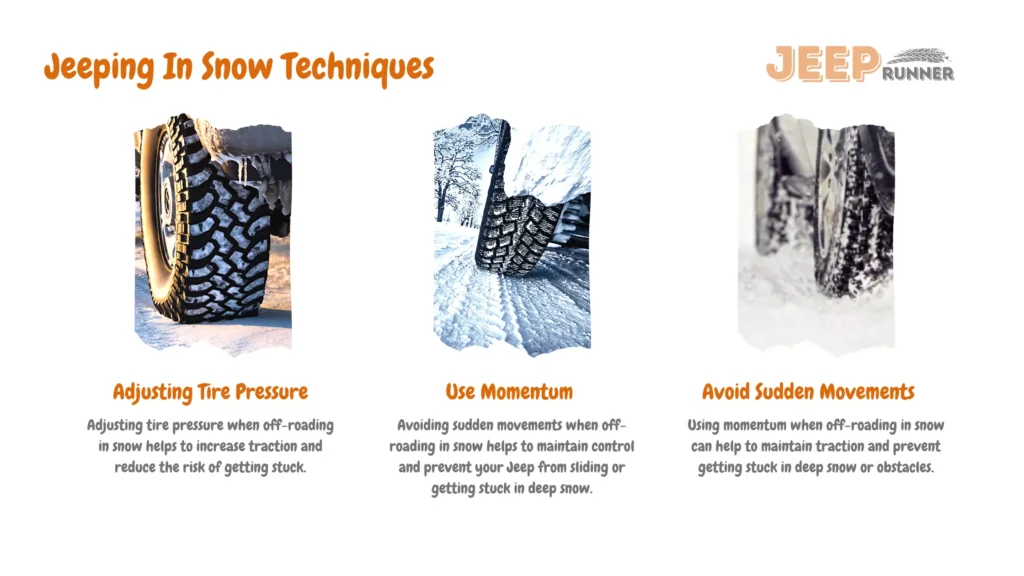 If you own a Jeep, you can off-road and explore different terrains including snow, some of the features that make Jeeps ideal for off-roading include a Dana 44 or Dana 30 solid axle design, for example, our Jeep Wrangler that we customized for off-roading features Dana 44 front axles that have been an improvement by Jeep since the 1940s, making it one of the best 4x4s with this set-up straight from each side of the vehicle.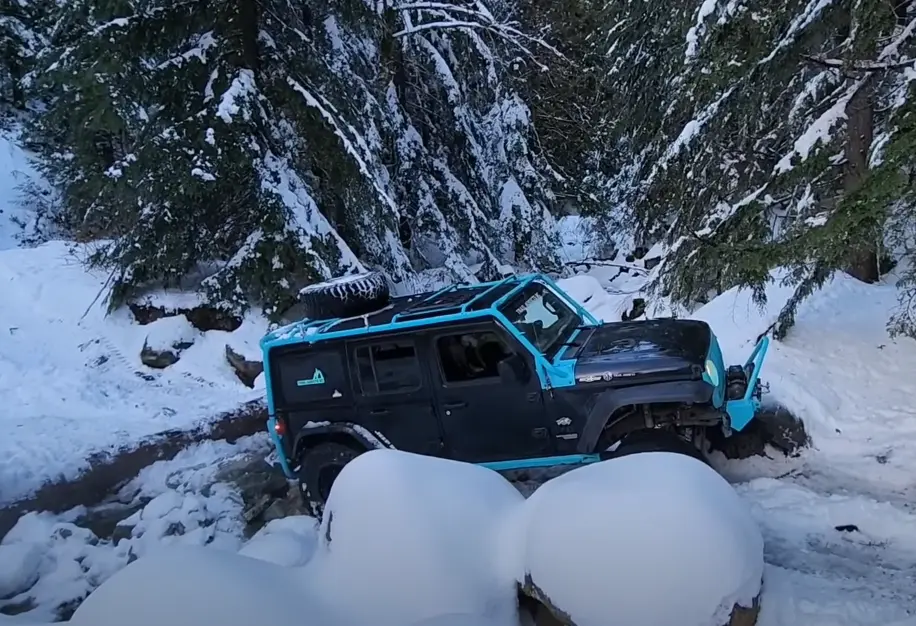 Jeep has also a high ground clearance, thanks to its big chunky tires, and suspension systems that can all be upgraded depending on the terrain of your favorite Jeep Trails.
All these features help Jeep's drivers navigate through snowy conditions, however some modifications that we have learned throughout Jeeping in snow escapades include properly inflating our tires, to improve the big tires' tractions, we recommend at least 30 to 35 PSI since cold temperatures will likely cause your tire pressure to drop.
Your driving style also matters, first you must understand the type of snow your terrain is covered with, there are fluffy wet snow, dry snow, and ice disguised as snow, all of that will affect how your driving techniques. However, we recommend driving slowly, regardless of the snow conditions, in case you are in slippery terrain, test the slipperiness by accelerating slowly and testing your braking system, if your road has pavements, you can leverage the pavement to gain more stable traction – this is normally how we drive through our driveway when the driveway is covered with snow.
You don't need Jeep chains, but we do own some Jeep chains that we bought to compete in the Winter 4×4 Jamboree, Hurricane / St. George Utah. Below are some of the chains we have bought to conquer the event:
We love the chains since you can mount them on all four tires of your Jeep, by installing the Jeep snow chains in your Jeep, you will be able to get the best traction and handling capabilities, you can also use this moment to rotate your Jeep tires. We have tested the chains before the event, they are easy to mount in our custom Jeep, and you can fasten the hooks depending on your tire size, the recommended chains above have self-testing systems, that make it easy to mount the snow chains.
When using chains, make sure you are at constant speeds, and make sure you turn your wheels when at an appropriate speed, it's important to keep distance from other vehicles both in front and at the back, installing snow chains will have effects on your gas use, we recommend Jeeping in the snow with a full tank, we normally refuel our Jeep after every event, to make sure we have enough gas just in case we get stuck having fun in the snow.
What Should Be In A Winter Emergency Kit?
We have a list of Jeep recovery gear, that we recommend you check out, however, to summarize, below are some of the winter emergency accessories you will need, to give you peace of mind, and help you in case you get stuck Jeeping in the snow:
| | | |
| --- | --- | --- |
| Flashlight | Jumper cables | Reflective triangles |
| Snow shovel | Water | Non-perishable snacks |
| First aid kit | Blanket | Waterproof matches |
| Ice scraper | Cell phone charger | Snow boots |
Preparing Your Jeep For Winter Weather Conditions.
Having the right recovery equipment is recommended and so is prepping your Jeep, before Jeeping in snow, we recommend having special winter wiper blades that will not leave streaks in your Jeep windshield (Installing special winter blades will help maintain your Jeep Windshield), you should also inspect your battery and make sure its levels are stable.
We recommend always keeping your gas tank full, inspecting your snow tires, checking the tread on the tires, and making sure they are well inflated, you should also test your lights, mostly checking your turn lights, fog lights, hazards lights, headlights, and off-roading lights.
Last update on 2023-09-19 / Affiliate links / Images from Amazon Product Advertising API