70% of American roads are in snowy regions, and more than 1,300 people are killed in snow, leaving us wondering if are Jeeps good in snow, and what tips we have for Jeeping in snow.
Your Jeep is equipped with safety features that make it ideal for Jeeping in snow, your tires being one of them, Jeep tires are the only thing that will be in contact with icy road surfaces, as such they are one of the safety features you should think about, making sure your tires have plenty of treads and properly inflated.
Check out our list of the best portable air compressor we recommend for off-roading Jeeps to inflate your Jeep during snow wheeling.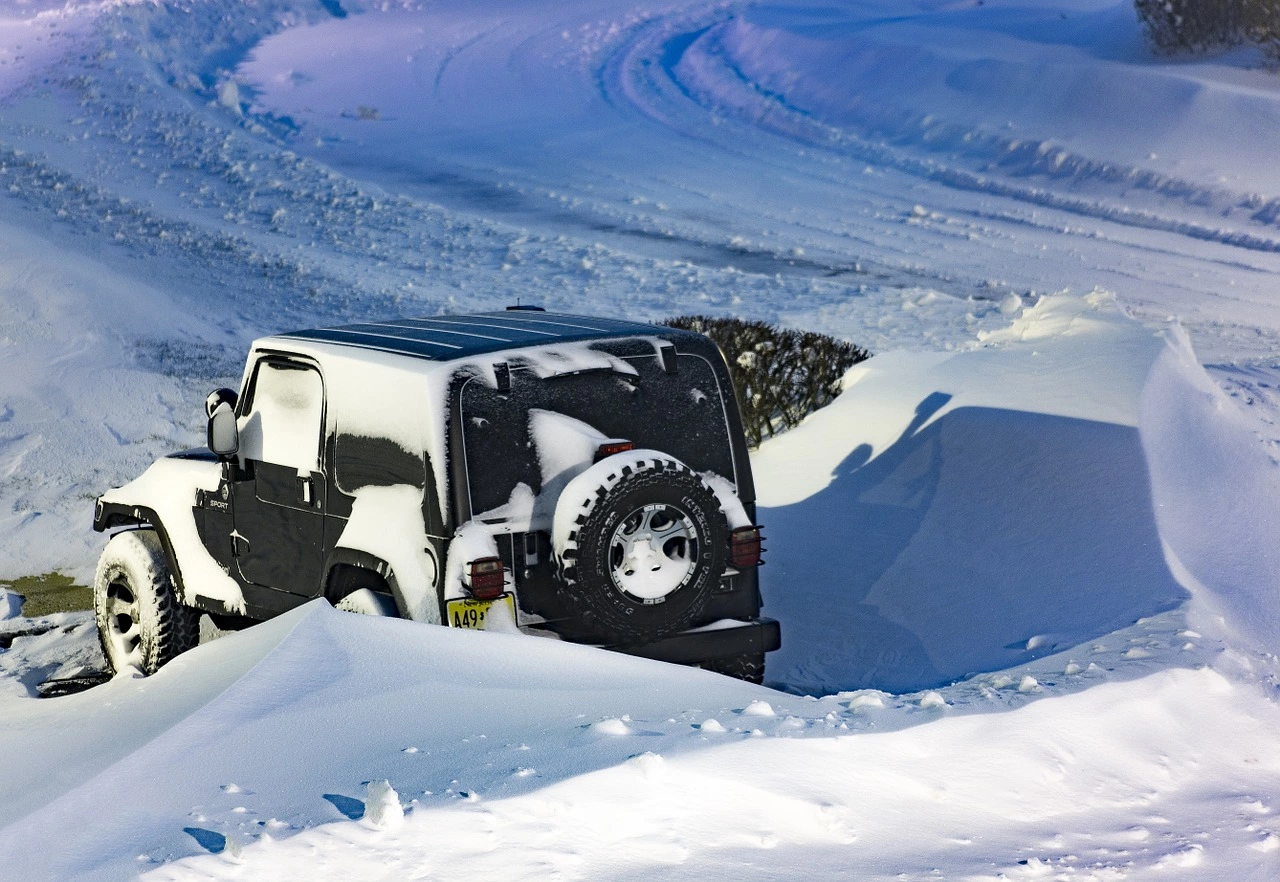 In this article, we will explore features in your Jeep that makes your Jeep ideal for snow conditions, and tips for Jeeping in snow, so read through the article to help you research and plan for your adventure.
Are Jeeps good in snow?
Yes! Jeeps are good in snow. Jeep off-roading features such as ground clearance, beefy tires, traction and stability control, blind spot monitoring, locking differentials, and all-wheel drive allow your Jeep to navigate icy roads better than other SUVs.
Looking for more off-roading tips? Read through our Jeep Wheeling guide to understand a Jeep's capability and attain its greatest potential.
What makes Jeeps good in snow?
The Jeep Selec-Terrain® Traction Management System has a snow mode that allows a smooth start by reducing the power the engine can send to the wheels, it also distributes your Jeep torque between the front and rear wheels allowing for maximum traction. All Jeeps except the Jeep Wrangler have a variant of the Jeep Selec-Terrain system.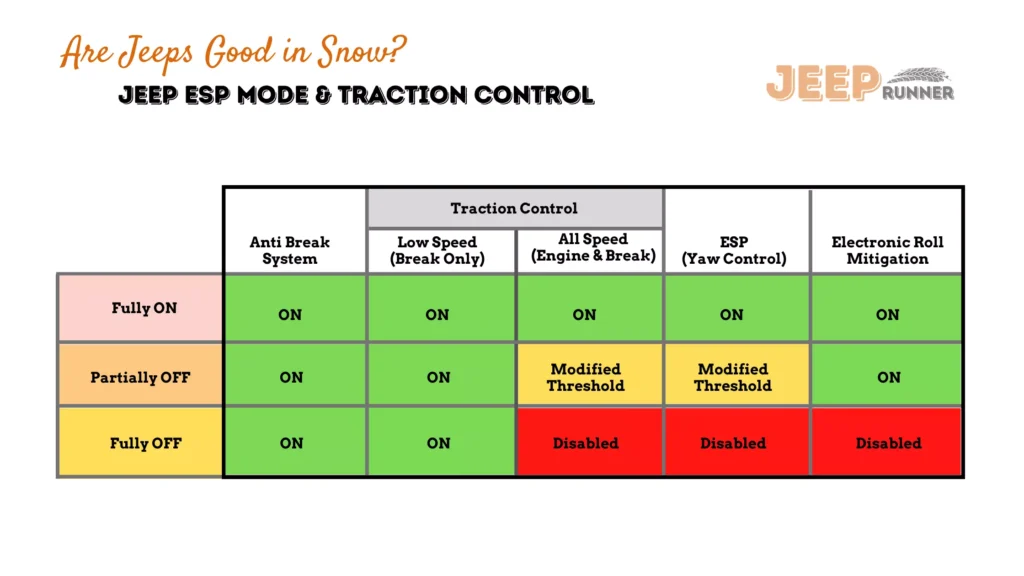 Unlike other SUVs, the Jeep offers you a higher ground clearance thanks to its busy suspension system, beefier wheels, and clearance angles, the suspension components, and ground clearance make up for their heavier body weight, which makes them hard to stop on slippery roads ad improve a Jeeps roll-over potential.
4WD is not only useful in low traction situations, but it's also used when you need maximum torque when stuck on icy roads. It's important to note the Jeep locking differential comes into play and multiplies the torque sent to the front and rear axles.
Jeep tires, in one stormy adventure we were stuck in the snow, my only wish is that we had invested in narrow winter tires/ studs and chains which we do now, we don't recommend having too much of a beefier tire on snow off-road, because they are heavy and floats your Jeep, however in deep snow wider tires perform better, we also recommend deflating your tires in such cases to improve your Jeeps traction.
Tips for Jeeping in snow
If you are planning on Jeeping in snow, we have written down some of the tips that might help you plan to tackle powder-covered surfaces for those who are ready to take the challenge and embrace low traction surfaces with their Jeeps.
Jeeping in the snow? Increase your tire pressure.
Increasing your Jeep PSI during the winter increases the amount of traction your Jeep has on slippery surfaces; We recommend increasing your tire pressure by 3-5 PSI higher for summer and all-season tires, this will help increase the stability and help offset the reduction in responsiveness.
The only time we recommend decreasing your tire pressure is when you are Jeeping in deeper snow, for this we recommend airing down your Jeep to increase its traction, by reducing your Jeep air you will be increasing the patch in contact with the ground to prevent your Jeep from being stuck deep in snow which will prevent your Jeep from digging a hole when spinning.
Jeeping in Snow? Invest in Winter Tires/Studs and Chains.
Instead of airing up and down your Jeep tires, we recommend investing in winter tires/studs/chains, Winter tires are specifically designed to withstand snowy conditions. Winter tires have deep treads that prevent skidding and sliding on icy trails and the teeth optimize traction on snow and ice.
Winter tires are also made with butadiene rubber, the specialized rubber is designed to stay soft in freezing temperatures, allowing the rubber treads on winter tires to splay and wrap themselves around minute protrusions on icy roads.
Winter tires prevent hydroplaning which is common in 4WD, this is because they offer flexibility and softness in their added numbers of deep tire treads that prevent hydroplaning, the treads on winter tires are designed to channel water and slush out of them preventing hydroplaning.
Jeeping in the snow? Reduce your Jeep Weight.
You should also reduce the weight of your Jeep in snow, some people will advise you to add weight on the rear of your Jeep, however, this will diminish the traction on your front drive wheels, Jeeps are designed to use all four wheels to improve traction and weight should be evenly distributed for maximum traction.
If the snow is deep reducing your Jeeps weight gives your Jeep a higher chance of crawling out of the snow and staying on top, one way of reducing your Jeeps weight is by removing your Jeep doors, hard top, and extra weight on the cargo compartment, you should never leave or remove recovery gears in an attempt to reduce the weight of your Jeep.
Jeeping in the snow? Plan your Trip.
We have prepared this article to help you in your trip research, however, this article gives you enough to help you in the planning stages of your snow trip, you should also invest your time to understand what kind of snow to expect during your trip, understand the different types of snow and how they impact your driving and Jeeps safety features.
Traversing different snow types will require different types of safety features and driving habits, for example, you should drive slower on white fluffy snow, slushing melting snow, and old dirty snow.
Final thoughts.
If you notice slight snow patches on your Jeep, 20 degrees outside, and a few bright patches on the roads. You'll be alright if you follow the speed restrictions or somewhat less. Be aware of slopes and corners.
If the roads have a couple of inches in depth, you are okay to drive on a Jeep, but also don't act foolishly. BEFORE cornering makes sure you give your Jeep enough time to slow down. When using "all-season" tires instead of actual winter tires, slow down more than you would think you should.