Jeep is an Iconic brand when it comes to off-roading vehicles, in the year 2020 Jeep introduced a new lineup of its models to include a pick-up truck to compete with an increase in demand for trucks. Jeep focused on its off-road features borrowed from its iconic Jeep Wrangler, its number one-selling Jeep Model.
Jeep introduced features such as high ground clearance through powerful suspension systems, and big tires. Despite being a modern truck, Jeep produced both manual and automatic Jeep gladiators to appeal to both off-roaders and customers looking for trucks.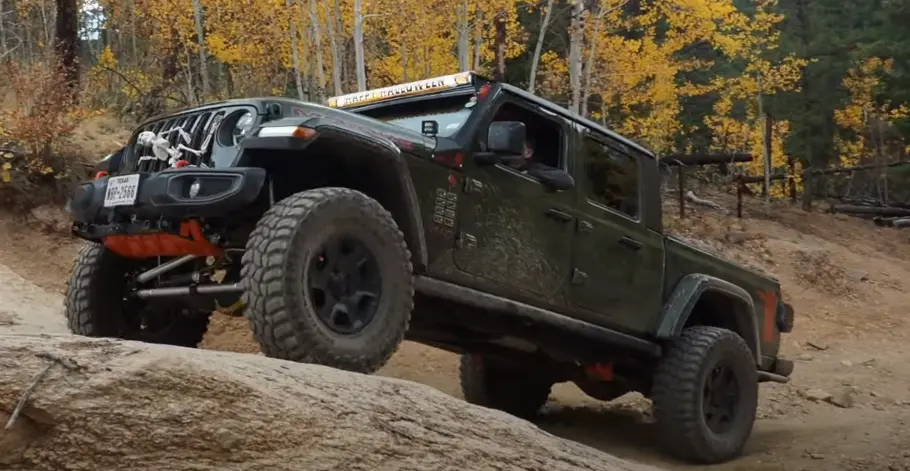 Many of us are used to the Jeep Wrangler, the Jeep Gladiator looks and feels like an elongated Jeep Wrangler with a truck bed. The Cabin of the Jeep Gladiator offers a Unique open-air experience borrowed from the Jeep Wrangler, through an automatic moon roof, and removable doors.
Is a Jeep Gladiator Reliable?
Yes, the Jeep Gladiator is a reliable truck compared to some of its competitors such as Toyota, Tesla, Ford, and other upcoming manufacturers. The Jeep Gladiator is optimized for off-roading and city travel to be a reliable adventurous and family-oriented truck.
The Jeep Gladiator has a powerful v6 engine with 260 – 285 Horsepower that is built to tow between 4,000 and 7,700 pounds and haul various kinds of things such as boats, campers, and trailers, and get you through various kinds of off-road terrains.
Jeep also focused on family-oriented customers, they introduced safety, comfort, high-tech specs and accessories, and infotainment features such as five leather seats, infotainment systems, airbags, back-up cameras, stability and traction control, tire pressure monitoring, and hill assist as its key competitive features.
Despite having a v6 engine with 260 – 285 Horsepower, the Jeep Gladiator fuel usage is optimized and capable of 16-22 miles per gallon in the city and 22-28 miles per gallon on the highway. Its fuel use is reliable and the engine is well engineered to make sure it's not a fuel guzzler as most people would think, despite being a heavy vehicle that many critics of its design that is not properly optimized for aerodynamics.
Below are some of the Jeep Gladiator trim levels that users can choose based on the engine type, security features, and tech features:
Features that make the Jeep Gladiator reliable.
We will highlight some of the features we love regarding the Jeep Gladiator, and how these features are optimized compared to other modern trucks competing for the growing truck markets such as the ford F150 and the Toyota Tacoma, we will also highlight in detail each feature for you that we have analyzed for this post:
Jeep Gladiator engine options
The Jeep Gladiator has both a gasoline and diesel engine, the base Jeep Gladiator engine specs include a 3.6-liter V6 engine with an output of 260-285 horsepower and a diesel engine of 3.0 liters turbocharged with an output of 260 horsepower.
Both gasoline and diesel are reliable engines when it comes to off-roading and city driving, if you are into serious off-roading, we recommend getting a manual diesel engine Jeep Gladiator as this has the most powerful output and also offers more control when navigating off-road Jeep trails.
The gasoline engine also performs well when off-roading, however, we would prefer it for occasional off-roaders and Overlanders. The gasoline engine is reliable for daily driving, as it's more economical in terms of fuel use, and offers amazing on-road performance.
Jeep Gladiator towing capabilities.
The Jeep Gladiator is reliable when it comes to towing and hauling things, without a trailer attached to it the Jeep Gladiator can haul around 1,700 pounds of gears and equipment, with a trailer or boat attached to the Jeep Gladiator, you can tow anything weighing 4,000 to 7650 pounds, with the latter being the diesel Jeep Gladiator which has a more powerful engine.
The towing capacities make the Jeep Gladiator a reliable truck for off-roading and Overlanding, who often carry and haul lots of Overlanding and Camping gears in their Jeeps when Jeep Camping.
Is the Jeep Gladiator reliable off-roading?
The Jeep Gladiator is reliable off-road, it has a powerful engine, high ground clearance, and big tires that make it ideal for off-roading, some of the added features include a Selec-Trac 4×4 system that improved its traction when maneuvering different off-road terrains, higher trim levels have a RockTrac 4×4 with full time and part-time engagements.
However, one of the complaints we have observed with the Jeep Gladiator's off-road capabilities is the length of the truck, the Jeep Gladiator is 18 feet, 2 inches in length, the length of the Jeep Gladiator makes it hard to maneuver extreme terrains.
The weight of the Jeep Gladiator is an advantage when off-roading, the Jeep Gladiator weights 4,650 to 5,352 pounds, and the weight pushed the Jeep Gladiator down when off-roading, allowing for maximum traction of the wheel and reducing slippage in sand, mud, and snow.
We also noticed the Jeep Gladiator steering is not ideal for off-roading, the steering of the Jeep Gladiator is stiff, and not accurate on non-paved steering, however, when off-roading you will be moving at a slow speed it has no effects of off-road trails, and rock crawling.
Is the Jeep Gladiator a reliable family truck?
Yes! The Jeep Gladiator is a reliable family truck, some of the features that make it ideal as a family truck include a well-equipped interior with five seats leather-trimmed upholstery, a modern Uconnect infotainment system, and spacious seat spaces of 38.3 inches legroom and 24.8 inches legroom.
Some of the safety features that make it an ideal family truck include drive assist technology, roll mitigation a stability control system, a Parksense camera, daytime running lamps, advanced airbags systems, Hill assist features, Adaptive cruise control, and a standard alarm system.
The Jeep Gladiator is also adaptable for family trips and adventures, you can have a removable roof and doors to make family trips more fun, this is a unique design borrowed from the Jeep Wrangler, which makes it a better family trips car than the Jeep Wrangler is the additional storage in the truck bed for families to store their camping and Overlanding gears.
Jeep Gladiator Warranty.
Through the Jeep Wave Program, the Jeep Gladiator is included in its warranty program, the drive train has five years or 60,000 miles warranty, Its Body has a corrosion warranty of 5 years and unlimited miles, 60,000- or five-years roadside assistance, and 3 years and Unlimited miles on maintenance of the Jeep Gladiator.
Jeep Gladiator Vs Ford F150.
The Jeep Gladiator and the Ford 150 are best-selling trucks for both Jeep and Ford companies and compete for the same customer base. Both companies target off-roaders, families, and companies looking for transport companies, however, the Ford 150 cannot compare to the Jeep Gladiator in terms of off-road performance, and towing capabilities.
However, the Ford 150 is a cheaper option for those who cannot afford a Jeep Gladiator, for families and those looking for a daily driving truck, the Ford 150 has a nicer interior and better on-road performance.
Some of the unique features found in a Jeep Gladiator that the Ford 150 can only dream of are removable tops and doors. As well as the Jeep Gladiator's rugged look that sets it apart from the Ford 150.
Jeep Gladiator vs Toyota Tacoma.
The Toyota Tacoma is also another Jeep Gladiator competitor, they both target off-roaders, Overlanders, companies, and family-oriented customers. The Toyota brand is known for its off-road vehicles such as the Toyota Landcruiser which is an iconic off-road model from Toyota, Toyota has borrowed some of the Landcruiser featured and installed them on the Toyota Tacoma.
Toyota is a brand known for its reliability and durability, the Toyota Tacoma targets daily drivers as long as off-roaders and Overlanders, however, it has a more luxurious look and features than the Jeep Gladiator on the base models, which offers additional features.
When it comes to off-roading, the Toyota Tacoma cannot be compared with the Jeep Gladiator, the Jeep Gladiator has superior off-road capabilities thanks to the engineering of its engines, suspension systems, and technology.
For companies and Overlanders, the Jeep Gladiator offers more towing capacity than the Toyota Tacoma, thanks to its powerful V6 engine, this makes it a more adventurous vehicle that has both off-roading capabilities and towing capabilities that adventurous look for in an Overlanding vehicle.
Conclusions.
According to our analysis, we have a Jeep Runner Rating for the Jeep Gladiator, it's a summary of what we have discussed in this post and our experience with the Jeep Brand:
| | |
| --- | --- |
| Performance (Compared to Ford 150 & Toyota Tacoma) | Solid 9/10 |
| Interior (Compared to Ford 150 & Toyota Tacoma) | Solid 7/10 |
| Safety (Compared to Ford 150 & Toyota Tacoma) | 8/10 |
| Quality & Reliability (Compared to Ford 150 & Toyota Tacoma) | 8/10 |
| off-roading & Overlanding Capabilities (Compared to Ford 150 vs Toyota Tacoma) | 9/10 |
The Jeep Gladiator is a well-positioned Truck compared to its competitors, it might not be ideal for daily driving, luxury, and all the modern technology you might want in a truck, but it offers all the superior features you will need in a serious truck.
Off-roaders, Overlanders, Companies, and busy professionals such as those in real estate who haul and tow equipment on a day-to-day basis will love the Jeep Gladiator, they will also enjoy its open-air experience, especially for families looking to have an adventurous weekend.
What do you think about the Jeep Gladiator, we would love your feedback, and also send us some of the customized Jeep Gladiator and tell us what you have added to your Jeep Gladiator Rig, and possibly why! Hit us through our con6tact page, or email jeeprunnerblog(@)Gmail.com