Electric Jeeps are starting to become part of our everyday lives, as Jeep is going all in on electric SUVs by the end of 2025 as part of its broader sales strategy to have electronic Jeeps account for 50% of its sales in the US and 100% in Europe by 2030.
More and more consumers are purchasing electric Jeeps as development in infrastructure, such as the introduction to fast charging level 2 chargers and Jeep charging networks, are making it practical and sustainable to own an electric Jeep compared to a gasoline-operated Jeep, in our article on how much charging electric Jeep costs, we saw that it's 50% cheaper to charge an electric Jeep, compared to fueling your gasoline Jeep to travel the exact miles.
Its also clear that electric Jeeps are better for the environment; swapping from gasoline operated Jeep to an electric Jeep will reduce your carbon emissions and slow the progression of the climate crisis. Jeep batteries can also be stripped down for the raw materials to be re-used; in fact, over 80% of the components in a Jeep battery are recyclable.
But will all these advantages of owning an electric Jeep, consumers have started to doubt whether owning an electric Jeep is sustainable in regards to the downsides of owning an electric Jeep.
Electric Jeeps have a higher upfront cost than gas-powered Jeeps, you will also need to install a home charger where you can spend anything from $500 to $2500, additionally, the driving range might be limited with Jeeps such as the Jeep Wrangler 4xe having a 17.4 kWh that travels 25 miles, while the biggest battery is 87 kWh of the Jeep Wagoneer S that travels 400 miles on a single charge. Compared to a full-tank Jeep with a 21.5-gallon tank travelling 420 miles and 516 miles on the highway.
There is plenty to consider when assessing the sustainability of owning an electric Jeep. In this article, we will look at the benefits of owning an electric Jeep, the drawbacks of owning an electric Jeep, a comparison between owning an electric Jeep and a gas-powered Jeep, and also consumer considerations.
Are Electric Jeeps Worth It?
Yes, electric Jeeps are worth it if you lead a particular lifestyle; if you drive around the city and own a home charger where you can charge your Jeep, or if you frequent off-road trailheads with Jeep charging networks installed, an electric Jeep can be a great deal for you. Besides the environmental benefits, an electric Jeep requires less maintenance, has low running costs, and offers better performance.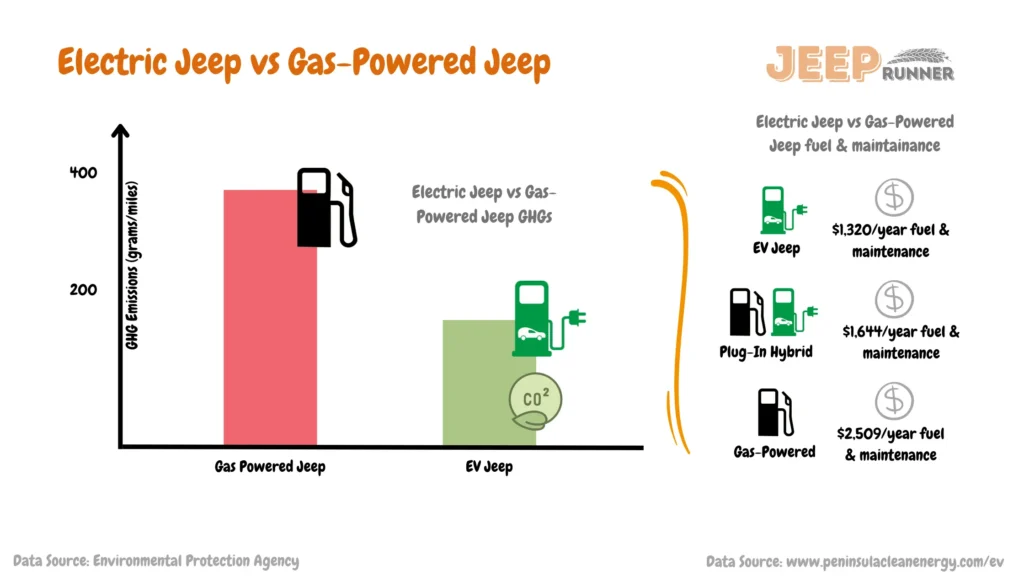 Benefits of an Electric Jeep
There are a lot of benefits to owning an electric Jeep; having owned an electric Jeep and a gas-powered Jeep for the last few years, we have summarized some of the benefits of owning an electric Jeep compared with a gas-powered Jeep, benefits that should help you determine if an electric Jeep is the right one for you.
Less Greenhouse Gas Emissions
According to research done by Jessika Trancik, a professor at in the Institute for Data, Systems, and Society at the Massachusetts Institute of Technology, who compared electric vehicles, including various EV models of Jeeps carbon emission, results show that lifetime carbon emission from electric Jeeps is lower even when battery production is included.
The research by Professor Trancik is also in per with recent research by the Environmental Protection Agency, which that shows despite the manufacturing process of electric vehicles that uses more energy, electric vehicles such as Jeeps produce much fewer greenhouse gasses than their gas-powered counterparts in the long run and are therefore they are better for the environment.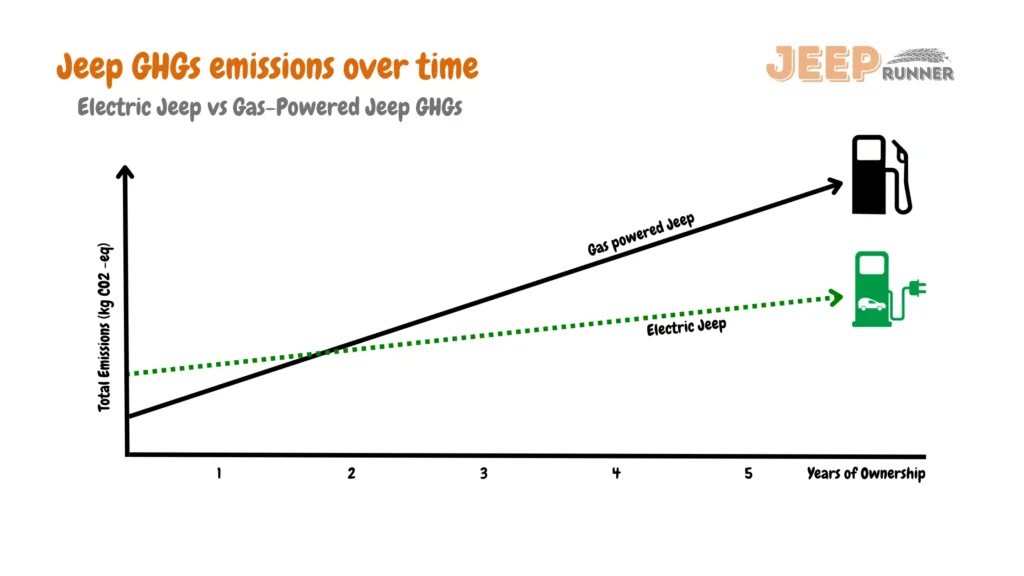 In the chart above, we have compared the greenhouses emission of owning an electric Jeep over a gas-powered Jeep based on research by the Environmental Protection Agency and Professor Trancik.
Economical in Terms of Fuel/Power
When it comes to the fuel economy of electric Jeeps and gas-powered Jeeps, the electric Jeep is more economical and will reduce your fuel economy by up to 50%; on recent firsthand research on charging vs fueling our Jeep Wrangler 4xe we monitored our electricity usage via a Kill a Watt Electricity Usage Monitor, to track our Jeep electricity bills.
Best Jeep Charging monitor
Using a Level 1 Jeep charger, our Jeep charging costs from empty to full was $2.87, while using a Level 2 Jeep charger, our charging costs were $1.50, a fully charged Jeep Wrangler 4xe could travel 25 miles with a fully charged battery, comparing this data with a gasoline-powered Jeep Wrangler Rubicon which has a mileage of 17 mpg and highway mileage of 25 mpg and our cost for gas is $4.738 regular – $4.931 mid-grade.
This means charging our Jeep Wrangler 4xe with a Level 2 charger, we use the Grizzl-E Level 2 EV Charger, which has fast charging capabilities, and we can reduce our costs by up to 70%; here is the Level 2 charger that we use and recommend.
Check out our recommendations on the best Jeep Level 2 chargers to learn more about the best Jeep Level 2 Chargers and accessories we recommend.
Low Maintenance Costs
When it comes to maintenance, an electric Jeep is easier to maintain than a gasoline-powered Jeep; this is because gas-powered Jeeps have lots of moving parts compared to electric Jeeps, the moving parts at one point will need replacement, and as we all know, Jeep parts are expensive, this is parts such as spark plugs, Catalytic converters, mufflers, etc.
Improved Performance & Handling
Another benefit of owning an electric Jeep is the stability of the Jeep, an electric Jeep battery is usually placed at the bottom of the Jeep, giving it a lower centre of gravity, considering the high ground clearance of the Jeep, weighting the battery at the bottom of the Jeep will give it more Jeep handling stability especially when cornering.
In terms of acceleration, Electric Jeeps have a faster acceleration compared with gas-powered Jeeps; for example, the new Jeep Wrangler Magneto 2.0 can sprint to 60 mph from a standstill in two seconds flat this is because its electric motors can provide the required torque in a short period while not moving, however when it comes to end speeds gas powered Jeeps can reach higher speeds compared to electric Jeeps.
Limitations of Electric Jeeps.
Now that we have informed you of the benefits of owning an electric Jeep that we have noticed while owning our Jeep Wrangler 4xe, it's time we talk about the limitation of owning an electric Jeep.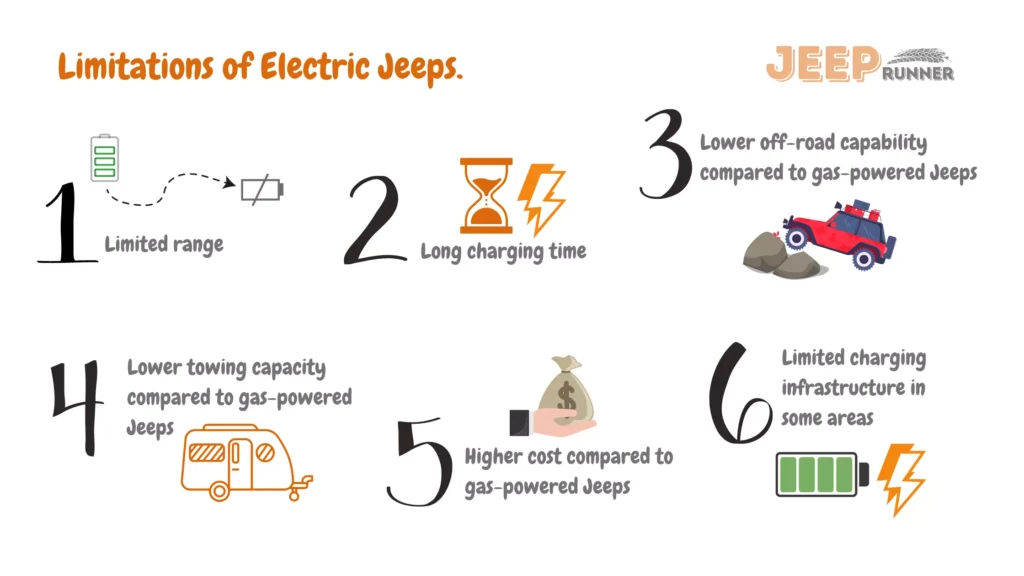 Electric Jeep Mile Range
An electric Jeep, when on a full battery, can go up to 25 miles of all-electric driving; we can drive our Jeep Wrangler 4xe in electric mode even when the battery is 1%; this is a limitation if you have an electric Jeep, however, if you need to improve on the miles, you can consider a hybrid Jeep which uses both electric and gas with a total range of 470 miles.
If you are thinking of an all-electric Jeep, you might consider an EV Jeep with a larger battery pack, such as the Jeep Avenger, which has a 50.8 kWh, or a Jeep Wagoneer S, which has an 87 kWh compared to our Jeep Wrangler 4xe which has only 17.4 kWh batter. A bigger battery, such as the one on a Jeep Avenger with 50.8 kWh, can go up to 248 miles, and the Jeep Wagoneer S with an 87-kWh battery can go up to 400 miles. Compared to a gas-powered Jeep which can travel up to 420 miles and 516 miles on the highway with a full tank of 17.5 or 21.5 gallons.
Jeep Charging Points
Considering the few miles an electric Jeep can travel, we must talk about the infrastructure available within the driving range of the electric Jeep, currently, there are over 56,000 EV charging stations across the U.S which is not enough to sustain the rising number of electric vehicles on the road, Jeep knows that most Jeepers use their Jeeps to off-road in major Jeep trails spread out in the United States, and this is the reason they have installed Jeep charging stations in them that use solar.
This means for people who live in cities with lots of charging stations, an electric Jeep makes sense, however, you will also have to deal with the limited availability of spots to charge your Jeep; living in the city might mean that you own a home charger and your daily commute are short trips, and you will be lucky if your workplace has EV chargers installed, to cut down on costs of charging your electric Jeep and the likelihood of your electric Jeep running out of juice.
For serious Jeep off-roaders, or Jeep Overlanders, an electric Jeep has to be supplemented with Jeep solar panels to make sure that the batteries are not drained when off the grid, for use we use the solar panels to power our camping lights and charge our communication and navigational devices, and this allows us to use our Jeep batteries only for essential power needs reducing our use of the Jeep batteries juice.
Electric Jeep Initial Costs.
Electric Jeeps have a higher initial cost during manufacturing than gas-powered Jeeps due to the costs involved in battery and technology to power the Jeep with electricity, and this is later transferred to the consumer who buys electric Jeeps at a higher cost than their gas-powered counterparts.
It's also worth noting that the costs are not only tied to buying costs; you will also need to buy a home charger, and since we recommend the Grizzl-E Level 2 EV Charger, which will cost you more than $1,000 to $2,500 to have it installed in your home. Jeeps come equipped with cables of different sizes, 3M, 5M, and 10 M. If you need a longer cable, you will need a Jeep Extension cord that might void your warranty due to the liabilities that come with using their party charging accessories.
But don't let the high initial costs fool you, electric Jeeps have a lower operating cost than gas-powered Jeeps, as we have noted in the advantages of owning an electric Jeep, and you will end up saving a lot in the long run if you consider going for an electric Jeep paired with a Jeep smart charger.
Jeep Long Recharge Times.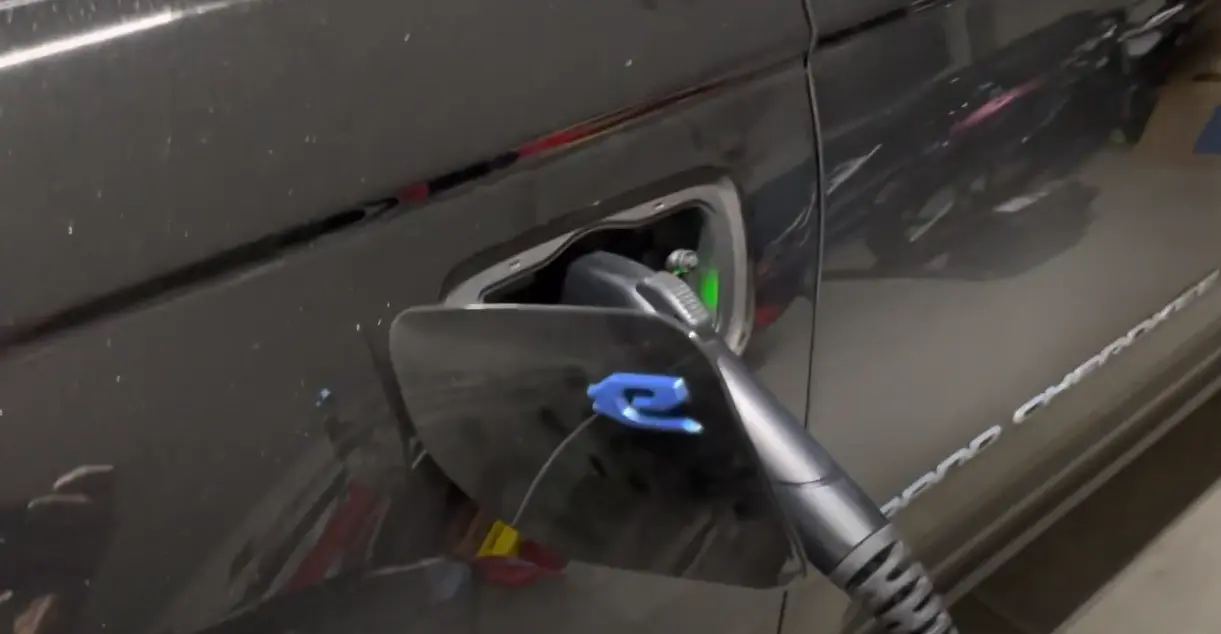 It takes us an average of 2 minutes to fill up our Jeeps tank, while it takes us 12 hours to charge our Jeep with a level 1 charger which uses a 120v charging system, even after speeding up the charging speeds with a fast charger such as the Grizzl-E Level 2 EV Charger that we recommend and use on a daily, it will take you 2 hours to charge from empty to 100%, this is a limitation to many electric Jeep owners that we thought it's good you understand before deciding to buy an electric Jeep.
Conclusions.
As you can see, it's worth it to buy an electric Jeep if it aligns with your lifestyle. The benefits of owning one outweigh the limitations of owning an electric Jeep, weaknesses such as recharge times, EV charging infrastructures, high initial costs, and driving range are some of the weaknesses you should consider before investing in a used or new electric Jeep.
EV Jeeps have many benefits, such as better handling and performance, environmental considerations, low operational costs, and fuel and maintenance costs. If you can, an electric Jeep is a great investment for the environment, also keep coming to this site for more information, tips, and tricks you should know regarding electric Jeeps because there are lots of exciting posts to come as we use and learn from first-hand use of our electric Jeep.
Last update on 2023-09-19 / Affiliate links / Images from Amazon Product Advertising API