Let's talk about full synthetic oil changes, just because our Jeeps deserve only the best oil types for maximum overall engine performance and protection offered by synthetics compared to using conventional oil which is good for lubrications but not performance and protection.
Ironically, we spend thousands of dollars to have our Jeeps repaired which is a result of cost-cutting on spare parts and oil changes, according to consumer reports only 22% of drivers use full synthetic oil, 35% use Semi-synthetic (or blend) oil, 32% conventional oil, 11% either use diesel or high mileage oil.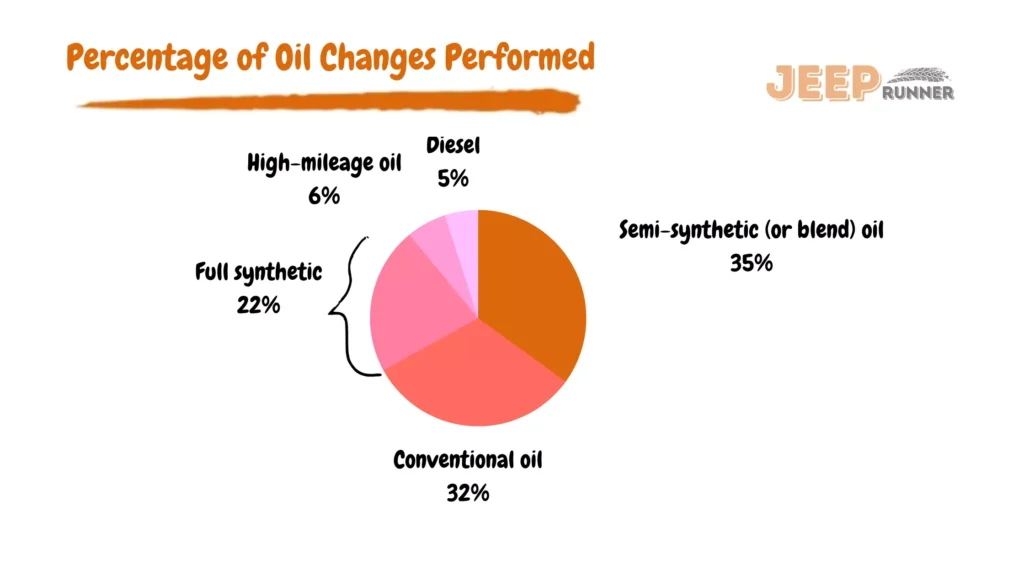 The pie chart above shows that more than 50% of American car owners are missing out on the benefits of full synthetic oil changes, unknowingly creating more conditions for expensive car repairs, and this is the reason we as automotive enthusiasts and experts have decided to address this issue and educate our readers on full synthetic oil changes.
Is full synthetic oil expensive?
Full synthetic oil is 10% more expensive than conventional oil changes, whether you change the oil yourself or you get the oil changed at an Auto service near you.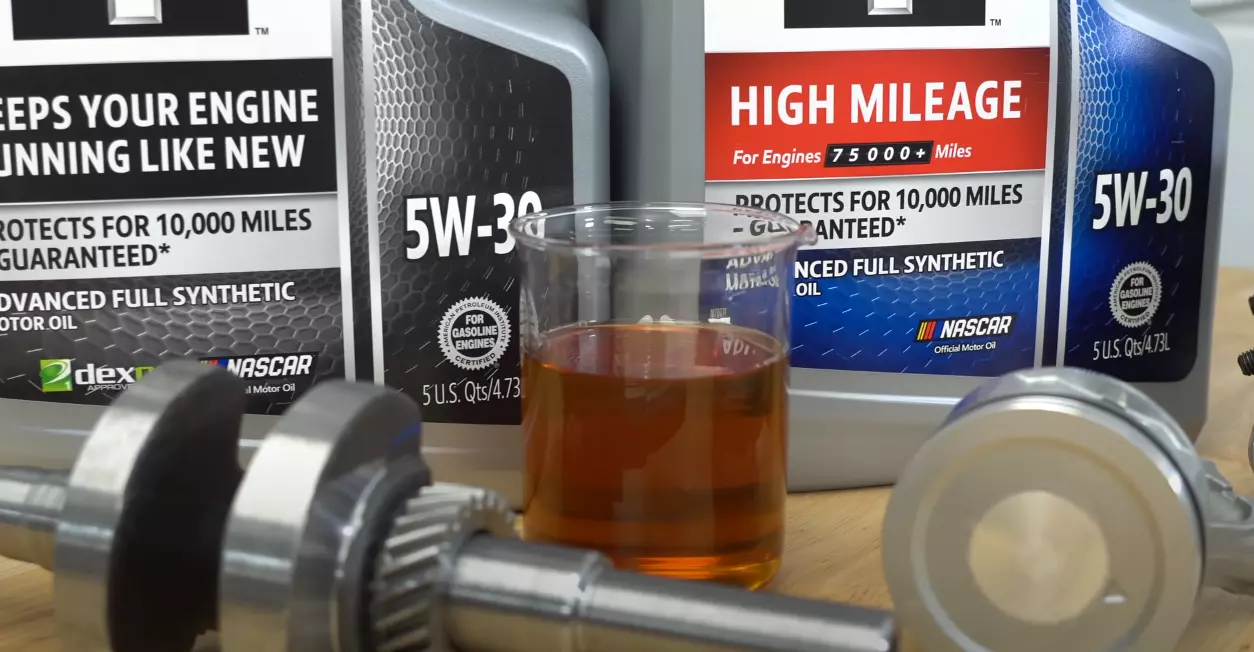 For my Jeep Wrangler 6.4L V8 Gas OHV I use Pennzoil Ultra Platinum Full Synthetic 10W-30 Motor Oil 5 quartz ($25.97) not only recommended by Jeep, but Jeep also include Pennzoil on their Jeeps from the factory. Staying within the parameters of oil change frequency and products keeps my Jeep warranty happy.
I also make sure to buy Bosch Engine Oil Filter at $20, I love the Bosch Engine Oil Filter because it has a 99.9% filtration efficiency, and as I told you my Jeep deserves the best, and Bosch makes premium oil filters with a metal bypass spring and silicon antI-drain valves that scream to me QUALITY – Bosch recently celebrated 100 years being in the automotive industry, and their success is attributed to innovative products in the industry.
This means my full synthetic oil change costs me $55.97, compared to using conventional oil at $13and throwing in an oil filter at $10 I would say a full conventional oil change will cost $23-35, the extra $20 or so are much worth it for premium products that last for more than a year.
How long can full synthetic oil last?
On a Jeep Wrangler, a full synthetic oil change lasts for 4,000-8,750 miles.
We recently did a case study on frequently we change our Jeep Wrangler Oil changer, and you will find our Jeep Wrangler Oil Change Case Study – Summary of Results interesting.
| | |
| --- | --- |
| Jeep Driving Style | Jeep Wrangler Oil Change Intervals |
| Light Driving Conditions | 8,750 Miles |
| Off-roading Jeep | 6,250 Miles |
| Rock Crawling Jeep | 4,000 Miles |
Tip: We recommend resetting your oil change indicator after the oil test: we also have a Jeep Wrangler Oil Change Reset (2007-2021 Models) guide for you to follow. Most modern cars have an oil life monitoring system that will alert you when you need to change your oil.
Is full synthetic oil change better?
Compared to conventional oil, fully synthetic oil is better because it has a higher viscosity index, and its base models (molecules) offer better characteristics than conventional oil as you can see in the infographic image below: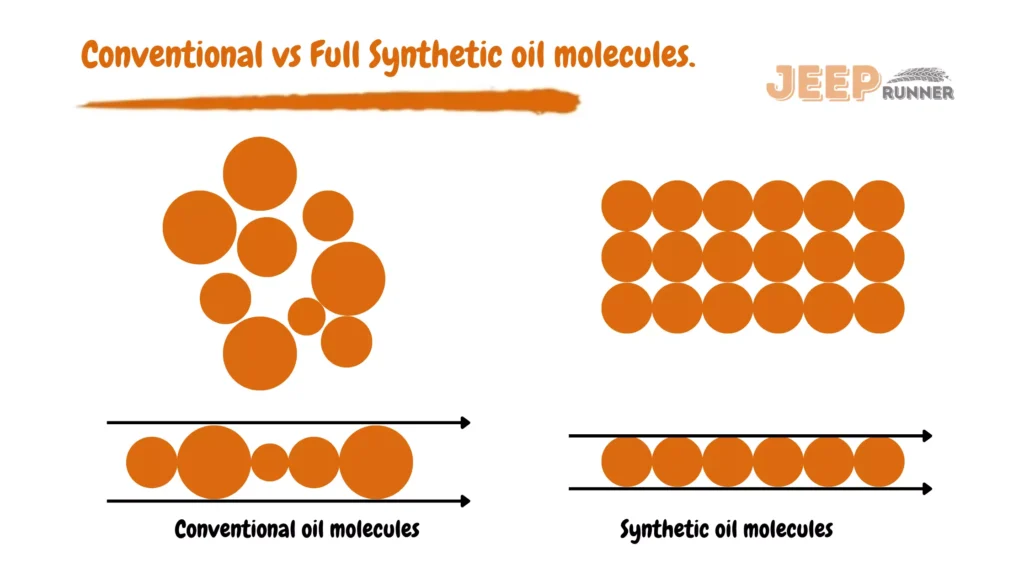 From the image above, you can see that conventional oil molecules have varying sizes, shapes, weights, and shapes causing a lower viscosity index, while fully synthetic oil has a more uniform molecule. This is not only what makes fully synthetic oil better, but it also has additional chemicals and different oil bases that increase its viscosity index.
You may be wondering what matters in viscosity, and why "viscosity grades and quality levels" is a big deal; well, conventional oil (low viscosity index) changes a lot at a different temperature, while a high viscosity index which is good doesn't change a lot at different temperature. Conventional oil has varied sizes and the large molecules prevent the flow of oil at cold temperatures, while the small molecules thin out at high temperatures.
With thicker at a hot temperature, synthetic oil offers better wear protection than conventional oil due to the viscosity index, this doesn't mean that conventional oil can't have similar characteristics as synthetic oil using addictive, but the bulk of what makes motor oil is the base oil, and the base oil of synthetic oil has better characteristics than conventional oil.
Benefits of full synthetic oil changes.
Characteristics of full synthetic oil offer the best performance in low temperatures
Synthetic oil has an increased heat resistance or thermal stability
Synthetic oil offers greater performance, decreased volatility, or better oil burn
Synthetic oil composition Improve motor oil shear stability or the capacity to withstand viscosity breakdown by enabling the formulation of motor oils with lower viscosity, such as 0W-20
Is full synthetic and synthetic the same?
We have designed the infographics image below explaining the key difference between synthetic and fully synthetic oil, which is mainly on the base oil used: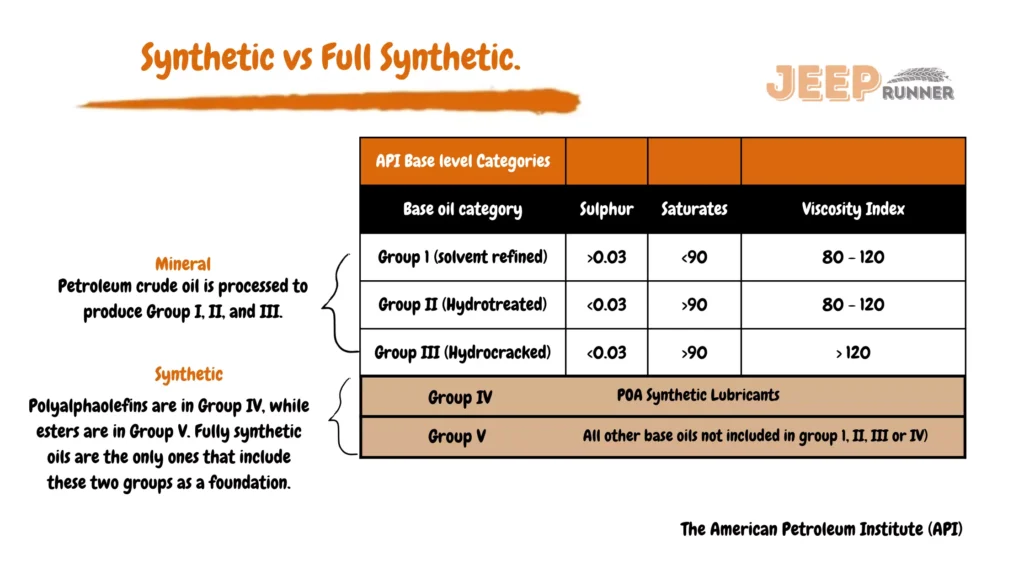 We have explained synthetic and conventional oil above, a full synthetic contains 100% of the base oil composition that contains stronger synthesized base oil components.
Does synthetic oil improve gas mileage?
Yes, full synthetic oil will improve your gas mileage by up to 2%.
The reason why full synthetic oil improves your gas mileage is that full synthetic oil offers better lubrication of your metal parts than conventional and synthetic oils, which in turn will help your engine's performance by running your engine more efficiently with less work, the less friction of the engine parts the higher improvements of your gas mileage.
Learn more on how to improve your Jeep's gas mileage on our Jeep Wrangler Gas Mileage Tips & Tricks guide.
Conclusions.
My Jeep changed my life, It's a symbol of freedom that gave me more options as a beach cruiser, rock crawler, off-roader, and daily driver – you name it, I know Jeeps last long, and I have a general idea of where it will take me for long years if its underbelly is protected and full of premium products.
That's the reason I trust full synthetic oils because they don't break down like other types of oil, and can go longer between oil changes, based on the reports in this article we have also seen that full synthetic molecules withstand extreme temperature and won't break down in a hot engine or during winters because it can resist the effects of the cold.
I just want to start my Jeep, and full synthetic oil is already flowing as soon as the engine starts.