Jeep hidden animals are surprising visual treats hidden in Jeeps since 1997, also called "Jeep Easter eggs" Jeepers have been finding them in their Jeeps, some of the Jeep hidden animals are hidden in plain sight while others are hard to find.
Want to find all Jeep Hidden Animals on your Jeep? Read our post on How to Find Jeep Easter Eggs (All Jeep Models Covered)
Jeeps are known for their go anywhere, and doing anything off-roading 4×4, and some of the hidden animals are a symbol that represents the capabilities of the Jeep when it comes to adventure, nature, and endurance.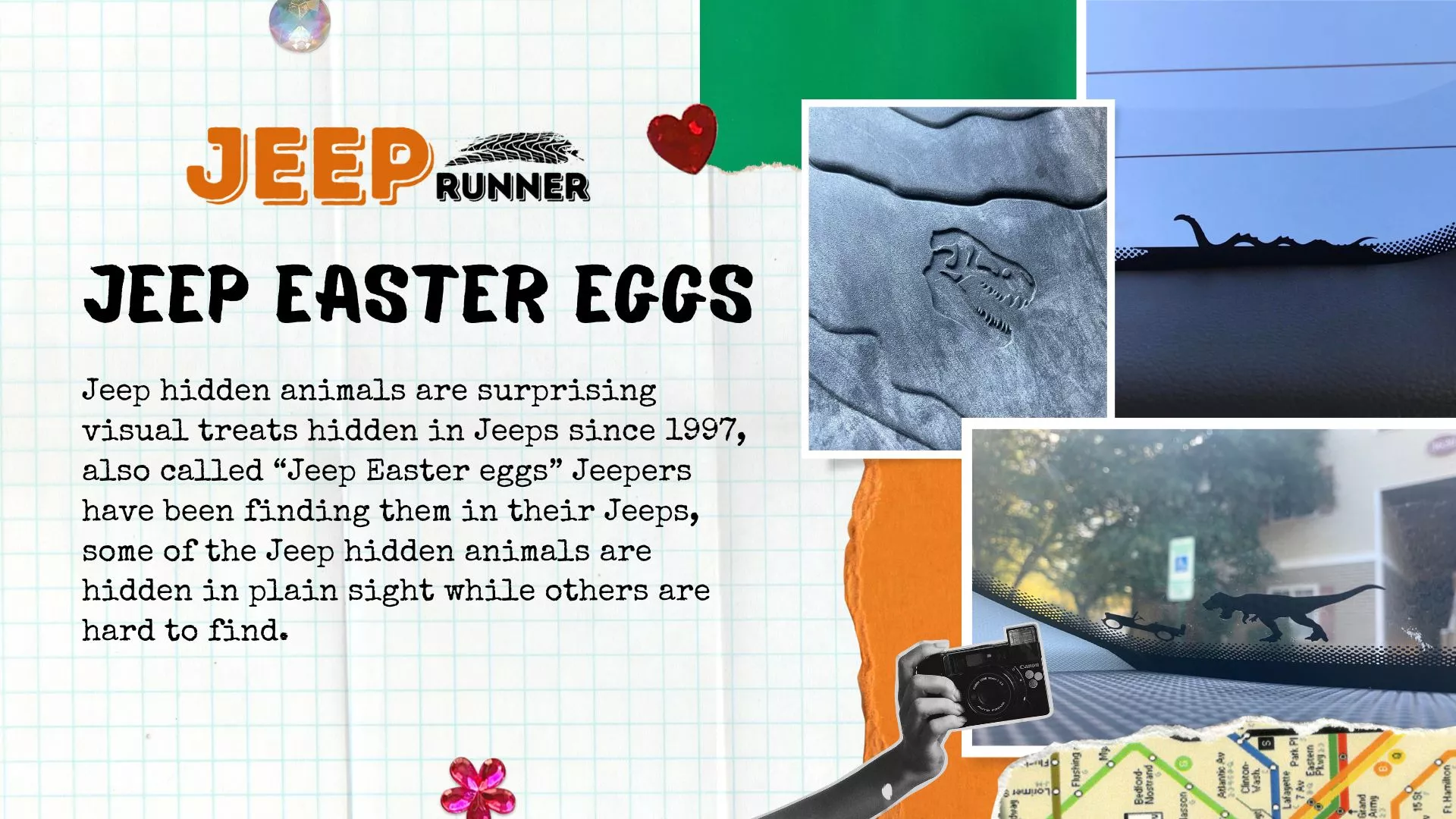 There are many theories on why Jeep designers are hiding Jeep hidden animals in the interior and exteriors of the Jeep, and this article will explain what each Jeep animal hidden animal means and what it represents. Here are some of the popular Jeep hidden animals
Jeep Lizard.
The Jeep Lizard is mainly found on the driver-side plastic below the windshield of your Jeep, the tiny lizard is normally spotted when Jeepers are checking their VIN for recalls, The Jeep Lizard symbolized the Jeep's capabilities of scaling vertical rock walls, Jeeps are the number one choice for rock crawlers due to their features that are easily modified, they include a flexible suspension system, ground clearance, beefier tires, solid axles, locking differentials, modding ability, and a lightweight climbing vehicle right off the assembly line.
Most people are startled especially Jeepers with Herpetophobia or Fear of Reptiles when they find Jeep Lizard on their dashboard for the first time, some don't even know they exist on their Jeeps!
Lizards can scale vertical rock walls, and climb massive boulders, they are some of the things that are commonly seen during nature trails, most off-roaders are more active during the warm summer months, and so are lizards, Lizards are adapted to the driest environment, and the best time for lizard spotting as they emerge from hiding for months from winter cooler temperatures, and Jeepers can spot them in their lookout spots atop rock castles.
Jeep has included a shark in their list of Jeep hidden animals, the shark is symbolic of Jeep's water fording capabilities to drive through wet fields, streams, lakeshores, lakebeds, and other muddy areas.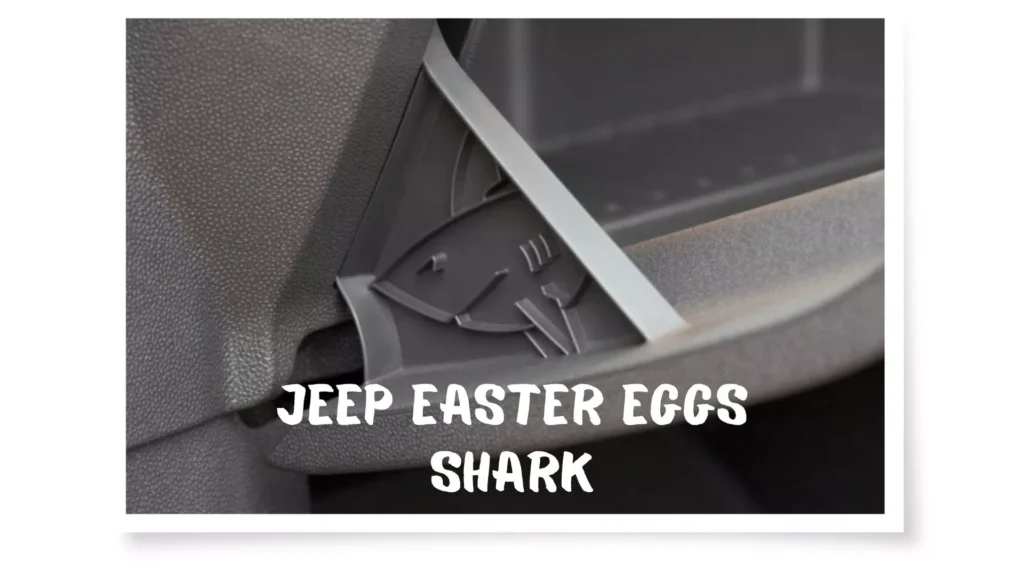 Straight for the factory a Jeep can get through 30 inches of water, other features that make Jeeps ideal for water folding includes beefier tires that allow them to hydroplane more easily, high ground clearance, waterproof parts, and upholstery make the Jeep okay with the occasional shower, some Jeepers have fitted snorkels in their Jeeps that feeds air in their Jeep when submerged in water.
Jeeps are not the first vehicles to have sharks hidden in them, cars like Vauxhall Corsa have them, and are found on all models manufactured from the years 2006 to 2014.
The Loch Ness Monster
Another Jeep hidden animal is the loch ness monster found in Jeeps rear windshields, the loch ness monster is a Scotland mysterious aquatic beast nicknamed "Nessie" that is said to live in a loch (Irish and Gaelic word for Lake) in Scotland, the Loch ness monster is well known for being quite muddy and murky.
Jeepers love getting their Jeeps muddy, dirty Jeeps get the most respect according to the Jeep Wave Hierarchy, special sign Jeep owners use to show respect and admiration for their Jeeps when they meet or pass each other on the road.
Most publishers and reports on the internet, claim the loch ness monster depicts the capabilities of the Jeep to wade through shallow waters, which is also right.
Spider says "ciao, baby"
A Spider is one of the most famous Jeep hidden animals that Jeep owners spot and share on their social media accounts, we have seen a spider easter egg in the gas tank of our Jeep.
To figure out and understand why Jeep had to put the spider in their Jeep hidden animal list we have to understand the relationship between the spider, the words "Ciao Baby" and Jeep and its community.
First of all, the spider is known for its crawling capabilities and some spiders can walk in water, Just like spiders' legs Jeeps have independent suspensions that ensure each wheel is always in contact with the road surface and powered by its hub for maximum traction. Jeep's independent suspension offers a more comfortable experience for those relaxing mountain trails and excursions.
Ciao a is an Italian word for "hello or goodbye' but is culturally diffused into romance languages in Europe. Baby is also a common word couples use when they have established an emotional connection with each other. According to CarMax, the Jeep Wrangler is one of the top 10 romantic cars in the world.
Both messages are a Jeep symbolism and appreciation of the young Jeep owners who enjoy outdoor activities in their Jeeps, in today's world young romantic couples are more into outdoors dating activities according to research by naturescot, and the Jeep offers romantic features that make an outdoor activity romantic such as removable doors and removable tops which are the most sought out features for a romantic road trip or off-road adventure.
There are also other theories, according to NowCar, the spider is saying "Ciao" in recognition of the Italian heritage, and the spider depicts the fact that arachnids usually enter into fuel tanks of cars and cause problems.
A Sasquatch
A Sasquatch can also be found in most Jeeps and can be spotted on the rear windshield of your Jeep, many people say the four-legged animal looks like a Sasquatch, big foot, Yeti, Gorilla, or King Kong. The Sasquatch is a mythical creature said to inhibit the forests of North America, the big foot is said to be very muscular, with long arms and a big torso.
Jeepers have compared the Jeep to the large and mysterious animal, in that its power and outstanding performance in off-road terrains make the Jeep an alpha in the world of off-roading. Some of the Jeep's off-roading capabilities include a powerful engine and long arms that can support bigger tires.
Most of the big foot sightings are in the Northwestern US and Western Canada forest, where coincidentally the less traveled and rugged roads are also where most Jeepers like to off-road with their Jeeps.
T-Rex
Another hidden Jeep animal is the T-Rex (Tyrannosaurus Rex), Jeepers have discovered the Trex and its fossils hidden in their Jeeps, The T-rex is mainly found in the windows, windshield, roof latches, and the right side of the steering. The fossils of a T-rex are found on the floor mats.
The T-rex is shown chasing a Jeep Willys, the Jeep Willys is one of the first generations of Jeeps manufactured during World War II, the Jeep was manufactured to be tough and was used by the military to ferry servicemen, their commanders and military supplies, Jeep and its brand has always been rooted in the history of the United States and the military, T-Rex and its fossils may imply the history of the Jeep and its brand which is old like the dinosaurs and precious like dinosaur fossils.
Final Thought.
These are just some of the popular hidden Jeep animals Jeepers have found hidden in their Jeeps over the past few years, it's possible that there are other animals yet to be found, and it's also possible Jeep will add more Jeep hidden animals in future models.
We hope this informational post on Jeep hidden animals has helped you understand the reason why Jeep designers have placed hidden animals in the Jeep, if you have a friend with a Jeep, feel free to share this article with them and help them understand why there are Jeep hidden animals located in the interiors and exteriors of their Jeep.