Wondering what is duck duck jeep? Well, Jeep owners buy little rubber ducks, write messages on them or tie a note tag with sweet messages on the rubber ducks and leave them on other Jeeps as a way to express love and sentiment from one Jeep Owner to another.
What is duck duck Jeep?
The duck duck Jeep Craze was started in Ontario, Canada by the "Mother Ducker" Allison parliament. Alison is from Ontario Canada but works in Alabama, In July 2020 Allison Parliament while back at home in Bancroft, Ontario – Canada was approached by strangers because of her Alabama Jeep license plate and attacked verbally because of pandemic concerns, instead of fighting back Alison parliament bought a Giant yellow rubber duck and placed them on a fellow Jeep owner with a note and posted it on Facebook. The post went viral and the duck duck jeep craze started and now the private duck duck jeep Facebook group has over 60,000 members.
Are you looking for more stories like this? Here's one we believe you'll enjoy: What is The Jeep Wave? Jeep Hand Signs & Rules!
What is duck duck Jeep Tradition
Before the duck duck Jeep was a thing and a pack of rubber ducks became a part of our Jeep accessories, anyone who owns a Jeep Wrangler knows that every time you came across another Jeep Wrangler driver you have to wave as a compliment as they pass by. It's one of the most notable Jeep family traditions.
Today the duck duck Jeep craze is hitting the streets of the United States like wildfire, at the end of the day, Jeep owners have found a way to have fun and leave smiles on their way.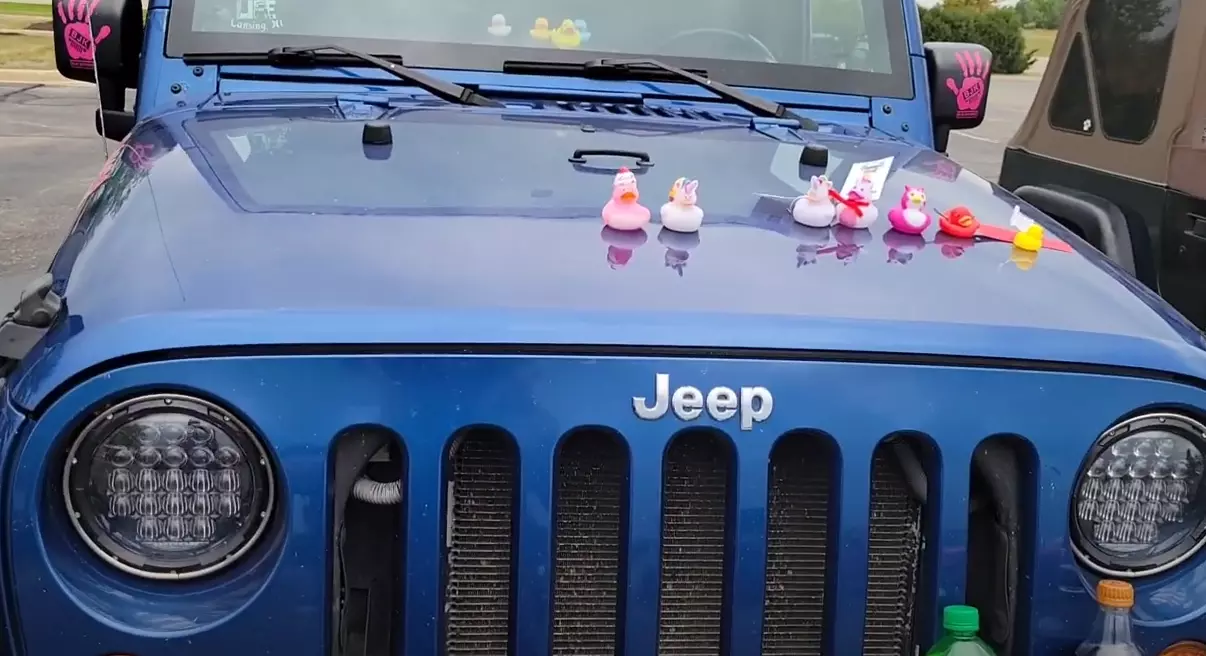 What is duck duck Jeep rules
The duck duck game is pretty simple, you just have to buy some rubber ducks and randomly put them on other people's Jeeps, there are no rules, however, we have laid out some simple steps for you to take and consider when playing the duck duck jeep game.
Total Time: 15 minutes
Purchase little rubber ducks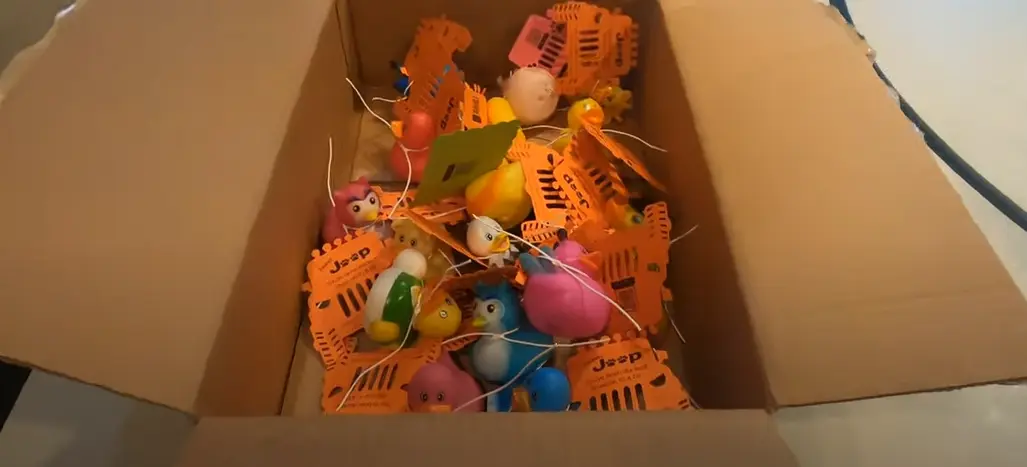 Purchase little rubber ducks, Write sweet or funny messages on the rubber ducks or just write your message on a note.
Write official duck duck Jeep Hashtags on the ducks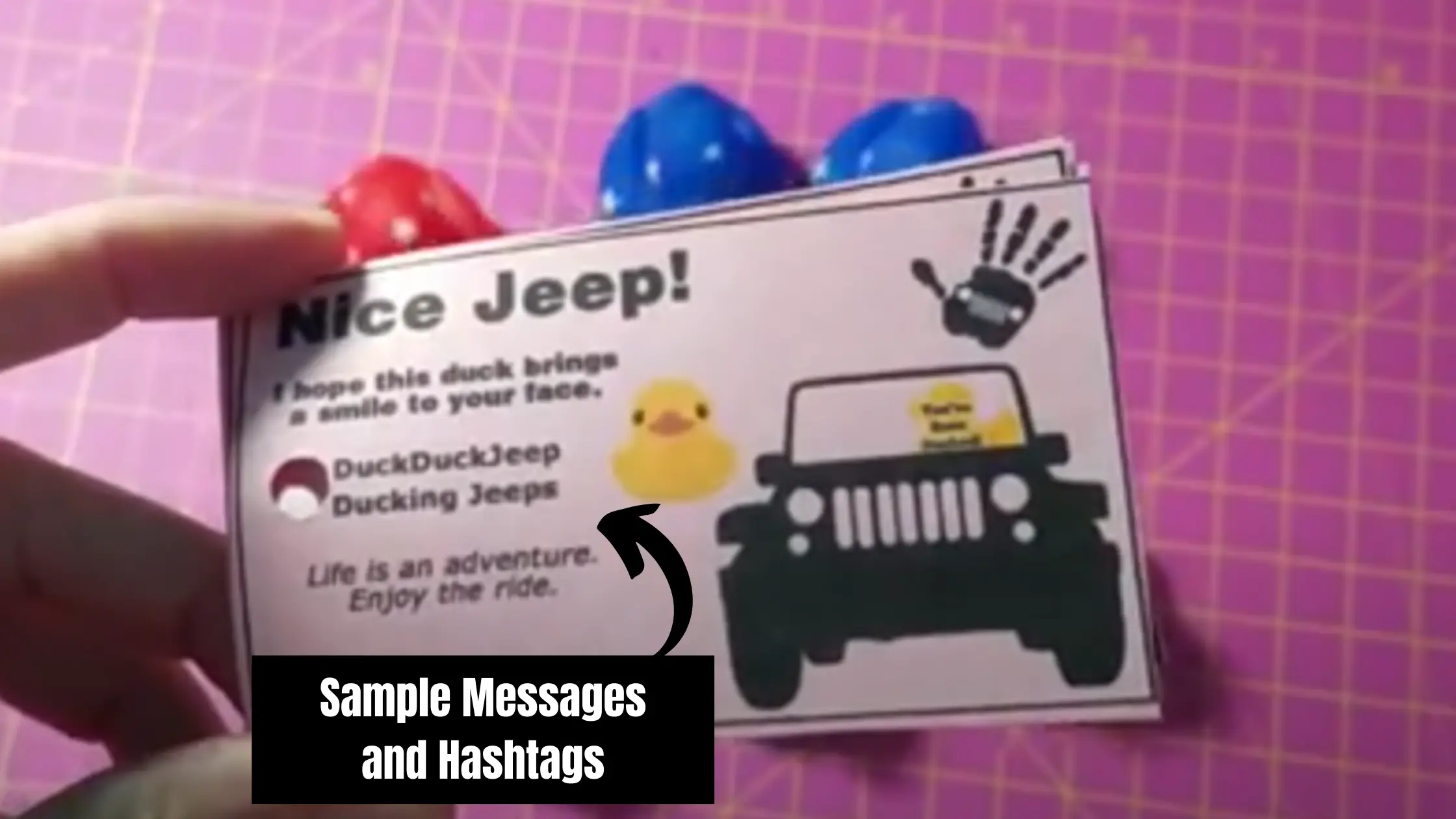 Make sure your little rubber duck has any of the two official hashtags #DuckingJeeps or #DuckDuckJeep (You can write the hashtags on a note and hang it on the rubber duck neck)
Duck a Jeep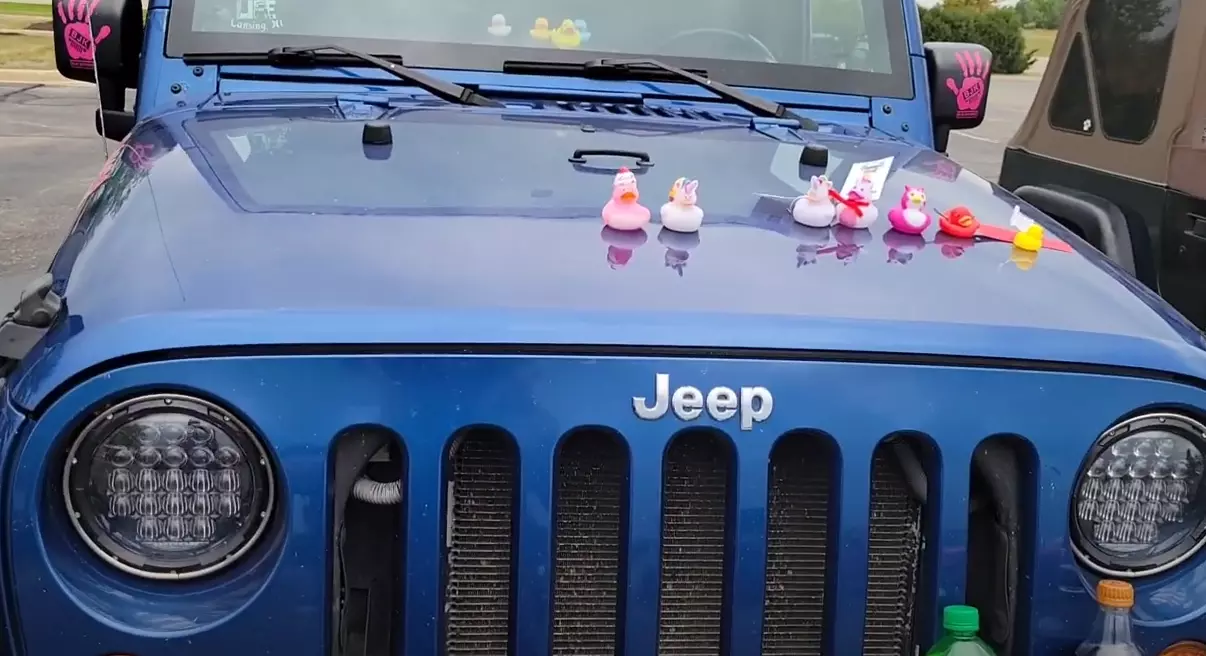 Place the duck on a Jeep, doesn't matter whether it's a Jeep Wrangler, Gladiator or Cherokee, and make sure the ducks are visible to the Jeep owner when they are back to their Jeep. (Its important to note that rubber ducks might melt in the hot sun so make sure you place the ducks at least in a shaded part of the vehicle).
Post on Social Media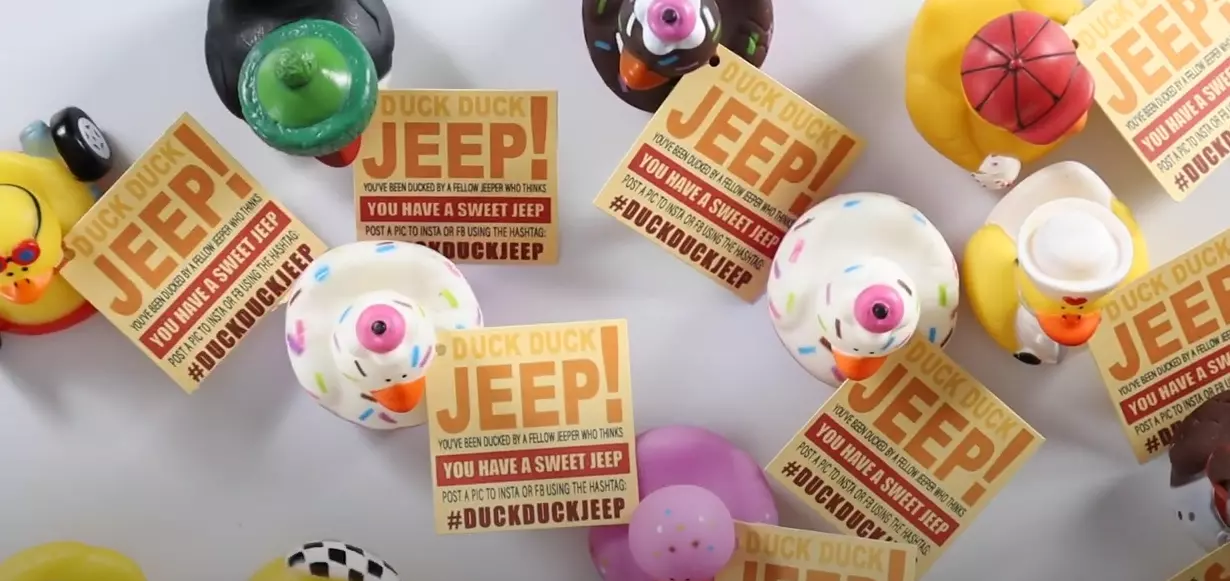 Take a picture of the duck and post it on your social media pages with the hashtags #DuckingJeeps or #DuckDuckJeep.
Estimated Cost: 50 USD
Supply:
Rubber Ducks
Duck Duck Jeep Printable Tags
Tools:
Where to buy duck duck Jeep Rubber ducks?
Duck duck Jeep rubber ducks are available at your local dollar store or you can buy them in bulk from Amazon, below is some amazon link to buy yourself some Duck Duck Jeep rubber ducks from Amazon.
The set includes 50 various 2″ rubber duckies in a variety of colors. Each ducky has a distinct design!
We Love these little ducks, they are perfect for ducking Jeeps in my area. Great size and variety.
They're of excellent quality and have a lot of colors. The paintwork is excellent, with no sloppy patches like some others. I'm overjoyed because I didn't get a single duplicate! They are all unique.
What now?
Now that you know what is duck duck Jeep – Grab yourself some rubber ducks, share a happy vibe, and embrace the new way Jeep owners are connecting all over the world using little rubber ducks. Most people with Jeeps who have been ducked for the first time are saying that they were excited when they found little ducks with messages on their Jeeps. So go ahead and duck a Jeep and have fun while at it!
The video below of Allison Parliament, founder of #DuckDuckJeep explains more about the duck duck jeep story
Last update on 2023-09-17 / Affiliate links / Images from Amazon Product Advertising API