Hell's Revenge Trail is one of the beginner-friendly Jeep trails in Moab, Utah. Hell's Revenge Trail is rated 3-6, meaning it's a moderate Jeep Badge of Honor Trail, making it one of the most popular destinations for Jeeps and other offroad vehicles.
Hell's Revenge Trails is ideal for off-road beginners wishing to earn their Jeep Badge of Honor badges. We recommend considering attempting  Fins and Things and Hell's Revenge, which are beginner-friendly trails and much easier to complete than Cliff Hanger, Elephant Hill, Hole in the Rock, Metal Masher, Poison Spider, Pritchett Canyon, Steel Bender, Top of the World, and  Golden Spike Trails which are all demanding Jeep badge of honor trails found in Utah.
Hell's Revenge Trail is a moderate Jeep Badge of Honor trail that is east of Moab in addition to Fins and Things, which are both in the sand flats recreational area; you will need to pay $5 to access the 6.5 mi (10.5km) Jeep Trail or pay $10 weekly fee if you intend to camp in your Overland Jeep in the 9 camping areas on over 120 campsites.
Video Overview.
The Rock Solid Rig Team provides a tour of Mile 0.0 – Trailhead to Entrance Station and explains the signs, rules, and regulations, especially those that help preserve the Trail.
Most of the video is shot in a wide-angle cockpit view, which shows you the trail from the perspective of the Jeep driver's seat within the Jeeps cockpit; in this view, you can also see the hood of the Jeep Wrangler and the tip of the Stinger Hoop of the Jeep front bumper which you are accustomed to if you are a Jeep Wrangler owner.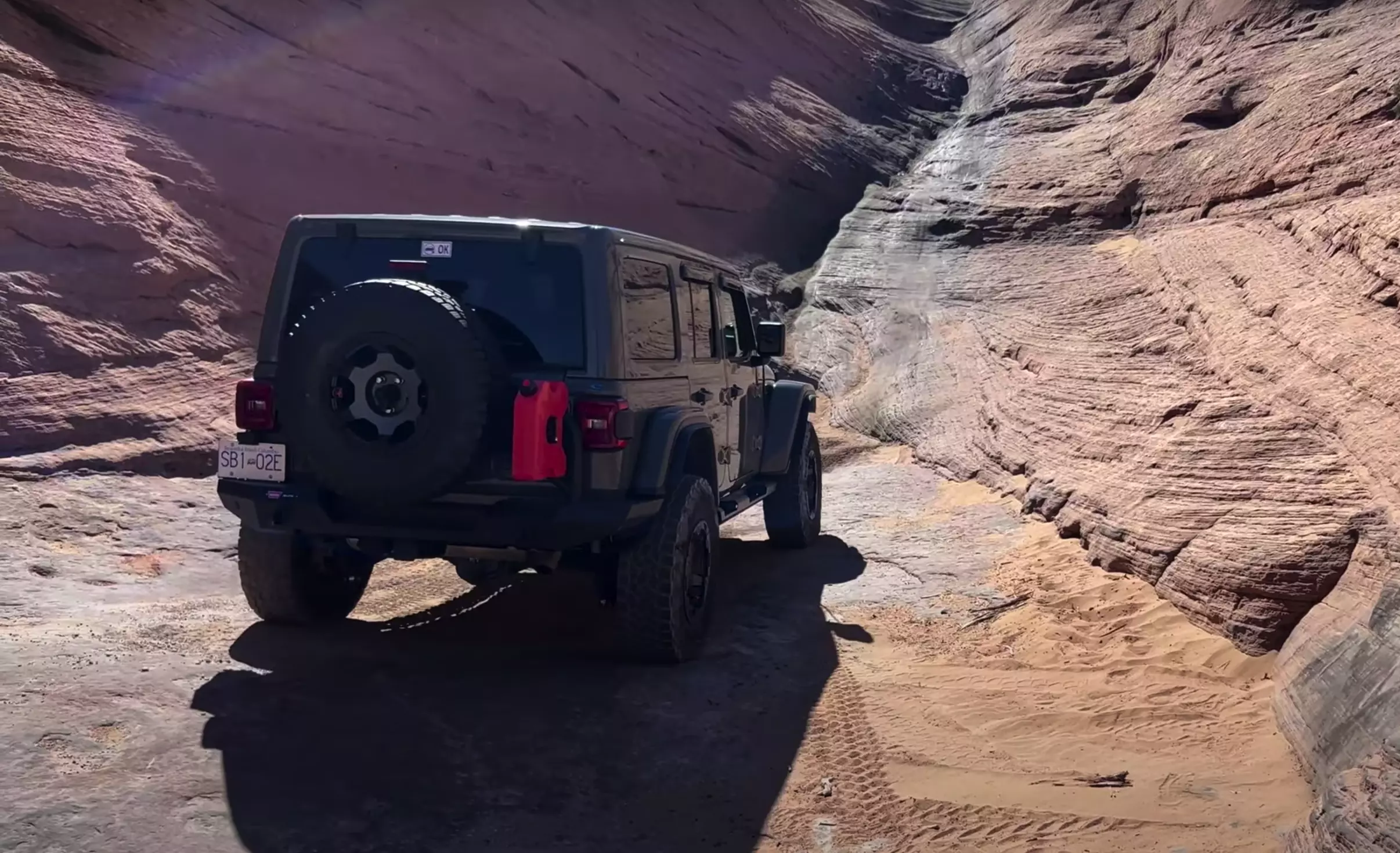 The video also highlights the various challenging obstacles of Hell's Revenge Trail, including Mickey's Hot Tub, which is one of the different hot tubs found in Hell's Revenge Trail; other hot tubs you can attempt driving through include Carwash and Devil's Hot Tub with the Devils Hot Tub being one of the most challenging hot tubs in Hells Gate Trail, other obstacles the Rock Solid Rig Team conquers include steep descents, rocky terrain, and Hell's Gate obstacles with the team showing multiple attempts on how to beat the challenge on a Jeep.
The video shows a new perspective of Hells Gate Trail, starting with drone footage of the obstacle by Micheal Shearer, followed by elevated bird eye video shots from below and above the steep 20 – 45 degrees Hell Gate V-shaped incline that emphasizes how small the Jeep is compared to the challenging Hell's Gate V-shaped incline obstacle, making the Trail look more inclined, tough and rugged – they even show the rollover prone area of Hells Gate Obstacle.
The Rock Solid Rig Team uses two trail spotters from above and below the 20 – 45 degrees Hell Gate V-shaped Hell's Gate incline to clear the obstacle. Rock Solid Rig Team trail spotters can tell the driver where the tires are and how the Jeep is responding to the attempt to clear the obstacle, as you can hear the above spotter telling the Jeep driver to keep the centre of the dash pointed at the centre of the notch of the Jeep.
The Rock Solid Rig Team video captures the exhilarating off-road adventure, which consists of encounters with rock formations, steep descends, and narrow passages; they also encounter other off-roaders along the way who also share their experiences and expertise in overcoming Hell's Revenge Trail obstacles.
Navigating Hell's Revenge Trail.
After payment of the daily or weekly fees, you will be handed either a two-page guide, which is ideal for bikers, or a more heavy-duty guide that contains more details regarding the trails in the location; finally, the third guide they have is a more detailed trail guide for each Trail which we recommend as a must-have since this is more helpful with picture and overview summary of the Trail, and can be used in conjunction with your GPS (The GPS coordinates are 38.57558025442613, -109.5225385476044) or your guide that you used to plan for your Hell's Revenge Trail adventure.
Below is the Hells Revenge Trail Map, which shows the horseshoe-shaped 6.5 trail in detail on Google Maps. The trail map highlights Hell's Revenge obstacles. Beginning with the Hells Revenge trail, you'll encounter the challenging Escalator, featuring stair-stepped climbs and undercut faces. Midway, the optional Hell's Gate offers a steep slickrock descent, and Devil's Hot Tub provides a broad, deep, and steep off-roading challenge. Culminating the journey is the Tip Over Challenge, a double-ledge obstacle.
Hell's Revenge Trail Overview.
Hell's Revenge Trail is 6.5 mi (10.5 km) long and takes approximately 2-3 hours to complete. The Trail contains 4 extreme obstacles spread across the rugged and rolling sandstones with sandy spots, and the track is marked with white dashes on rock surfaces, which can be easily confused with white dots that mark bikers who cross the course six times and search and rescue routes.
| Aspects | Details |
| --- | --- |
| Difficulty Rating | 6 out of 10, can reach up to 8 out of 10 with challenges (easier with bypasses) |
| Miles | 8 miles |
| Elevation Gain | 1,200 feet |
| Route Type | Loop |
| Road Surface | Slickrock |
| Speed Limit | 5 to 10 MPH |
| Notable Obstacles | Escalator, Hell's Gate Obstacle, Hot Tub, Tip Over Challenge, and more |
Hell's Revenge Trail Route Guide.
Here is a detailed description of Hells Revenge Trail terrain, landmarks, and the challenges you will encounter to
Mile 0.0 – Trailhead to Entrance Station.
Start at the trailhead just past the Entrance Station on the left (north).
Follow painted chevron symbols, ascending a steep fin with a view of the Entrance Station.
Note: The bottom of the fin enters private property, so stay on the Trail.
Mile 0.4 – Reentering Sand Flats.
Pass through a fence, reentering Sand Flats.
Turn sharply left and reach an overlook at the top of the hill.
Mile 0.6 – Alternate Route and Main Trail:
At this point, there's an alternate route straight up the hill, but the main Trail turns right.
Mile 0.7 – Slickrock Dome and Abyss Overlook.
The Trail takes you up a slickrock dome following yellow chevron symbols.
Encounter a series of large slickrock fins and domes descending to Abyss Overlook.
Mile 1.2 – Turn and Descent.
Take a hard right turn on the back side of a dome.
Bear left at the bottom onto sand and then across slickrock.
Mile 1.4-2.7 – Trail Markers and Bike Trail Intersections.
Follow trail markers, intersections with the Slickrock Bike Trail, and chevron symbols.
Exercise caution at bike trail intersections and follow the Trail around features like "Black Hole."
Mile 3.1-4.0 – Private Property and Potholes.
Be mindful of private property and avoid large depressions in the rock known as potholes.
"Mickey's Hot Tub" is marked and open; avoid other potholes on private land.
Mile 4.1-5.0 – Steep Descents and Challenges.
Navigate an extremely steep descent on a narrow ledge with caution and a spotter.
Encounter challenges like Tip-Over and the Staircase obstacle, with options for bypasses and alternate routes.
Conclusion.
Hell's Revenge trail in Moab, Utah, is one of the beginner-friendly Jeep Badge of Honor Trails; steep finds, rocky terrain, and challenging obstacles characterize it. We highly recommend preparing for the adventure by equipping your Jeep with Jeep Recovery Accessories, especially a Jeep winch; the Trail is best suited for Jeeps with 33-inch tires and enhanced Jeep suspensions, combined with bigger tires to improve your Jeep's ground clearance.
Source: @RockSolidRig via YouTube
Related Posts.