The Electric Jeep Charging Calculator is a useful tool for Jeep owners who want to estimate the time it will take to charge their electric Jeep, since there are a lot of aftermarket chargers with different charging speeds (more on Jeep Aftermarket chargers below), Jeepers can use this Electric Jeep Charging Calculator and customize their inputs to get estimates of how long it will take to charge their Jeeps battery to the desired level.
It's also useful to Jeepers who want to plan their charging sessions, based on the type of Jeep charter they have, to ensure they can plan their Jeep charging sessions, you can get time estimates of when your Jeep will be ready when charging it.
Electric Jeep Charging Calculator
How to charge your Jeep faster?
There are two types of chargers available for your Jeep, Level 1 and Level 2 Jeep chargers, the table below shows the different types of chargers in detail, their power output, circuit requirements, charging speeds, and the time it will take to charge a 100 miles battery.
| Charger Level | Power Output | Circuit Requirements | Charging Speed | Time to Fully Charge a 100-mile Battery |
| --- | --- | --- | --- | --- |
| Level 1 | 1.4 kW | 120V, 20A | 4 miles/hour | Up to 25 hours |
| Level 2 | 6.2-7.6 kW | 208-240V, 40A | 32 miles/hour | 4-5 hours |
As you can see the type of charger you have can significantly impact the time it takes to charge your Jeep, most Jeepers own a level 1 charger but things have changed there are aftermarket Level 2 chargers that are compatible with your Jeep, as you can see from the table, a Level 2 charger is recommended for daily charging needs.
There are a lot of Aftermarket Jeep Level 2 Chargers available in the market, but our number one choice that we recommend is the Grizzl-E Level 2 EV Charger, we recommend Grizzl-E Level 2 EV Charger because it's a low-maintained charger, budget-friendly, and based on your needs its configurable to 16, 24, 32, and 40 amps of output to personalize your charging speeds, its also a durable Jeep charger that has features that protect and prevent it from heating, and power outage.
The good things about the Grizzl-E Level 2 EV Charger are that you can install it in your home, and it's also a good option for public charging stations. The power output maxes out at 9.6kW since its rated 40 amps, and the circuit requirements are 240 volts, you can reduce the time it takes significantly with a level 2 charger compared to a level 1 charger that has 1.4kw and the uses a 120v circuit.
Electric Jeep Battery Sizes.
Electric Jeeps have different battery packs, in this table, we have listed electric Jeep battery sizes based on each electric Jeep since in order to use our electric Jeep Calculator you will need to input the size of your Jeep's battery pack, to calculate the time it will take to charge it.
| | |
| --- | --- |
| List of Electric Jeeps | Battery Pack Size |
| Jeep Wrangler 4xe | 17.4 kWh |
| Jeep Renegade 4xe | 11.4 kWh |
| Jeep Cherokee 4xe | 17.3 kWh |
| Jeep Avenger | 50.8 kWh |
| Jeep Recon EV | 13 kWh |
| Jeep Wagoneer S | 87 kWh |
| Jeep Wrangler Willys 4xe | 17 kWh |
How long does it take to charge Jeep?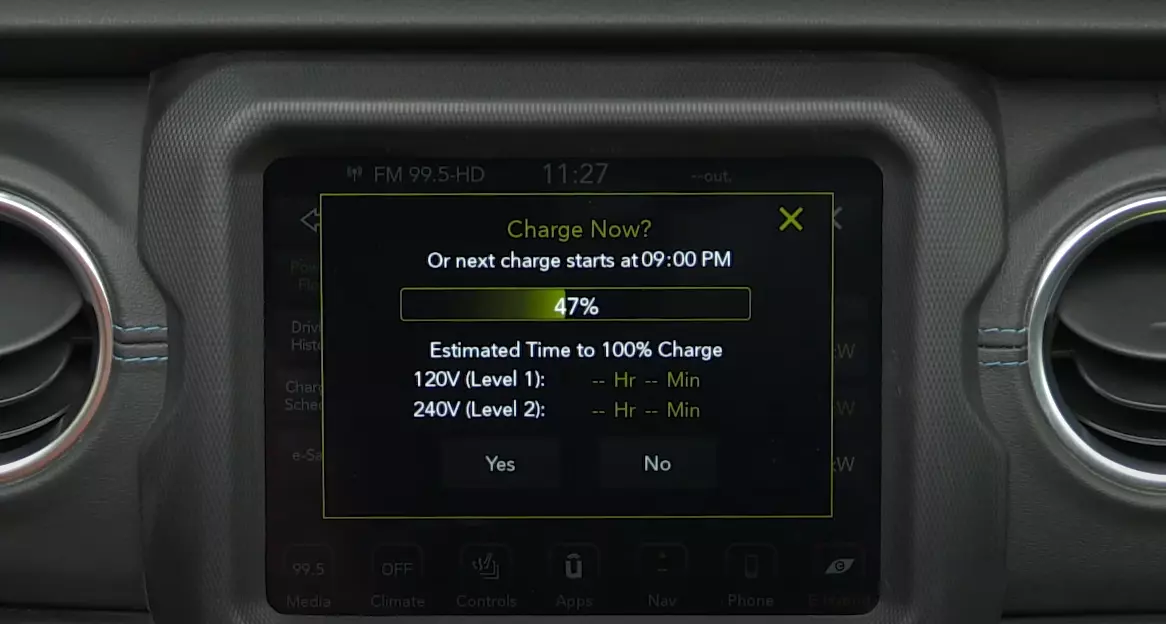 How long it will take to charge your Jeep will depend on the type of charger that you have, there are level 1 chargers and level 2 chargers, the battery pack your Jeep has, and the starting charging point of your Jeeps battery, normally it takes 12 hours to charge a 17kWh Jeep Wrangler 4xe battery with a level 1 charger, and less than 2.5 hours to charge the Jeep Wrangler 4xe with a Level 2 charger.
Last update on 2023-11-25 / Affiliate links / Images from Amazon Product Advertising API